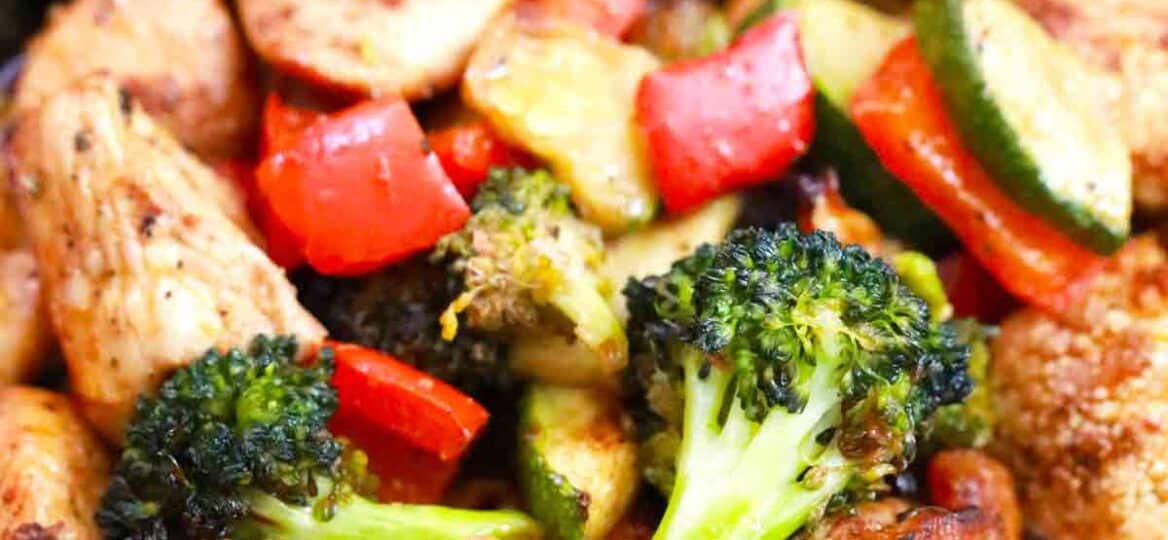 Air Fryer Chicken and Veggies
Air Fryer Chicken and Veggies is the perfect example of a healthy and delicious meal that is nutritious, hearty, and satisfying. You only need a handful of ingredients that you may already have in your kitchen. Also, you can change the vegetables to suit your family's taste buds and use your favorite toppings as well.
For another great way to make dinner, try our AF Chicken and Broccoli with chicken thighs, hoisin sauce, and honey. You may also enjoy our AF Caprese Chicken made with mozzarella cheese and balsamic.
The nice thing about this dish is how easy it is, and the best part is how fast it can be on the table. Another good thing about this is that it is one of those easy dinner recipes that you can feel good about serving.
It is a healthier option than frying it in oil and a delicious meal that will be good for everyone. This easy recipe will please even the pickiest eaters. It also makes great leftovers.
You can cook the meat and the veggies and serve it with rice, or stuff it in burritos!
Ingredients needed:
For step-by-step instructions, scroll down to our handy recipe card. But here are the main ingredients you need for this quick dinner.
Boneless chicken breasts: Chopped into bite-size pieces
Broccoli florets
Cauliflower florets
Zucchini or yellow squash: Chopped
Red bell pepper: Chopped.
Red onion: Chopped.
Garlic cloves: Crushed or minced.
Olive oil: Or olive oil spray.
Balsamic vinegar: Or white wine vinegar.

Spices: We used black pepper, salt, chili powder, smoked paprika, onion powder, dried basil, and garlic powder.
How to make air fryer chicken and veggies recipe?
Preheat: Start by preheating your fryer to 400 degrees F.
Combine: After cutting up the meat and vegetables, combine all the ingredients in a large bowl.

Dry: Then, use a paper towel to pat your meat dry before putting it into the fryer.

Cook: Last, put the mixture into your fryer and cook for about 10 minutes or until the meat and vegetables are charred and brown. Check the temperature of the chicken. It must be 165 degrees F on an instant-read thermometer before serving.
Recipe variations:
Italian seasoning: This easy dinner is also great with Italian seasoning.

Seasonings: Similarly, use your own homemade blend of seasonings to make this unique.

Other meat: Alternatively, you can also use chicken wings, legs, or thighs instead of breast meat.

Root vegetables: Feel free to add more root veggies like radishes, beets, turnips, and sweet potatoes.

Ranch: Also, try using your own homemade ranch seasoning mix for this healthy air fryer chicken.
How to serve:
One of my favorite ways to serve this healthy meal is with a side salad or soup. Or try one of these ideas:
Turn this meal into air fryer chicken fajitas by serving with a stack of tortillas, toppings, and sauces.
Serve with dipping sauces like our homemade yum yum sauce or ranch dressing.
This is one of those one-pot meals you can use on a busy weeknight.
Try this dish on top of a bed of white rice or brown rice risotto.

It also goes great on top of any kind of pasta such as this angel hair pasta.
Frequently asked questions
Why can't I use batter on my chicken in the air fryer?
To set a wet batter, you need hot oil. There is no hot oil in an AF since is uses hot air instead. The hot air just blows the batter off or lets it drip off the chicken instead of setting it.
Not only does air frying with wet batter not taste as good, but it will make a mess of your air fryer basket as well.
Can you cook raw chicken with veggies in an air fryer?
Many air fryer recipes call for fresh or raw meat and cooking the vegetables alongside is not an issue.
In fact, with a large one, you can even cook a whole chicken with vegetables on the side.
If your recipe calls for fresh meat and raw veggies, you can go ahead and cook them together.
The cook time may vary depending on the amount of chicken and what kind of vegetables you are cooking.
Is this chicken healthier than deep fried?
You probably already know the answer to this, but some people are still not sure.
For example, if this is your first time using a fryer and have cooked chicken in the deep fryer all your life, you may have a hard time getting used to healthy recipes.
Just looking at the calories, you can see a big difference. Deep fried has 549 calories per serving while air fried has 280. It is also low carb.
You get up to 60 grams for deep fried chicken breast but only about 20 grams for air fried.
How to store leftovers:
Store: Use an airtight container to store any leftovers you have. They will stay fresh for about three days in the fridge.
Freeze: If you have way too much left over, you can freeze it for up to 90 days.
Thaw: Thaw overnight in the fridge before serving for best results.

Reheat: To reheat, put it in a microwave-safe dish and put it in the microwave for two to three minutes.
More healthy recipes:
Cooking tips:
Large or medium chicken breasts are both fine for this recipe since you are cutting it up anyway.
If you have a small basket-style air fryer that cannot hold a whole lot, you may have to cook this healthy meal in batches.

Keep the cooked food warm on a sheet pan in your oven set at 300 degrees F.

You could also use a rotisserie or roast chicken already cooked for this dish.
If you do not like cauliflower, feel free to use another cup of broccoli florets.
Because you can freeze this for up to three months, make a double batch and save it for a night when you need dinner in a hurry.
Air Fryer Chicken and Veggies
Ingredients
1

pound

chicken breast

chopped into bite-size pieces

1

cup

broccoli florets

fresh

1

cup

cauliflower florets

1

zucchini

chopped

1

cup

red bell pepper

roughly chopped

1/2

red onion

chopped

2

cloves

garlic

minced

2

tablespoons

olive oil

1

tablespoon

balsamic vinegar

1/2

teaspoon

garlic powder

1/2

teaspoon

onion powder

1/2

teaspoon

smoked paprika

1/4

teaspoon

chili powder

1

teaspoon

dried basil

Salt and pepper

to taste
Instructions
Preheat the air fryer to 400 degrees F.

Add the prepared ingredients to a large mixing bowl.

Add the oil and the rest of the ingredients, and toss to combine.

Arrange the chicken and veggies in the air fryer basket and cook for 10-15 minutes, shaking halfway. Cook until the chicken and veggies are charred and meat is cooked through and browned.

If your air fryer is small, you may have to cook this recipe in batches.

Serve with rice or noodles.
Deliciousness to your inbox
Enjoy weekly hand picked recipes and recommendations