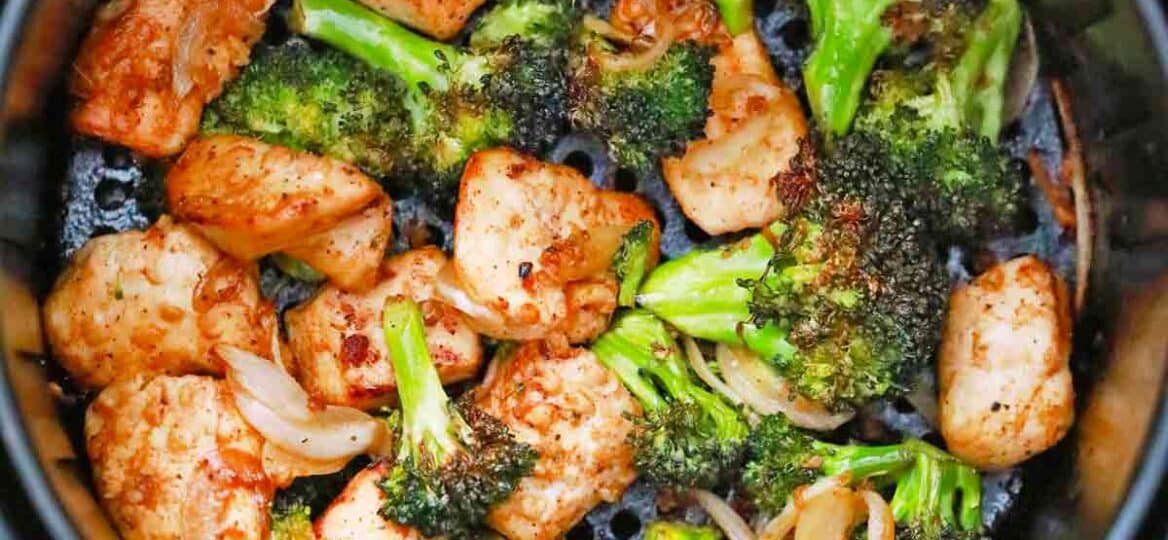 Air Fryer Chicken and Broccoli Recipe
Air Fryer Chicken and Broccoli recipe is full of flavors doused in a delicious sauce made with garlic, ginger, soy sauce, rice vinegar, honey, and hoisin sauce. It is a fast and easy air fryer chicken recipe that is perfect for any day of the week.
Try one of our other easy chicken recipes like this Instant Pot Orange Chicken made with white wine and orange juice or our savory Chicken and Broccoli with brown sugar and sesame oil.
This air fryer chicken breasts and broccoli recipe is low carb and a great option for busy weeknights.
This easy recipe is one of my favorite ways to make chicken for a healthy dinner with the whole family. For more healthy air fryer recipes, check out our website.
You can make a healthy and flavorful meal with just a few ingredients in just about 30 minutes. Therefore, with this easy recipe, you can have a yummy dish on the table during busy weeknights without too much effort.
This Instant Pot Beef and Broccoli is another healthy recipe that tastes great made with flank steak and beef broth.
Follow us on Pinterest for more delicious recipes!
Ingredients needed:
Go to the bottom of the page to find our recipe card with the precise measurements and directions. But here are the simple ingredients for this easy meal:
Boneless skinless chicken breasts: Cut into 1-inch bite-size pieces.
Fresh broccoli florets
Onion: Sliced thick.
Olive oil: You could also use grapeseed oil.
Cloves of garlic: Minced or garlic powder.
Marinade:
Ginger: Minced.
Soy sauce: We used low sodium and gluten-free.
Rice vinegar: You can also use distilled white vinegar for gluten-free.

Paprika: Smoked.
Sesame oil
Honey
Hoisin sauce
Sea salt
Black pepper
How to make air fryer chicken and broccoli from scratch?
Make the marinade: To begin, mix all the ingredients for the marinade in a large mixing bowl.

Divide: Next, put the meat in one large bowl and broccoli in another and divide the marinade between the two, stirring well to coat.

Fry: Then, put the chicken into the air-fryer basket in a single layer and fry at 380 degrees F for 10 minutes. Stir in the broccoli and onions and continue air frying for eight to 10 more minutes, stirring when halfway through.

Check and serve: Last, make sure the meat is cooked all the way through before serving. It should read 165 degrees F on an instant-read thermometer.
Recipe variations:
Chicken thighs: Feel free to use chicken thighs instead if you like.
Spice it up: Sprinkle some red pepper flakes into the marinade for a spicy kick.
Add veggies: You can also add other veggies like red, green, orange, or yellow bell pepper, carrots, or whatever you like.

Season it: Use Italian seasoning or ranch dressing to add more intense flavor.
Other meat: Instead of chicken, use pork chops sliced into bite-size pieces.
How to serve:
This recipe can be a main entrée, or an easy side dish served in a shallow bowl with other vegetables. Or you could try one of these ideas:
Add crunchy sesame seeds to the mix when serving.
This would be great on top of brown rice or pasta.

Sprinkle some cheddar cheese on top for a cheesy dish.
Serve with some other sauces like oyster sauce, teriyaki sauce, or sweet and sour sauce.
You can also add more meat and vegetables to this dish to make a really hearty meal.
Frequently asked questions
Can you cook meat and vegetables together in the air fryer?
Yes, there is no reason not to cook them together if they can be cooked at the same temperature. Our air fryer broccoli and chicken recipe calls for cooking it all at the same time.
Just make sure you do not overcook the veggies if the cooking time is different. Remove the veggies and let the meat finish cooking if that happens.
Is it better to air fry or bake a chicken?
It depends on how you like your chicken and how soon you want to eat. You can cook a chicken in a fryer at a fraction of the time that the oven would take.
Also, the outside of the chicken will be crispier in the fryer. You do not have to baste it in the fryer either. It is easier, faster, and healthier overall.
How do I preheat my air fryer?
Some of the newer fryers have a preheat button to use. However, you can still preheat yours if it does not have one.
Just set it to cook for five minutes at whatever cook time you plan on using. Then, your fryer will be preheated and ready to use.
How to store leftovers:
Store: Put leftovers into an airtight container and store in the fridge for up to three days.
Freeze: If you cannot eat it all in a few days, go ahead and put it in the freezer where it will stay fresh for up to three months.

Thaw: Thaw overnight in the fridge before serving for best results.

Reheat: You can reheat it in the microwave for one minute or in the fryer for three minutes at 400 degrees F.
More air fryer recipes:
Cooking tips:
Be sure to pat the chicken dry after rinsing.

The best way to keep your broccoli warm while finishing the chicken is to put it in an oven set at 200 degrees F.

Use air fryer parchment liners for easy cleanup.
We used a 3.5-quart air fryer for this recipe. The cooking time may vary if you use a larger one.
Make sure you shake the basket halfway through the cook time.
Air Fryer Chicken and Broccoli
Ingredients
1

pound

chicken breast

boneless and skinless or chicken thighs, cut into 1-inch pieces

1/2

pound

broccoli

cut into florets

1/2

medium onion

thickly sliced
Marinade:
3

tablespoons

olive oil

1

tablespoon

fresh minced ginger

3

cloves

garlic

minced

2

tablespoon

low sodium soy sauce

or use Tamari for Gluten Free

1

tablespoon

rice vinegar

or use distilled white vinegar for Gluten Free

1

teaspoon

sesame oil

1

teaspoon

smoked paprika

2

teaspoons

honey

1

teaspoon

hoisin sauce

salt

to taste

Ground black pepper

to taste
Instructions
First, combine the marinade ingredients in a bowl.

Add the chicken into one bowl and the broccoli and onion to another.

Divide the marinade between the two bowls, stirring to coat the ingredients evenly.
Air Fry:
Preheat the air fryer to 380 degrees F.

Add just the chicken to the air fryer basket in one layer and air fry for 10 minutes.

Next, stir in the broccoli and onions with the chicken, and air fry for 8-11 minutes, or until the chicken is cooked through. Stir halfway through cooking.

Serve with white or brown rice.