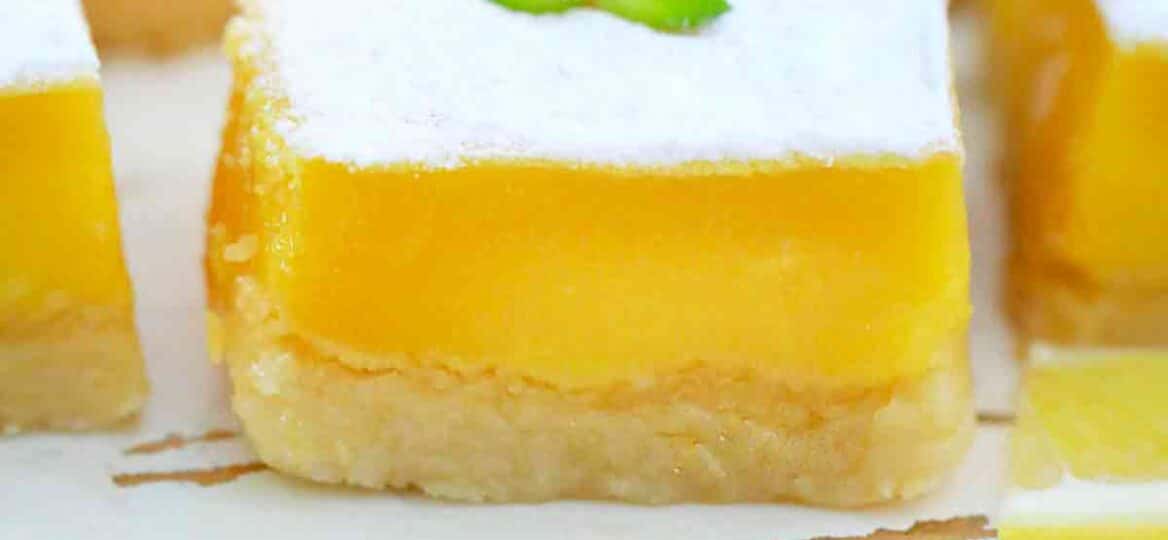 Air Fryer Lemon Squares [Video]
Air Fryer Lemon Squares have just the right amount of sweetness combined with a bold tangy lemony flavored layer and crispy crust. There is little to no prep time and you only need a few basic ingredients that you probably already have in your kitchen.
If you are looking for other lemon recipes, try our One Bowl Lemon Brownies made with lemon zest and fresh lemon juice or this Instant Pot Lemon Pound Cake recipe with buttermilk and vanilla. For another delicious dessert, try this Air Fryer Apple Blooms recipe made with granny smith apples and caramel sauce.
If you had tea parties when you were younger, you have probably served these tasty little squares to your dolls and stuffed animals. Now that you are older, you will still love serving them to everyone, including yourself.
And air frying them with this recipe makes them even better. Mix up a whole batch and bring them to your next bake fair.
If you are into easy dessert cuisine, this is your lucky day. These lemon bars are so decadent and delicious, that everyone will think it took you a long time to make them. But they are so easy and simple, all you need is butter, sugar, flour, eggs, and lemon juice.
Are you looking for healthy recipes? Try our instant pot Tuscan chicken or sweet honey lemon chicken recipes. Our lemon bars are healthy too with just a few wholesome ingredients and no processing. They make a great dessert after any meal or you can even eat them for breakfast.
Ingredients needed:
For this air fryer lemon bar recipe, all you need are the basic pantry staples. For the details and measurements, check out our recipe card at the bottom of the page.
Crust:
Butter: Softened to room temperature.
Sugar: White granulated sugar.
Flour: All-purpose flour.
Salt: Just a pinch of salt will do.
Lemon zest: For extra citrus flavor.
Filling:
Eggs: Large eggs at room temperature.
Sugar: White granulated sugar.
Flour: All-purpose flour.
Lemon juice: Use fresh lemon juice for best results.
Vanilla: It adds just a subtle flavor to balance the tangy lemon.
How to make Air fryer lemon squares recipe?
Preheat: Begin by preheating your air fryer to 320 degrees F and line a pan or baking dish with parchment paper.
Make the crust: In the meantime, add flour, sugar, and butter to a small bowl and mix. Gently press the crust mixture into the bottom of the prepared pan or dish.
Bake: After, put the pan in the air fryer and cook for seven minutes. It should be golden brown on top.
Make the filling: Next, mix the lemon juice, flour, sugar, and eggs in a large mixing bowl. Pour the filling on top of the crust.
Fry: Last, put the pan or dish in the air fryer basket and cook for 12 minutes. Don't worry if they are jiggly as they will harden up as they cool.
Serve: Once the bars cool to room temperature you can cut and serve.
How to make lemon squares in the oven
Preheat: To start, preheat your oven to 350 degrees F and line a pan or baking dish with parchment paper.
Mix: While you are waiting, mix the flour, sugar, and butter in a small bowl and press it into the bottom of the prepared pan or dish with a wooden spoon.
Bake: Next, bake the crust for five minutes or until it is golden brown on top.
Make the filling: While it bakes, mix the flour, sugar, lemon juice, and eggs in a large mixing bowl. Pour or spoon the filling on top of the baked crust.
Bake: Finally, bake the lemon bars for 10 to 15 minutes. The middle should be jiggly when they are done but the sides should be set.
Cut and serve: Last, put the lemon bars on a wire rack to cool to room temperature and firm up before you cut and serve.
Recipe variations:
Powdered sugar: For a sweeter crust, add a teaspoon of powdered sugar to your crust mix.
Lemon zest: Add a teaspoon of lemon zest to the filling for a robust lemon flavor. You can make your own lemon zest by grating the yellow part of the lemon.
Lemon glaze: You can also use lemon zest mixed with powdered sugar and lemon juice to make a lemon glaze to top your delicious lemon bars.
Prepared crust: Feel free to use a prepared crust such as graham cracker or shortbread crust.
Baking powder: Add 1/2 teaspoon of baking powder to the filling for firmer lemon bars.
Cornstarch: Similarly, cornstarch will also thicken up your lemon filling.
Lemon curd: Use lemon curd for an even more luscious lemony flavor.
How to serve:
You only need a few ingredients to make these delicious lemon bars with creamy lemon filling and a crispy crust. Here are some serving suggestions you may enjoy:
Everything tastes great with a dollop of whipped cream. You can make your own with our easy whipped cream recipe.
Sprinkle more powdered sugar on top of your lemon bars before serving for even more sweetness.
Top with our homemade sweet blueberry sauce or this tangy strawberry sauce.
Serve this luscious dessert with a glass of cold milk for a nice snack.
These bars also taste great with chocolate chips on top.
Top with fresh fruit like raspberries, orange or lime slices, or fresh blueberries.
Frequently asked questions
What different kinds of crust can I use?
Shortbread crust is a homemade delicacy that is easy to make and makes your lemon bars seem like they came from an expensive bakery. All you need for this recipe is flour, powdered sugar, butter, salt, and baking powder.
For this easy lemon bars recipe, you can also use a prepared graham cracker or cookie crust. A refrigerated crust is also a good crust for this dessert. You could also try this easy Amish pie crust recipe with just a few ingredients.
How can I cut my lemon bars cleanly?
To get those nice clean lemon squares like the ones you see in the bakery, keep a bowl of hot water next to you while you are cutting. Dip your knife in the water and wipe it clean before and after each slice.
Can I make these in the instant pot?
Yes, you can make these in an instant pot but you will need to find a cake pan that fits. It is also best to have a trivet and a sling to easier remove the pan afterward. Cover the pan with foil to keep out the condensation and pressure cook for 20 minutes. Let the pressure release naturally and move the pan to a wire rack to cool.
How do I zest a lemon?
You can zest a lemon using a grater or a lemon zester. First, rinse the lemons in warm water to make sure you get all the wax off. Then, just rub the lemon gently across the grater or zester. Avoid the white parts. They are very bitter.
How to store leftovers:
Store: Put your leftovers in plastic wrap in an airtight container in your fridge for three to four days.
Freeze: To freeze leftovers, wrap in plastic and put them in a freezer bag. They will be safe in the freezer for three or four months.
Thaw: Don't forget to take them out of the freezer the night before serving. Defrost overnight in the fridge for best results.
More air fryer dessert recipes:
Cooking tips:
Let ingredients come to room temperature before using them for best results.
Your bars are done when the edges start turning light golden brown and the center is jiggly but not watery.
If you have a glass baking dish that fits in your air fryer, that is perfect because some metal pans can leave a metallic flavor.
You can use other flavors of juice for those who don't like lemon. Try orange or lime juice.
Spray the pan with oil to keep the parchment paper from sliding around or sticking.
Use the bottom of a heavy glass to flatten the pie crust out.

Use the juice from fresh lemons for a fresher flavor.
Air Fryer Lemon Squares
Ingredients
Crust:
1

cup

unsalted butter

room temperature

1/2

cup

white sugar

2

cups

all-purpose flour

1

teaspoon

lemon zest
Filling:
4

eggs

room temperature

1 1/2

cup

white sugar

1/4

cup

all-purpose flour

1/2

cup

lemon juice

1

teaspoon

vanilla extract
Instructions
Crust:
In a large bowl mix the butter, flour, lemon zest, and sugar. Once smooth and fully combined, press into a 7-inch pan that would fit in your air fryer.

Transfer the pan to the air fryer and cook for 7-8 minutes at 320 degrees F until golden brown, after that remove it and set it aside.
Filling:
In a large bowl mix together the eggs, sugar, flour, vanilla, and lemon juice whisk until smooth.

Pour the filling over the baked crust and air fry at 320 degrees F, for 12-14 minutes, or until set.

The bars will harden more as they cool.

Remove from the air fryer and cool on a wire rack. After that refrigerate for a few hours.

Dust with powdered sugar, slice and serve.
Deliciousness to your inbox
Enjoy weekly hand picked recipes and recommendations