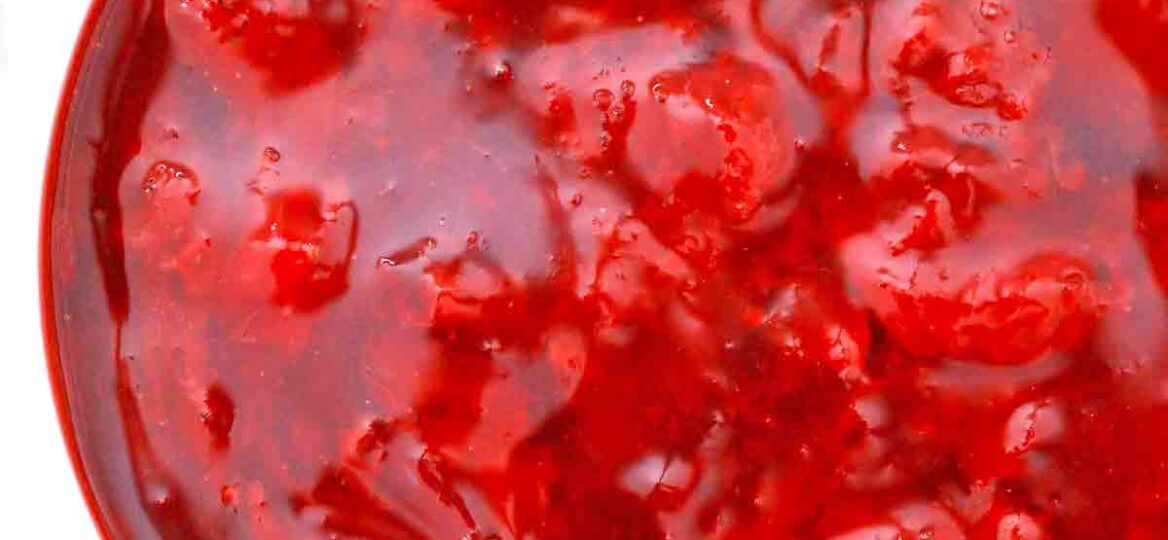 The Strawberry sauce recipe is made with fresh strawberries, lemon juice, zest, and sugar. With just 4 ingredients and in about 30 minutes you will have the most delicious topping ever. It is great on cheesecakes, pound cakes, angel food cake, pancakes, and even ice cream!
When strawberries are in season we can't get enough and try to incorporate them in as many recipes as possible, both sweet and savory. Lately, we have shared with you this divine Strawberry Mousse that is so refreshing! One of our most popular recipes on the blog is this Strawberry Poke Cake. However, if you are looking for something on the savory side, try our Arugula Strawberry Salad.
Homemade Strawberry Sauce or Strawberry Topping Recipe
Strawberry sauce or otherwise called strawberry topping is a simple recipe made with just 4 ingredients. You can make it with fresh or frozen strawberries, and we always recommend adding some lemon juice and zest for the berry flavor to pop.
I also enjoy stirring in some vanilla extract at the end, it balances the citrus and sweet berries beautifully. You will end up eating it with a spoon, it's such a great recipe. So much better than store-bought.
This delicious topping is basically good on anything! It is one of the sauces that I always like to keep on hand. Especially I like that it stores well in the fridge and it also freezes well.
To make it even more convenient for you we have included canning instructions as well. This way you can make a double batch and have some in the pantry all the time. For the best results make sure you use ripe and sweet fruit!
Ingredients You Will Need:
Strawberries – we prefer to use fresh, as they are way more flavorful, but frozen can be used as well.
Lemon juice and zest – to balance the sweet berry flavor.
Sugar – white granulated sugar is perfect for this recipe.
How to make the recipe:
Prepare the fruit: First, start by washing, hulling and sling the fruit. Next, add it to a medium saucepan.
Add the rest of the ingredients: Then, add the lemon juice, lemon zest, and sugar. After that, give everything a good stir and place on medium heat.
Cook: Next, bring the mixture to a boil, and after that reduce the heat to low. Afterward, continue a few minutes stirring occasionally, and simmer until thickened.
Cool: Once the mixture has thickened, remove it from heat and let it cool to room temperature. Keep in mind that the sauce will thicken more as it cools.
Store: Once cooled, transfer the mixture into airtight containers and store in the fridge for 4-5 days.
To Freeze: In addition, this mixture is very easy to freeze. Hence, to do so, just add the cooled mixture to an airtight container or freezer-safe Ziploc bag. Lastly, place it in the freezer, and if using a Ziploc bag, lay it flat. You can freeze it for up to 3-4 months.
To Defrost: Finally, if you are ready to defrost the mixture, leave it overnight in the fridge. Similarly, you can add it to a medium saucepan and reheat it on the stove. In case if the mixture is too watery after defrosting, simmer it with a bit of extra sugar for 15-20 minutes.
Strawberry Sauce Canning Instructions:
Make the mixture: First, follow the steps and prepare the sauce as per the recipe below. Next, let it cool to room temperature.
Water bath: In the meantime, fill a large pot with enough water to cover by 1-inch the jars.
Prepare the jar rings: Also, remove the rings from the jars and set them aside.
Prepare the lids: Next, take the lids and place them in a small saucepan. Cover them with hot boiling water and let sit for 10 minutes. After that discard the water.
Sterilize the jars: In addition, take the empty jars and place them in another pot with hot water. Cover and boil the jars for 10 minutes. Finally, when it's time to remove them, use kitchen tongs to get them out. Make sure to discard any water from the jars and place them on a clean kitchen towel. Finally, let the sterilized jars dry out.
Add the berry mixture: Afterwards, distribute the berry mixture into the prepared jars. Make sure to clean the jars, and after that add the lids and rings.
Boil: Add the closed/sealed jars to the prepared water bath and boil for 5 minutes.
Cool: Finally, remove the jars from the water bath and arrange them on a clean and dry kitchen towel. Now, let the jars rest undisturbed for 12 hours.
Pop: Finally, a very important step that you have to watch for. Keep an eye, and an ear to listen to the list pop. If it pops, means that the jars are sealed and you can store them safely. In case it doesn't pop, you have to store the jars in the fridge for up to 2 weeks.
How to serve:
More Summer Recipes:
Frequently asked questions:
How to thicken the strawberry topping
One important step is to make sure you added enough sugar. Keep in mind, that if you add less, the mixture will be more watery.
Another important step is to make sure you simmer the topping enough. Ensure that you take your time to occasionally stir it and simmer for at least 30 minutes.
After all these steps, if the mixture is still watery, make a slurry. To make the slurry, mix 1 tablespoon of cornstarch with 2 tablespoons of water until dissolved. Next, add the slurry to the sauce and stir to combine. Simmer everything for a few more minutes, or until thickened.
However, if you want to ensure a thicker sauce from the start, toss the strawberries in 1 1/2 tablespoons of cornstarch before cooking.
How to put strawberry sauce on a cheesecake
First, make sure that your sauce has been cooled to room temperature. If you want to use it as a layer on the cheesecake, not just a drizzle on a slice, it needs to be cooled.
Next, bake your cheesecake, remove it from the oven and let it cool.
Finally, while the cheesecake is still in the springform pan, fully cooled, top it with the sauce and refrigerate for 6-8 hours. You can add it later, before serving, but it won't get a chance to settle nicely on top of the cake.
Another tip is if you plan on using it as a cheesecake topping, make sure to thicken it with the cornstarch slurry. Hence, the mixture will be thicker and look better on top of the cake.
Recipe tips:
Use fresh or frozen fruit, but like I have mentioned many times, fresh tastes better.
Make sure the fruit is ripe and sweet.
Discard the rotten parts of the berries.
Use a sugar alternative/substitute to make it low-carb.
Change the citrus, use orange, grapefruit, or lime for a different flavor.
Use a potato masher or fork to further break down the strawberries.
Replace the citrus flavor with vanilla or almond extract.