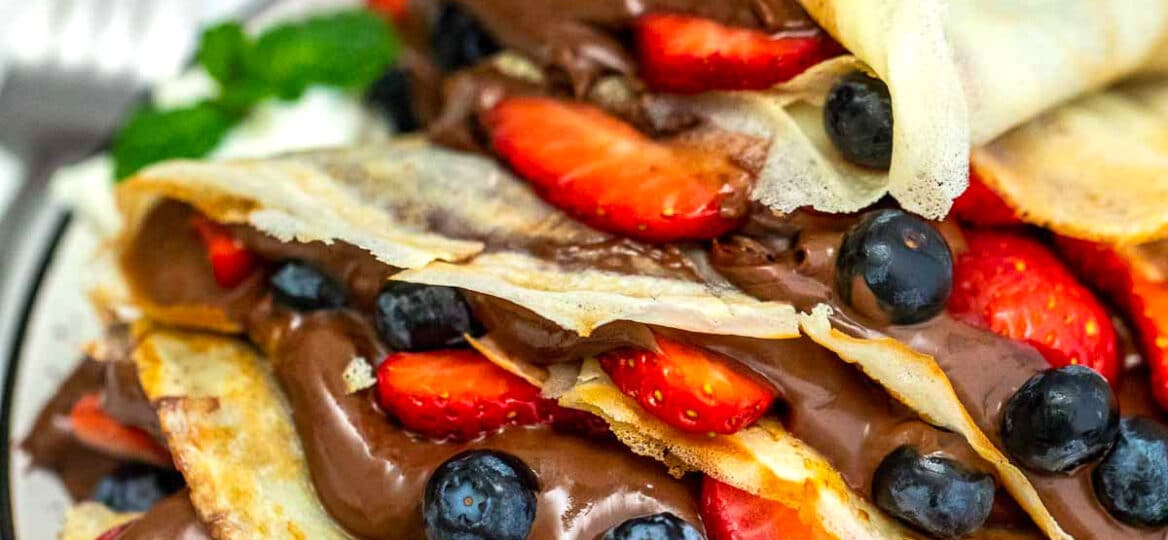 French Crepes Recipe [Video]
Learn how to make sweet and buttery, melt in your mouth French Crepes with this easy and simple recipe! Along with the endless filling choices, they make brunch more fun!
You can have this dish for breakfast or as a dessert. If you like this breakfast item, then, you will surely like Greek Yogurt Pancakes, Potato Pancakes, and Bacon Egg and Cheese Breakfast Burrito!
Easy Crepes Recipe
Crepes are buttery, delectable, versatile, and a joy to eat! Learning how to make crepes is one of the essential skills you will need as a home cook. This was a favorite growing up and now, I am sharing with you how to make them. For sure, you love them as much as I do!
Learning how to make them is so convenient. I simply make them anytime I crave them. Instead of going out to buy some, I just enjoy them at home with unlimited stuffing, either sweet or savory.
They are almost like pancakes, but they are way thinner. The ingredients needed for both breakfast favorites are almost the same, just without any leavening agent to maintain the thinness.
So, if you are a pancake master, I am sure that you will find this recipe easy! Let's get started!
What are crepes?
They are a very thin version of a pancake that is enjoyed either for breakfast or dessert. These originated from France and were eaten as a sort of bread. When serving them, it is either you fold them or use them as a wrap with filling inside.
Ingredients for Crepes:
Flour – all-purpose yields a smooth batter
Eggs – together with the flour, eggs build the structure
Salt – adds flavor
Milk – thins out the batter and lends flavor, too
Butter – adds flavor and makes the crepes soft and delicate, more is needed to grease the pan
How to make crepes from scratch:
Combine: Combine the eggs and milk in a bowl and the flour and salt in another. Then, add the wet mixture to the dry mixture in portions. Do this while whisking until everything is incorporated smoothly. Then, pour the melted butter and mix.
Chill: Cover the bowl of batter with cling wrap then refrigerate. Let it rest for at least one hour.
Cook: Heat a pan and grease the surface with butter. Pour about 1/4 of the batter and tilt the pan to distribute the batter. Make sure that the batter spreads out thinly and evenly. Cook for about a minute or less, flipping when the top surface already looks set.
Serve: Once done, serve warm with your favorite topping or filling.
Homemade crepes variations:
You can add sugar to make it a nice dessert type.
Add cinnamon or nutmeg and other earthy flavors for savory ones. Or, use buckwheat flour which is good for a savory kind of crepe.
Change up the flour and you can change the texture. You can experiment with whole wheat or self-rising flour if you like.
What if your crepes become rubbery?
They become rubbery because of the gluten in the flour. So, you may either opt for a gluten-free one or increase the wet-to-dry ratio.
Can I make them gluten-free?
Sure, you can make gluten-free crepes! Just replace the flour with either buckwheat, oat, or almond. If you choose to use oat flour, make sure that it is a certified gluten-free one because oats are prone to cross-contamination.
What to serve with?
They are usually served alongside fruits, powdered sugar, whipped cream, jams, or sauces. I like mine with Nutella, sometimes mascarpone, or lemon curd.
Put some eggs, ham, cheese, or sausage for a savory twist. Be creative!
More delicious breakfast recipes:
Can I make them in advance?
Yes! You need to rest the batter which allows you to make it a day ahead. Or, simply make a huge batch, then put wax paper in between each piece.
Stack the crepes and place them in a resealable plastic bag. Refrigerate them for up to 5 days or freeze for up to 2 months.
Recipe Tips:
You may use a blender to combine all the batter ingredients.
Add food coloring to the batter to make colorful ones.
For a vegan version, use olive oil for the fat and choose plant-based milk. Omit the eggs and add baking powder to add support.