Strawberry Cheesecake Recipe
This Strawberry Cheesecake recipe is super easy to make with a perfectly creamy and delicious filling. Topped with a strawberry glaze made with fresh and juicy strawberries. This Cheesecake tastes better than the Cheesecake Factory version!
This cheesecake recipe is becoming one of our favorites. But you should try out some of our equally great cakes like this Mini Oreo Cheesecake, a tie-up of cakes Carrot Cake Cheesecake, and another classic combo Red Velvet Cake!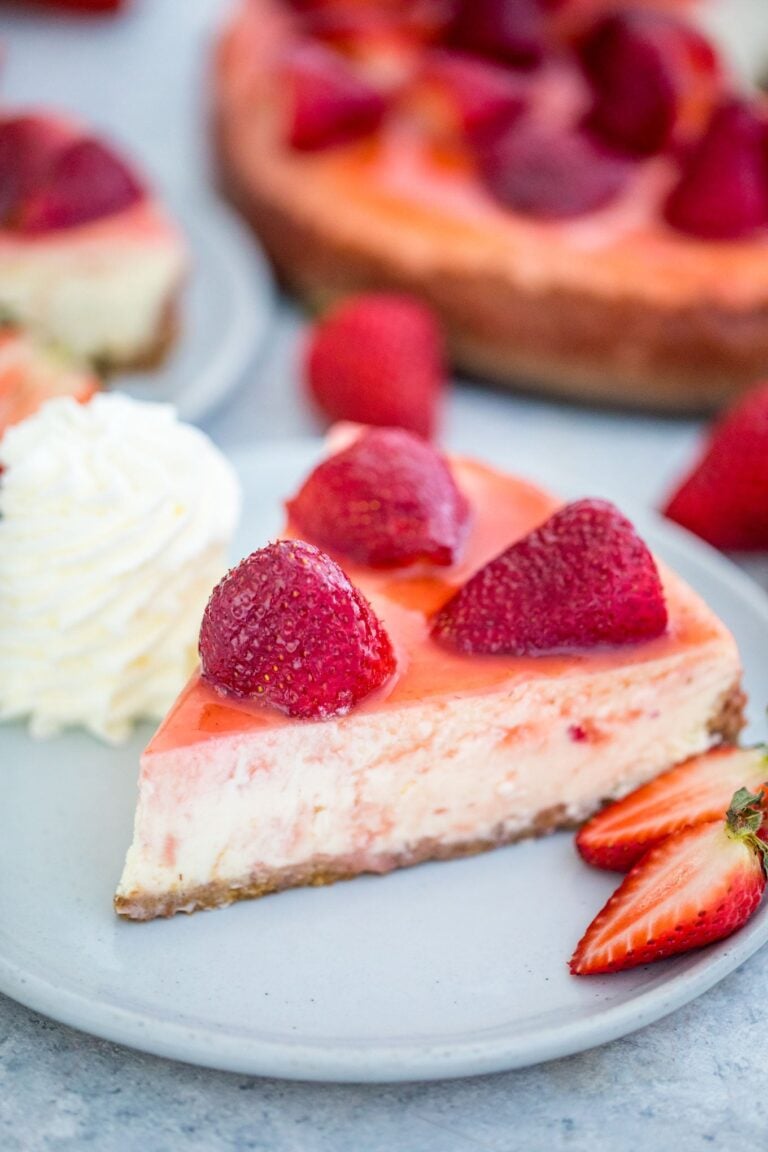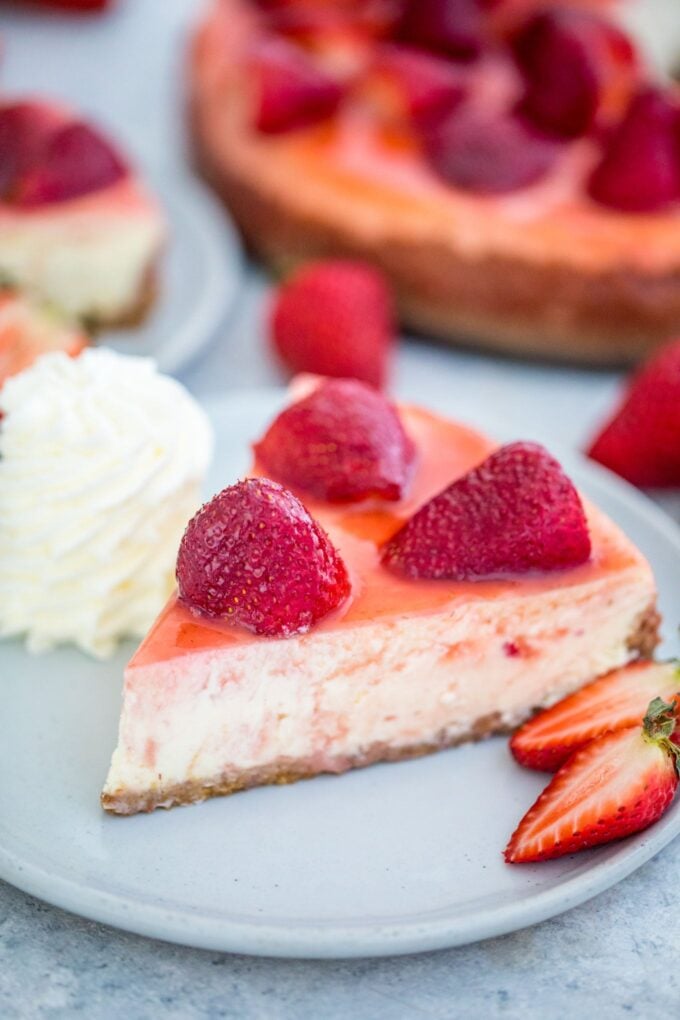 Strawberry Cheesecake Recipe
Strawberry Cheesecake is easily a go-to recipe in our wide range of featured cheesecakes. Whether you are craving for a cake, pie or bars you can check out and try our vast collection of dessert concoctions. We love this particular recipe because of its perfect combination of sweet and tangy flavors. And it's such a comfort food too.
Each layer has its own merits. The crust is exceptional because of its simplicity, buttery taste, and a hint of cinnamon. The filling is so creamy because of the blend of cream cheese, cream, and sour cream. The topping uses fresh strawberries and nothing bits fresh fruits in a sweet syrupy glaze!
WHAT IS A CHEESECAKE?
They are excellent desserts, especially for hot summer nights. The crust and the filling are constants but you can play around with this by changing the toppings. There are two ways you can do this dessert, baked and unbaked. But both are great because of the tang given off by the cream cheese!
HOW DO YOU MAKE STRAWBERRY CHEESECAKE?
If you are into baking, this recipe is pretty simple to do! First, you have to make the crust by mixing graham crackers with the rest of the ingredients listed below in the recipe. Press it down on a springform pan and chill in the refrigerator.
Next, make your filling. At first, you have to make sure that all the ingredients for this are at room temperature. Beat the cream cheese on medium speed until light and fluffy. Add in the eggs one at a time to blend.
Fold in the sour cream until combined and add in the flour and the rest of the ingredients. Pour into the prepared crust and bake in a preheated oven until done.
While baking, never opens the oven door, not even to peek through until you have reached the 40-minute mark! Then bake until done.
Last is the topping. Just combine fresh strawberries with the easy to make syrup and pour on top of the chilled cake.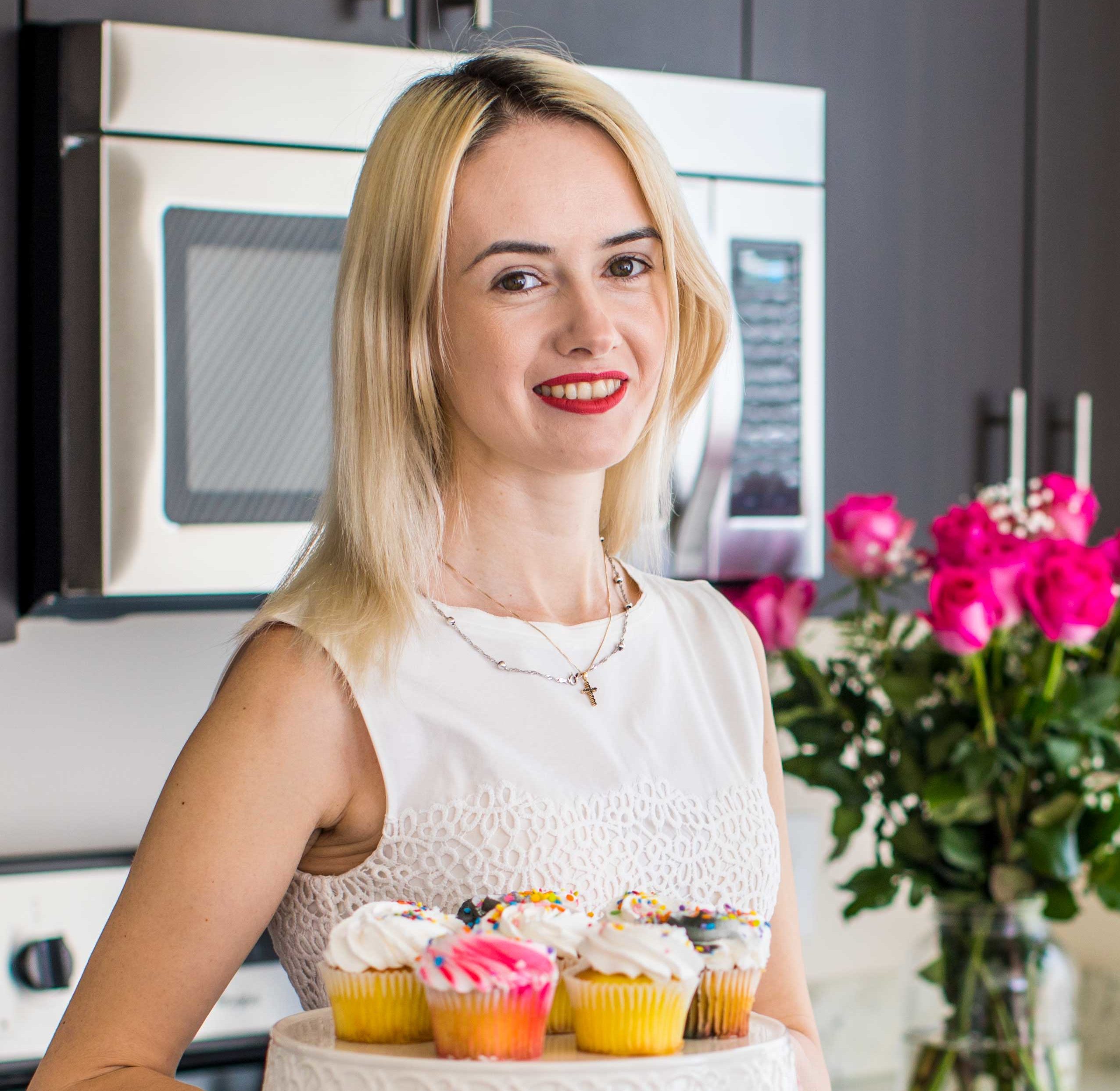 Follow us on Pinterest for more delicious recipes!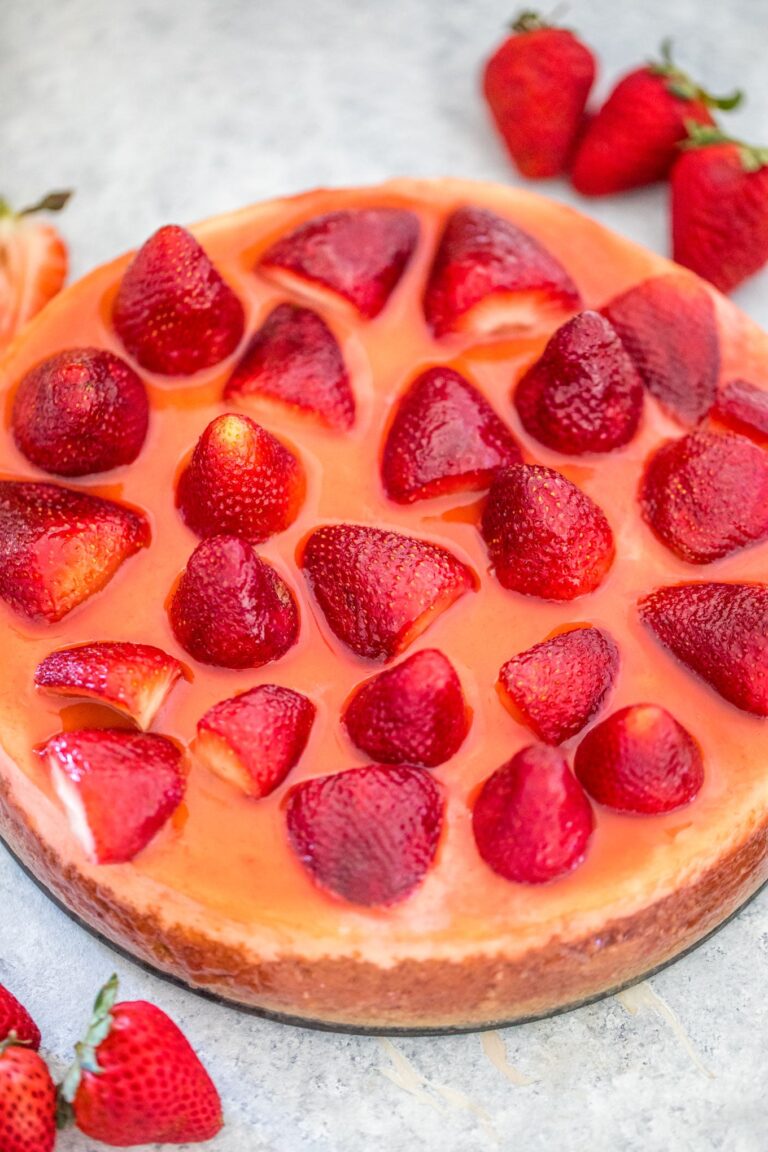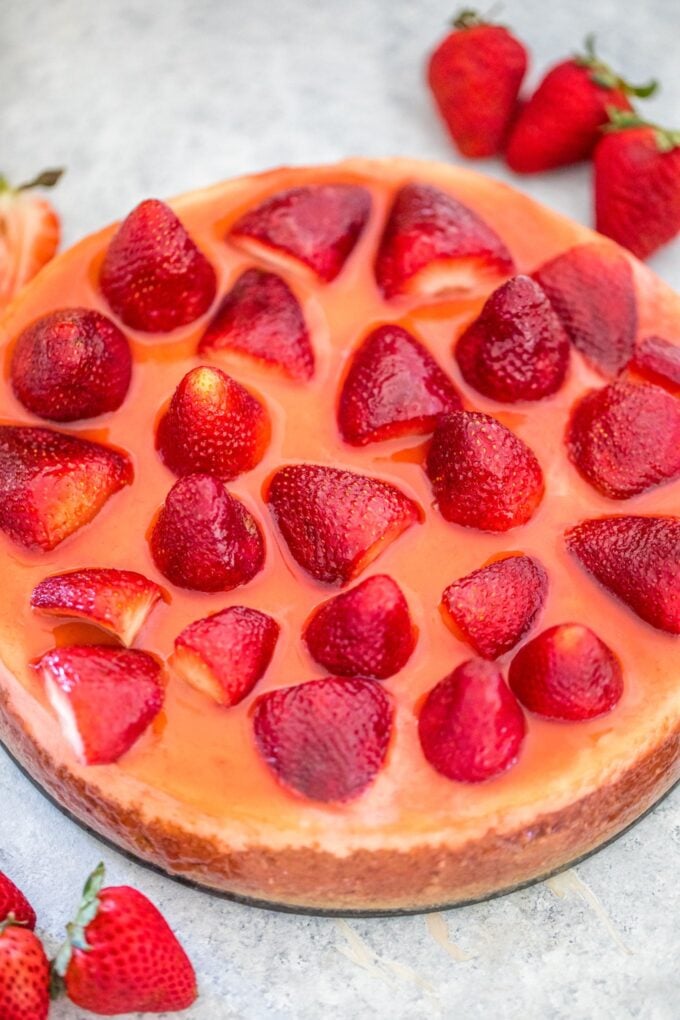 HOW DO YOU KEEP THE CHEESECAKE FROM FALLING?
You just have to be patient and not open the oven door before the 40-minute mark, and you will be fine. Cheesecakes are like divas, it cannot come out before it's ready! The result is well worth the wait though.
How do you prevent cracks in a cheesecake?
These pesky cracks are easy to prevent. Just don't overbeat and over bake the filling. Cracks occur when you overbeat the filling. Air bubbles form and gets trapped in the mixture. Once you bake, they try to escape by going up to the surface, thus, the cracks.
HOW DO YOU MAKE A CREAMY CHEESECAKE?
You can elevate the creaminess of a regular cheesecake by simply using full-fat cream cheese and full-fat sour cream.
WHAT IS A WATER BATH?
A water bath is just an additional pan of water in the oven while the cheesecake is being baked. This adds moisture in the oven that prevents the cake from overheating and cracking.
HOW DO YOU BAKE A CHEESECAKE WITHOUT A WATER BATH?
Simply put the pan in a preheated oven. If you are worried about the cracking, we added flour to the recipe that will help in minimizing the cracks. The starch protects the egg mixture to over coagulate and prevent the appearance of cracks.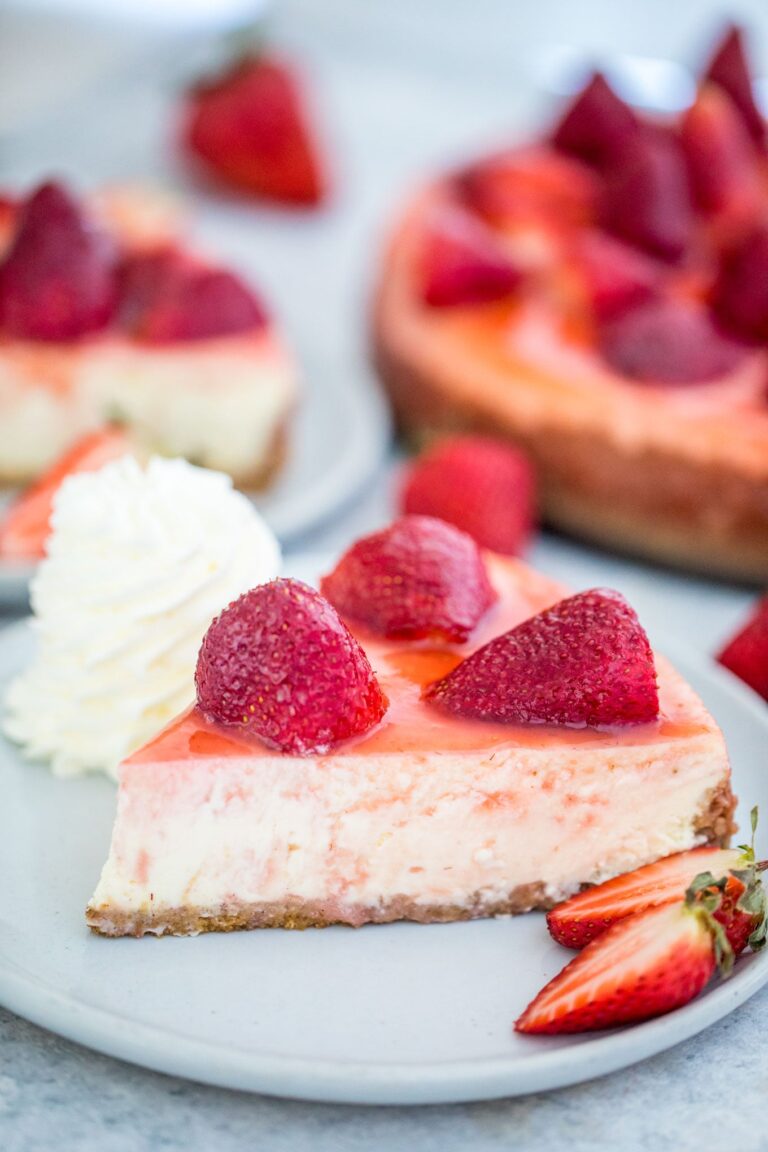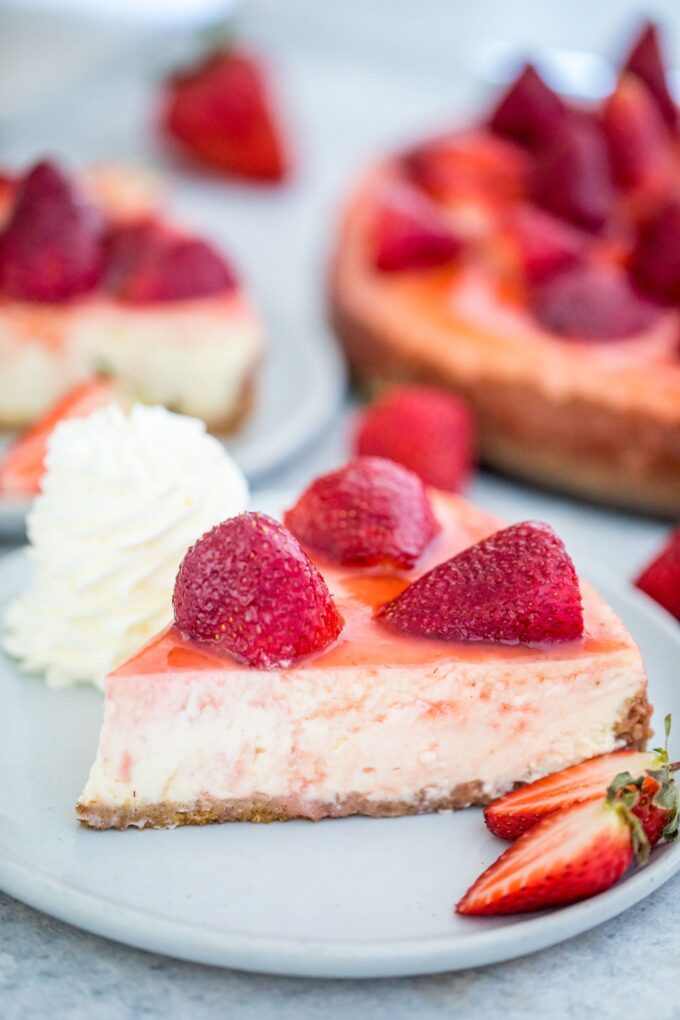 HOW DO YOU STORE CHEESECAKE?
Leftover is equally amazing, so just place it in an airtight container and store it in the refrigerator for a week.
CAN YOU FREEZE STRAWBERRY CHEESECAKE?
Definitely! Just wrap it in foil and place it in a heavy-duty freezer bags. It can last up to 2 – 3 months in the freezer.
HOW LONG CAN A CHEESECAKE SIT OUT?
Strawberry cheesecake is best served chilled, so it can only sit out for an hour. To prevent a sad-looking cake, simply bring it out whenever you need it!
HOW DO YOU MAKE THE STRAWBERRY TOPPING?
This is the easiest part of the whole thing! Simply combine strawberry jam with water and lemon juice, then microwave to make a syrup. Next, combine the syrup with the fresh strawberries until evenly coated.
HOW DO YOU STORE STRAWBERRY TOPPING?
Store the strawberry topping in clean and dry airtight containers or heavy-duty freezer bags.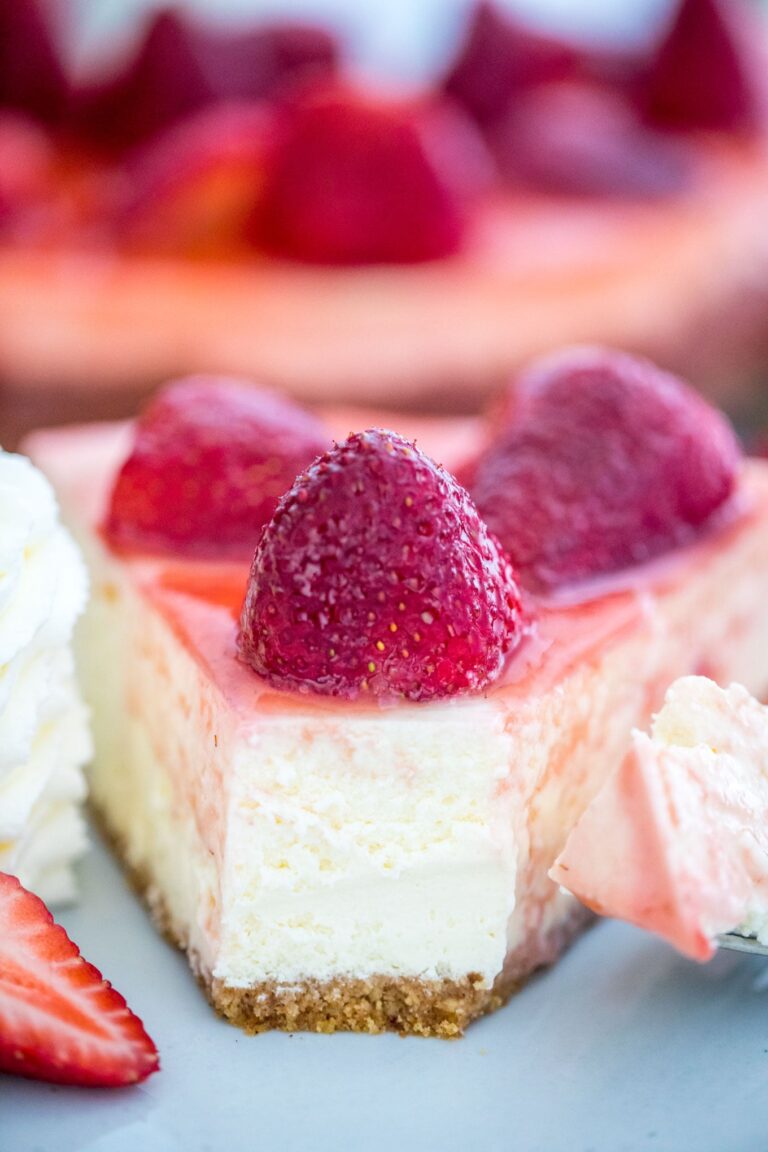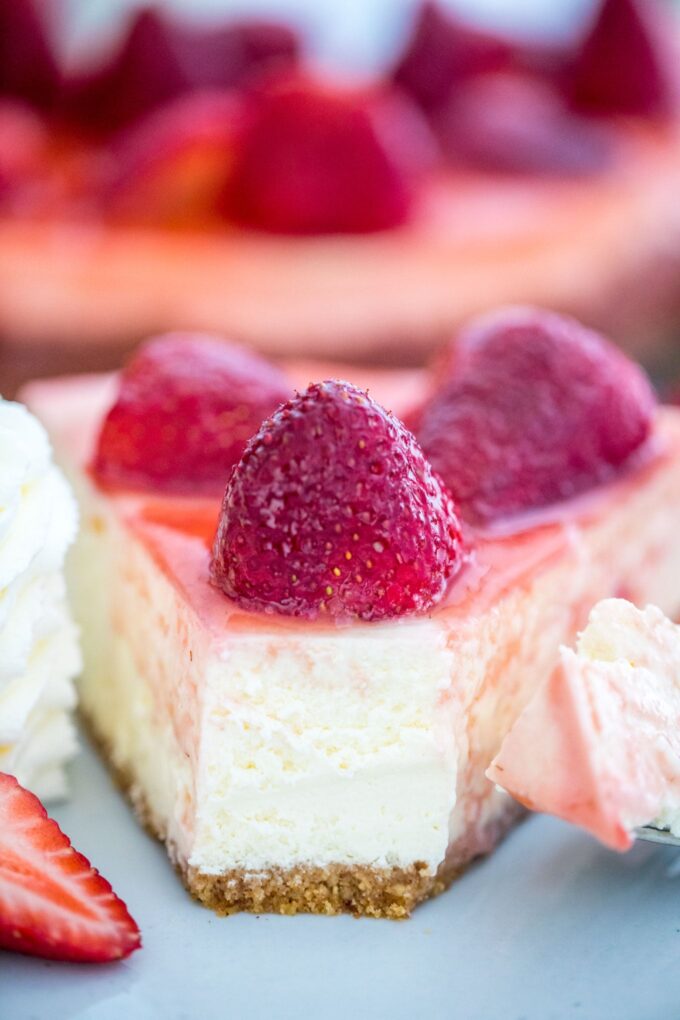 CAN YOU FREEZE STRAWBERRY TOPPING?
You sure can! Just store in airtight containers and freeze! These will last inside a freezer for 2 – 3 months. Thaw in the refrigerator the day before you need it.
More cheesecake recipes:
Recipe Tips:
Start off with all your ingredients at room temperature.
Mixing, blending, and folding all the ingredients should be just until they are combined. Over mixing is one of the reasons for the cracks.
Make sure that the oven is preheated.
Do not constantly open the oven door once the cake is inside. Opening the door brings in air and collapses the cake.
After baking, turn off the heat, slightly open the oven door and cool down the cake completely before taking it out.
Save Recipe
Easy Strawberry Cheesecake
Strawberry Cheesecake recipe is super easy to make with a perfectly creamy and delicious filling. Topped with a strawberry glaze made with fresh and juicy strawberries.
Author: Catalina Castravet
Serves: 12 slices
Prep time:

30

minutes
Cook time:

45

minutes
Total time:

1

hr

15

mins
Ingredients
Cheesecake crust:
Cheesecake filling:
Strawberry Topping:
Instructions
Cheesecake crust:
Cheesecake Filling:
Bake:
Chill:
Strawberry Topping:
Nutrition information
Calories: 475 Carbohydrates: 56 Protein: 9 Fat: 23 Saturated Fat: 13 Cholesterol: 108 Sodium: 546 Potassium: 352 Fiber: 1 Sugar: 41 Vitamin A: 785 Vitamin C: 30.3 Calcium: 172 Iron: 1.3
Save Recipe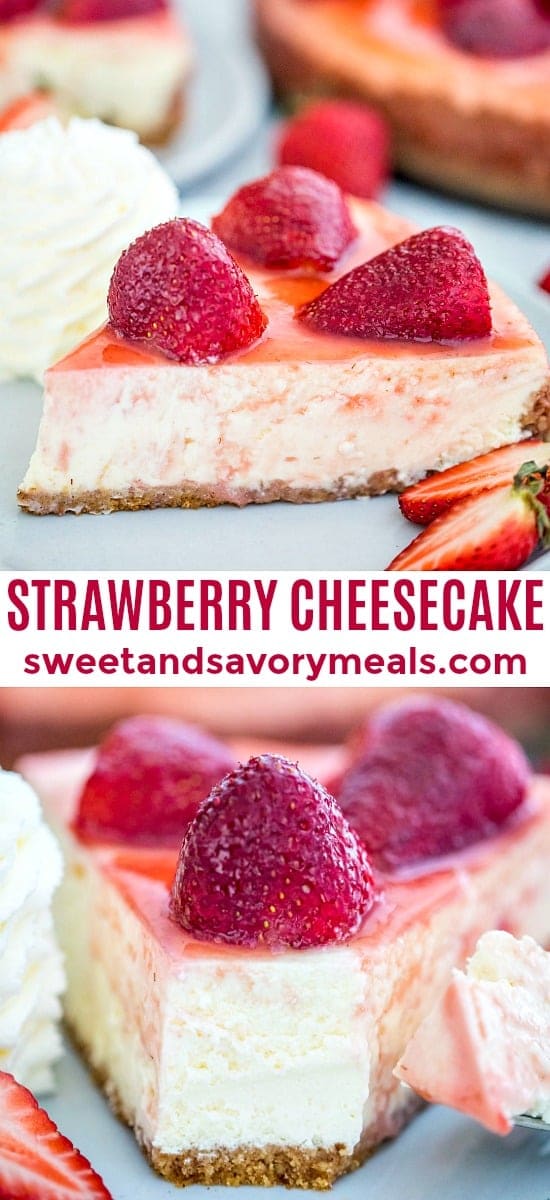 More recipes you might love