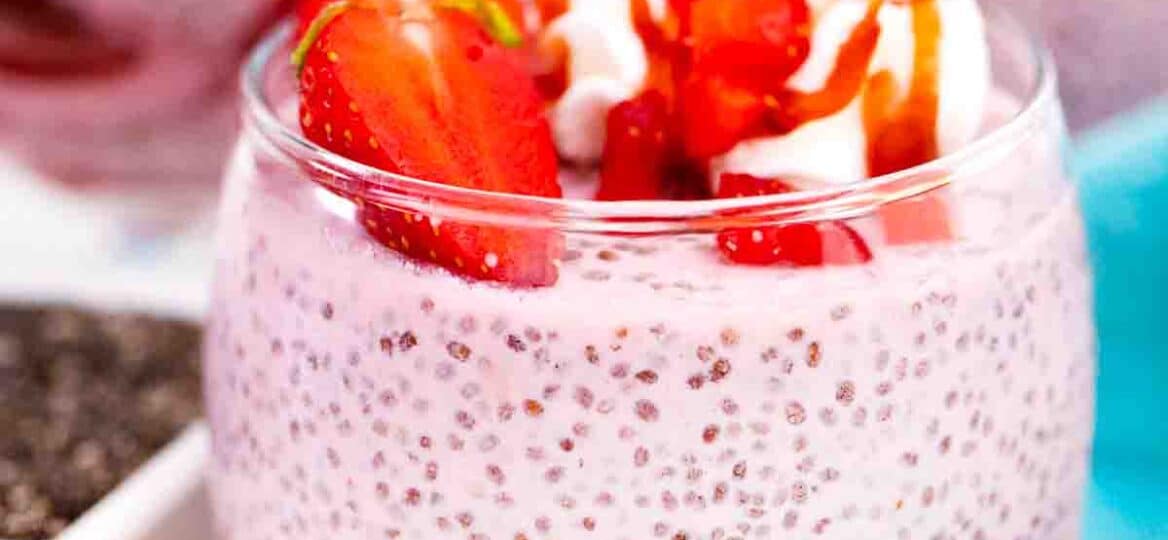 CREAMIEST Strawberry Chia Pudding Recipe
Strawberry chia pudding makes a perfect easy breakfast, delicious snack, or even dessert, with its creamy texture and sweet taste. You do not have to be a recipe developer to make this into your own favorite treat, that is delicious as well as gluten-free and vegetarian.! Add other fruit, some nuts, or whatever else you like. Everyone will love the creamy consistency and sweet fruit flavor no matter when you serve it.
The Aztecs, Mayans, and Tarahumara Indians discovered chia seeds over 3,500 years ago. They called them magical or miracle seeds because of their health properties. They carried the seeds in a pouch to sustain them for days when they were out hunting or traveling. Dr. Wayne Coates of the University of Arizona noted their nutritional benefit in the 1980s and they have become a popular superfood.
For this nutritious and delicious strawberry chia seed pudding recipe, all you will need are a few ingredients including strawberries, chia seeds, vanilla, milk, yogurt, and maple syrup. You can leave out the yogurt or replace it with cream for a thicker and richer pudding or add other fruit to make it unique.
Ingredients needed:
Here is what you need for this delicious strawberry chia pudding recipe. Gather all the items on this list and then find the recipe card at the bottom of the page. It has the exact measurements and step-by-step instructions to make it easy as pie (or pudding).
Fresh strawberries: Roughly chopped.
Chia seeds
Pure maple syrup, or sweetener of choice like agave or honey
Plain yogurt or vegan yogurt
Whole milk
Vanilla extract
For serving:
Chopped strawberries
Whipped cream
How to make strawberry chia pudding from scratch?
Mix it all up: First, mix maple syrup, vanilla, yogurt, milk, and strawberries in a food processor until it is pureed.
Add chia seeds: Next, add your chia seeds to the strawberry mixture. Stir to mix well.
Chill your chia mixture: Now, cover your pudding with plastic wrap and refrigerate for at least four hours. In fact, if you refrigerate overnight, it would be even better. You want the seeds to tell and get thick like pudding consistency.
Serve with toppings: Finally, serve topped with whipped cream and strawberry pieces.
Recipe variations:
Fresh or frozen: You can use fresh or frozen strawberries for this recipe.
Another sweetener: Feel free to use honey, agave syrup, monk fruit, or whatever kind of sweetener you prefer.
Different milk: Similarly, you can use your milk of choice. Oat milk is my favorite, but you could also try coconut milk, cashew milk, or almond milk. Plant-based milk is a healthy choice.
Heavy cream: For an extra-rich and creamy strawberry chia pudding, use heavy cream instead of milk. Or use coconut cream if you need it to be dairy-free.

Lemon juice: Give your pudding extra freshness by adding a teaspoon of lemon juice.

More fruit: Add more fruit for extra flavor. Some of our favorite ideas are raspberries, mangoes, and blackberries.

Yogurt flavors: Try using different yogurt flavors such as strawberry, vanilla, or even chocolate.

More additions: Just about anything goes with strawberries. Add some chopped nuts such as pecans, walnuts, or cashews.
How to serve:
Serve as a quick breakfast, tasty treat, or a unique dessert with any meal. It is great for meal prep, and you can mix it up to make it your own by using other fruit. Try one of these great ideas or share your own in the comments section. We love reader interactions.
Add a spoonful of strawberry puree or strawberry sauce to the top of this delicious chia pudding for a fresh strawberry flavor. Or try it in this easy recipe for sweet and tangy strawberry curd.

A handful of chocolate chips on top will please chocolate lovers in the family.

Use leftovers in other recipes like different kinds of chia puddings or desserts. Try it in our instant pot rice pudding recipe.

Sprinkle some powdered sugar on top for a sweeter pudding.
It is the perfect addition to breakfast recipes like yogurt and oatmeal too. Add a spoonful to our cheesecake oatmeal for a yummy new dish.
Our strawberry chia pudding recipe is healthy, delicious, and versatile so you can add fresh fruit or nuts on top too.
Frequently asked questions
What are chia seeds?
Chia seeds are part of a desert plant, which is a member of the mint family and comes from Central America. They are tiny oval seeds known for their incredible health benefits and ability to soak up flavors and turn them into a gel. Chia seeds can be eaten raw or used in many dishes like strawberry chia pudding. You can also sprinkle it on vegetables, yogurt, rice, or cereal.
Are chia seeds healthy?
Many people may think of those silly green furry Chia Pets seen on television when they hear chia seeds. But these little gems are incredibly healthy. In fact, they are known as a superfood. They have lots of antioxidants and anti-inflammatories, calcium, plant-based protein, and soluble fiber that are great for heart health. They also have lots of magnesium and other minerals. It is especially good for lowering blood sugar.
Why is my pudding watery?
It could be that you did not chill it long enough. Try leaving it in the fridge overnight. If it is still not thick enough, add more chia seeds. You could also add a cornstarch slurry to thicken it if you do not have any more chia seeds. Just mix a tablespoon of cornstarch with a tablespoon of water in a small bowl and then add it to the pudding and stir until it is thickened.
Can chia seeds go bad?
Yes, they have an expiration date on the package. The average shelf life of chia seeds is about four or five years. It depends on when you get them, what kind of package they are in, and how you store them. Once the package is open, it will stay fresh for about a year. If they stay in an unopened container without being exposed to air or moisture, they can last six or seven years.
What is the nutritional information in this recipe?
Each serving has 112 calories, 18 net carbs, and 2 grams of fat with 1 gram saturated fat and 1 gram of trans fat. It also has 55 mg sodium, 5 mg cholesterol, and 13 grams of sugar. But you also get 5 grams protein, 200 mg potassium, 7 grams of fiber, 2 mg iron, 166 mg calcium, 29 mg vitamin C, and 104 units of vitamin A.
How to store leftovers:
Store: Keep leftover strawberry chia pudding in the fridge in an airtight container for up to four days.
Freeze: Freeze your strawberry chia pudding in a freezer bag or other container for 60 to 90 days.
Thaw: Just thaw your frozen leftovers in the fridge overnight before serving.

Reheat: To reheat, microwave for about 30 to 45 seconds or until it is warm enough.
More healthy breakfasts you should try:
Recipe tips:
Looking for more recipes? We have several other chia pudding recipes on our food blog. There are lots of popular recipes on our site that you can try.

Be sure to use whole chia seeds instead of ground or it will not get its gel-like consistency.
If you do not have a food processor, you can use a blender.

You can also mix it in a medium bowl with an immersion blender until it has the creamy texture you prefer.
This recipe is perfect for meal prepping because it just gets better the longer it soaks.

You can find chia seeds at any grocery store, typically in the baking section by the spices.
Need more protein in your diet? This recipe has lots of plant-based protein. If that is not enough, you can also add a tablespoon of protein powder.

If you use frozen strawberries, let them thaw first and pat them dry with paper towels.
Strawberry Chia Pudding
Ingredients
12

oz.

fresh strawberries

roughly chopped (if using frozen strawberries, thaw them first)

1

cup

milk

I prefer to use canned coconut milk as its extra creamy and will add a more pudding-like texture

1

cup

yogurt

dairy or plant-based, I prefer high-protein Greek vanilla yogurt

1

teaspoon

vanilla extract

1/4

cup

maple syrup

honey or agave - to taste

1/2

cup

chia seeds
Toppings:
fresh chopped strawberries

or other fruit

whipped cream

optional
Instructions
First, wash and chop the strawberries and add them to a high-speed blender.

Also, add the milk, yogurt, vanilla extract, and maple syrup. Purée until smooth.

After that, add chia seeds. Stir to mix well, I would say whisk vigorously so they don't stick together.

Distribute the pudding mixture into serving jars, close them with a lid or cover with plastic wrap, and refrigerate for at least 3 hours, or overnight. The chia seeds should have gelled and the mixture should resemble a thick pudding.

Serve, garnished with fresh strawberries or and whipped cream, if desired.
Deliciousness to your inbox
Enjoy weekly hand picked recipes and recommendations