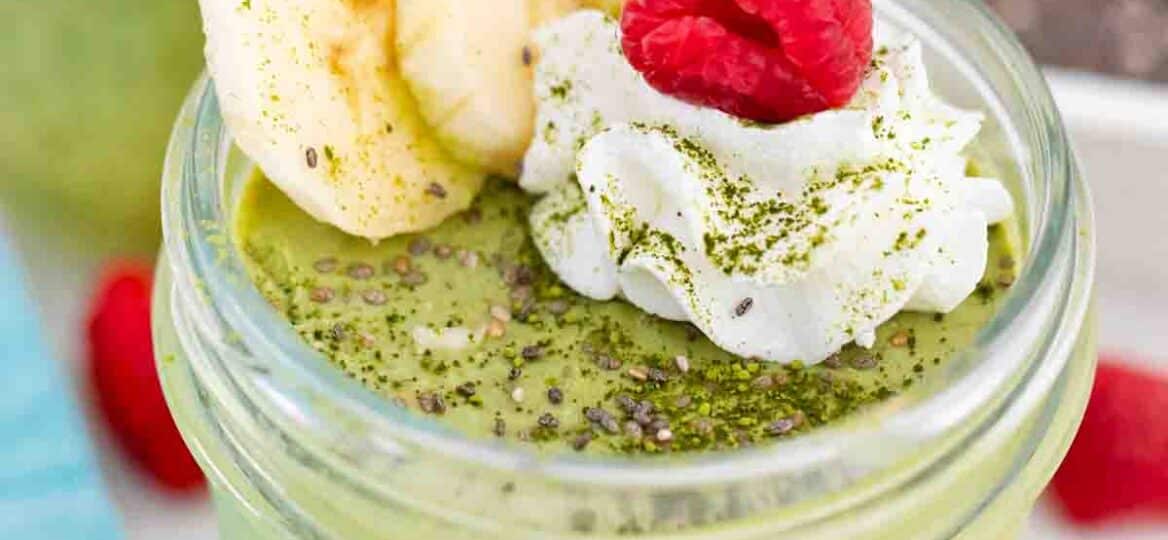 Matcha Chia Pudding Recipe
Matcha chia pudding is a fast grab-and-go breakfast, nourishing, filling, and tastes slightly sweet with the earthy flavor of matcha. Matcha chia pudding is a filling snack cuisine anytime you need it, and you can make this matcha chia pudding ahead of time by adding it to your meal prep.
It may have been the Chinese who first ground-up green tea, but it was the Japanese who invented the way we enjoy this tea now. They shaded, steamed, dried, and ground the tea leaves for the best flavor and texture. Matcha tea seeds were introduced by Eisai in 1191. He was a Zen monk who brought them from China after studying Buddhism there.
Today, this tea is made all over the world and is served in many different ways. If you love chia pudding and matcha tea, you need to try this fast and easy recipe. All you need are a few ingredients including chia seeds, matcha, maple syrup, milk, and your favorite toppings.
Ingredients needed:
To make this matcha chia pudding recipe, gather these simple ingredients. After, please scroll down to our handy recipe card for the complete instructions and measurements.
For the chia layer:
Chia seeds
Organic matcha: Latte grade.
Pure maple syrup
Whole milk
For the optional toppings:
Toasted buckwheat seeds
Maple syrup
Cocoa nibs
Hemp hearts
Bananas or other fresh fruit
How to make matcha chia pudding from scratch?
Mix it up: Mix chia seeds and matcha with maple syrup and milk in a lidded bowl or jar. If you use a jar, you can just put the lid on and shake it. Let it sit for 10 minutes and shake or stir again to prevent lumps.
Let it chill: Now, chill your chia pudding mixture for at least two hours but overnight is preferred.
Add toppings and serve: Then, when you are ready to eat your matcha pudding, top it with fresh berries or banana and garnish with syrup, hemp heart, cocoa nibs, and buckwheat seeds.
Recipe variations:
No regular milk: You can use plant-based milk like almond milk, coconut milk, cashew milk, or whichever you prefer if you need to use non-dairy milk. Or try organic soy milk instead.
Vanilla: Add vanilla extract for a sweeter flavor. The blend of maple syrup and vanilla extract is the perfect balance of sweetness.
Another extract: Actually, feel free to use your own favorite extract favorite like almond, blueberry, strawberry, or whatever you like.
Fresh fruit: Instead of using extracts, why not use fresh strawberries, blueberries, and blackberries?
No syrup: If you do not have any (or do not like) maple syrup, feel free to use agave syrup or honey instead.
Other sweeteners: In fact, you can also try other sweeteners like liquid Stevia or Splenda.
Spicy pudding: Make your matcha chia pudding spicy by adding a pinch of red pepper flakes.
How to serve:
This creamy matcha chia pudding recipe is easy to make and has healing properties as well. The flavor of green tea chia pudding is sweet and savory, and you can add your own favorite fresh fruit for serving. Try one of our great serving ideas here or share some of your own with us in the comments section at the bottom of this page.
Chop up some fresh fruit like peaches, bananas, strawberries, and mangoes to toss on top of your chia seed pudding.
Matcha chia seed pudding tastes even more delicious with a dollop of whipped cream on top. We have an easy homemade whipped cream recipe that is perfect.
Sprinkle some unsweetened coconut flakes on top for a more tropical taste.
Why not drizzle some caramel sauce on top of your pudding? Try our healthy and delicious keto caramel sauce you can use for this pudding.
Instead of cocoa nibs, use chocolate chips for a sweeter topping. It may not be as healthy, but it cuts down on caffeine and makes it more kid-friendly.
Another way to top this delicious matcha chia pudding is with some kind of fruit preserves or sauce. Our strawberry sauce is perfect for this!
For a festive pudding, sprinkle on some rainbow jimmies or other fun candy toppings.
Frequently asked questions
What is matcha powder?
Matcha green tea powder is made from processed tea leaves from Eastern Asia. If you use the ceremonial-grade matcha, it can have a bitter taste so you will need to use maple syrup, honey, or some other sweetener to make it delicious. The flavor is also earthy and slightly grassy with a full body and smoothness. It is made into a fine powder that is easy to add to all sorts of recipes.
Is matcha healthy?
Matcha green tea has some awesome health benefits like antioxidants, anti-inflammatories, vitamins, and minerals as well as plant-based protein. You get lots of vitamin C, amino acids, and healthy fats from both the chia seeds and matcha. It is also low carb and helps make you alert without causing those awful crashes you get after a cup of coffee because matcha has half the caffeine.
Does it matter what color seeds I use?
Whether you use white chia seeds or black chia seeds, it makes no difference. Actually, you will likely get a blend of both when you buy your chia seeds from the grocery store. Black and white chia seeds have the same nutritional composition and taste exactly the same. If you are worried about how many calories they have, there is no difference between the two.
Why is my pudding watery?
It may be that you did not soak your chia seeds long enough. Try soaking them overnight in the fridge. If it is still too watery, you can add more chia seeds but then you will have to wait several hours or overnight to let them soak. If you are in a hurry, use cornstarch slurry instead.
What are the nutrition facts in this recipe?
If you are concerned with serving calories, nutrients, and fat, here are the estimated numbers in these recipe FAQs. Each serving has 184 calories, 18 grams of carbs, 9 grams fat, and 1 gram saturated fat as well as 64 mg sodium, 5 mg cholesterol, and 8 grams of sugar. You also get 6 mg polyunsaturated fat, 2 grams monounsaturated fat, 8 grams protein, 3 mg iron, 305 mg calcium, 10 mg vitamin C, 615 units of vitamin A, 9 grams of fiber, and 255 mg potassium.
How to store leftovers:
Store: You can store your leftover matcha chia pudding in an airtight container in the fridge for three days.
Freeze: If you cannot finish it in a few days, freeze your matcha chia pudding for up to three months in a freezer bag or another freezer-safe container.
Thaw: You should thaw in the fridge overnight before serving for the best texture and flavor.
More easy breakfast recipes:
Recipe tips:
If you are looking for other chia pudding recipes, we have them! Just check out our blog for more healthy chia pudding recipes as well as more matcha recipes.
Feel free to add your favorite toppings to your matcha chia pudding to make it unique.
Let your chia seeds soak overnight for the best texture and flavor.
If you make this recipe, let us know how it turns out in the comments section. Reader interactions are important to us.
You can shorten prep time by making your pudding overnight the night before serving. Just keep it chilled until you are ready to serve.
You do not have to tell the kids that it is healthy. They might even like it better if you don't!
If you love matcha tea, why not add matcha powder to other foods like ice cream, smoothies, and oatmeal?
Make sure you use hemp hearts instead of hemp seeds or they will be too chewy.
Matcha Chia Pudding
Ingredients
2

cups

non-diary milk

I prefer canned coconut milk as its extra creamy

1

tablespoon

maple syrup

agave or honey

2

teaspoons

matcha powder

1/2

cup

chia seeds
Toppings:
Bananas

Berries

Shaved chocolate

Whipped cream
Instructions
First, add all the ingredients to a bowl and whisk until fully combined and the matcha is not in lumps. Make sure to whisk vigorously.

Next, spoon the chia pudding into individual serving-size jars or bowls.

Refrigerate for at least an hour and a half or overnight before serving. I prefer to leave mine overnight.

Before serving, top with desired toppings.

The matcha chia pudding can be stored in a closed container in the refrigerator for up to three days.
Deliciousness to your inbox
Enjoy weekly hand picked recipes and recommendations