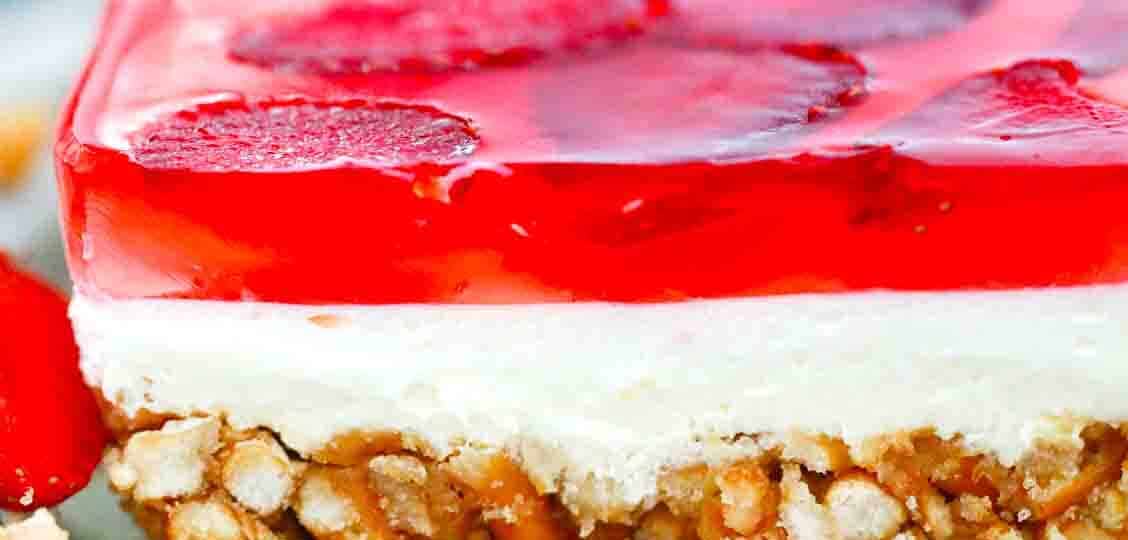 Strawberry Pretzel Salad [Video]
Strawberry Pretzel Salad is a summertime dessert made with salty-buttery pretzels, cream cheese, Jello, and fresh strawberries. The cream cheese layer is made with mascarpone cheese, Cool Whip, and sugar and the buttery pretzel crust adds the perfect blend of sweet and salty combo.
If you still have some strawberries left, try our Strawberry Bread recipe made with powdered sugar, lemon, and diced strawberries or this Instant Pot Strawberry Cheesecake with strawberry jam and whipped cream topping.
Everyone loves this strawberry pretzel salad recipe because it is sweet, salty, creamy, and crunchy. You get the best of everything in one dish. The first reference to gelatin was in 1682 when a French doctor noticed the jelly-like substance full of protein that could be flavored however you like.
However, Knox gelatin did not come out until 1894 and Jello did not come along until the following year. Another kind of dessert lasagna, this Pistachio Dessert is made with pistachio pudding, cream cheese, and a graham cracker crust.
Out of all the recipes you have ever made with jello, this is going to be your favorite one. Not only is it easy, but it is also delicious. This is something fun to make with the kids or grandkids because they love to help. Even toddlers would get a kick out of crushing the pretzels and stirring the jello.
Looking for other fruit desserts? Our scrumptious fruit salad with honey lime dressing is as yummy as it is healthy with kiwi, strawberries, raspberries, and grapes. For another kind of fruit salad, try this pineapple cucumber salad seasoned with chili sauce, soy sauce, and maple syrup.
Ingredients needed:
You will need these basic ingredients for this strawberry pretzel salad recipe. When you are ready to begin, scroll down to the bottom of the page for the step-by-step instructions and measurements on our recipe card.
Strawberry topping:
Strawberry Jell-O: Any brand of gelatin will work here.
Lemon: Juiced and zested.
Hulled and sliced strawberries: Fresh strawberries or frozen strawberries are both fine.
Boiling water
Crust:
Unsalted butter: If you only have salted butter, make sure you use unsalted pretzels or the pretzel crust will be too salty.
White granulated sugar
Salted pretzels: Measure before crushing.
Filling:
Cool Whip: Or any kind of creamy whipped topping, thawed in the fridge.
White granulated sugar
Mascarpone cheese: Softened to room temperature.
Cream cheese: Softened to room temperature.
How to make strawberry pretzel salad?
Preheat: To begin, preheat your oven to 350 degrees F.
Mix the strawberry jello layer: In the meantime, mix strawberry gelatin with two cups of boiling water and stir until it is completely dissolved. Set it to the side to let it cool to room temperature.
Make the pretzel mixture: Next, crush pretzels by putting them in a Ziploc bag and smashing with a rolling pin or something else heavy and stir until the sugar is dissolved. Combine crushed pretzels and pour it all into a casserole dish. Press the mixture into the dish so it is solid. Bake for 10 minutes and then let it cool completely to room temperature.
Make the cream cheese mixture: While you let the crust cool, beat 1/2 cup sugar, one package of cream cheese, and mascarpone cheese in a medium bowl with an electric mixer. Keep beating it at medium-high until it is well-mixed and fluffy.
Prep and spread mixture: Then, carefully fold the whipped cream into the cream cheese mixture. Spread evenly over the cream cheese over the cooled pretzel layer all the way to the edges. Chill in the fridge for 30 to 60 minutes.
Make strawberry mixture: Meanwhile, mix the sliced strawberries with the jello and add the lemon zest and juice. Stir until it is combined.
Pour and chill: Lastly, pour the jello mixture over the cream cheese layer. Refrigerate for about two to four hours or until the jello is set.
Slice and serve pretzel salad: After the jello is completely set, cut into squares and serve with fresh strawberries and whipped cream.
Recipe variations:
Sweetened cream cheese: Add a jar of marshmallow fluff to the filling for extra sweetened cream cheese.
Other crust: In a hurry? Use a graham cracker crust or another premade crust.
Make your own: Alternatively, make your own crust with crushed graham crackers.
More fruit: Feel free to add your own favorite fresh fruit like mandarin oranges or crushed pineapple.
Frozen raspberries: You can also use frozen berries instead of fresh berries including frozen raspberries.
Different jello flavors: Try other flavors of gelatin like lemon, lime, or orange jello.
Vanilla extract: Add a teaspoon of vanilla extract for a flavor boost.
Brown sugar: Try this with brown sugar for a richer flavor.

Sugar-free: Use all sugar-free ingredients for a healthier dish.
How to serve:
With a crunchy and salty pretzel crust, creamy filling, and sweet strawberry topping, this is the best salad you have ever had. Even picky kids love this strawberry jello pretzel salad. The strawberry jello mixture is filled with fresh strawberries for a burst of tangy fruit in every bite. Try one of these awesome serving ideas or one of your own.
Serve pretzel jello salad with rainbow sprinkles on top for a festive look at your next summer BBQ, birthday party, or family reunion.
Make your own whipped topping with heavy cream, sugar, and vanilla, or try our easy creamy whipped topping recipe.
This strawberry pretzel dessert is a fantastic dish for a potluck dinner at work or a nice cool treat anytime.
Use leftovers to make a smoothie or try it in this strawberry mousse recipe.
Add some ice cream on the side for a unique birthday party cake.
This fruity dish goes great with chicken entrees. Serve this dessert after a hearty meal of lemon chicken piccata or our delicious pepperoncini chicken.

Try our strawberry pretzel salad with meatloaf and mashed potatoes.
Frequently asked questions
What kind of pretzels are best for this recipe?
The crunchier the better. While many people like to use those small pretzel sticks, it is actually easier to crush the larger ones. And make sure to use salted pretzels so you get that sweet and salty flavors. If you use unsalted, you can add a bit of salt to the crust mixture when you make it.
How do you make sure the layers do not mix together?
To keep the layers separate, spread the cream cheese filling all the way to the edges of the pan before putting it into the fridge to set. It is also important to make sure each layer is completely cool before adding another layer.
Can I just use the directions on the Jello box?
No. You want this strawberry jello to be thicker than what the original recipe notes. The recipe on the box calls for four cups of water but you only need two cups. This will make it set better and give it a more intense strawberry flavor.
What are the nutrition facts in this strawberry jello pretzel salad recipe?
Each serving of this strawberry pretzel salad has 415 calories, 52 grams of carbohydrates, 21 grams of fat with 12 grams of saturated fat, and 500 milligrams of sodium. But you also get 7 grams of protein, 2 grams of fiber, 642 units of vitamin A, 33 milligrams of vitamin C, and 91 milligrams of calcium.
How to store leftovers:
Store: It is easy to store this delicious dessert in a covered dish in the fridge where it will stay fresh for up to five days.

Freeze: Although you can also freeze your strawberry pretzel salad for up to three months, the cream cheese layer may not have the same texture and flavor as before.

Thaw: Be sure to thaw your frozen strawberry pretzel dessert in the fridge before serving.
More strawberry desserts:
Recipe tips:
When you spread the cream cheese mixture onto the cooled crust, make sure you go all the way to the edges. Otherwise, the jello mixture will leak into the crust and make it mushy.

Make sure you let each layer of this delicious dish cool completely before adding the next one.

Be careful when pouring the jello in so it does not cause cracks in the cream layer.

Use gluten-free pretzels for those who have celiac disease.

Make the creamy filling thicker by using another package of cream cheese.

Whipped topping is more stable than whipped cream and will help the strawberry pretzel salad set more firmly.

You can go ahead and melt the butter. Melted butter is a little bit easier to mix with the pretzel crust.
Strawberry Pretzel Salad
Ingredients
Strawberry Topping:
6

oz

strawberry Jell-O

2

cups

boiling water

1 1/2

lb

fresh strawberries

hulled and sliced

1

lemon

juiced and zested
Crust:
3

cups

salted pretzels

measure before crushing

1/4

cup

white granulated sugar

8

tablespoons

unsalted butter
Filling:
8

oz

cream cheese

softened to room temperature

8

oz

mascarpone cheese

softened to room temperature

1/2

cup

white granulated sugar

8

oz

cool whip

thawed in the fridge
Instructions
Preheat the oven to 350°F.

Combine strawberry Jell-O with 2 cups of boiling water and stir until completely dissolved.

Set aside the mixture to cool to room temperature.
Crust:
Crush the pretzels by placing them in a Ziploc bag, and using a rolling pin.

Place a medium saucepan over medium heat and add the butter and sugar. Stir until the butter is melted and the sugar is fully dissolved.

Mix in the crushed pretzels and transfer the mixture into a 13x9 glass casserole dish. Press into an even layer and bake for 10 min, then cool to room temp.
Filling:
When the pretzel crust has cooled, using an electric hand mixer, in a large mixing bowl beat cream cheese with mascarpone and 1/2 cup sugar on med/high speed until fluffy and combined.

Using a spatula, fold in the Cool Whip until no streaks remain.

Spread the creamy mixture on top of the cooled pretzels, making sure to spread to the edges of the dish, this is important, otherwise, the Jello mixture will get to the crust and make it mushy.

Refrigerate for 30-60 mins.

Stir the sliced strawberries into the room-temperature jello. Add lemon juice and zest, and stir to combine.

Pour and spread the strawberry jello mixture evenly on top of the creamy layer and refrigerate until jello is set (2-4 hours).

Slice and serve topped with whipped cream and fresh strawberries.