Strawberry Pretzel Salad [Video]
Strawberry Pretzel Salad is a summertime dessert made with salty-buttery pretzels, cream cheese, Jello, and fresh strawberries. If you haven't tried it before, get ready to have a surprising treat!
Looking for refreshments to beat the summer heat? Have a bite of my Green Smoothie Bowl for a nutritious meal, a sip of my Boozy Apple Iced Tea for a drink with a kick, and lastly, munch on my Watermelon Truffles to satisfy your sweet tooth.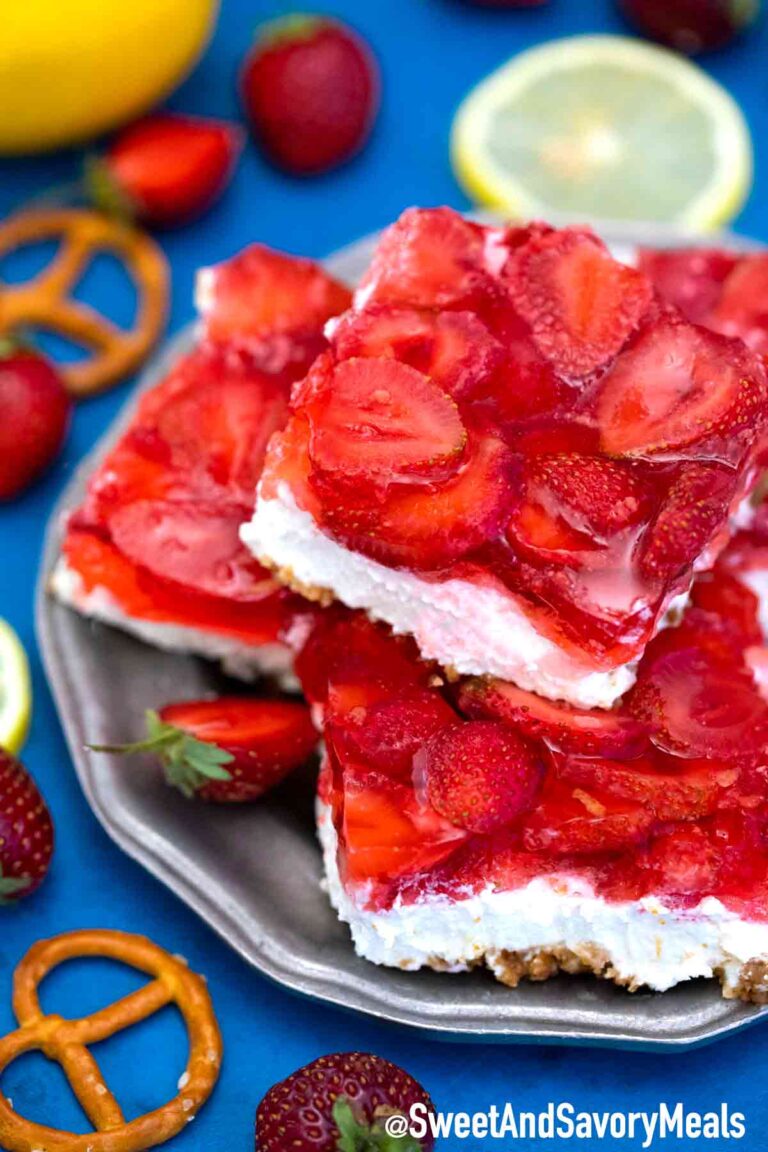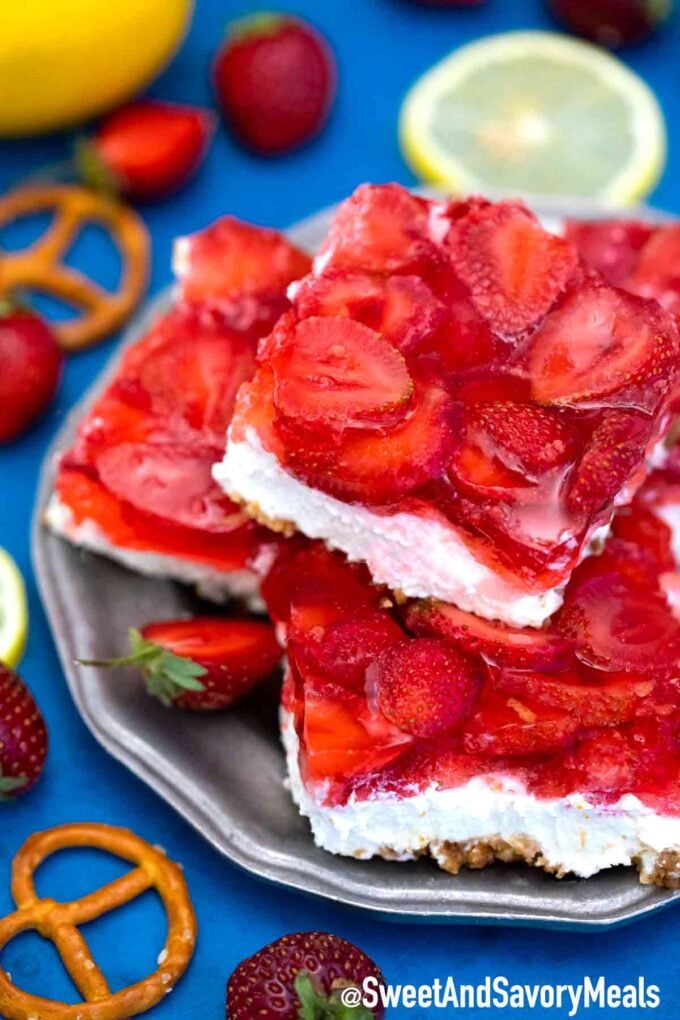 Strawberry Lasagna
Strawberry Pretzel Salad is quite an unconventional dessert. However, once you have a bite, you'll wonder where this dish has been all your life.
It has the perfect balance of sweetness and saltiness which makes it so appetizing. Even its texture is quite unique as it uses jelly for a soft topping, cream for a smooth filling, and pretzels for a crunchy crust.
This dessert is honestly one of the most unique recipes that I have made. It is also one of the most fun to make, as jellies are really popular with kids and they have so much fun helping.
Summertime has never felt more exhilarating with this dessert. This treat perfectly encapsulates all there is about the season: fun, carefree, and dreamy.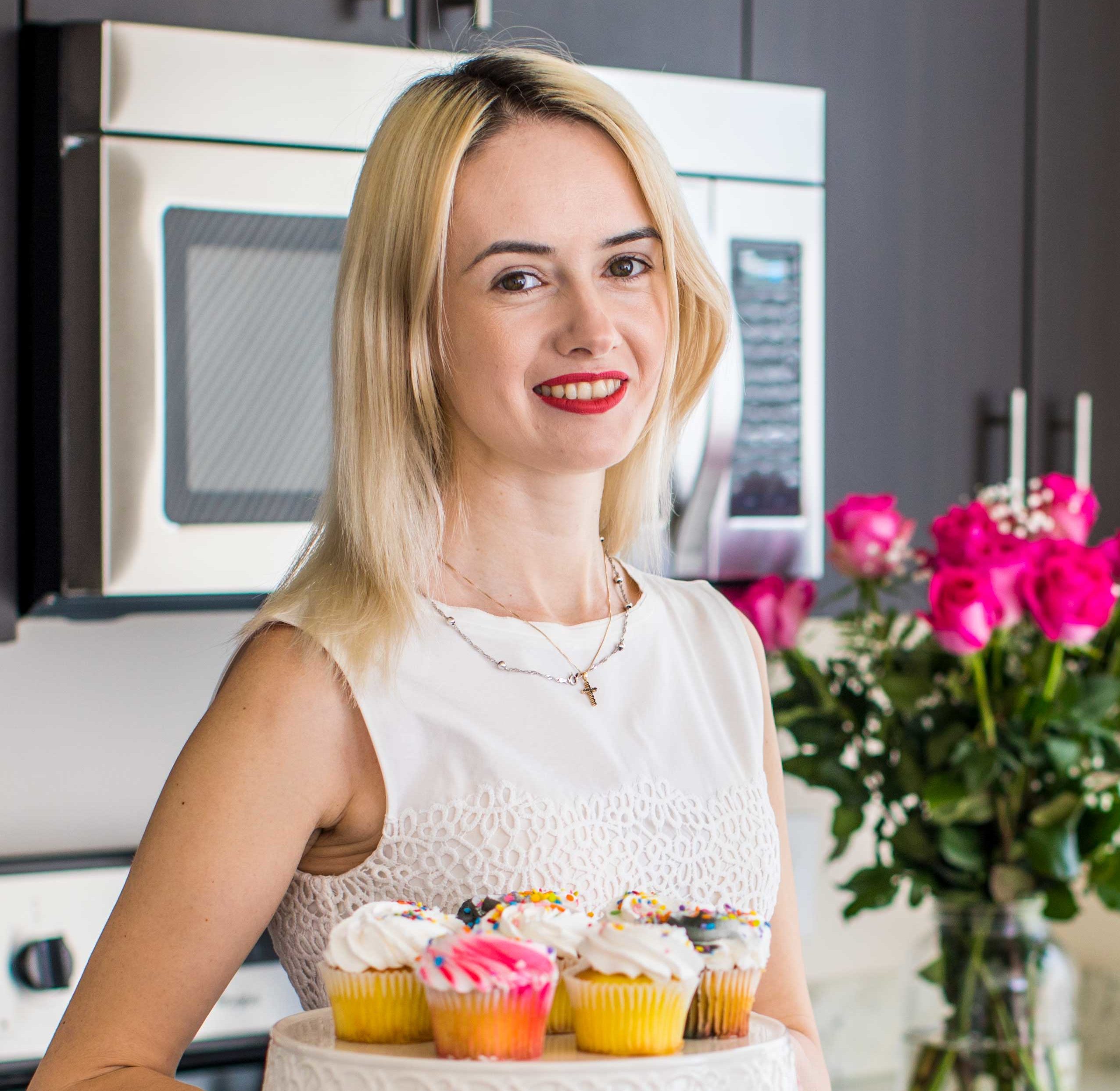 Follow us on Pinterest for more delicious recipes!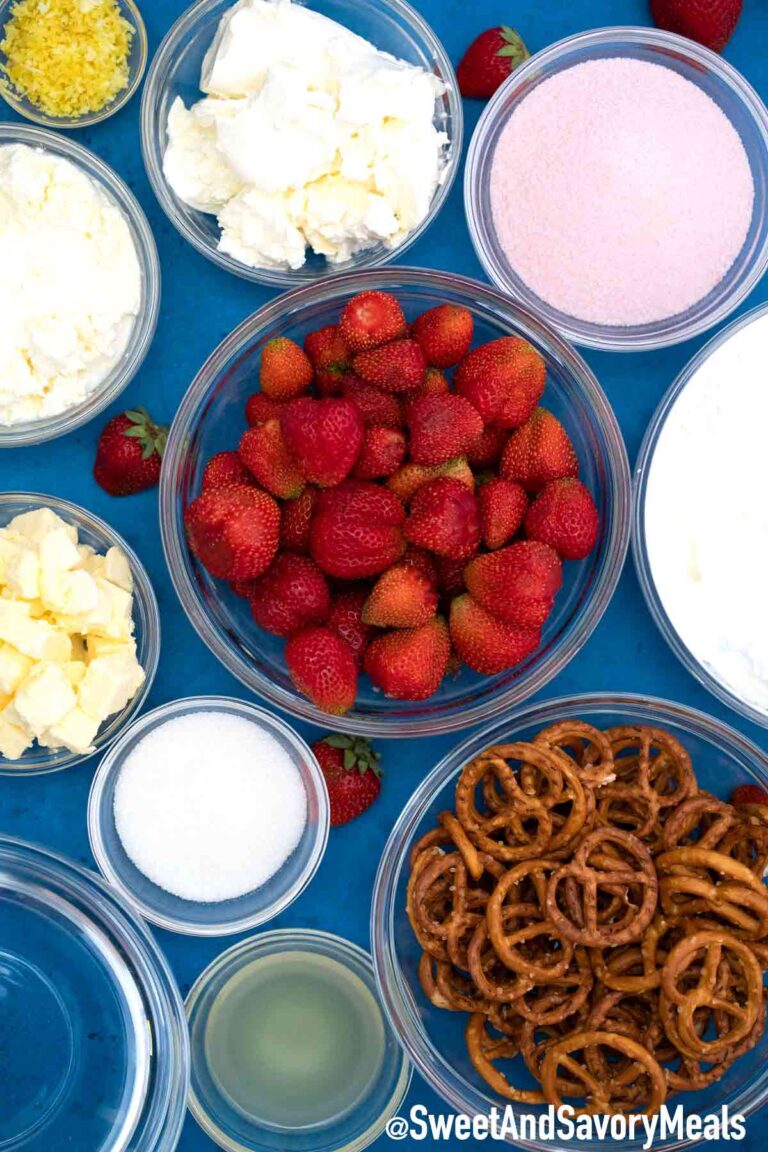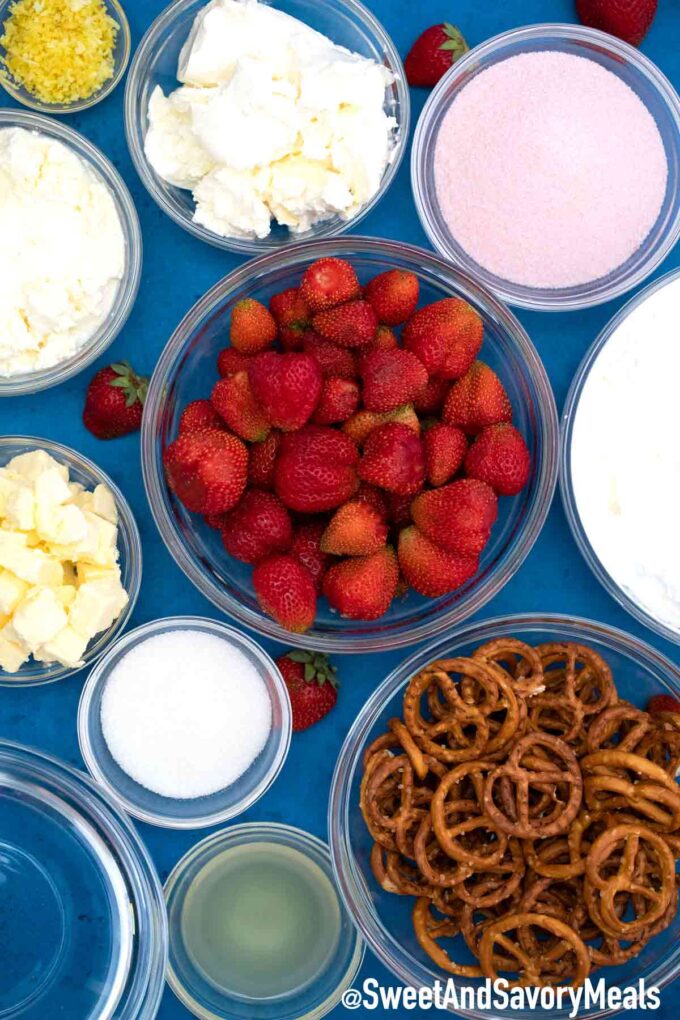 How to make the best Strawberry Pretzel Salad
Heat oven. Turn oven to 350F.

Cool Jell-O. Stir the strawberry flavored Jell-O with boiling water until completely dissolved. Set aside to cool to room temp.
Prep the crust mixture. In a resealable plastic bag, place the pretzels then close. Crush them finely by rolling over a rolling pin.

Cook sauce. Heat a saucepan over medium heat. Add the butter and sugar. When thoroughly mixed, add the crushed pretzels.

Make the base. Transfer the pretzel mixture into a large deep baking pan. Press it evenly with a spoon to make sure it is sturdy. Bake it for 10 minutes. Afterward, let it cool.
Prep the filling. Mix cream cheese, mascarpone, and sugar on medium-high speed or until fluffy.

Combine. Once pretzels are cooled, spread the cream filling on top. Make sure to cover all edges. Then, refrigerate for 30 minutes.
Fill the toppings. Add sliced strawberries, lemon juice, and zest into the jelly mixture.

Serve. Pour the jelly mixture on top and refrigerate for 2 hours or until the jelly is firmly set.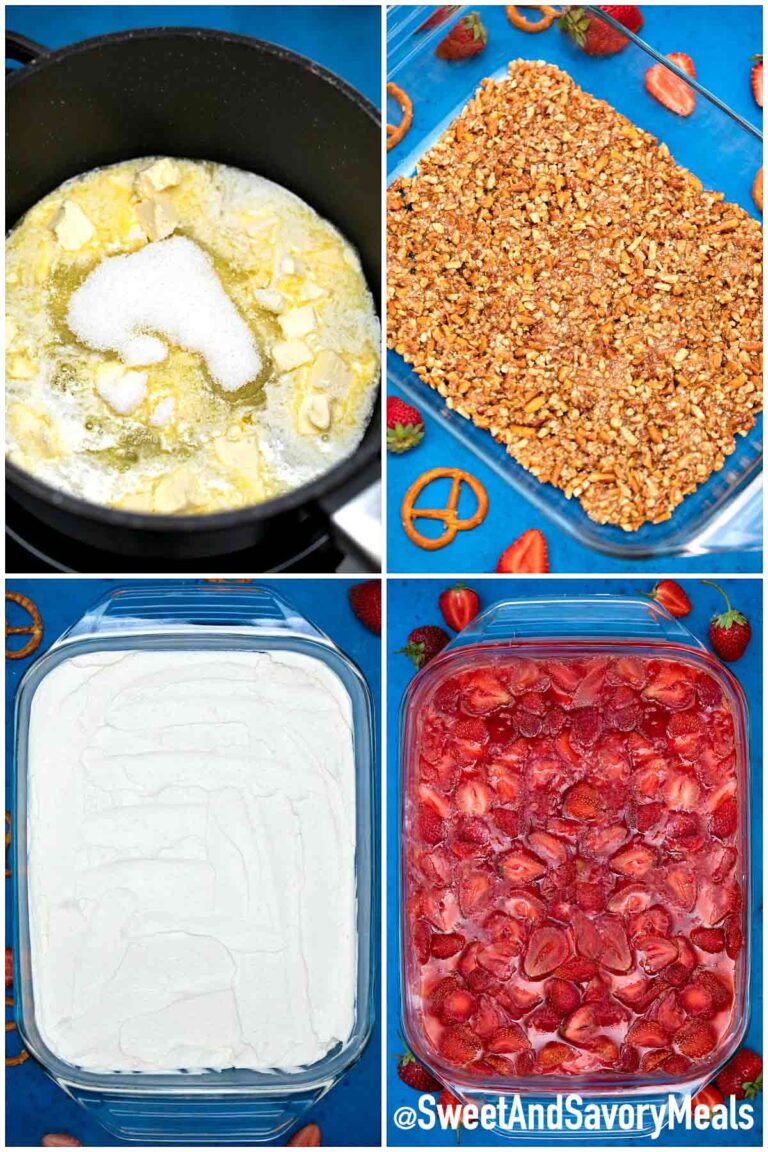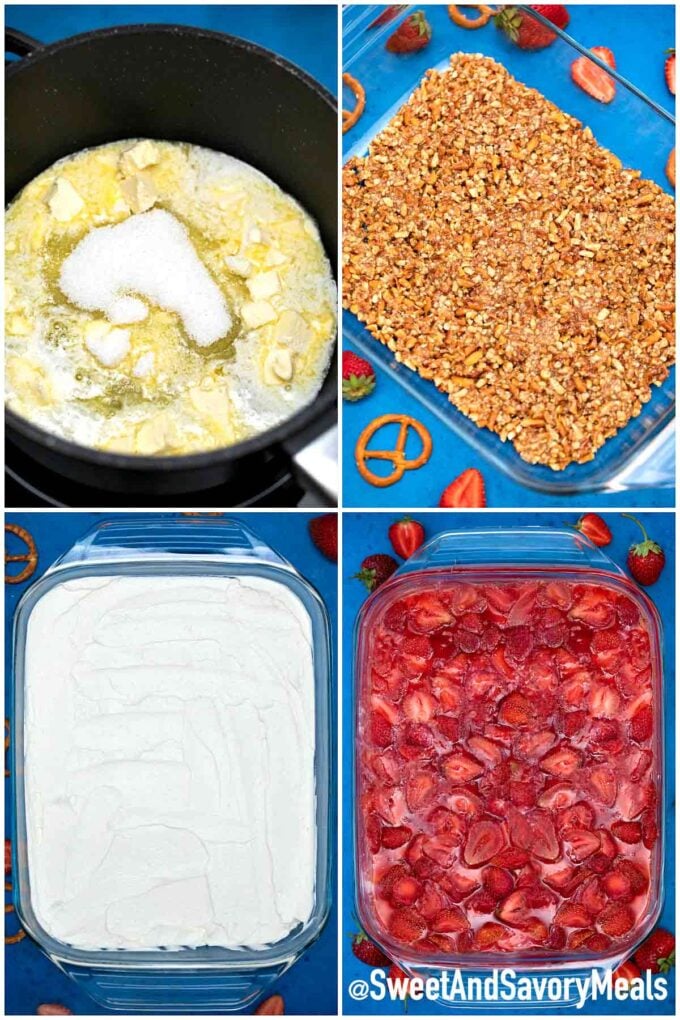 Can I Substitute Cool Whip?
Yes! In fact, the cool whip is a great alternative if you are short on time or don't have an electric mixer on hand. However, you can also substitute it with homemade whipped cream.
What Kind of Pretzels are Best?
Salted and crunchy ones. Make sure to get the hard ones because it will be difficult to crush soggy ones. When it comes to size, also use small pretzels, it is faster to crush.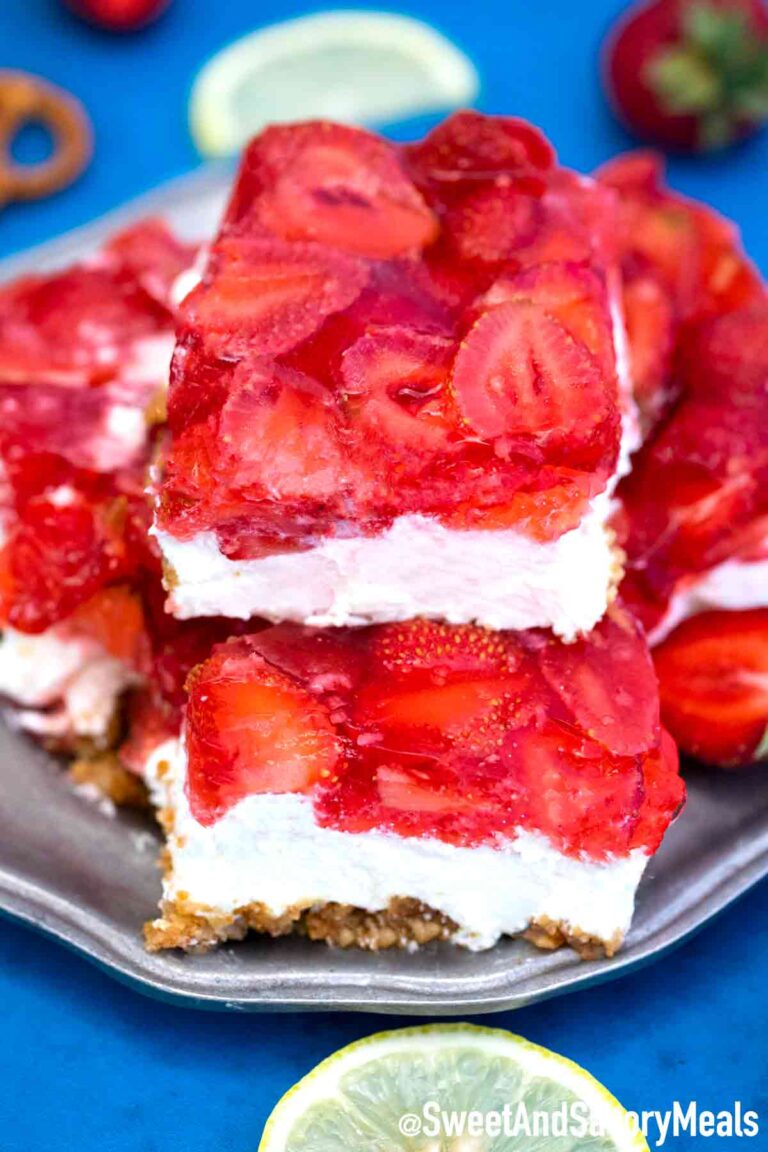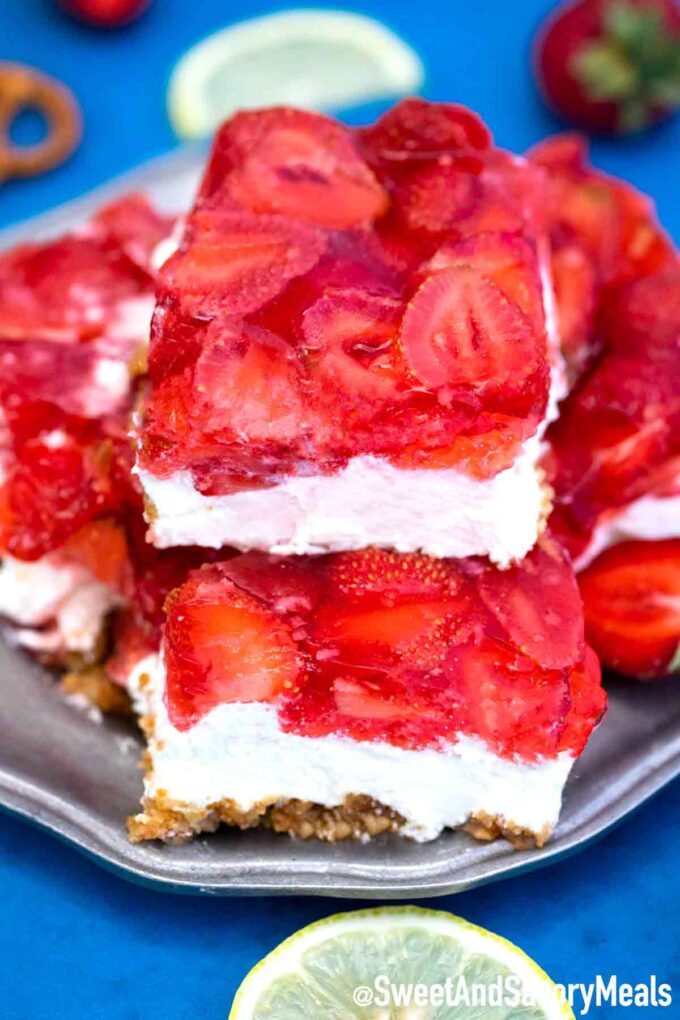 Can you make Strawberry Pretzel Salad ahead of time?
Yes! In fact, most people do make it beforehand.
To store it, you only need to cover and refrigerate it until it is ready to serve. Do the same thing with leftovers.
More delicious berry desserts:
Can't get enough of sweet goodness? Make sure to give yourself a treat once in a while with these delightful delicacies: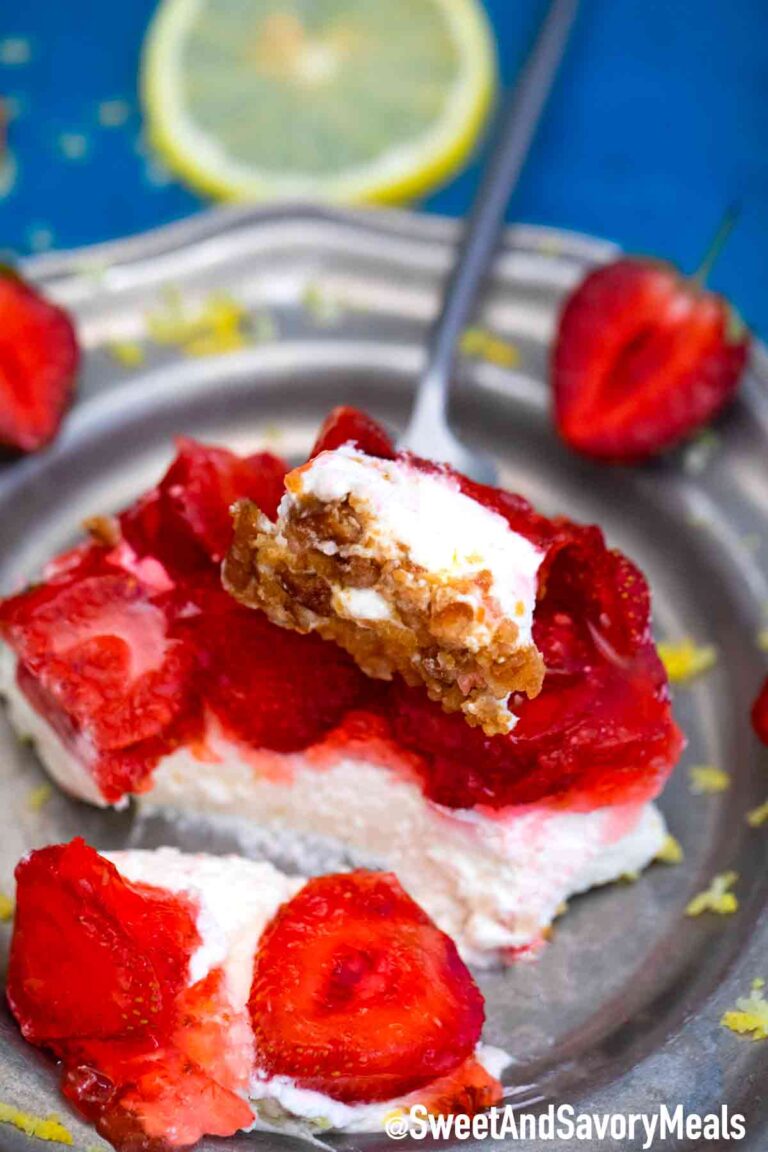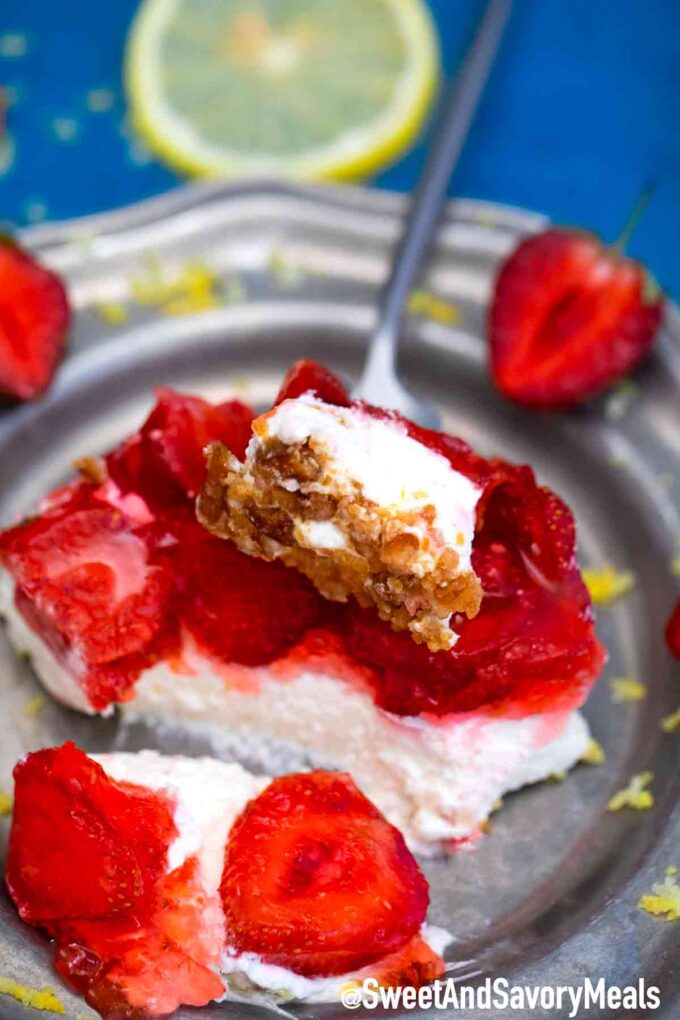 Recipe tips:
For other variations, make this dessert with other fruits such as blueberries and raspberries.
For a balanced taste, you can make the cream filling thicker to make it blend well with the sweetness of the strawberry.

You can also substitute salted pretzels with the gluten-free variety for a healthier option.

It is important to stress that the cream filling should cover all the way to the edges. This prevents the jelly from seeping down to the crust and making it mushy.
For extra toppings, you can also add a layer of whipped cream in every slice.
Save Recipe
Strawberry Pretzel Salad
Strawberry Pretzel Salad is a summertime dessert made with salty-buttery pretzels, cream cheese, Jello, and fresh strawberries.
Author: Catalina Castravet
Serves: 12 servings
Prep time:

30

minutes
Cook time:

10

minutes
Total time:

4

hrs

40

mins
Ingredients
Strawberry Topping:
Crust:
Filling:
Instructions
Crust:
Filling:
Nutrition information
Calories: 415 Carbohydrates: 52 Protein: 7 Fat: 21 Saturated Fat: 12 Cholesterol: 52 Sodium: 501 Potassium: 181 Fiber: 2 Sugar: 32 Vitamin A: 642 Vitamin C: 33 Calcium: 91 Iron: 1
Save Recipe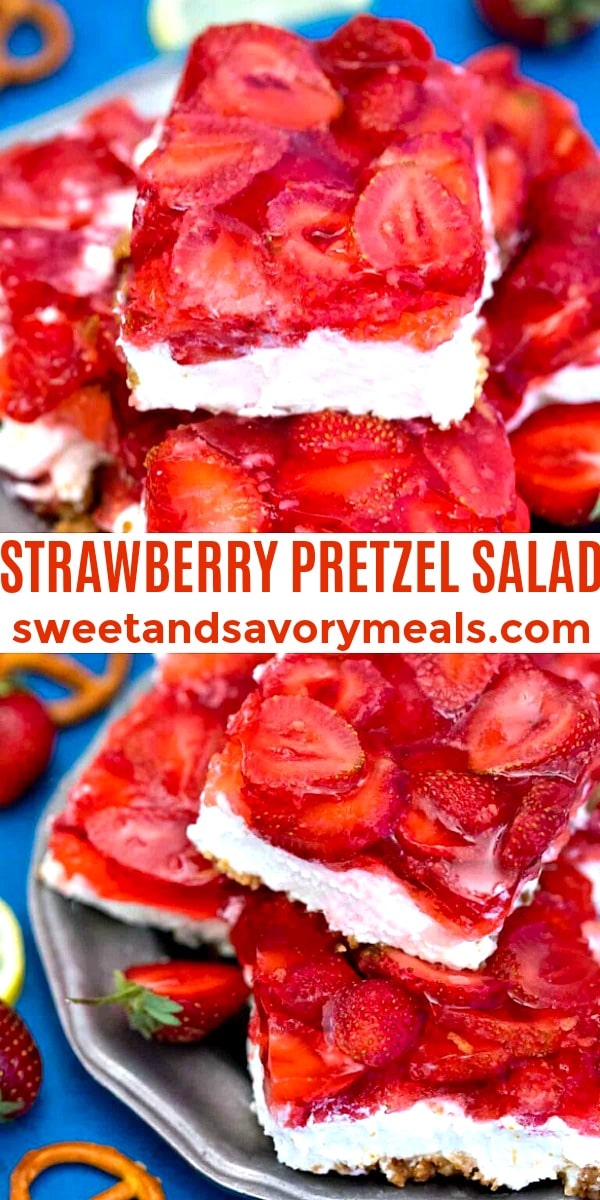 More recipes you might love
Categories: