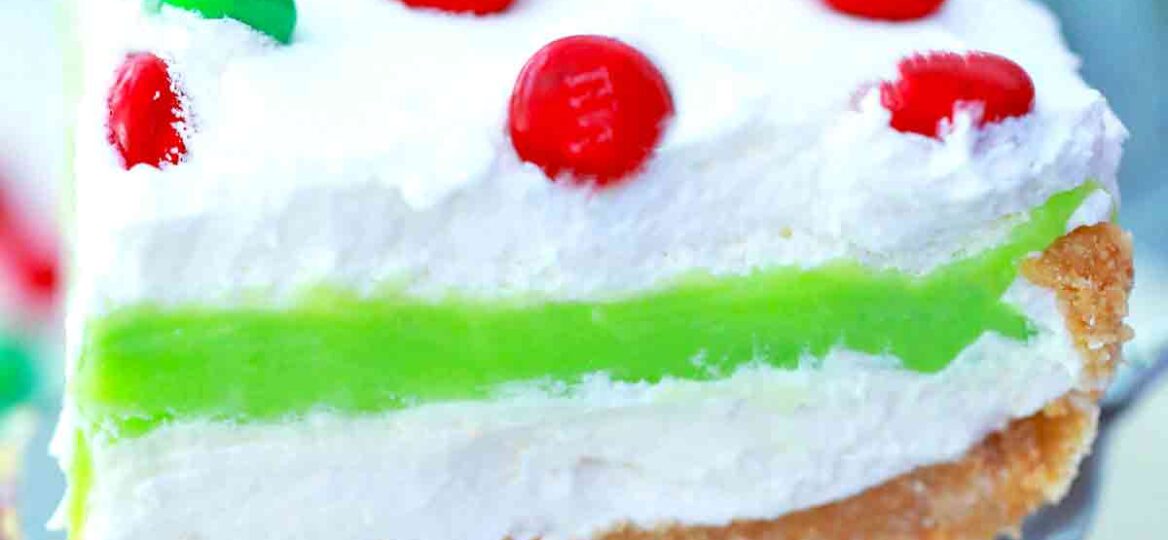 Pistachio Dessert Recipe [Video]
Pistachio Dessert is a unique and easy treat with a crunchy sweet crust, creamy pudding center, and a fluffy whipped topping. Because there are only a few ingredients, this dessert lasagna takes less than 20 minutes to make and you can make it your own with different variations.
Looking for other no-bake desserts? Try our amazing Vegan Carrot Halwa Pistachio Trifle. In addition, these Pistachio Caramel Apple Butter Pancakes are a sweet and delicious way to start your day. For chocolate fans, try something a little different with our Best Chocolate Banana Bread recipe.
If you love layered desserts or any kind of icebox cakes, then this will surely be one of your favorite recipes. In fact, anyone who has a sweet tooth will love to add this pistachio salad to their family recipes.
You will only need a handful of simple ingredients and it is so fast to prepare. The hardest thing will be waiting the two hours for it to chill.
For pistachio drop cookies, all you need to add to this recipe is ground pistachios and flour. Alternatively, you could easily make this into a no-bake cheesecake by adding another brick of cream cheese. Our pistachio dessert is very similar to this classic ambrosia salad without the fruit.
Another way to enjoy pistachios is with our tangy and chocolatey cranberry pistachio oatmeal cookies.
Ingredients needed:
These ingredients may already be in your kitchen so you may not even have to go to the grocery store. For our detailed recipe with all of the measurements, head down to our recipe card. But here is what you need to start with:
Cookies: We used graham crackers.

Butter: Unsalted and melted.
Pistachio pudding: Instant pistachio pudding mix.
Milk: For best results, use whole milk.
Cream cheese: Softened at room temperature.
Powdered sugar: Or confectioners' sugar.
Whipped cream: Or Cool Whip, divided.

M&M's: For decoration.
How do you make pistachio dessert?
Crush: First, crush the graham cracker crumbs in a food processor or just put them into a large freezer bag and crush them with a can or other heavy object.
Chill: Next, mix the crumbs and melted butter in a large bowl before pressing the mixture into a 9 x 13 baking sheet and chill it for 30 minutes.
Mix: Meanwhile, use another bowl to mix the cream cheese and two cups of whipped cream. Then pour over the crust after it is chilled.

Next layer: After, combine the milk and pudding mix until it is thick and put this on top of the cream cheese layer.

Topping: Last, spread the rest of the whipped cream on top and sprinkle with some red and green M&M's before chilling.
Recipe variations:
Use different cookies: Alternatively, try using pistachio cookies or crushed sandwich cookies.
Other nuts: In addition, you could substitute the cookie crust with a crushed nut crust using pistachios, almonds, or pecans.

Make it fruitier: Add some lemon, orange, or raspberry extract to your pudding for a fruitier flavor.

Add real fruit: Another way to make it taste fruitier is by adding real fruit like pineapple, cherry, or strawberry chunks but make sure they are drained.

Green color: Make it even more festive by adding green food coloring to your cream cheese layer.

Also green: For a similar green treat, use lime pudding instead of pistachio.
How to serve:
This creamy pudding cake has to be served chilled for it to hold its shape. Here are some other serving ideas:
Add some rainbow sprinkles or candy glitter to the top for décor.
This is perfect for the holiday season with this savory red wine pot roast or our herb roasted turkey.

Top with maraschino cherries for a Christmasy red and green color.
Sprinkle coconut flakes on top of the dessert before serving.
You could also serve this with a scoop of vanilla ice cream or pistachio ice cream.
This is also the perfect dessert for St. Patrick's Day.
Frequently Asked Questions
Why do they call it watergate salad?
Watergate salad has been popular in many different forms since the 1970s. Some say it got the name from the Watergate scandal with President Nixon and this makes sense because the first recipe that was published for this easy pistachio dessert salad showed up in 1974, one month after Nixon resigned.
However, as I mentioned, there are different variations to this delicious treat. The original was made with pistachio pudding, pineapples, whipped cream, marshmallows, and nuts. Some use graham crackers on the bottom, some use shortbread cookies, while others have cake mix in them, but these are usually called Watergate cakes.
Are there pistachios in pistachio pudding?
Although pistachio pudding mixes are made from pistachio nuts, you will typically not find any pistachios in them. The nuts are usually ground to a powder to make the pudding mix smooth. It actually has more almonds in it than pistachios so if you do find any nuts, it is likely to be a piece of an almond.
Are pistachios healthy?
Yes, they are very good for you with 104% of your daily value of vitamin B6, 52% of your daily value of fiber, and 50% of your daily value of protein. In addition, they are a great source of potassium, iron, magnesium, and calcium.
Despite all that, these need to be eaten in moderation because each cup has almost 700 calories and 56 grams of fat.
How to store leftovers:
Store: It is easy to store this pistachio pudding salad in an airtight container in the fridge where it will be good for up to three days.
Freeze: To freeze your leftover salad, put it in a freezer bag or another airtight container and it will stay fresh for about 90 days.
Thaw: Once frozen, it is best to serve it frozen because when it thaws out it gets runny.
More Christmas Desserts:
Cooking tips:
Be sure to carefully fold in the whipped topping to keep it light and fluffy.
Also, thaw the whipped cream in the fridge instead of on the counter at room temperature for the fluffiest mix.
For best results, chill in the fridge for several hours before serving.

If you are using cookie crumbs for the crust, make sure you grind them with your food processor until they are completely pulverized so they will spread better.
If the crust is too crumbly, add a little bit more melted butter.
Alternatively, save time by using a premade graham cracker or cookie crust.