Cranberry Pistachio Oatmeal Cookies
Cranberry Pistachio Oatmeal Cookies are loaded with tart dried cranberries, crunchy pistachios and sweet chocolate chips. They are topped with a drizzle of white chocolate, that makes them ideal cookies for the holidays!
I love making easy and delicious cookies to feed a crowd, like Flourless Peanut Butter Cookies, Blueberry Lemon Ricotta Cookies and White Chocolate Lemon Raspberry Cookies.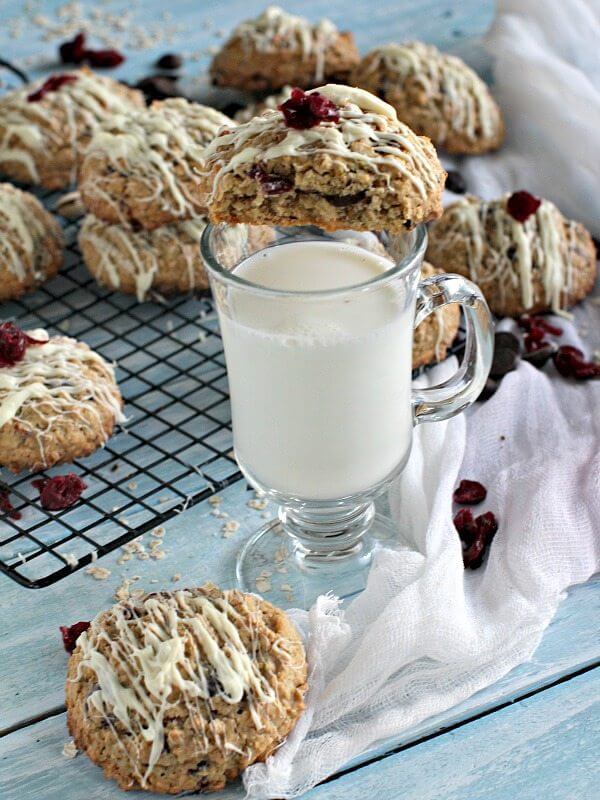 Cranberry Pistachio Oatmeal Cookies
Cranberry Pistachio Oatmeal Cookies are the perfect way to start a crisp fall morning. During this time of the year, I am ready to add cranberries to anything and everything! These Cranberry Oatmeal Cookies have an amazing texture, with chewy, dense and rich cranberry and pistachio flavor. They are pretty to look at, very tasty, and are the perfect seasonal cookies. Nothing like having a combination of chewy and crunchy all in one bite!
As mix ins I used colorful and tart cranberries, because they balance the sweetness of the chocolate nicely. Also, I like the pop of color they add to the cookies. Chopped pistachios are added into the mix, which also perfectly pairs the oatmeal with cranberries. To make them even better, I drizzled the tops with melted white chocolate. I recommend having these Cranberry Oatmeal Cookies with a glass of milk or chocolate milk. They also go well with coffee or tea.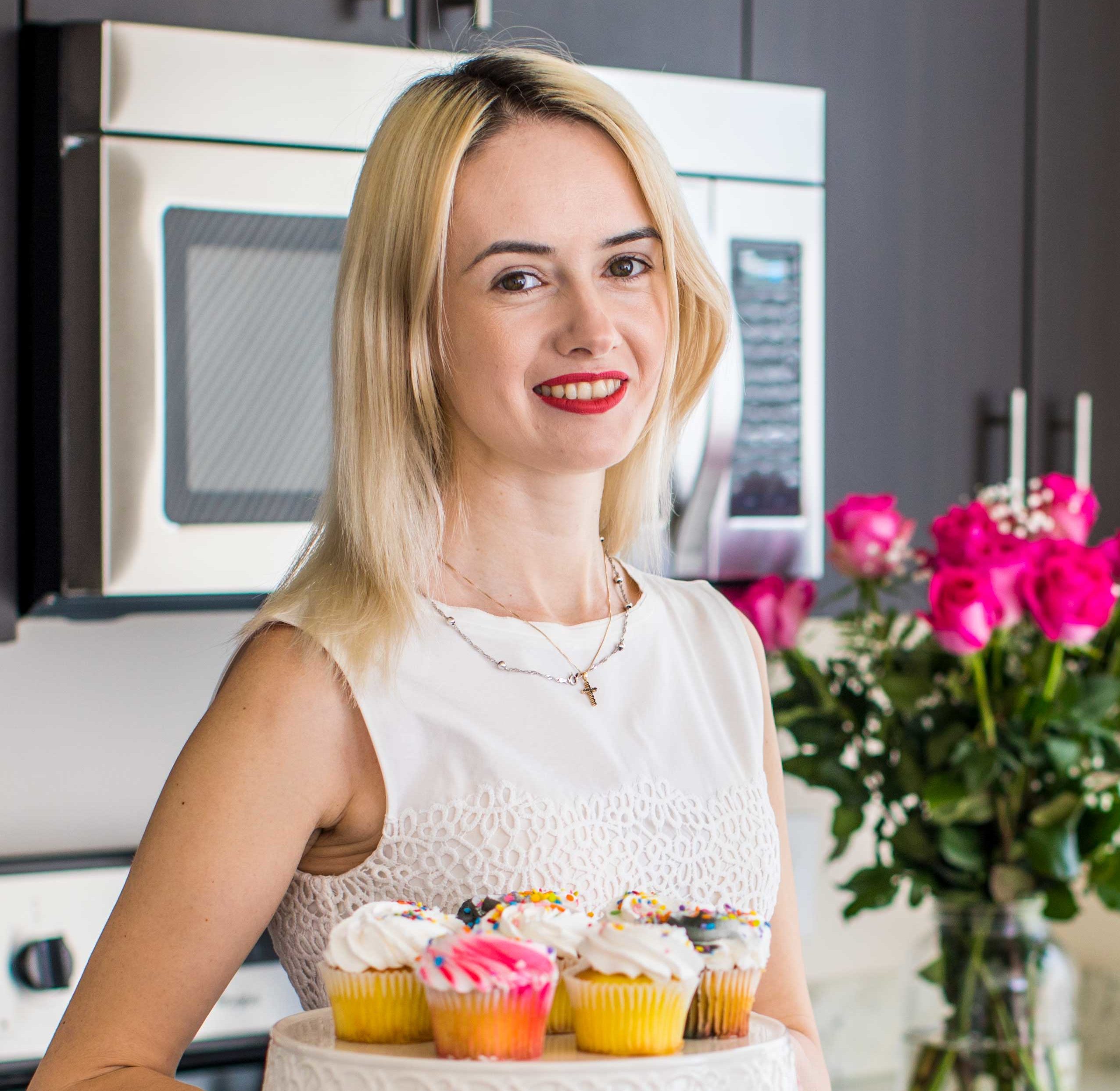 Follow us on Pinterest for more delicious recipes!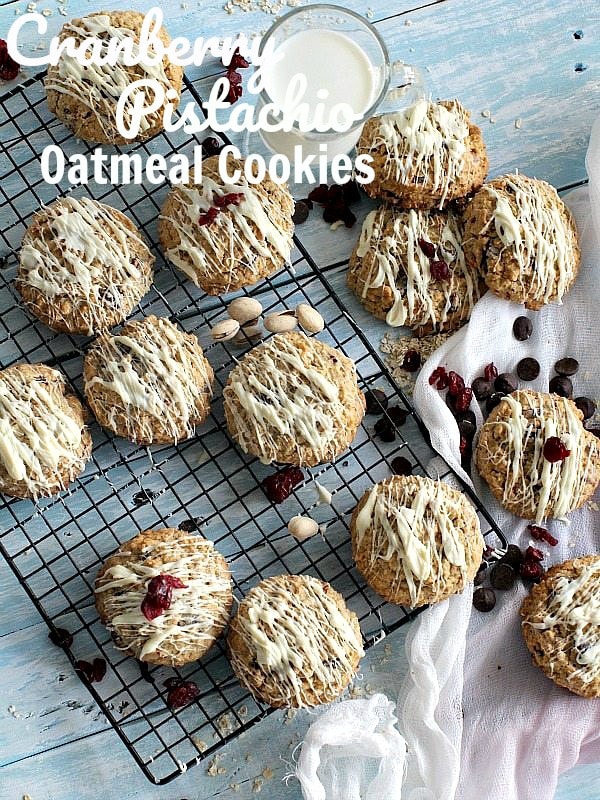 Cranberry Pistachio Oatmeal Cookies Recipe Tips:
Make sure you don't over bake them, because they will not be as chewy. Hence, start checking at the 20 minutes mark.
Use larger chocolate chips, because they don't fully melt when baked and are amazing when you bite into them!
You can control the sweetness level by using semi sweet or bittersweet chocolate chips in this recipe.
Add Orange zest or lemon zest if you prefer to have a more citrusy flavor.
Why you'll love these Cranberry Pistachio Oatmeal Cookies:
First of all they are rich and chocolaty, making them a show stopper dessert.
Also, they are incredibly fresh and aromatic.
Tender and buttery, the cookies melt in your mouth.
Cranberry, pistachio and chocolate are just perfect together.
Perfect cookies for the holiday season.
In addition, they can be made 1 or 2 days in advance so you don't have to worry about a last minute dessert.
How long will Cranberry Pistachio Oatmeal Cookies stay fresh?
The Cookies can be stored wrapped in plastic wrap at room temperature for about 5-7 days.
Can you store and freeze Cranberry Pistachio Oatmeal Cookies?
Absolutely! Cool the Cranberry Oatmeal Cookies completely and fully wrap it in plastic wrap, tightly. After that wrap in aluminum foil. Freeze for up to 2-3 months. Defrost before serving.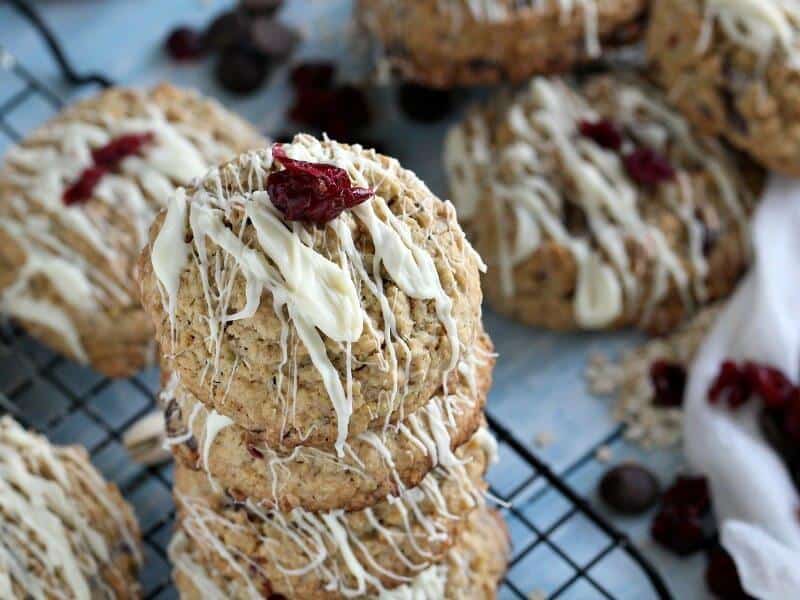 Save Recipe
Cranberry Pistachio Oatmeal Cookies
Author: Catalina Castravet
Serves: 18 cookies
Prep time:

10

minutes
Cook time:

25

minutes
Total time:

35

mins
Ingredients
1½ cups unbleached all-purpose flour
1/2 teaspoon baking powder
1/2 teaspoon salt
2 sticks unsalted butter (softened but not melting)
1 cup packed light brown sugar
1 cup granulated sugar
2 large eggs
3 cups old-fashioned rolled oats
1 cup chocolate chips
1/2 cup dried cranberries
1/2 cup pistachio (finely chopped)
Optional:
3.5 ounces white chocolate (chopped)
Instructions
Preheat oven to 350 degrees F.
Adjust the oven racks to the low and middle positions as you will use two trays to bake the cookies. Line 2 large baking sheets with parchment paper and set aside.
In a medium bowl, whisk together flour, baking powder and salt, set aside.
In the bowl of an electric mixer fitted with the wire attachment (or in a large bowl, using a hand mixer) beat the butter on medium speed until creamy. Add the white and brown sugar and beat until fluffy, about 2-3 minutes. Beat in the eggs, 1 at a time.
Using a spatula or a wooden spoon, manually stir in the dry ingredients into the butter-sugar mixture. Once combined, mix in the oats, cranberries and pistachios.
Using an ice cream scoop, scoop dough balls onto the parchment paper covered baking sheets. If you don't have an ice cream scoop, take 2 tablespoons of dough per cookie and roll the dough into a ball. Place the balls 2 inches apart from each other.
Bake until the cookie edges turn slightly golden brown, 22 to 25 minutes. Mid baking, rotate the baking sheets and also move the top one to the bottom and the bottom one to the top to ensure uniform baking.
Remove from oven and let the cookies cool on the baking sheets for 5 minutes before transferring to a cooling wire rack.
Optional (extra 30 minutes, active only 10):
Let cookies cool completely before drizzling with white chocolate.
Bring a medium saucepan half filled with water to a boil. Place white chocolate in a medium bowl set over the saucepan of simmering water, let it melt, stirring just a few times. Make sure the bowl doesn't touch the boiling water, to avoid overheating. Remove bowl from heat and using a fork drizzle the white chocolate over the cookies.
Let stand for 15-20 minutes before serving for the chocolate to settle, or better place cookies in the fridge for the chocolate to harden quicker.
Enjoy!
Calories: 256 Carbohydrates: 50 Protein: 5 Fat: 5 Saturated Fat: 2 Cholesterol: 19 Sodium: 82 Potassium: 217 Fiber: 3 Sugar: 28 Vitamin A: 40 Vitamin C: 0.2 Calcium: 47 Iron: 2.1
Save Recipe
More recipes you might love