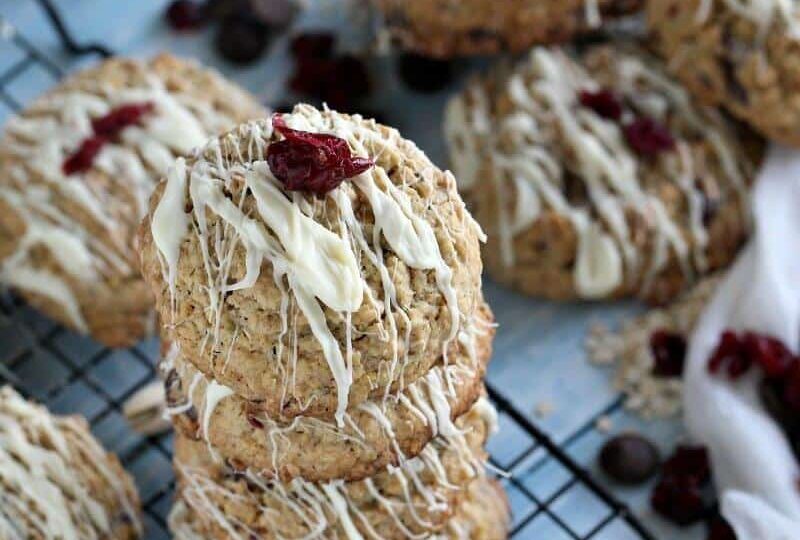 Cranberry Pistachio Oatmeal Cookies
Cranberry Pistachio Oatmeal Cookies are loaded with tart dried cranberries, crunchy pistachios and sweet chocolate chips. They are topped with a drizzle of white chocolate, that makes them ideal cookies for the holidays!
I love making easy and delicious cookies to feed a crowd, like Flourless Peanut Butter Cookies, Blueberry Lemon Ricotta Cookies and White Chocolate Lemon Raspberry Cookies.
Cranberry Pistachio Oatmeal Cookies
Cranberry Pistachio Oatmeal Cookies are the perfect way to start a crisp fall morning. During this time of the year, I am ready to add cranberries to anything and everything! These Cranberry Oatmeal Cookies have an amazing texture, with chewy, dense and rich cranberry and pistachio flavor. They are pretty to look at, very tasty, and are the perfect seasonal cookies. Nothing like having a combination of chewy and crunchy all in one bite!
As mix ins I used colorful and tart cranberries, because they balance the sweetness of the chocolate nicely. Also, I like the pop of color they add to the cookies. Chopped pistachios are added into the mix, which also perfectly pairs the oatmeal with cranberries. To make them even better, I drizzled the tops with melted white chocolate. I recommend having these Cranberry Oatmeal Cookies with a glass of milk or chocolate milk. They also go well with coffee or tea.
Pin This Cranberry Pistachio Oatmeal Cookies Recipe to your Favorite Board
Cranberry Pistachio Oatmeal Cookies Recipe Tips:
Make sure you don't over bake them, because they will not be as chewy. Hence, start checking at the 20 minutes mark.
Use larger chocolate chips, because they don't fully melt when baked and are amazing when you bite into them!
You can control the sweetness level by using semi sweet or bittersweet chocolate chips in this recipe.
Add Orange zest or lemon zest if you prefer to have a more citrusy flavor.
Why you'll love these Cranberry Pistachio Oatmeal Cookies:
First of all they are rich and chocolaty, making them a show stopper dessert.
Also, they are incredibly fresh and aromatic.
Tender and buttery, the cookies melt in your mouth.
Cranberry, pistachio and chocolate are just perfect together.
Perfect cookies for the holiday season.
In addition, they can be made 1 or 2 days in advance so you don't have to worry about a last minute dessert.
How long will Cranberry Pistachio Oatmeal Cookies stay fresh?
The Cookies can be stored wrapped in plastic wrap at room temperature for about 5-7 days.
Can you store and freeze Cranberry Pistachio Oatmeal Cookies?
Absolutely! Cool the Cranberry Oatmeal Cookies completely and fully wrap it in plastic wrap, tightly. After that wrap in aluminum foil. Freeze for up to 2-3 months. Defrost before serving.
Deliciousness to your inbox
Enjoy weekly hand picked recipes and recommendations