Cinnamon Cream Cheese Cookies [Video]
Cinnamon Cream Cheese Cookies are soft, chewy, and irresistible! Celebrate the holidays with these snickerdoodles that will surely be a crowd-pleaser! Also, check out the short recipe tutorial below and learn to make them in minutes!
We will not run out of cream cheese in our kitchen nor recipes utilizing the versatile ingredient. Use it in other recipes like the Pumpkin Bread, Bacon Ranch Cheese Ball, and Quesadilla!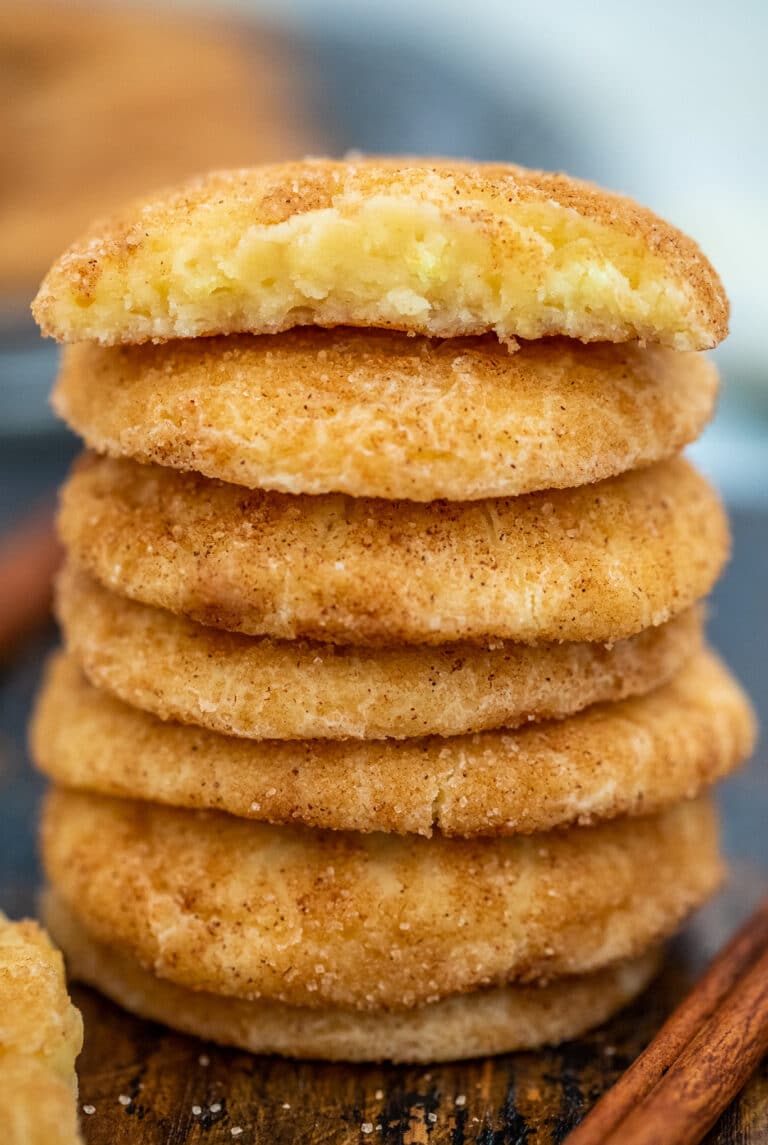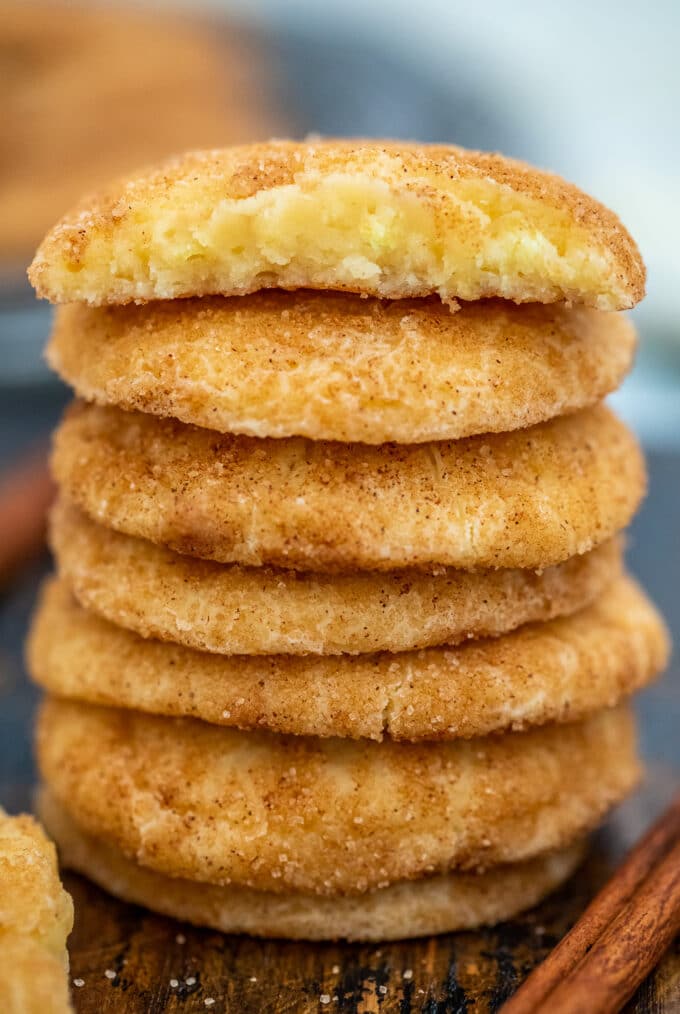 Snickerdoodle Cookies
Cinnamon Cream Cheese Cookies make for a great treat on Christmas mornings. The spice is so aromatic that it can wake up anyone!
The cookies are covered in cinnamon powder and smell amazing, but not overpowering. Tender and sweet, the texture is to die for! They are slightly crunchy on the outside and soft on the inside. As when you chew on them, they melt in your mouth with deliciousness!
These snickerdoodles are a childhood favorite of many. That's why I feel nostalgic whenever I make them. I used to make these when I was a child together with my mom.
And preparing these are so easy that even kids can do it. Let your kids prepare them and make it a tradition every Christmas. Bonding over delicious cookies is a great idea, isn't it?
It reminds you of that festive vibe that you get every Christmas season. So, why not make it all-year-round? Go ahead and try it!
How to make Cinnamon Cream Cheese Cookies:
Make the dough: Using a mixer, combine the fat and cream cheese for about 30 seconds. Do this until it turns fluffy and smooth. Add some of the sugar then, mix. Do this a little bit at a time. Scrape off the sides of the bowl with a spatula. Mix in the egg, baking powder, vanilla, and salt. Add the flour a little bit at a time.
Allow to rest: Cover the bowl with plastic and put it in the fridge to rest. This can take an hour.
Prepare the sugar mixture: In a shallow bowl, combine sugar and cinnamon powder.
Shape into balls: Scoop out a ball from the dough using a small scooper. Roll the ball in between your palms and then, coat it with the sugar mixture. Then, place it on a parchment-lined baking sheet. Do this until you can fill in a whole tray. You may need to bake several batches depending on the size of the dough balls. Remember to keep about 2 inches of space all around each piece.
Put in the oven: Bake these for about 8 minutes or so, until they set. Once done, allow them to cool on the baking sheet for some time. Then, transfer to the rack to completely cool.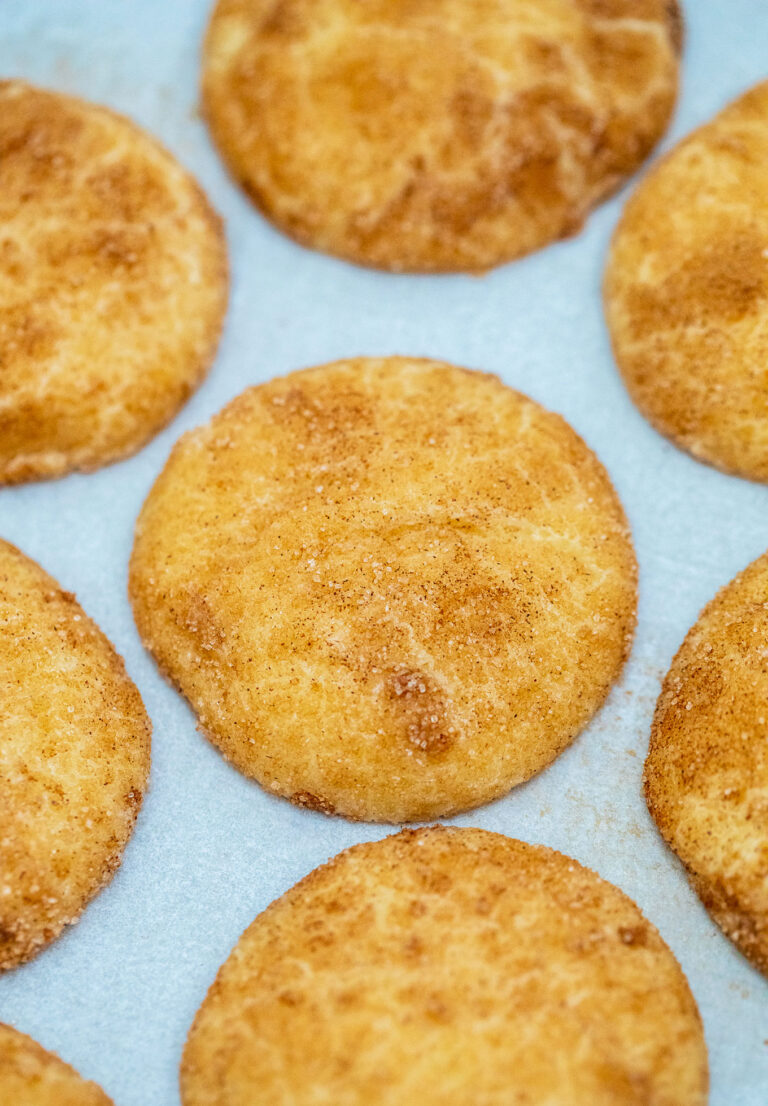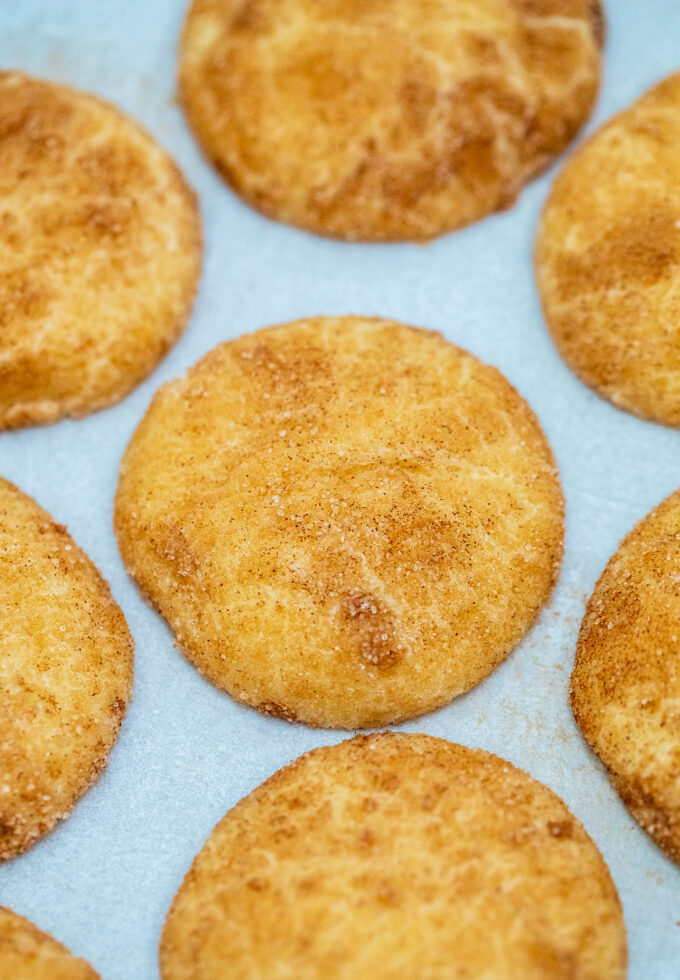 Cinnamon Cream Cheese Cookies Alternatives and Add-ons:
You can vary the recipe and make it more festive and more intense by following these suggestions:
Add cinnamon powder in the dough itself as you add in the flour for a more intense flavor.
Make a cream cheese frosting and top each piece with it. Or, put it in between two cookies then, press together.
Make a mixture of 1/4 cup cream cheese and 4 teaspoons of sugar. Divide each cookie dough ball into two, press them to make two separate disks, then, scoop a tablespoon of the mixture. and put it in between and seal the sides before baking.
Use colored sugar in the sugar mixture to make it colorful.
What is the difference between butter and shortening?
You may encounter these two ingredients in various dough recipes and can sometimes be used interchangeably. Adding fat in the dough provides moisture, makes it fluffy when creamed with sugar, and adds moisture.
Butter is a dairy product coming from the churned out cream while shortening came from hydrogenated oil. Butter has a rich flavor while shortening does not.
While shortening is made from 100% fat, butter is only about 80% fat, about 16 to 18% of it is water, and the rest is milk solids.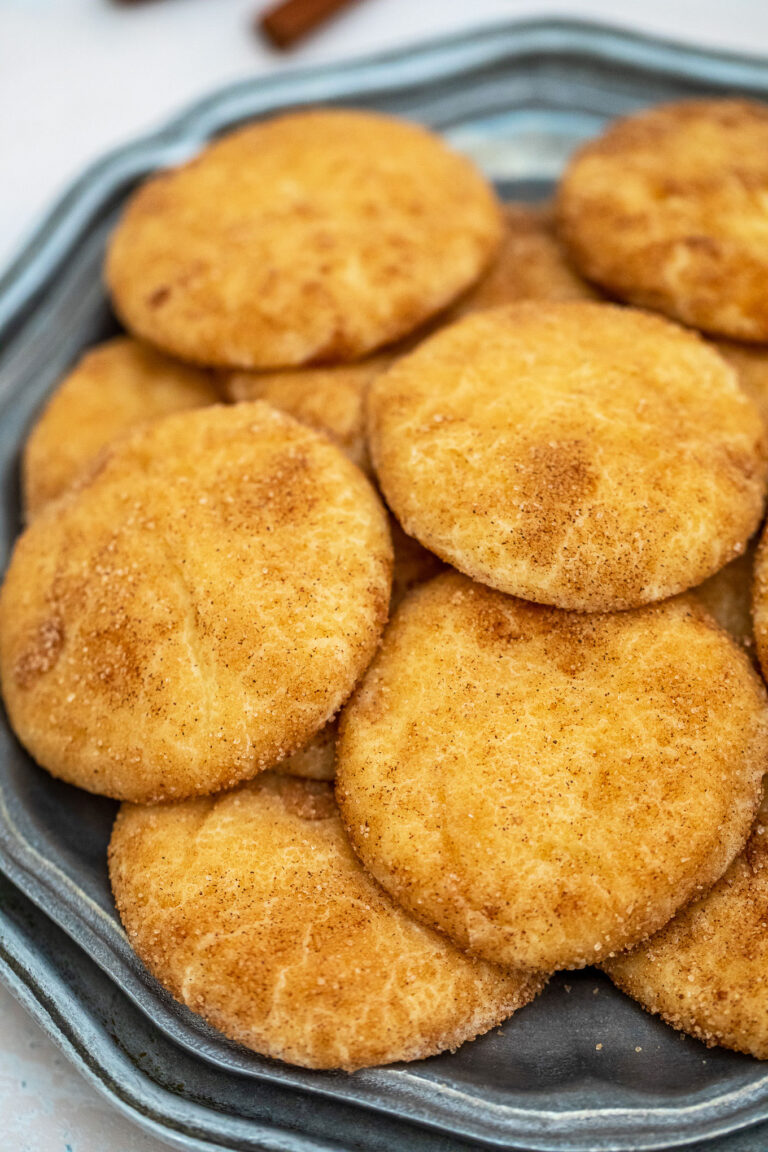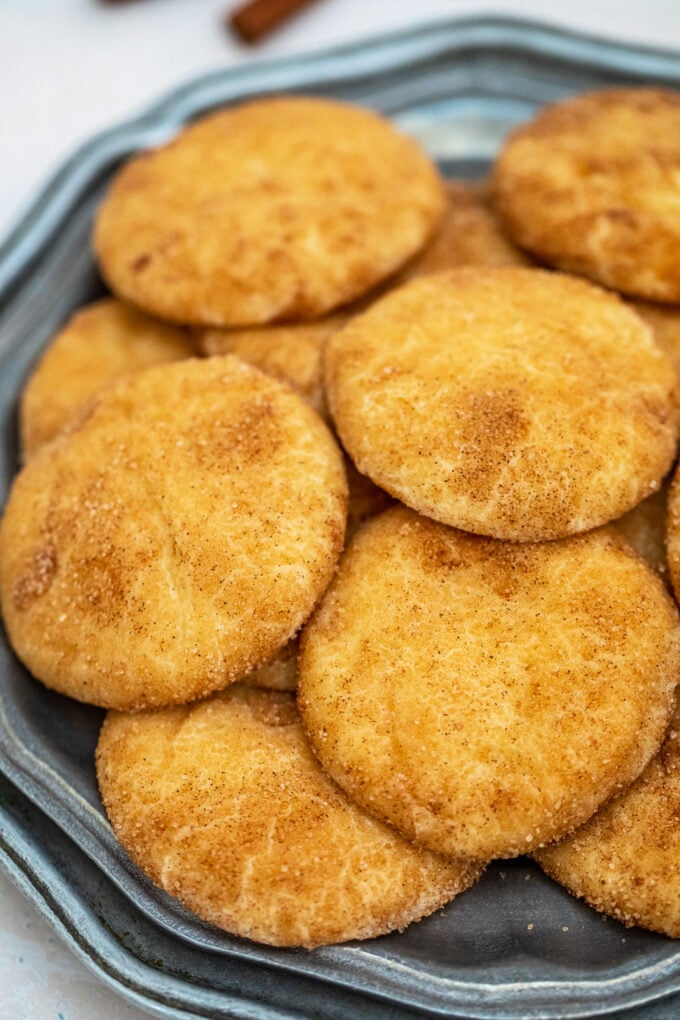 What is best to use in cookies, butter or shortening?
Though butter is a more popular ingredient of the two, the shortening is not to be dismissed. There is no single correct answer to this question and it depends on your preference. Here is a guide:
If you want taller and softer cookies, use shortening. Butter melts faster than shortening and in baking, this translates to flatter cookies as the fat melts first before the cookies could rise. On the other hand, shortening melts
If you want crispy ones, then, use butter. It melts fast so the water in it becomes steam which makes the gluten in the flour set faster. As the cookies are flatter, they tend to be crispier.
If you want a rich flavor, use butter. Shortening does not impart flavor as much as butter does.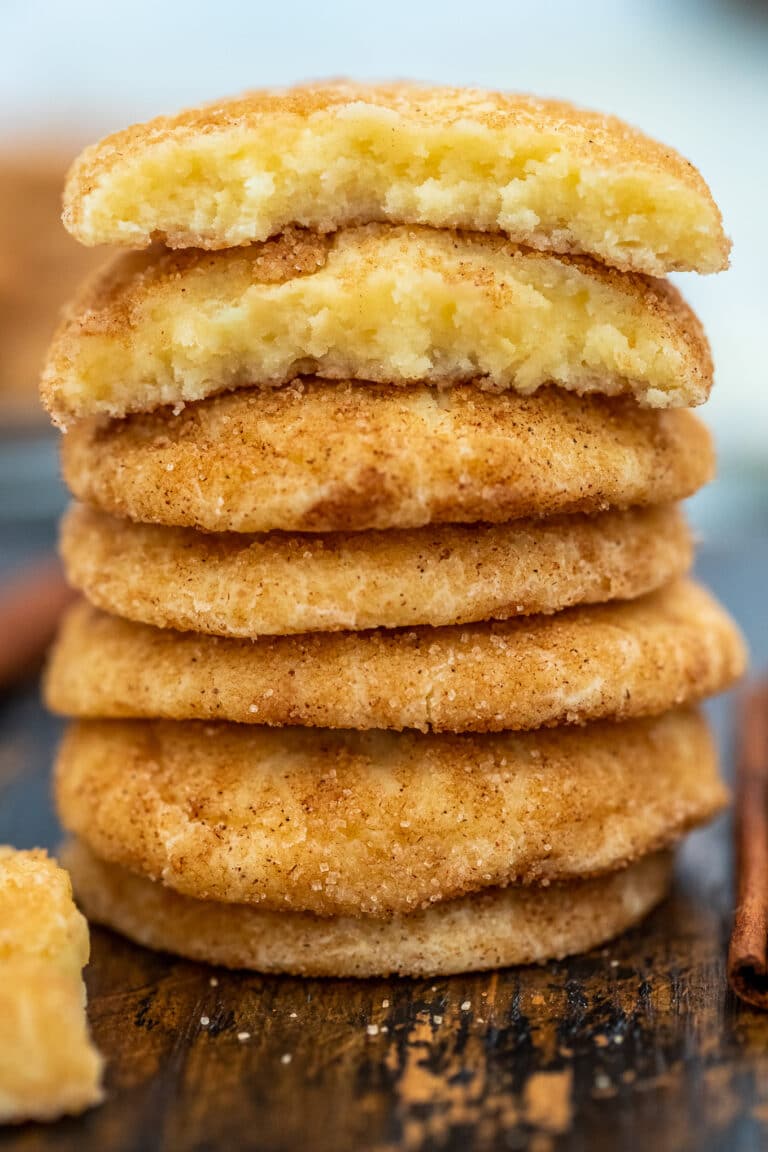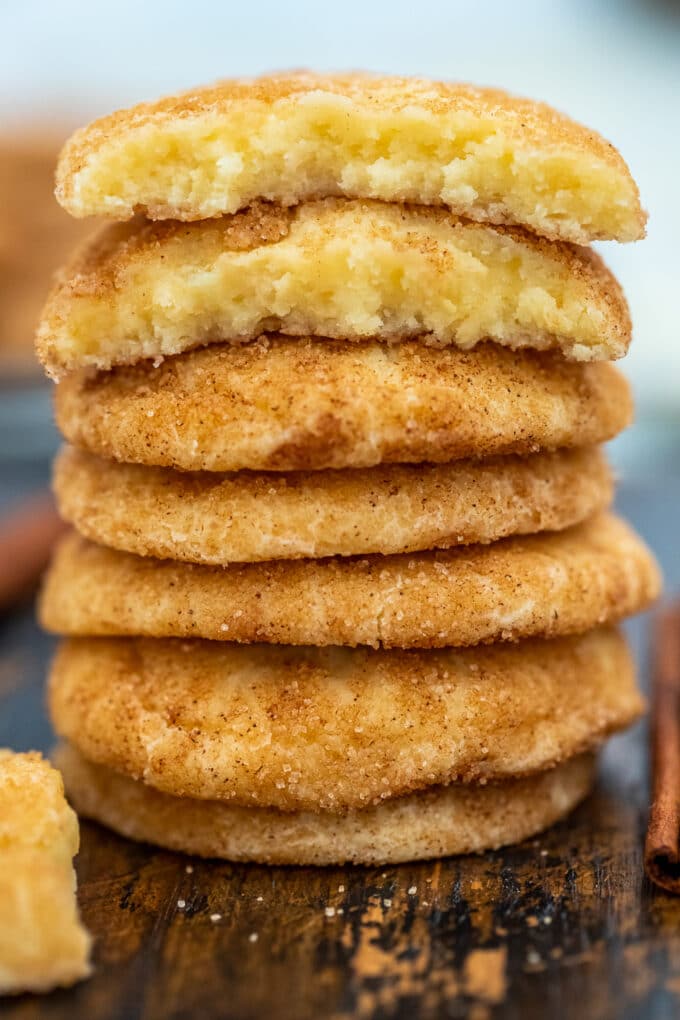 How to Store:
Room Temperature: You can store your cookies in the pantry, kept in an airtight container, for up to a week.
Freeze: You can freeze this both baked and unbaked for about 3 months, kept in sturdy freezer bags with layers separated with parchment paper.
Recipe Tips:
If you want to retain the moisture and not dry them out, put a piece of bread in the container that you will store these with.
Make sure that all of the ingredients are at room temperature. This is to avoid lumps.
Using a mixer is highly recommended. This introduces air making it fluffy when creaming the butter and cream cheese.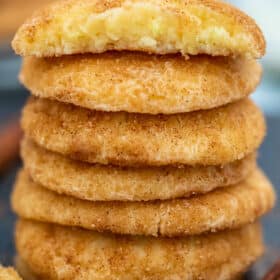 Cinnamon Cream Cheese Cookies
Cinnamon Cream Cheese Cookies are soft, chewy, and irresistible! Celebrate the holidays with these snickerdoodles that will surely be a crowd-pleaser!
Save
Share
Print
Pin
Rate
Ingredients
1/2

cup

unsalted butter

(softened to room temperature)

4

ounces

cream cheese

(softened to room temperature)

1 1/2

cup

powdered sugar

1

egg

1/2

teaspoon

baking powder

1

teaspoon

vanilla extract

pinch

kosher salt

1 3/4

cup

all-purpose flour

1/4

cup

granulated sugar

1

tablespoon

ground cinnamon
Instructions
In a large bowl, cream together the butter and cream cheese with a hand mixer until smooth.

Slowly add the powdered sugar and beat until combined.

Add the egg, baking powder, vanilla, and salt. Mix to combine.

Add the flour little by little until fully incorporated. Place the dough in the fridge for one hour.

Preheat oven to 375 degrees.

Line a cookie sheet with parchment paper and set aside.

In a small bowl, mix together the 1 tablespoon cinnamon and 1/4 cup of sugar. Set aside.

Scoop about 2 teaspoons worth of dough and roll into balls. Coat in the cinnamon-sugar mixture. Place on the prepared cookie sheet about 2 inches apart from each other.

Bake for 8-9 minutes, until just set, making sure to not overbake.

Remove from the oven and let cool the cookies cool on the baking sheet for 10 minutes.

Transfer cookies to a wire rack and let cool completely before serving.
Nutrition
Calories:
172
kcal
|
Carbohydrates:
25
g
|
Protein:
2
g
|
Fat:
8
g
|
Saturated Fat:
4
g
|
Cholesterol:
29
mg
|
Sodium:
89
mg
|
Potassium:
67
mg
|
Fiber:
1
g
|
Sugar:
15
g
|
Vitamin A:
258
IU
|
Calcium:
41
mg
|
Iron:
1
mg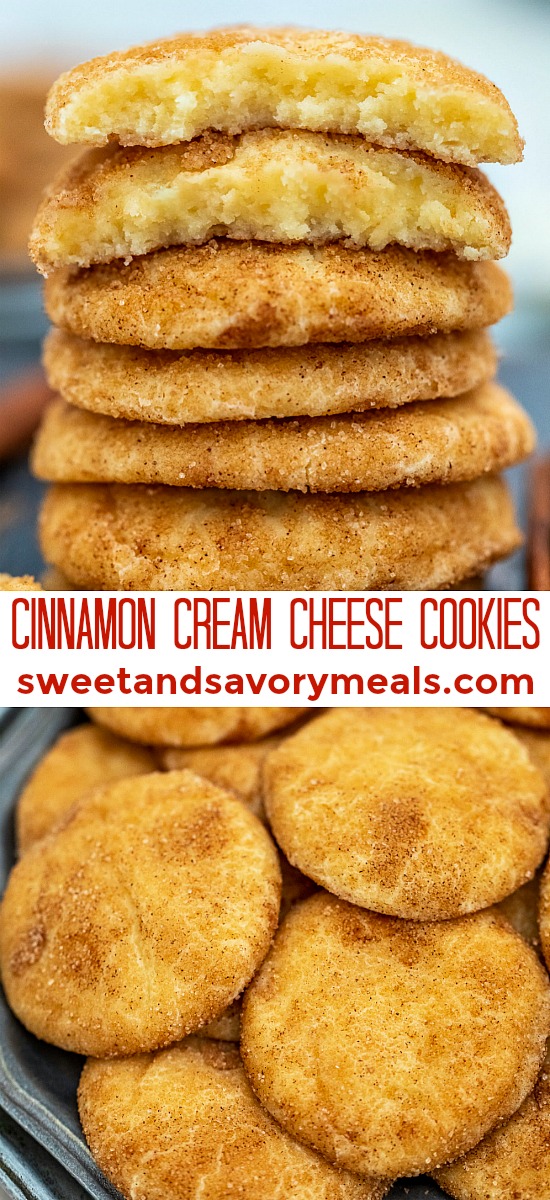 More recipes you might love