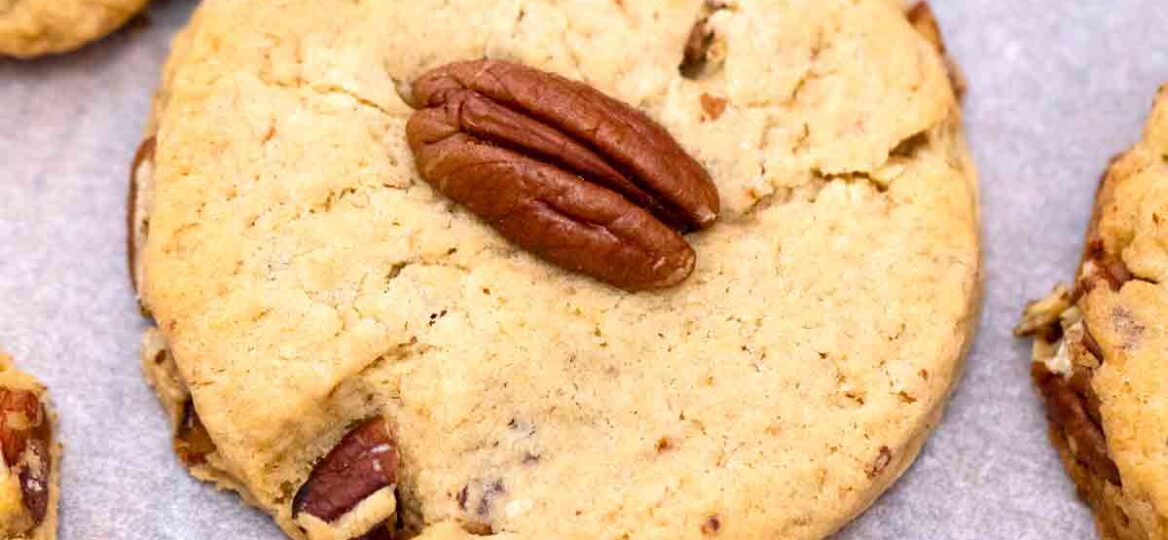 Butter Pecan Cookies Recipe [Video]
Butter Pecan Cookies are soft with golden-crisp edges and studded with toasted caramelized pecans. The buttery, nutty flavors really shine in these treats!
Not in the mood to roll individual treats but still want fresh-baked sweets? You're going to love these Nutella Cheesecake Bars, Homemade Snickers Bars, and Millionaire Bars!
Homemade Pecan Cookies Recipe
Butter Pecan Cookies are next-level delicious. If you like this flavor in your ice cream and desserts, prepare to be blown away. The brown butter gives the dough a complex, caramel-like flavor. We don't just toss pecans in there— we toast them first in some sugar, pure vanilla, and more butter.
The cookies themselves are irresistibly chewy and tender with beautifully crisp edges.
This recipe does require chilling, but I promise you the wait time is worth it. You end up with melt-in-your-mouth cookies bursting with a buttery flavor and toasted pecans in every bite. These Butter Pecan Cookies are what dessert dreams are made of!
What does Butter Pecan mean?
It's a very popular flavor for ice cream, cakes, and other desserts, especially in the US. It tastes very buttery with notes of vanilla and chopped or whole pecans.
How do you make Butter Pecan Cookies from scratch?
Toast the pecans. Sauté the brown sugar, pecans, and butter until toasted and golden. Remove from heat and mix in the vanilla.
Make dough. Brown the butter by heating it until it turns golden, then allow it to slightly cool in a large bowl. Into this, briskly whisk the sugars, eggs plus extra yolk, and extract. Add the dry ingredients and stir only until there are no more dry spots. Stir in the toasted pecans. Chill for a minimum of 3 hrs. and as long as 3 days.
Bake. Roll into 60g (3tbsp balls), then arrange in the baking sheet with gaps in between each ball. Bake in a 350F oven for about 9 to 12 mins. Remove while still looking underbaked in the middle. Cool on the sheet for 5 mins, then finish cooling on a rack.
Serve. Enjoy warm with cold milk, coffee or tea, or some vanilla ice cream on top!
Butter Pecan Cookies Recipe Variations:
Use other nuts: Try this with some toasted almonds, pistachios, peanuts, or any other nuts you enjoy.
Add spice: Mix in a dash of cinnamon for warm, spice notes.

Add chocolate: Everything is better with chocolate! Stir in some dark or semi-sweet chips, caramel chips, white chips, or cinnamon chips.
Make it sweet and salty: Add crushed hard pretzels to the dough, or top with flaky finishing salt.
Make it decadent: Got a serious sweet tooth? Drizzle these with some melted chocolate or caramel sauce!
What does adding butter to cookies do?
One, it infuses baked goods with unmistakable richness and flavor. There's nothing like the taste of real, high-quality butter in desserts!
Second, it's important for structure and helps the dough spread while baking. Finally, it's key to that melt-in-your-mouth softness that makes these treats so good!
Why should I chill the cookie dough?
It makes the dough much easier to work with. Otherwise, the dough will become a greasy mess that's almost impossible to roll and shape.
Chilling also solidifies the fat in the dough. If you skip the chilling stage, that fat melts immediately in the hot oven. Instead of getting beautiful, individual pieces, they can spread too thinly or worse, melt together in puddles.
The chilling time also allows the flavor to deepen into an amazing, almost toffee-like flavor. Trust me, I know how hard it is to wait, but the chilling time is worth it!
What's the secret to soft cookies?
There are several secrets to cookie softness, and we apply them all in this recipe!
First, cornstarch keeps cookies thick and soft. Underbaking them leaves a slightly gooey middle that becomes soft and perfect as they cool down.
Recipes with brown sugar than white also give you more moist and tender results. Finally, throwing one more egg yolk in there makes them deliciously chewy.
Why are my cookies flat after baking?
The baking soda may be expired, or you didn't measure the ingredients properly (using a kitchen scale will help prevent this). However, one of the most common reasons is forgetting to chill the dough, so don't skip it!
Can I freeze cookie dough?
Yes, you can. I often make a double batch and freeze the other one. This way, I always have the dough for a fresh bake! My best tip is to roll the dough into individual balls before freezing so all you need to do is pop them in the oven, bake, and enjoy.
How to store:
Cool them completely first. If they're warm in any way when stored, they'll end up soggy in the container due to the moisture.
Once cool, transfer to a tightly-sealed container or airtight bag. These will last fresh in room temp for up to five days and double that in the fridge.
How to freeze baked cookies?
Once they're cool, arrange them in one layer on a baking sheet, then freeze that first. This way, the cookies don't stick together. Once they're frozen, transfer to a bag or air-tight container for up to a month.
More Recipes:
Recipe Tips:
You can chill the raw dough for up to 3 days. The flavors deepen the longer the dough chills!
Add some chocolate chips in for more flavor and dip the pecan butter cookies in chocolate.
Use these cookies to make ice cream sandwiches, they will be delicious!
Deliciousness to your inbox
Enjoy weekly hand picked recipes and recommendations