Italian Butter Cookies Recipe [Video]
Last updated on March 1st, 2023 at 02:23 pm
Italian Butter Cookies are homemade butter cookies that look like they came from a traditional Italian, so delicate they melt in your mouth. To make authentic Italian butter cookies, you need to use the finest ingredients. Traditional Italian cookies made in Italian bakeries are made with the finest raspberry jam, high-quality chocolate ganache, and homemade strawberry jam.
Are you looking for more Italian dessert recipes? We have plenty of dessert cuisine to choose from. Try our no-bake tiramisu cheesecake with mascarpone cheese filling and ladyfingers dipped in a sweet coffee mixture. Another awesome Italian dessert is this panna cotta custard with sweet berry sauce.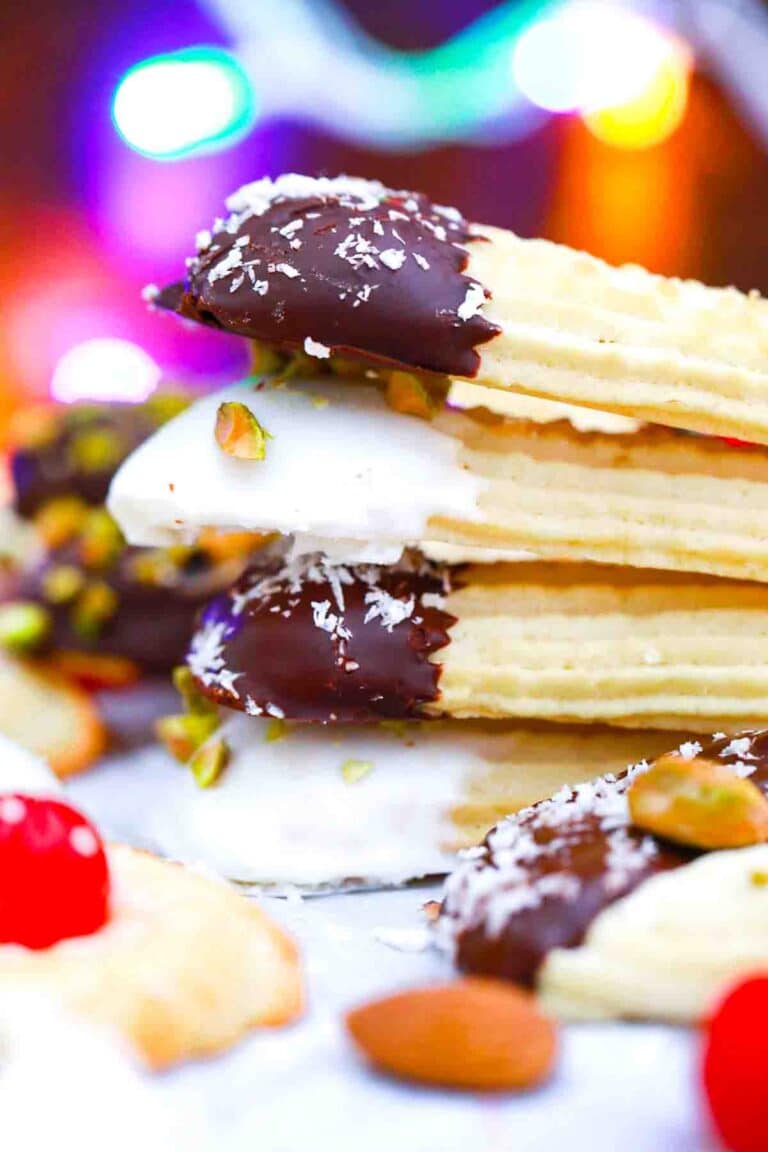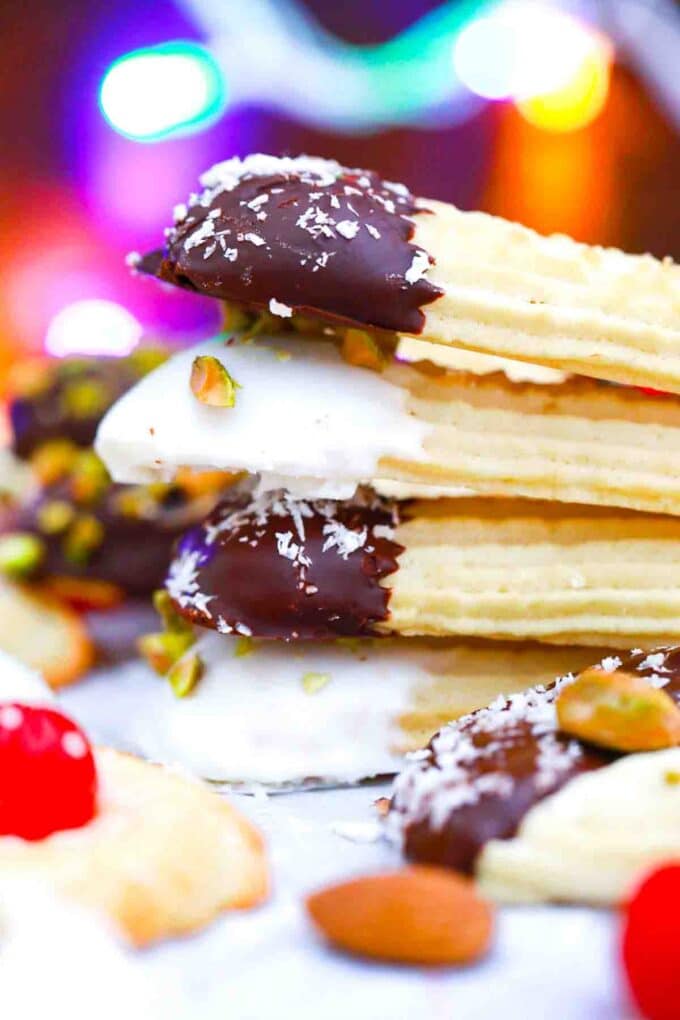 Looking for the history of Italian butter cookies? It is not as easy to find as you may expect. The oldest Italian cookie is the pizzelle, which is a thin cookie like a Stroop waffle made with butter, sugar, flour, eggs, and vanilla extract. They were first served in 10th-century Italy to celebrate the snake charmers who rid the town of Abruzzo of snakes. But traditional Italian butter cookies are actually more of an American Italian bakery item.
With this homemade version of Italian butter cookies, you can get these absolutely delicious cookies without having to travel to an Italian bakery. The most important thing about making perfect Italian butter cookies is having the dough soft without being chewy with a tender crumb and a rich buttery flavor.
Your taste buds will let you know that you made them right with the first bite. They are so tender and full of flavor, and the best part is that you can customize them. Pipe them into different shapes, fill them with jam, or dip in chocolate and top them with nuts or sprinkles!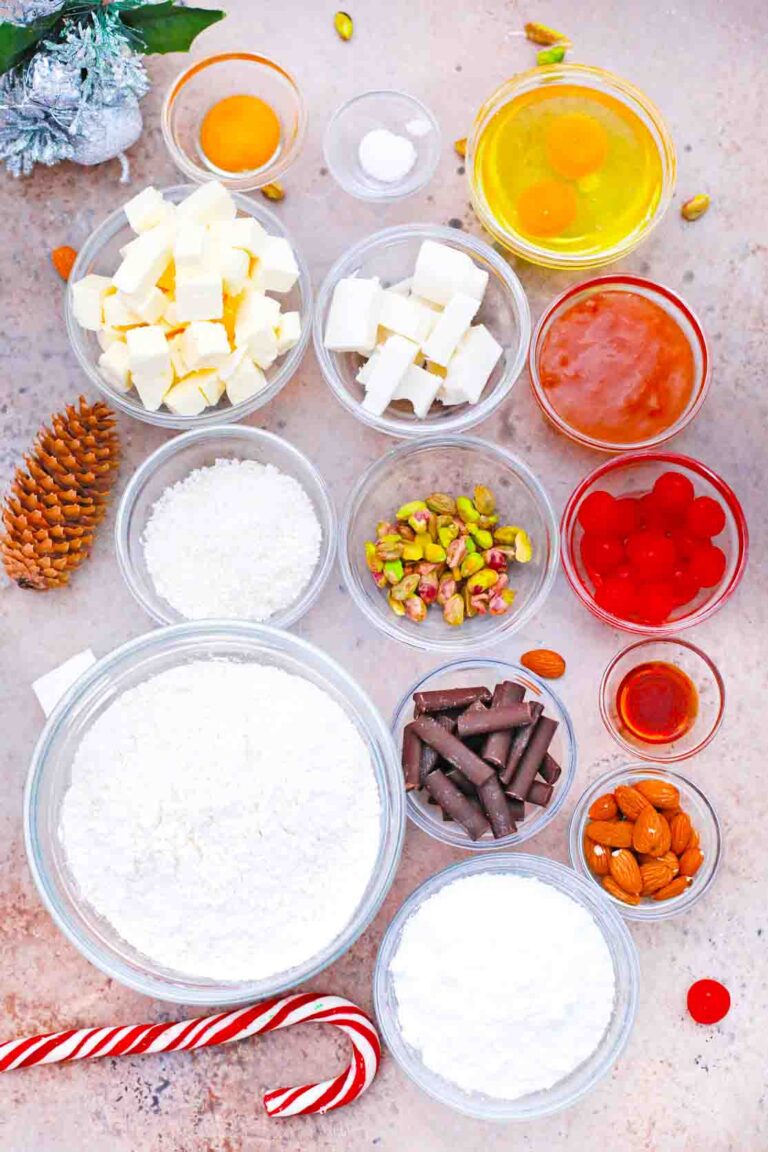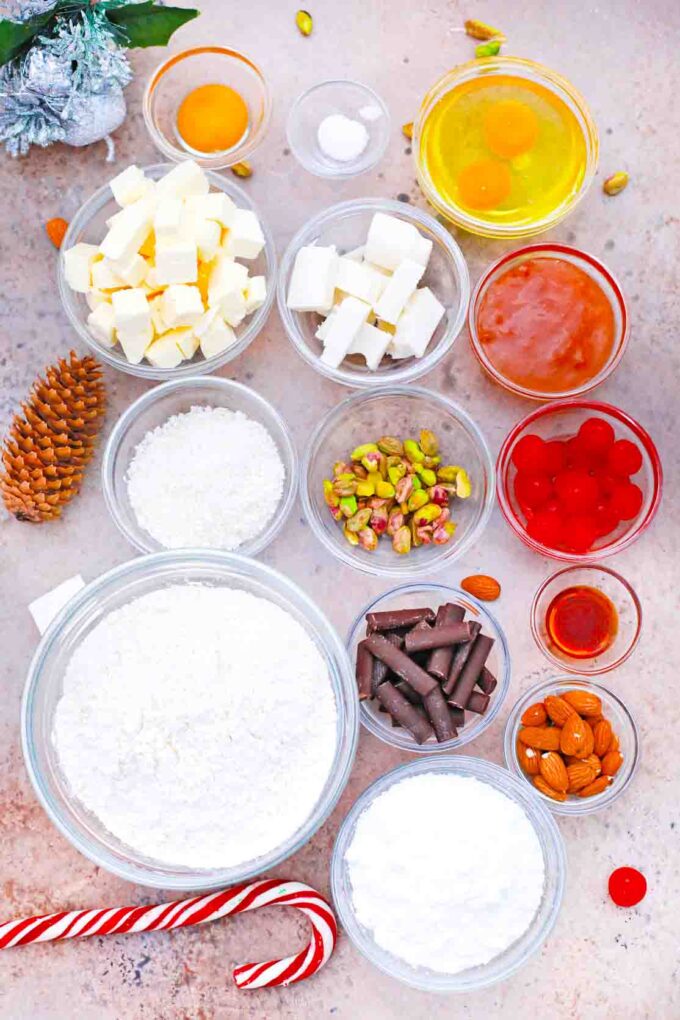 Ingredients needed:
For this Italian butter cookie recipe, you will need the ingredients listed below. Then, when ready, scroll down to the bottom of the page where you can find the instructions and measurements on our recipe card.
All-purpose flour: Sifted.
Butter: Softened to room temperature.
Pure vanilla extract: or almond extract.
Medium eggs: At room temperature.
Medium yolk: At room temperature.
Powdered sugar: Or confectioners' sugar.
Salt: Optional.
To decorate:
Whole almonds
Coconut flakes
Crumbled pistachios
White chocolate
Dark chocolate
Apricot jam
Candied cherries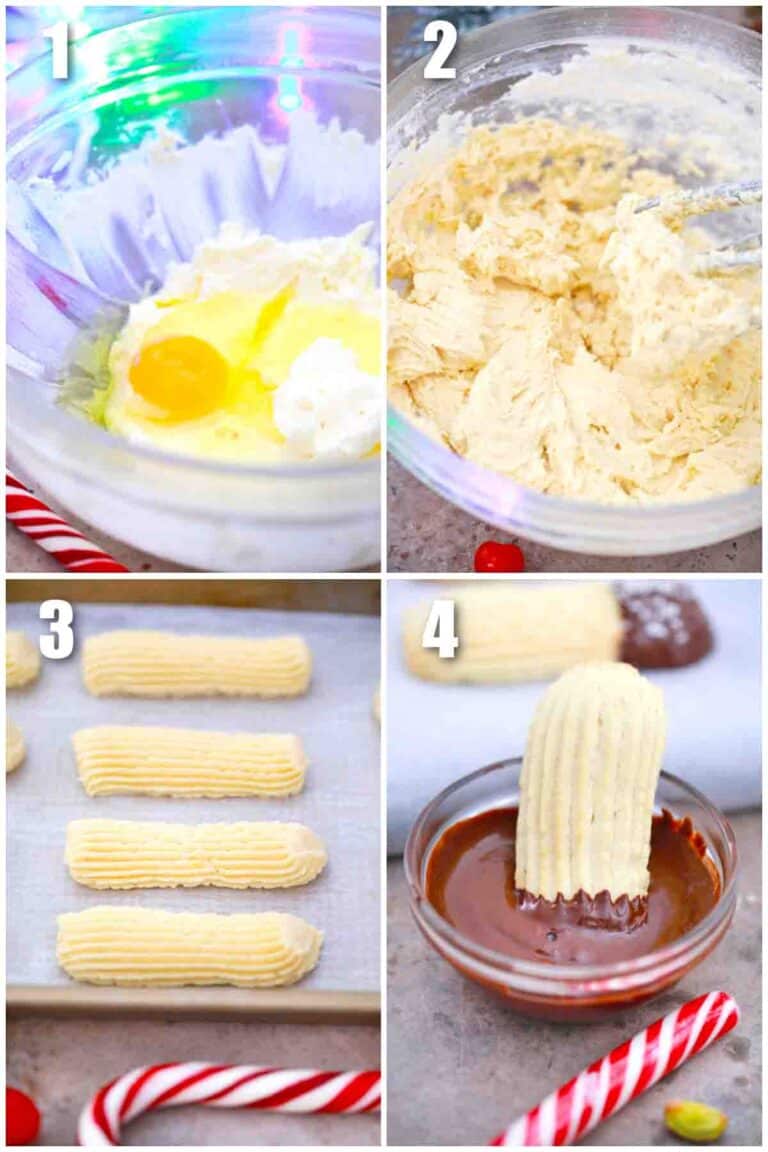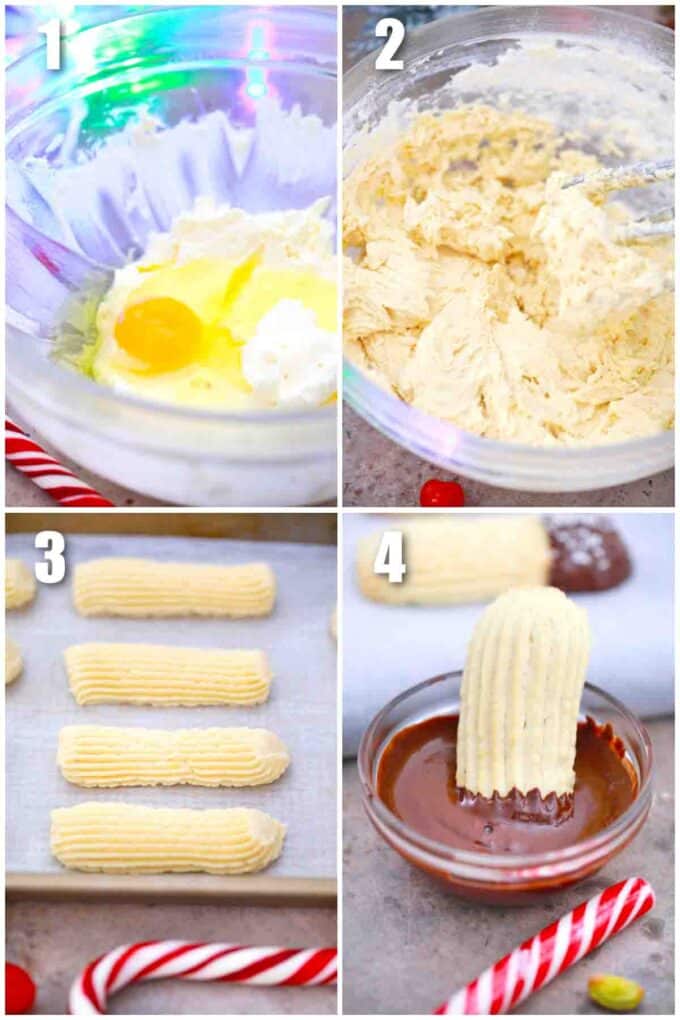 How to make Italian butter cookies from scratch?
Whip the butter: To begin, whip the sugar and butter in your stand mixer with a whisk attachment for at least five minutes until it is fluffy and light.
Add the eggs: Next, add one egg at a time to the butter mixture while continuing to whisk. Make sure each egg is completely absorbed before adding another. After, add the egg yolk and vanilla extract and whisk for another two minutes.
Gradually incorporate flour: Then, add the sifted flour mixture a little at a time, mixing until it is fully incorporated. The cookie dough should be soft and sticky, but it should hold its shape.
Fill a piping bag and use a large star piping tip: Now, put the cookie dough into a piping bag with a large star tip and pipe it into different shapes on a baking sheet covered in parchment paper. Some of the common shapes are round, horseshoes, flowers, logs, and cookies shaped like an S. Make some with a little indent in the middle for a candied cherry, almond, or jam.
Chill the cookies: After, put the whole baking sheet into the fridge and let them chill for at least 30 minutes while you preheat the oven to 360 degrees F.
Bake the cookies: Once the oven is ready, place the cookie pan on the middle shelf and cook for approximately 10 to 12 minutes or until the edges turn light golden brown.
Let your cookies cool completely: When you remove them from the oven, place them on a wire rack to cool. Make sure they are completely cooled before serving.
To decorate the cookies:
Melt the chocolate: First, use a microwave-safe mixing bowl or double boiler to melt the chocolates. Make sure the chocolate is completely melted but let it cool a little bit before dipping.
Decorate: Now, dip some of the buttery cookies into either one of the melted chocolates and then sprinkle them with decorations like coconut flakes, or chopped pistachios, or you can add sprinkles or holiday decorations. Rainbow sprinkles would be the perfect touch for a birthday celebration.
Or don't decorate: Alternatively, if you want your cookies plain, that is fine too.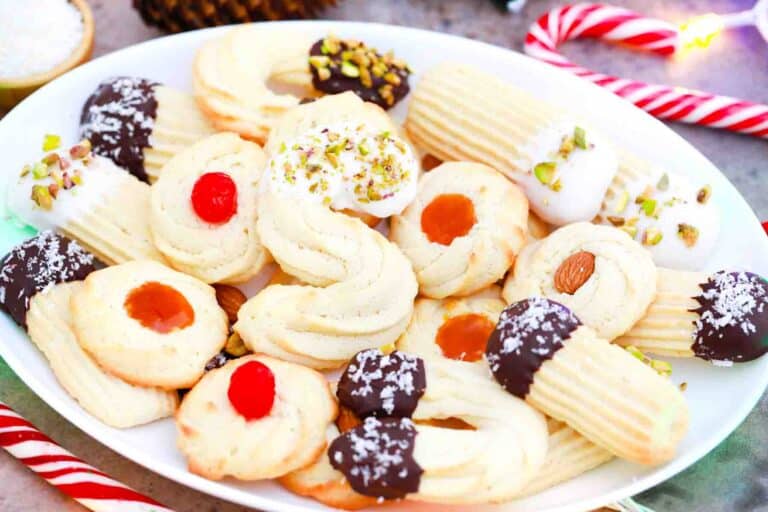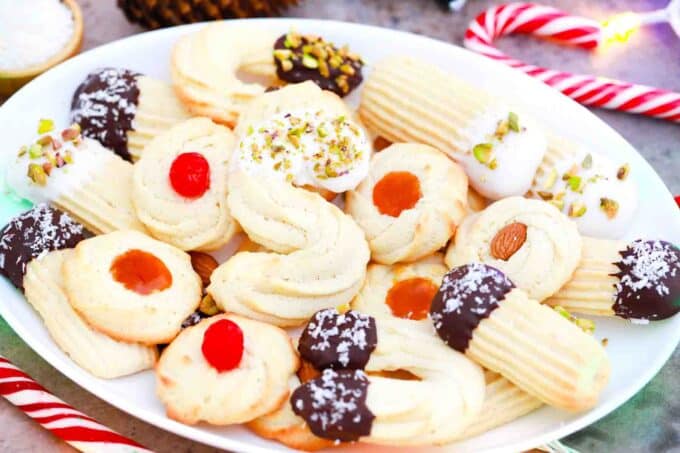 Recipe variations:
Chocolate version: For chocolate butter cookies, mix a half cup of cocoa powder into the flour.
Vanilla extract: Instead of extract, you can use a scraped vanilla bean.
Almond extract: You could also use almond extract for an even more authentic taste.
Other flavors: In fact, try some other flavors of extract like orange, cherry, peppermint, banana, or whatever you like.
Add some zest: Another way to add some flavor is with your favorite zest such as orange, lemon, or lime.
Chocolate chips: Instead of chocolate discs or bars for the melted chocolate, you can use semi-sweet chocolate chips to make chocolate-dipped cookies.
Italian sandwich cookies: Fill two cookies with jam or melted chocolate to make Italian sandwich cookies.
Use a scoop: If you do not have a pastry bag or baggies, just use a cookie scoop or spoon and make round cookies. You can still decorate them, and they will still be delicious.
Different colors: Add food coloring to your cookie dough to make rainbow-colored Italian butter cookies.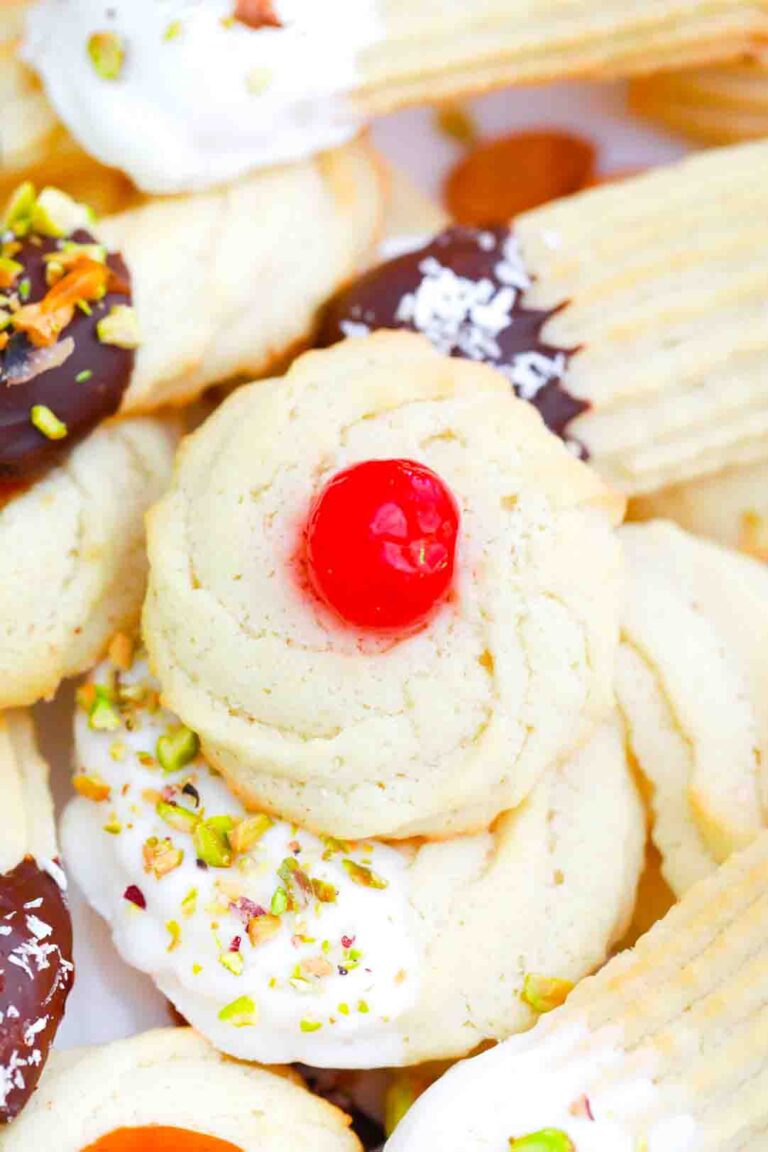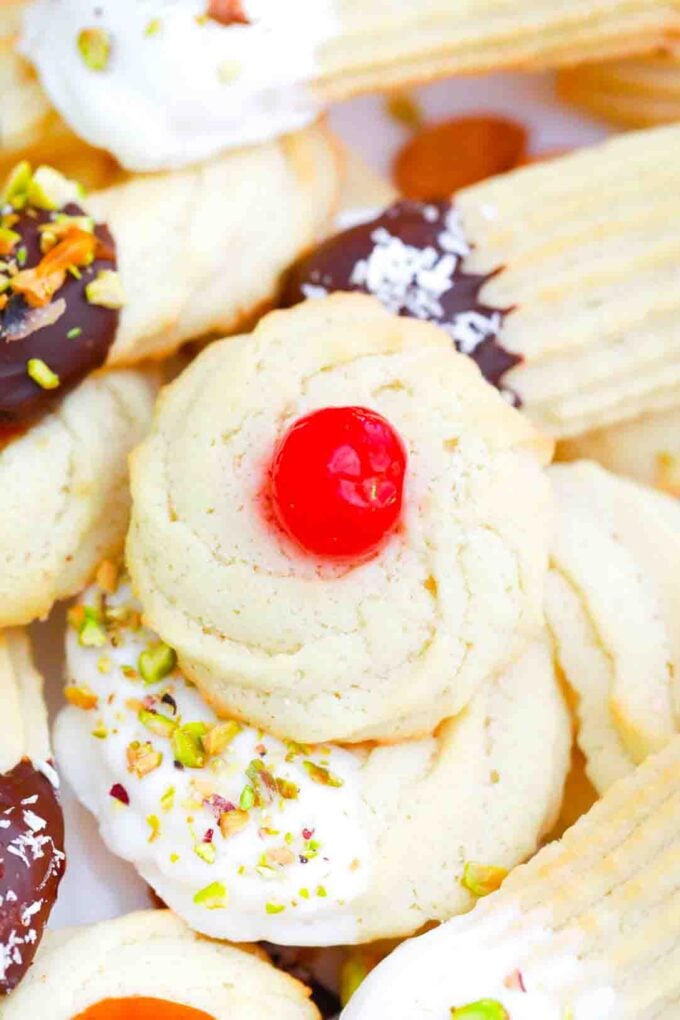 How to serve:
Whether you want to serve these classic butter cookies on your Christmas cookie tray for the holiday season, some kind of celebration, or just make them for a snack, this simple recipe is easy, and you only need a handful of ingredients to make them. Here are some of our serving ideas to try. If you have a suggestion that you think sounds yummy, please feel free to share it in our comments section at the bottom of the page.
These tender cookies go great with a bowl of vanilla ice cream.
Use your own frosting instead of or in addition to the melted chocolate.
Instead of apricot jam, you can use your own favorites such as strawberry, grape, or blackberry.
Or you can use our recipe for homemade fruit sauce like sweet blueberry or tangy strawberry.
Honey is another delicious topping for these yummy butter cookies.
Serve these cookies with our ooey-gooey caramel sauce you can easily make without a thermometer.
Sprinkle some granulated white sugar on top of some of the plain cookies for extra sweetness.
Instead of using candied cherries in your round cookies, place a Hershey's kiss in the middle while your cookie is still warm.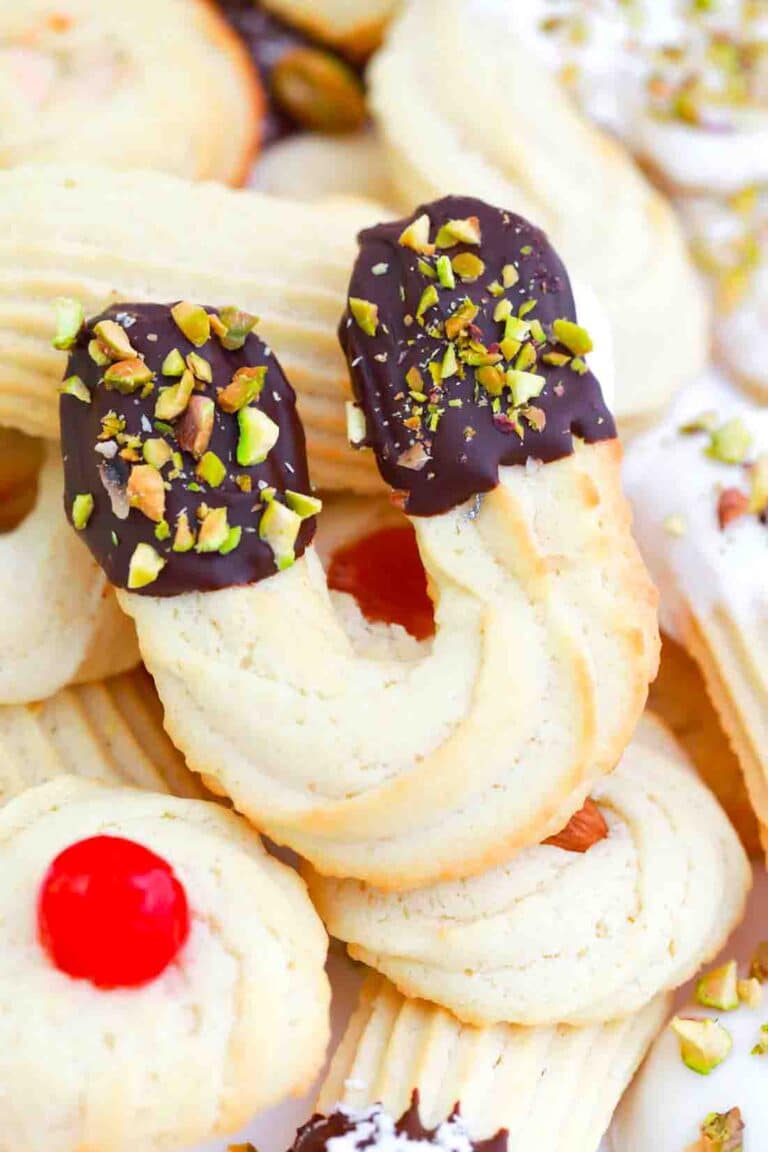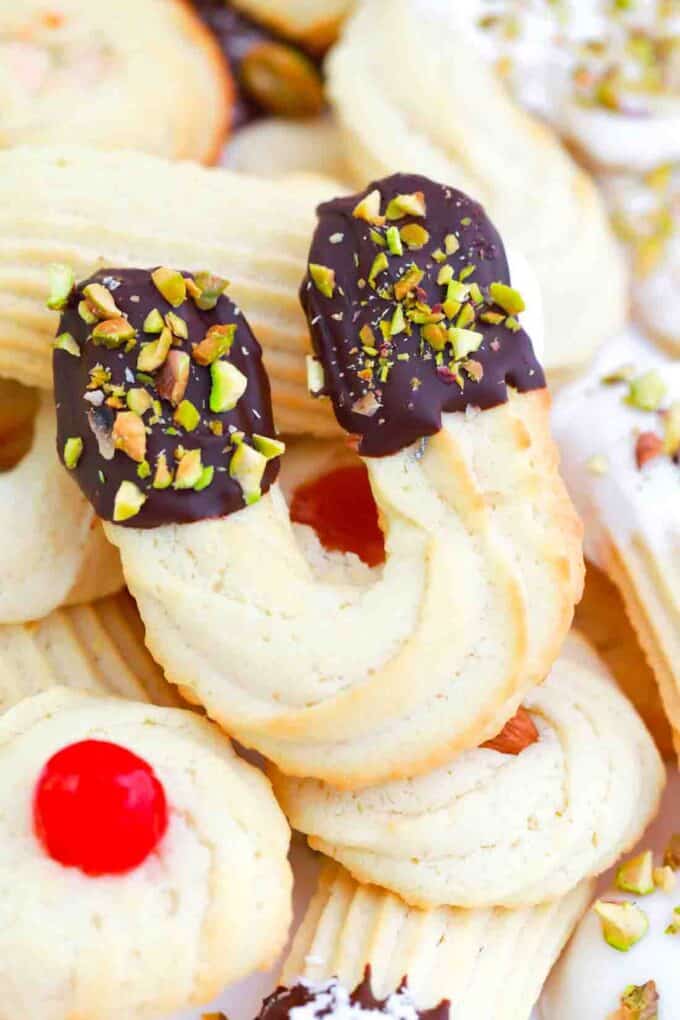 Frequently asked questions
What is the difference between butter cookies and shortbread cookies?
Believe it or not, a butter cookie actually has less butter than shortbread cookies. The ratio of flour to butter in the shortbread cookie makes it light and crumbly. A butter cookie is much chewier and more solid than shortbread and will hold up better when decorating and shipping.
Why are my Italian butter cookies so flat?
The butter may have been too warm. Be sure to chill your cookies for at least 30 minutes before baking. One hour would be even better. Or it could be the missing leavening agent. Because there are no leavening agents called for in this recipe, you may find that your cookies spread too much or go flat when cooking them.
Try adding a 1/4 teaspoon of baking powder or a 1/2 teaspoon of baking soda. These leavening agents produce gas that causes the cookie dough to expand and rise. Baking powder is the best because it also includes a buffer and powdered acid.
Are butter cookies and spritz cookies the same?
Italian butter cookies and spritz cookies are both butter cookies made with dough soft enough to pipe. This makes them easily shaped into whatever you like from a curvy S shape to a long fat log you can dip into chocolate. However, traditional American butter cookies often skip the egg, making the dough dryer and not as easy to shape.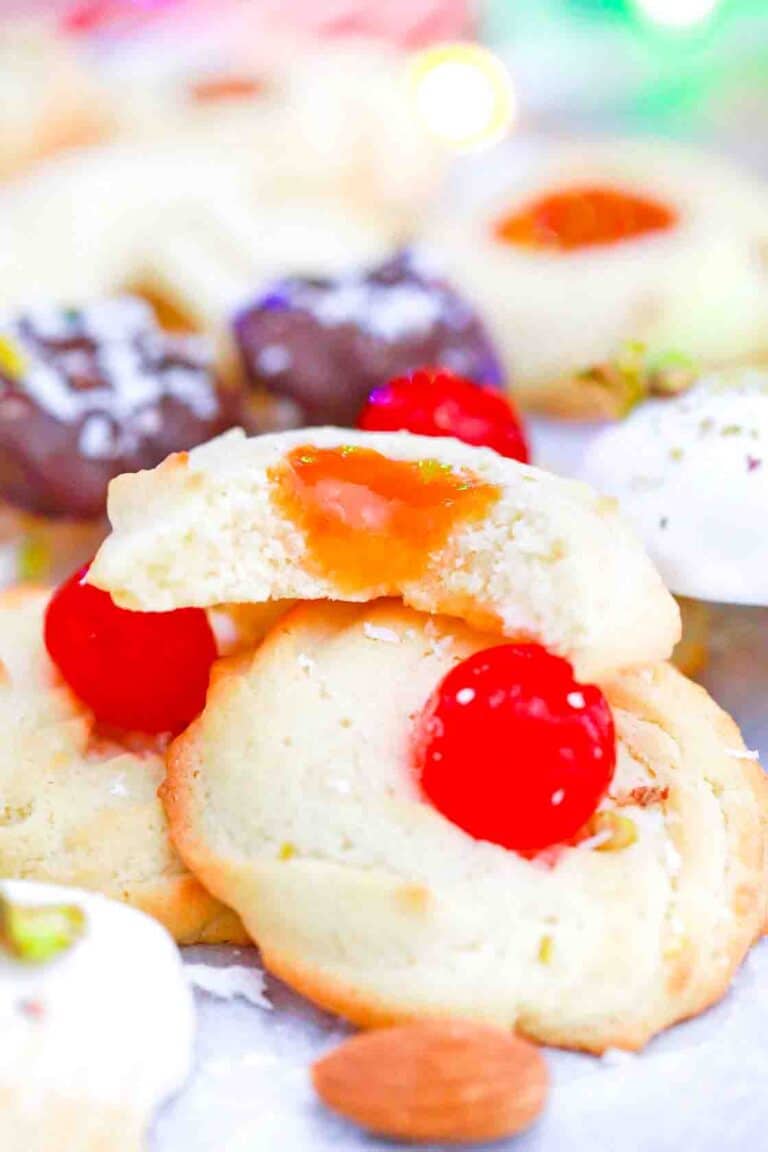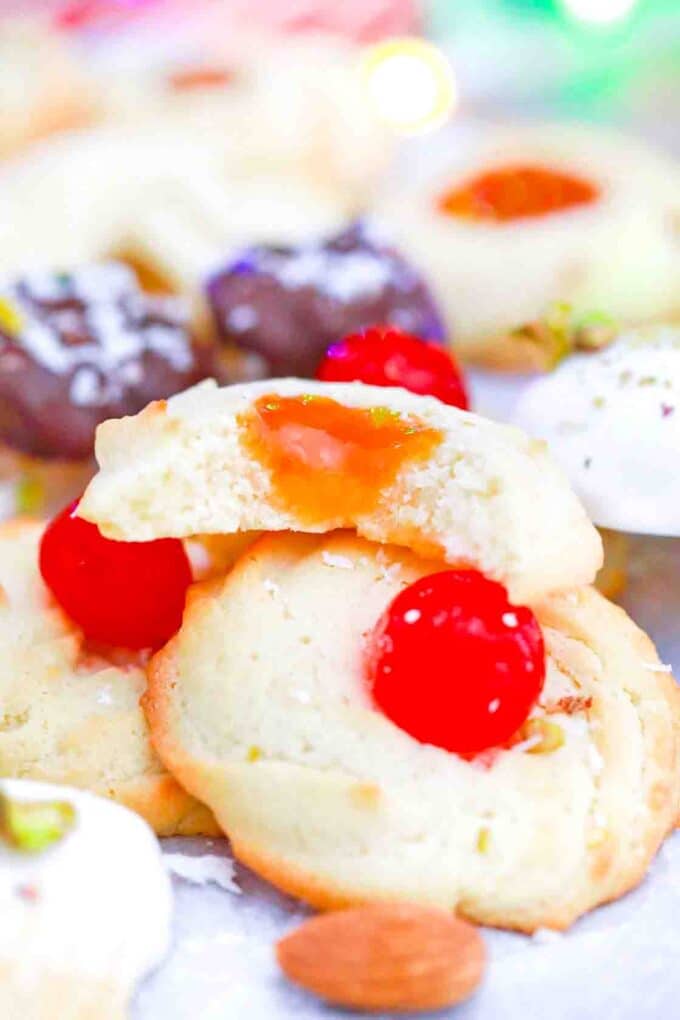 What are the nutrition facts in this recipe?
Each cookie in this recipe has 65 calories, 5 grams of carbs, and 5 grams of fat with 1 gram of trans fat, 2 grams of saturated fat, 1 gram of monounsaturated fat, and 1 gram of polyunsaturated fat. It also has 28 milligrams of cholesterol, 50 milligrams of sodium, and 5 grams of sugar. But you also get 178 units of vitamin A, 1 milligram of iron, 3 milligrams of calcium, 1 gram of protein, and 5 milligrams of potassium.
How to store leftovers:
Store: Before you store your cookies, make sure they are completely cool. Then, put them in an airtight container in a dry and cool space in the kitchen. Place parchment or wax paper between them to prevent them from sticking together.
Freeze: The best way to freeze these is to do it before making them. Wrap the dough in plastic wrap and put it in a freezer bag where you can store it for about 30 days in the freezer. If they are already baked, you can freeze them in the airtight container you put them in for up to six months.
Thaw: To thaw, remove them from the container while still frozen and spread them out on a baking sheet until they reach room temperature. Remember to put your frozen leftovers in the fridge to thaw overnight before serving.
Reheat: To reheat, bake at 325 degrees F for two or three minutes.
More cookie recipes:
Baking tips:
Be sure to use room-temperature ingredients for the best results.
Instead of a stand mixer, you can use a hand or electric mixer with a medium bowl.
Save time and energy by using prepackaged egg yolks from the grocery store.
It is best to use unsalted butter. But if you use salted butter, omit the salt from the recipe.
If you are making a larger batch, be sure to use several baking sheets. Do not try to fit them all onto one pan.
Oven temperatures can vary so keep an eye on your cookies. They should be lightly golden when they are finished cooking.
Cut the butter into chunks and let it soften for 30 minutes so it is soft but not melted.
Be sure to pipe the cookies as fast as you can so the dough does not get too warm.
Cloth or silicone piping bags work best for this dough.
If you do not have a piping or pastry bag, you can use a cookie press or make your own piping bag with a plastic baggie.
Be sure to squeeze from the top and not too hard or the cookie dough may come out the top.
Chilling the cookies before baking is important. Skipping this step will cause your cookies to flatten or spread.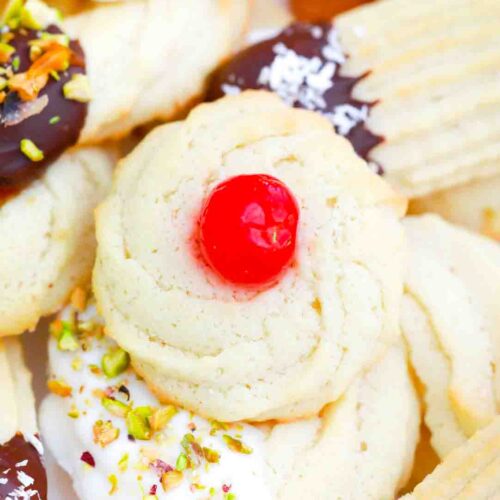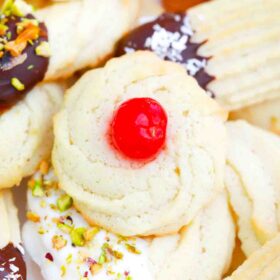 Italian Butter Cookies
Italian Butter Cookies are homemade butter cookies that look like they came from a traditional Italian, so delicate they melt in your mouth!
Save
Share
Print
Pin
Rate
Servings:
32
cookies (depending on size)
Ingredients
Cookies:
9

ounces

unsalted butter

(softened at room temperature)

5

ounces

powdered sugar

2

medium eggs

(at room temperature)

1

medium egg yolk

(at room temperature)

1

teaspoon

pure vanilla extract

(or almond extract)

1/8

teaspoon

salt

(optional)

13

ounces

all-purpose flour

(sifted)
Decorate:
Maraschino cherries

Raspberry jam

(or apricot jam)

3

ounces

dark chocolate

3

ounces

chocolate

Unsalted pistachios

(cleaned and chopped)

Chopped pecans

Coconut flakes

Whole almonds
Instructions
Place the butter and sugar in the bowl of a stand mixer with a whisk attachment, or in a large bowl and use an electric mixer. Whip for at least 4-5 minutes until light and fluffy.

Add the eggs one at a time, and whisk until fully combined after each. Then, add the yolk and the extract. Whisk for 2 minutes, until the mixture is light and fluffy. Stop to scrape the sides and bottom of the bowl a few times.

Next, add the sifted flour and mix just until fully incorporated. Your cookie dough should be sticky, and soft but hold its shape.

Cover two cookie sheets with parchment paper and set. aside.

Transfer the mixture into a piping bag fitted with a large star nozzle and pipe the cookies in various shapes onto the prepared baking sheets, keep the cookies at least 1 inch apart.

You can make S-shaped cookies, round cookies, logs, or horseshoe cookies. In the rounded cookies, you can press the center with your finger to create a small well and add jam, an almond, or a cherry.

Transfer the baking tray to the fridge and chill for at least 30 minutes.

Preheat the oven to 360° F and place the baking sheets onto the middle shelves.

Bake the cookies for 10-12 minutes, until the edges are slightly golden.

Remove them from the oven and transfer them to a cooling rack, cool completely before serving.
Decorate:
Add the chocolate to two separate bowls, and melt it in the microwave for 30 seconds, stir and repeat if needed. Cool it slightly.

Dip some of the cookies in the dark chocolate and some in the white, then sprinkle them with chopped nuts or coconut flakes. Arrange them onto a baking sheet covered with parchment paper, and allow the chocolate to set before serving.
Nutrition
Calories:
152
kcal
|
Carbohydrates:
16
g
|
Protein:
2
g
|
Fat:
9
g
|
Saturated Fat:
5
g
|
Polyunsaturated Fat:
1
g
|
Monounsaturated Fat:
3
g
|
Trans Fat:
0.3
g
|
Cholesterol:
34
mg
|
Sodium:
66
mg
|
Potassium:
64
mg
|
Fiber:
1
g
|
Sugar:
6
g
|
Vitamin A:
248
IU
|
Calcium:
22
mg
|
Iron:
1
mg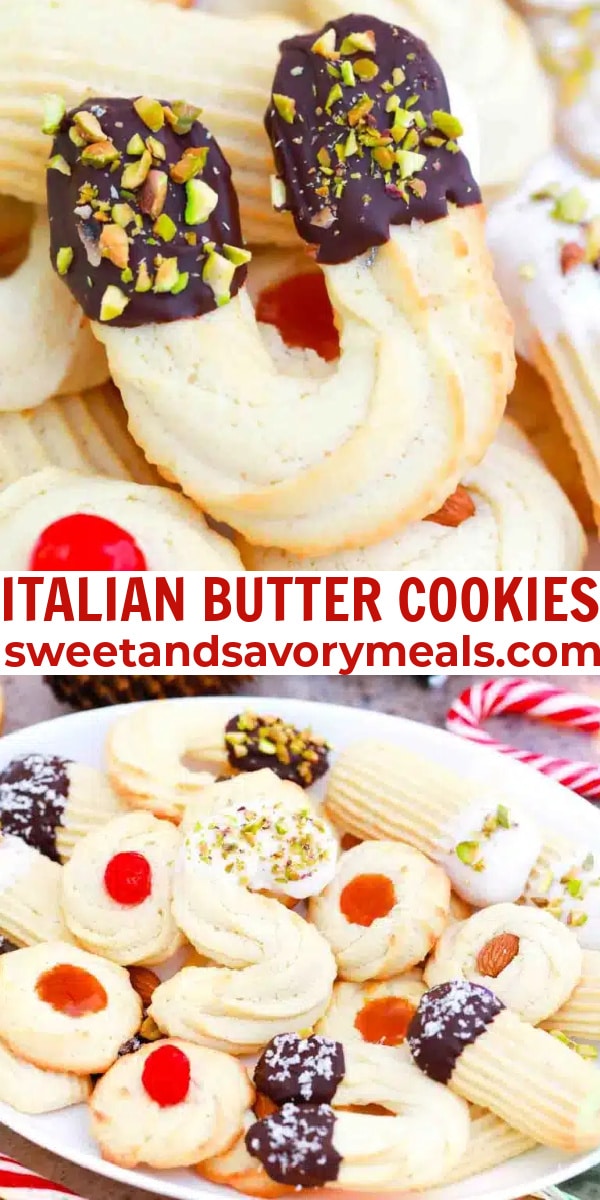 More recipes you might love