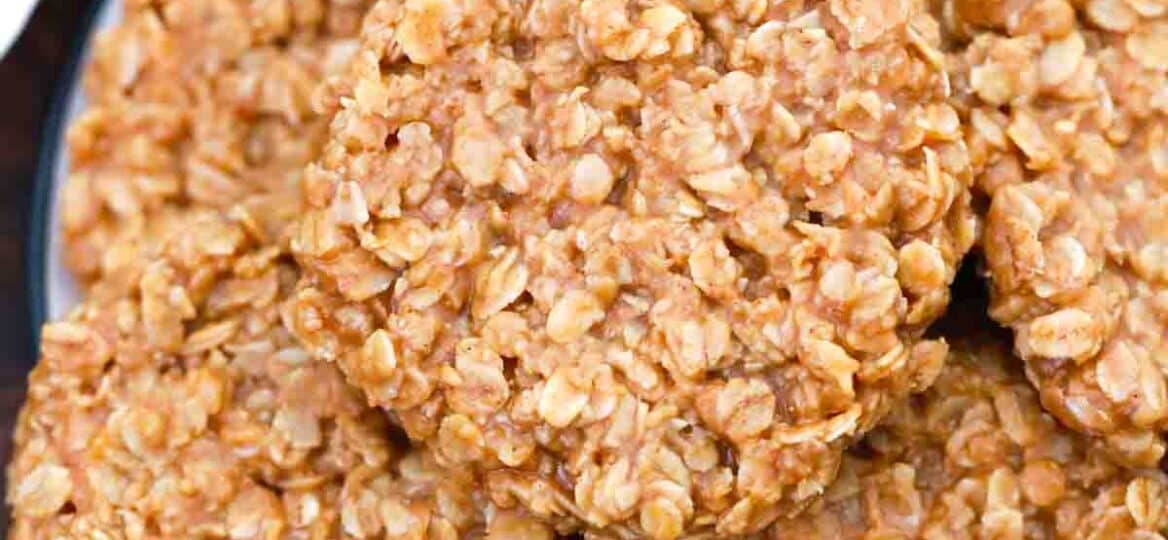 No-Bake Peanut Butter Cookies Recipe [Video]
No-Bake Peanut Butter Cookies are rich and chewy and made with just a handful of ingredients including oats, peanut butter, milk, sugar, and butter. They are absolutely delicious, and you do not even have to turn on your oven to make them. It is a sweet treat that everyone can enjoy.
If you are looking for another snack cuisine, try our No-Bake Cookie Dough Cups with chocolate chips and a luscious peanut butter filling. These Chocolate Peanut Butter No-Bake Cookies made from corn flakes, oats, and chocolate chips are also delicious.
Peanut butter was invented by Marcellus Gilmore Edison in the 1880s. He got a patent for what he called peanut paste back in 1884. It was made for those who could not chew or swallow hard food like peanuts. In the early 1900s, George Washington Carver explored recipes made with peanut butter. But the first recipe was published in 1902 in Mrs. Rorer's New Cook Book.
This easy recipe for no-bake oatmeal cookies is delicious and nutritious. Let the kids make them and give them the option of choosing some mix-ins like chocolate chips or raisins. It is a great recipe with a short prep time and the perfect treat for a healthy snack.
This is an excellent recipe for summer when you do not want to heat up the house. In addition, the are great to make with kids as the recipe is super easy. Also, you can add different mix-ins, to customize them, and make them even more delicious.
Looking for more peanut butter recipes? Try our no-bake peanut butter bars topped with chocolate and nuts or crispy peanut butter balls made from dark chocolate, rice cereal, and maple syrup.
Follow us on Pinterest for more delicious recipes!
Ingredients needed:
These are the simple ingredients for these peanut butter oatmeal cookies. When you are ready to begin preparing the cookies, find the measurement and instructions on our recipe card at the bottom of this page.
White granulated sugar
Butter: Salted butter softened to room temperature.
Milk
Vanilla extract
Creamy peanut butter
Quick cooking oats
How to make no bake peanut butter cookies from scratch?
Boil the milk mixture: First, pour milk into a small saucepan with the butter and sugar. Cook it on medium heat until it comes to a rolling boil and then continue to boil it for one minute. Make sure you cook for precisely one minute for the best results.
Remove from heat: After one minute, remove the saucepan from the stovetop and add peanut butter and vanilla extract. Stir well.
Add the oats: Now, stir in the oats for about two minutes or until the cookie dough starts to cool.
Make the cookies: Finally, use a cookie scoop or spoon to form small balls of peanut butter cookie dough and place them on a baking sheet covered in wax paper.
Cool completely: Remember, your cookies have to cool completely before they will set enough to eat.
Recipe variations:
Crunchy peanut butter: Try these no-bake cookies with crunchy peanut butter instead of regular peanut butter for a nuttier bite.
Other nut butter: You could also use another type of nut butter like cashew or almond butter.
Eat well: For a healthier cookie, use natural peanut butter.
Other milk: Similarly, you could use almond milk instead of regular milk if you are lactose intolerant.
Different oats: You can use old-fashioned oats if that is all you have but you will get a chewier cookie.
Chocolate chips: Add 1/2 cup of chocolate chips for chocolatey peanut butter cookies.
Cocoa powder: For more chocolatey cookies, add 1/2 cup of cocoa powder to your cookie dough.
Maple syrup: Instead of sugar, you can use corn or maple syrup. Or why not add both for a richer and sweeter taste?
Bar cookies: Instead of cookie form, make them as bar cookies in a small baking pan.
How to serve:
This no-bake cookie recipe is ready in minutes, and you do not even have to turn on the oven. You just heat the liquids on the stove for one minute and then make the cookies. Here are some awesome serving ideas for these peanut butter no-bake cookies. Share some of your own ideas in the comments section below.
No-bake cookies, gluten-free, peanut butter, or another flavor, are always great with a glass of ice-cold milk.
For something warmer, try these with a mug of peanut butter hot chocolate.
Use leftovers to crumble on top of ice cream, pudding, or yogurt.
You could also eat your cookies with a scoop of your favorite ice cream flavor.
To make these even more special, add sprinkles to the top before letting them cool.
Top these delicious cookies with a dollop of whipped cream. You can use our recipe for homemade whipped cream made with just three ingredients.
Frequently asked questions
What is the difference between old-fashioned rolled oats, steel-cut oats, and quick oats?
If you want a softer cookie without much texture, use quick-cooking oats. The old-fashioned oats give your cookies a nice chewy texture. And steel-cut oats are much drier and have a distinct texture you can really feel when you take a bite. Rolled oats are steamed for a shorter time so they have larger flakes while steel-cut oats are cut but not steamed.
Why are my cookies gooey?
The most common reason bakers turn out with gooey no-bake cookies, is because you add too much nut butter or the nut butter is too thin. Therefore, make sure you stir in enough oats into the nut butter mixture, and if needed add more. Also, if you do not boil the peanut butter long enough, the cookies will not hold together, and the sugar mixture does not get to the softball stage.
Why are my cookies dry?
On the other hand, your no-bake cookies can be dry if you cook the oats too long, as some recipes require you to still cook the oats on the stove. In addition, adding too many oats to the nut butter mixture will cause the cookies to be on the drier side.
What are the nutrition facts in this recipe?
Each serving has 150 calories, 4 grams of carbs, and 20 grams of fat including 1 gram of monounsaturated fat and 3 grams of saturated fat. You will also get 12 milligrams of cholesterol, 55 milligrams of sodium, and 15 grams of sugar. On the good side, your cookies also have 13 milligrams of calcium, 88 milligrams of potassium, and 1 milligram of iron.
How to store leftovers:
Store: You can store your leftover peanut butter cookies in an airtight container in the refrigerator for up to three days.
Freeze: Instead, store leftover cookies for up to three months in the freezer.
Thaw: Remember to put your frozen leftovers in the fridge to thaw overnight before serving.
More cookie recipes to try:
Recipe tips:
If you do not have waxed paper, use parchment paper.
You need the milk mixture to reach 230 degrees F for the best results. This typically takes about a minute.
These cookies are picky. Getting them to set properly depends on the temperature and humidity in your home.
If you only have unsalted butter, you can use that but add a pinch of salt.
Use two or three baking sheets if you want to make a double batch.
Are you using old-fashioned or whole oats? Pulse them in a food processor a few times to make them quick cooking oats.
Transfer the dough to a large bowl when mixing in the oats for easier handling.
If you do not want any kind of chewiness, use oat flour instead of oats.
No-Bake Peanut Butter Cookies
Ingredients
3

cups

granulated sugar

1

cup

unsalted butter

3/4

cup

milk

1

teaspoon

vanilla extract

1 1/2

cups

creamy peanut butter

4 1/2

cups

quick cooking oats

if needed you may have to add 1/4 cup more

Instructions
Instructions
Place a medium to large saucepan over medium heat and add sugar, butter, and milk. Stir and bring to a boil, boil for one minute.

Remove from the heat and stir in vanilla and peanut butter.

After that, fold in the oats, and stir until the mixture begins to cool. If the mixture is too watery add a bit more oats.

Use a cookie or ice cream scoop to scoop about 2 tablespoons of the mixture at a time and drop it onto a wax paper-covered baking sheet.

Allow cookies to completely cool and set before serving.