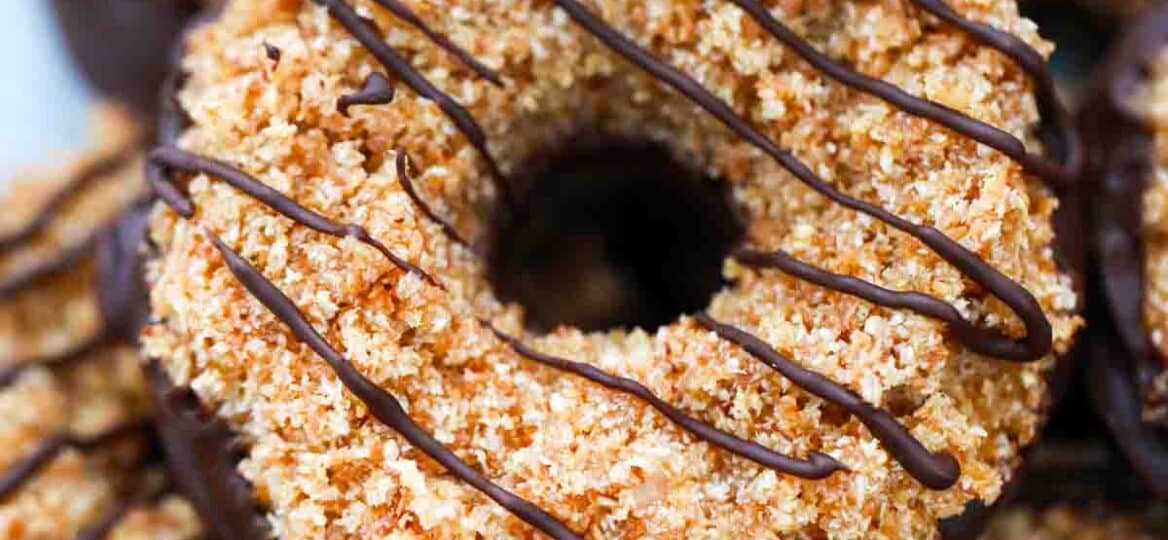 Samoas Cookies or Caramel deLites Recipe
Samoas cookies are full of delicious flavors including a buttery shortbread base, rich dark chocolate, and caramel coconut mixture topping. Are you one of those people who buy a dozen boxes of Girl Scout Cookies every year during Girl Scout cookie season so you can have them all year long? You can freeze them and just have one box per month, right? Well, why not make your own Samoas from scratch so you do not have to limit yourself like that?
Love these cookies? Try our Samoa Cheesecake with cream cheese, graham cracker crumbs, and coconut pudding. Another sweet dish you can try is these Persimmon Cheesecake Pound Cake Bars with homemade persimmon jam.
The first Girl Scout cookie ever made was a simple sugar cookie that was baked to raise money for local troop activities. It was 1917, five years after the scouts were started in Muskogee, Oklahoma.
However, these were homemade cookies sold in a high school cafeteria. In 1936, they went commercial and by the 1950s they had three kinds of cookies including thin mints, shortbread, and sandwich cookies but Samoas did not come out until the 1970s.
Since you are reading this, that means you probably love the Girl Scouts Samoas cookies. You may also be a fan of thin mints, peanut butter patties, or chocolate cookies but you are going to love this recipe for homemade Samoas cookies. Actually, the Girl Scouts changed the name to caramel deLites. But we still call them Samoas.
Looking for more sweet dessert recipes? How about a brownie? Try our cheesecake mint brownies made with dark chocolate, cream cheese, and mint extract. Or you may like these pecan pie cookies made with shortbread and pecan pie filling.
Ingredients needed:
You will need these ingredients to make this great recipe for sweet Samoas cookies. Then, when you are ready to start, find our recipe card at the bottom of this page. It has complete instructions and measurements.
Unsalted butter: Softened to room temperature.
Granulated white sugar
All-purpose flour
Baking powder: Not baking soda.
Kosher salt
Milk: Use whole milk for the best results.
Vanilla extract
Coconut topping:
Shredded sweetened coconut
Store-bought caramel
Milk: Use whole milk for the best results.
Dark chocolate
How to make Samoas cookies Girls Scouts copycat recipe:
Make the cookies:
Preheat: First, preheat the oven to 350 degrees F and line a baking sheet with parchment paper.
Beat the butter and sugar: While you wait, use a large bowl and a stand mixer fitted with a paddle attachment to cream the sugar and butter until it is light and fluffy.
Mix the dry ingredients: Then, in another bowl, whisk the salt, baking powder, and flour until it is just combined.
Combine the two: Slowly, add the flour mixture to the butter mixture a little at a time. Be sure to scrape the sides as needed.
Add the wet ingredients: Next, add the milk and vanilla extract and blend together to combine.
Chill the dough: After, take the dough out of the bowl and separate it into two equal pieces. Make them into two discs and wrap them in plastic wrap before chilling them in the fridge for at least one hour.
Roll and cut: After the dough is chilled, roll each one out onto a lightly floured surface until it is 1/8 inch thin. Then, use a doughnut cutter or two cookie cutters of different sizes so you can get the hole in the middle. Place them on the prepared baking sheet.
Bake the cookies: Lastly, bake your cookies for 10 to 15 minutes or until they are light golden brown. Then, transfer them to a wire rack until they are cool completely.
Coconut topping:
Toast coconut: First, spread the coconut onto another baking sheet lined with parchment paper and bake for 10 to 15 minutes at 350 degrees F, stirring frequently to keep it from burning. Then remove it and let it cool.
Melt the caramel: Next, melt the caramel in a double boiler with milk over medium-low heat. Stir constantly until the caramel is fully melted. Then, remove it from the heat and combine half of the caramel with the toasted coconut in a large bowl until it is fully mixed.
Add topping: Then, working quickly, use the remaining caramel to spread onto each cookie. Work fast to keep the caramel from getting too cold. After, press the coconut mixture onto the caramel and then let it all cool.
Melt and dip: The next step is to melt the chocolate in the double boiler. Once it is melted, dip the bottom of each cookie into the melted chocolate and then place the dipped cookies carefully on a baking sheet lined with wax paper.
Make the lines: Now, pour the rest of the melted chocolate into a piping bag and drizzle lines on top. Let the chocolate harden before serving.
Recipe variations:
Flavor variety: Mix it up and make your own flavor variety by using milk or white chocolate instead of dark.
Butterscotch: You could also try using butterscotch chips instead of chocolate.
Sugar-free: You can use a sugar substitute instead of white sugar and skim milk to cut down on sugar. But remember, there is still going to be sugar in the caramel, coconut, and chocolate.
Chips: If you are using chocolate chips, you need about 1 1/3 cups to make eight ounces.
Save time: Instead of spreading the caramel on the cookies, just dip the cookies in the melted caramel and sprinkle the coconut on top.
Make it nutty: If you are not a coconut fan, use crushed walnuts or pecans instead.
More coconut: For a more intense coconut flavor, use coconut milk instead of regular.
Almond extract: Try using almond extract instead of vanilla. Or you can use both.
How to serve:
These tasty cookies are the perfect afterschool snack for the kids or a treat for you anytime. You can try one of these fun serving ideas or one of your own. Please share your suggestions in the comments section at the bottom of the page:
For a festive look, add rainbow sprinkles on top before the topping hardens.
Try dipping these yummy cookies in a cup of hot chocolate.
These Samoas go great with an ice-cold glass of milk.
Another way to enjoy these is by topping them with a dollop of whipped cream. Our easy whipped cream recipe would be perfect.
Instead, put a scoop of vanilla ice cream between two of these cookies for a delectable dessert.
Did you have some cookies that broke or did not turn out right? Crumble them up and add them to a cake, cupcake, or a bowl of your favorite ice cream. Try this recipe for pineapple ice cream to give them a tropical flavor.
Frequently asked questions
Who actually makes Girl Scout Cookies?
The Girl Scout cookies you buy from a local troop could be from ABC Bakers or Little Brownie Bakers, depending on where you live. These are the only two commercial bakers that make official Girl Scout cookies.
But if you want a thin mint or a raspberry rally cookie, you are going to have to get it from the scouts or make your own because they do not sell them directly.
What is the difference between Samoas cookies and Caramel deLites?
The only reason they are different is that the Girl Scouts use two different bakeries. The deLites are made by ABC Bakers and it has more cookie than caramel. Samoas are made by Little Brownie Bakers, and they have more coconut. Another difference is that the deLites have milk chocolate while Samoas are darker.
Can I make my own caramel sauce?
You certainly can. All you need is sugar, butter, heavy whipping cream, and salt. Just melt 1 cup of sugar in a heavy saucepan, stirring constantly until it is a brown liquid.
Then add six teaspoons of softened unsalted butter and stir until combined. Next, add 1/2 cup of whipping cream while stirring constantly. Stop stirring and let it boil for one minute. Take it off the heat and add one teaspoon of salt before pouring into a jar to cool.
What are the nutrition facts in this recipe?
Each cookie contains 150 calories, 20 grams of carbs, and 8 grams of fat with 5 grams of saturated fat. There is also 1 milligram of cholesterol, 60 milligrams of sodium, and 12 grams of sugar. On the flip side, each cookie has 29 milligrams of calcium, 2 milligrams of vitamin C, 15 units of vitamin A, 2 grams of fiber, and 115 milligrams of potassium.
How to store leftovers Samoas cookies:
Store: Leftover Samoas cookies will stay fresh for three days in a sealed container at room temperature or seven days in the fridge.
Freeze: For those cookies that do not get eaten in a week, pack them in a freezer bag and they can stay frozen for three months.
Thaw: Take your frozen cookies out and thaw them in the fridge the night before you want to eat them.
More cookies to try:
Baking tips:
Let the dough rest at room temperature for 10 minutes if it is too hard to roll.
Use whole milk in the recipe for the best results. The caramel will not be as creamy without it.
When toasting coconut, keep an eye on it so it does not burn.
In addition, chill the cookies before dipping them so they will set faster.
If you do not have a stand mixer, you can use a hand mixer with a paddle.
Alternatively, you could use regular beaters if you do not have a paddle.
Be sure to get finely shredded coconut so it will stick better.
Try not to overdo it with the coconut and caramel. You want a balance of toppings and cookies.
Instead of a pastry bag, you can use a zip-top baggie with a hole in one corner. Or just use a fork or spoon to drip melted chocolate on top.
No double burner? No problem. Just use a metal bowl set over the top of a pot of boiling water.
Samoas Cookies or Caramel deLites
Ingredients
1

cup

unsalted butter

at room temperature

1/2

cup

granulated sugar

2

cups

all-purpose flour

1/4

teaspoon

baking powder

1/2

teaspoon

salt

2

tablespoons

milk

1/2

teaspoon

vanilla extract
Coconut Topping:
3

cups

shredded sweetened coconut

20

ounces

caramel sauce

4

tablespoons

milk

12

ounces

dark chocolate

or milk chocolate
Instructions
Preheat the oven to 350 degrees F.

In the bowl of a stand mixer with a paddle attachment, cream the butter and sugar until light and fluffy.

In a separate bowl, stir together the flour, baking powder, and salt.

Add the flour mixture to the butter, in a few additions, and beat until combined. Stop to scrape the sides and the bottom of the bowl a few times.

After that, add the milk and vanilla and mix to combine.

Remove the dough from the mixer and separate it into two equal halves. Press each half into a disk and wrap it in plastic wrap. Chill in the fridge for about an hour.

Lightly flour a flat surface and once the dough has chilled, roll it out on the floured surface into a ⅛" thick circle.

Using a doughnut cutter, cut out as many cookies as possible. Also, you can use a larger and a smaller glass, to cut the cookies and also the hole in the center.

Arrange the cookies on a baking sheet lined with parchment paper 1-inch apart.

Bake for 10 - 15 minutes or until they are pale golden brown.

Transfer the cookies onto a wire rack to cool completely before adding the topping.
Coconut topping:
In the meantime, spread the coconut onto a baking sheet lined with parchment paper.

Bake it for 10 - 15 minutes at 350 degrees F until toasted, stirring frequently.

Once done, remove from the oven to cool.

Melt the caramels and milk in a double boiler over medium-low heat and stir until melted.

Remove from heat, and in a large bowl combine half of the melted caramel with the toasted coconut. Stir until fully combined.

Spread the remaining caramel into a thin layer onto the cookies.

Next, using your hands, press the coconut mixture onto the caramel. Let the cookie cool.

Melt the dark chocolate in a double boiler and dip the bottom of the cookies into the chocolate and place them on a wax paper-lined baking sheet.

Use a piping bag or a fork to drizzle the remaining chocolate on top of the cookies.

Let the cookies sit until the chocolate hardens before serving.
Deliciousness to your inbox
Enjoy weekly hand picked recipes and recommendations