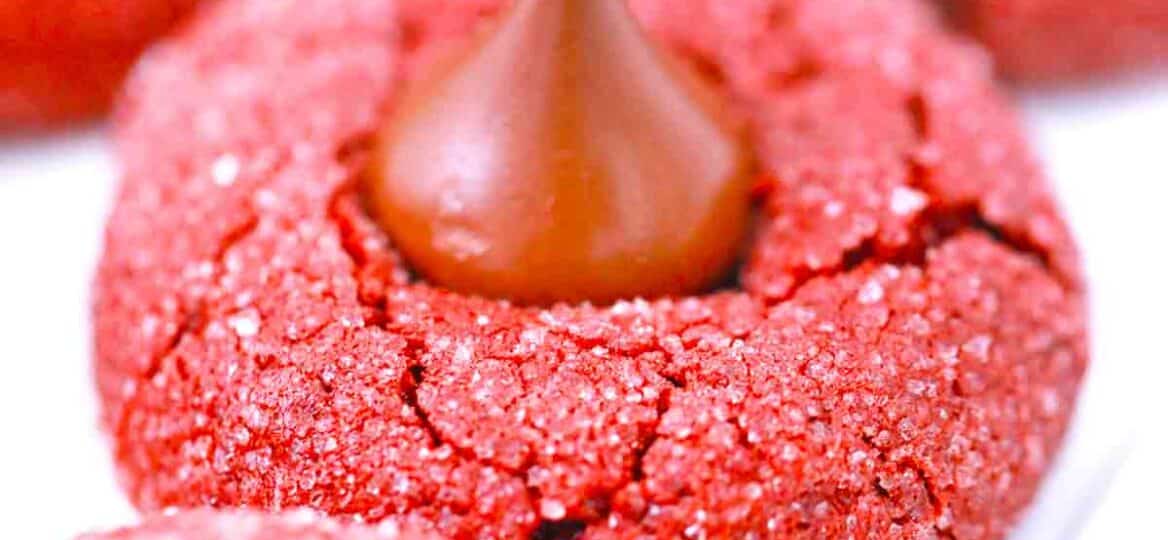 Red Velvet Hershey's Kiss Cookies [Video]
Red Velvet Hershey's Kiss Cookies make a fantastic dessert for Valentine's Day or really any day of the year. The chewy red velvet cake with the creamy chocolate kiss makes these the perfect treat for whenever you want something sweet. And they just maybe your family's new favorite cookies.
If you are looking for another delicious Valentine's Day dessert, our Valentine's Day Cookies with almond extract and powdered sugar are perfect. For more red velvety goodness, our Cheesecake Stuffed Red Velvet Cookies are the bomb!
These are also known as red velvet blossoms, red velvet blossom cookies, or red velvet thumbprint cookies. It is exactly the same recipe with a different name.
No matter what you call this delicious cookie, it will surely be a hit at a Christmas party, family dinner, or just as an afterschool snack for the kids.
These Buckeye Brownie Cookies are also deliciously made with cocoa powder and creamy peanut butter. Red Velvet Hershey's Kiss Cookies make the perfect tiny dessert that also can be used as cute hostess gifts.
Ingredients needed:
To get the exact measurements and instructions, scroll down to our recipe card below. But here are the basic ingredients you need for these red velvet kiss cookies:
All-purpose flour: Spoon and leveled.
Natural unsweetened cocoa powder: Store-bought or homemade.
Baking soda: Not baking powder.
Salt: We used kosher salt.

Unsalted butter: Softened to room temperature.
Light or dark brown sugar: Packed.
Sugar: Granulated white sugar.
Large egg: At room temperature.
Vanilla: Pure vanilla extract is best.
Milk: We used buttermilk.
Red food coloring: We used gel.
Hershey's Kisses: Unwrapped.
Granulated or powdered sugar: For the topping.
How to make red velvet Hershey's kiss cookies from scratch?
Whisk: First, whisk the dry ingredients together in a medium or large bowl and set aside.

Beat: Then, use a stand mixer or electric mixer with the paddle attachment to beat the butter and sugars together at medium speed. Add the egg and vanilla, beating on high for one or two minutes.

Combine: Next, pour the dry ingredients into the butter mixture and add the food color and milk. Mix on low speed until it is combined. Cover and chill the cookie dough for at least two hours.

Preheat: After, heat oven to 350 degrees and line each baking sheet with parchment paper or silicone mats.

Shape dough: Meanwhile, using about one tablespoon each, roll and shape dough into 1-inch balls. Roll each one in the sugar topping and then put them on the baking sheet about three inches apart.

Bake: Then, bake for 11 to 13 minutes or until the edges are set. Remove the baked cookies and let them cool for about five minutes on the baking sheets.

Set: Lastly, press a Hershey's Kiss into the center of each cookie and then transfer them to plate and pop them in the freezer for 10 minutes to set the chocolate.

Serve: Finally, remove them from the freezer and let them sit on a wire rack for a few minutes before serving.
Recipe variations:
Other kisses: You probably already know that Hershey's kisses come in many colors and flavors. Feel free to use dark chocolate kisses for major chocolate lovers or white chocolate for those who like the milder chocolate flavor.

Different shapes: Shape these chocolate cookies into hearts for Valentine's Day.
More chocolate: Add one cup of chocolate chips to the batter for a chocolate chip cookie version.
Chocolate blossom cookies: Alternatively, you can leave out the red food coloring and make chocolate blossom cookies instead.

Peanut butter blossoms: Add a cup of peanut butter to the cookie dough for peanut butter blossoms.
How to serve:
These delicious red velvet desserts are perfect for Christmas cookies or any other holiday season or even for a cookie swap. These are actually my favorite Christmas cookie now. Feel free to serve how you like them or use one of these great ideas.
All cookies go great with a glass of ice-cold milk.

Add a little homemade cream cheese frosting to the cookies for even more sweetness.
Sprinkle candy glitter or colored sugar on top for a more festive look.
Other candy: Alternatively, you could also use a different candy such as a mini peanut butter cup or Rolo instead of a Hershey kiss.

M&M's are also a great addition to add to the mix.
Serve these with a mug of red velvet hot chocolate for a nice treat.
Frequently asked questions
Why are my cookies flat?
If your butter gets too warm or melts, they will get flat when you cook them. You need the butter to be soft but not melted to get fuller more fluffy cookies.
Also, make sure you let the dough chill for at least two hours. The butter will get too warm if they do not chill for enough time.
Why do we roll the cookies in sugar before baking?
The sugar melts as the cookies bake, giving them a delicious crust on each soft cookie similar to sugar cookies.
The sugar also helps your delicious red velvet cookies from spreading too much while they are baking.
Can I use an ungreased cookie sheet?
If you have a nonstick cookie sheet that does not need grease, that is fine. In fact, in this recipe we use parchment paper to prevent sticking.
Another perfect idea is to use a silicone baking sheet. You will not need any kind of spray or oil for these.
How to store leftovers:
Store: Leftovers can be stored in an airtight container in the fridge for up to a week.
Freeze: If you want to freeze your cookies, let them cool completely and then put them in the freezer in a freezer-safe container for up to three months.

Thaw: Thaw overnight in the refrigerator before serving for best results and then serve at room temperature.
More Valentine's Day recipes:
Cooking tips:
Before starting, make sure there is enough room in your freezer to place the cookies after finishing them.

Be sure to use large eggs for the best results.

If you are chilling your dough for longer than two hours, let it sit at room temperature for about 15 to 20 minutes before rolling as it will be very hard.

It is important to use natural unsweetened cocoa powder and not Dutch-processed.

You can use as much or as little food coloring as you like to make it as light or dark as you want.

If you use good baking or silicone mat, it will prevent the bottoms from overcooking.
Sift your dry ingredients like your flour mixture before baking for the best results.
Using a cookie scoop is an easier way to get them to the right size.
Red Velvet Hershey's Kiss Cookies
Ingredients
1 1/2

cups

all-purpose flour

spoon and leveled

1/4

cup

unsweetened cocoa powder

1

teaspoon

baking soda

1/4

teaspoon

salt

1/2

cup

unsalted butter

softened to room temperature

3/4

cup

packed light brown sugar

1/4

cup

granulated sugar

1

large egg

at room temperature

1

teaspoon

pure vanilla extract

1

tablespoon

milk

32-36

Hershey's Kisses

unwrapped
Instructions
In a medium bowl whisk the flour, cocoa powder, baking soda, and salt. Set aside.

Using a mixer fitted with the paddle attachment, beat the butter, brown sugar, and granulated sugar together on medium speed until light and creamy, about 2-3 minutes.

Add the egg and vanilla extract, mix on medium-high speed until combined, about 1 minute.

Scrape down the sides and bottom of the bowl as needed.

Add the dry ingredients to the wet ingredients, add the milk and food coloring, then mix at low speed until well combined. If needed add a few more drops of food coloring.

Cover with plastic wrap and chill the dough in the refrigerator for at least 2 hours or up to 3 days.

If chilling for longer than 2 hours, allow the dough to sit at room temperature for at least 15 minutes before using it.

Preheat oven to 350 degrees F.

Line large baking sheets with parchment paper. Set aside.

Scoop about 1 - 1 1/2 tablespoons of dough and roll into a ball. Roll each ball in the 1/2 cup of sugar for coating and place on the baking sheet about 3 inches apart.

Bake for 11-13 minutes or until the edges appear set. Centers will look soft.

Remove the cookies from the oven and cool for just 5-10 minutes on the baking sheet.

After that immediately press a Hershey's Kiss into the center of each cookie, transfer the cookies to a large plate and transfer in the freezer for 10-20 minutes to quickly set the chocolate, otherwise, it will melt.

Remove from the freezer and serve.
Deliciousness to your inbox
Enjoy weekly hand picked recipes and recommendations