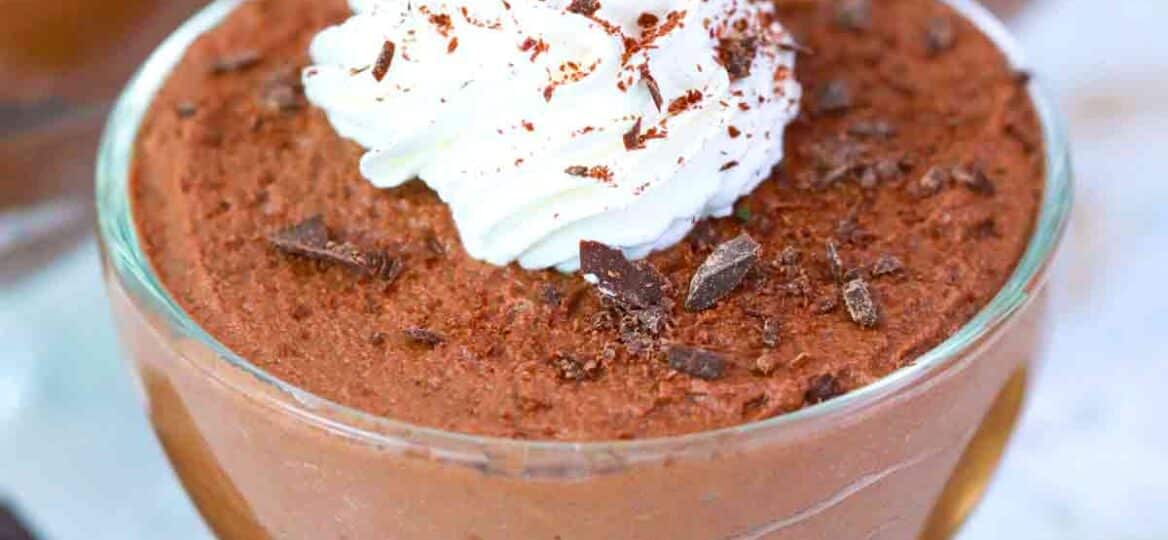 Easy Chocolate Mousse recipe is made with just 5 ingredients: heavy cream, sugar, egg yolks, vanilla, and chocolate. It's luxuriously creamy, chocolaty, and decadent. No gelatin, agar agar, or cornstarch being used, and only 30 minutes of prep work!
If you are a chocoholic who desperately wants to indulge in some fantastic chocolate desserts without turning on the oven, make sure you try our recipes. We highly recommend you make this No-Bake Chocolate Cheesecake, Fudge, and this gooey 5 Ingredients Chocolate cake made on the stove.
5 Ingredients Chocolate Mousse
Chocolate Mousse sounds like those fancy desserts that you would rather order at a restaurant than make at home. Actually, making it at home is rather simple, if you follow a few simple steps.
Don't worry about the eggs, we are not serving you are dessert with raw eggs! The yolks first are tempered with the cream, and after that, the mixture is simmered, cooking the eggs so they are safe to eat.
First, keep in mind that the secret to this great dessert is making sure you use the highest quality chocolate. Read the recipe, prepare the ingredients so you have them on hand. This is equally important as while the steps are easy to follow, you have to work quickly.
I would say that the hardest part is to temper the egg mixture, but don't be intimidated by it, if you keep whisking during the process, everything will turn out fine.
I love this recipe because it is light, creamy, and very decadent. Also, because there is no need to use a binder, so the texture of the dessert relies on the dreaminess and richness of the heavy cream, chocolate, and eggs.
This is the perfect dessert to make without turning on your oven, it takes just a few minutes to prepare it and it tastes better than most restaurant versions.
Ingredients you need:
White granulated sugar
Heavy whipping cream
Vanilla extract
Egg yolks
Chocolate
How do you make Chocolate Mousse from scratch?
Beat the egg yolks: First, start by adding the egg and sugar to a medium bowl and beat until light and fluffy.
Heat the cream: Next, place a medium saucepan over medium heat and add the cream. Bring the mixture to a simmer, while stirring constantly.
Combine: Now, once the cream is hot, add it gradually to the egg mixture and whisk constantly, to avoid the eggs from curdling.
Heat the mixture: After that, immediately pour the egg mixture into the saucepan and cook on medium heat while whisking for 5 minutes, until it thickens.
Add the chocolate: Finally, remove from heat and stir in the chopped chocolate until fully melted and the mixture is smooth.
Chill: Refrigerate the mixture for two hours.
Add whipped cream: Whip the remaining heavy whipped cream, and after that, fold it into the chocolate mixture until well incorporated. After that, add the mousse to the serving glasses.
Serve: Finally, when ready to serve, add a dollop of whipped cream on top and some chocolate shavings!
Recipe Variations:
Chocolate: Use different kinds of chocolate, milk dark, or white.
Flavorings: Play with different types of flavorings, instead of vanilla you can use almond, coconut, or butter rum.
Coconut milk: Another option is to use full-fat coconut milk instead of heavy cream.
Garnish: Add coconut flakes or toasted almonds on top, right before serving. Make them more indulgent by serving them with a drizzle of chocolate sauce.
Mint: Go for a chocolate mint combo by use peppermint extract and serving these with a few fresh mint leaves.
Binder: If you have time and looking for a fluffier texture, use a binder like gelatin or agar agar.
Cherries: Add maraschino cherries through the mixture or on top, the combo is out of this world.
Berries: Serve the chocolate mousse topped with berries like blueberries, raspberries, blackberries, or strawberries.
Coffee: To enhance the chocolate flavor add an espresso shot into the mixture, right after you are done simmering it.
Keto: This recipe is actually incredibly easy to make low-carb, just use your favorite low-carb sugar and low-carb chocolate.
Gluten-Free: The recipe is naturally gluten-free, just make sure the chocolate you are using is made in a gluten-free facility.
What can go wrong with chocolate mousse?
This is probably the most frequently asked question. While this is a very easy recipe, the thing that can go wrong is NOT tempering the eggs correctly and cooking them.
When you add the hot cream to the egg mixture, add it SLOWLY and WHISKING all the time, even BEFORE you start adding the mixture. As a result, you will ensure that the eggs won't curd!
One more mistake is rushing, and not chilling the chocolate mixture properly. It is important for it to be cold, so as a result, when you add the whipped cream it doesn't melt.
Another thing that can go wrong is NOT whisking the cream very well before folding it into the chilled chocolate mixture. Keep in mind that the whipped cream should be fluffy and hold its shape. Otherwise, if it is too soft and liquidy the chocolate mousse instead of creamy will become liquidy.
More Mousse Recipes:
Does mousse have raw eggs?
While some recipes may feature raw eggs, I prefer to keep it safe and in this recipe, we make sure to temper the eggs. After the egg yolks have been tempered, the mixture is simmered to 160 degrees F which makes the eggs safe to consume.
What is the difference between whipped cream dessert and mousse?
These are entirely two different desserts. While you can add sweetener, flavoring and also fold in egg whites into whipped cream for an airy and fluffy dessert, that is not considered classic mousse.
Keep in mind that a classic mousse recipe is usually creamier, richer, and also more indulgent not as airy, and usually has egg yolks and is cooked on the stove.
How to store it:
The dessert always needs to be refrigerated and it will stay good in the fridge for up to 4 days. Also, we do NOT recommend freezing this recipe. Because when you defrost it the texture will be totally different.