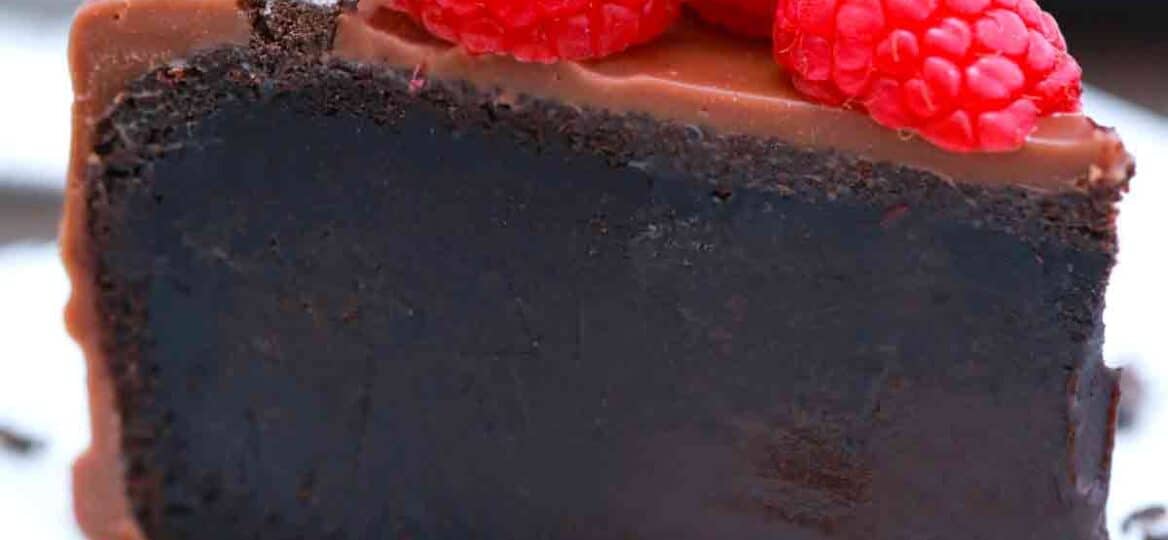 Chocolate Cake – Only 5 Ingredients [Video]
THE BEST No Oven Chocolate Cake Recipe EVER that is made with only 5 ingredients, and is super delicious, moist, and very easy to prepare! It is creamy and chocolaty, just the perfect all-around dessert for any occasion!
I am a big chocolate fan and because of that, I bake these types of desserts quite often. This is probably my ALL-TIME favorite dessert, along with German Chocolate Cupcakes, Chocolate Banana Bread, and Chocolate Brownie Cake.
Easy No-Oven Chocolate Cake Recipe
This 5 Ingredient Chocolate Cake is extra moist, decadent, flavorful, and super easy to make. Not to mention, that is budget-friendly. All you need is 5 ingredients, and a few minutes to put it together. Then, simply bake it and garnish it for the ultimate chocolate dessert!
It is truly a one-of-a-kind cake because it is so rich and deeply flavorful. On top of that, the espresso makes the chocolate flavor shine. Topped with a chocolate ganache, that takes it over the top!
As you can see the cake is also egg-less, and since the recipe is so easy and adaptable, you can prepare it for individuals that have certain food allergies.
This is also a fun project to make with your kids since it is super quick and easy to prepare. Also, you can adjust and modify the recipe based on your taste. For example, feel free to make it gluten-free, dairy-free, or add more chocolate. Either way, you make it, this will be irresistibly delicious!
Chocolate Cake Ingredients:
Oreos
Baking Powder
Milk
Espresso – optional
Cocoa Powder – optional
More Cake Recipes:
Make it a 3 Ingredient Chocolate Cake by skipping the expresso and cocoa powder. These two ingredients are added to make it even more chocolaty, but the recipe works fine without them as well.
How to make No-Oven Chocolate Cake from scratch?
Crush the Cookies: Take the Oreo cookies, and remove the cream part, put it in a bowl, and the sandwich cookies in a Ziploc bag. Use a rolling pin to crush the cookies into fine crumbs. You can also use a food processor.
Combine: Next, add the Oreo crumbs to a large bowl, add baking powder, a bit of salt, cocoa powder, espresso, and mix well. Add the milk and stir until fully combined.
Add the Oreo Cream: Now, whisk in the cream from the Oreos into the milk mixture. Use a mixer or a blender, as the cream needs to be fully combined.
Cook: Grease a small saucepan with butter or coconut oil, add the batter to it, cover with a lid, and place on low heat on the stove for 45-55 minutes. A toothpick inserted in the center of the cake should come out clean.
Invert cake: Once the cake is done, let it cool in the saucepan for 15-20 minutes, after that invert it on a plate.
Ganache: Make the ganache by combining chocolate and cream, wait for the cake to fully cool, place it on a wire rack, and pour the chocolate ganache on top. Garnish with fresh berries. Refrigerate for 2-4 hours before serving.
Serve: Slice and serve the cake with fresh fruits, ice cream, or whipped cream on the side.
Recipe Variations and Substitutions:
Make it gluten-free: You can easily adjust it and make it gluten-free cake. Simply, use gluten-free cookies.
Dairy-free: Alternatively, you can skip the milk, and replace it with almond milk or coconut milk.
Try other cookies: Feel free to try this recipe with different types of Oreos.
Garnish with some fruits: To make it even more festive, garnish it with some sliced strawberries or fresh raspberries.
Use nuts: Chop some peanuts, almonds, walnuts, or pecans and stir into the batter. This will add an extra crunch to the dessert.
Add peanut butter: We all know that peanut butter and chocolate are a match made in heaven. Drop a few tablespoons of microwaved peanut butter into the cake batter and swirl it with a knife.
What to serve with:
How to store:
The cake can be stored in an airtight container in the fridge for up to 5 days.
If you would like to freeze it, make sure it is fully cooled first. Then, either wrap the whole cake or individual slices in plastic wrap and after that in foil and freeze.
Another option is to place it into freezer-safe Ziploc bags or freezer-safe containers and freeze for up to 3 months.
Defrost in the fridge overnight, before serving.
Recipe Tips:
This recipe is pretty straight forward and you don't really have to be a very good cook or baker to be able to follow it. Still, we have a few tips to make this dessert even better.
Instead of the chocolate ganache, you can cover the cake with a thick layer of whipped cream and some jam.
If you plan on using the cocoa powder as the recipe request, make sure you use a high-quality one.
Make sure you use high-quality chocolate for the chocolate ganache!
Always test the cake for doneness with a wooden skewer, if you see raw batter on it, it means you need to cook it more. If you see only a few chocolate crumbs, it means the cake is ready!
Deliciousness to your inbox
Enjoy weekly hand picked recipes and recommendations