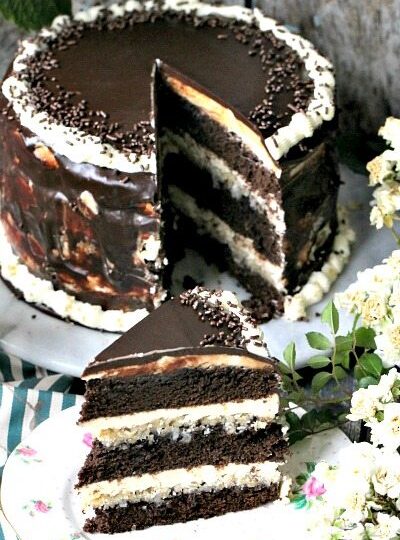 Chocolate Brownie Cake that is indulgent and rich, with layers of vanilla mascarpone buttercream, coconut walnut custard and chocolate ganache.
We are huge chocolate lovers, and when it comes to that, we try to make the best desserts. Among our other favorite once are Triple Chocolate German Chocolate Poke Cake, Chocolate Baileys Poke Cake, and Chocolate Peanut Butter Cupcakes.
Chocolate Brownie Cake
Chocolate Brownie Cake is what my chocolate dreams are made of. This cake is definitely one of my favorite desserts. First, this cake is super creamy, rich, and very delicious. It has a creamy and luxurious mascarpone cream and coconut walnut custard. Every single bite is an explosion of flavors and textures! This cake is the ULTIMATE dessert!
Aso, if you are a chocolate lover, then this is one of the best cakes you can have. It has the right balance, and the chocolate flavor is front and center here. You can make it in advance and store it in the fridge for a couple of days. In addition, it is great to make for any occasion, whether it is a birthday party, a holiday, or simply you want to enjoy a delicious treat with a cup of tea or coffee.
Why you'll love this Chocolate Brownie Cake
Firstly, the cake is rich, moist, and taste delicious.
Also, it is the perfect cake for chocolate lovers.
In addition, it's festive and guaranteed to become a show stopper dessert.
Coconut and chocolate mix combines well in this cake.
It can be made 1 or 2 days in advance so you don't have to worry about a last-minute dessert.
Chocolate Brownie Cake Recipe Tips:
Firstly, use high-quality chocolate and very high-quality cocoa powder. Because the chocolate flavor is central here, this is how your dessert will taste.
Don't skip the salt – while you may skip it in other recipes, you definitely want to add it here. It's because the salt will enhance the chocolate flavor.
Also, ingredients should be at room temperature. For that perfectly soft and moist crumb, make sure your all ingredients are at room temperature.
You can control the sweetness level by using semi-sweet or bittersweet chocolate in this recipe. However, make sure you use unsweetened cocoa powder. For the ultimate chocolate flavor, this is important.
In addition, make sure you don't over bake the layers. Since each oven is different, start checking at the 25 minutes mark. This is key to see how much more they need to be kept in the oven.
A shortcut you can take while making this cake would be to buy the pre-made brownie mix packages. This will save you some time on the layers and it will be equally delicious. You will need 2 mixes.
Tools/Ingredients I used to make the Best Chocolate Brownie Cake: