CHOCOLATE BROWNIE CAKE – TO DIE FOR!
This post may contain affiliate links. Please read my disclosure policy.
Chocolate Brownie Cake that is indulgent and rich, with layers of vanilla mascarpone buttercream, coconut walnut custard and chocolate ganache.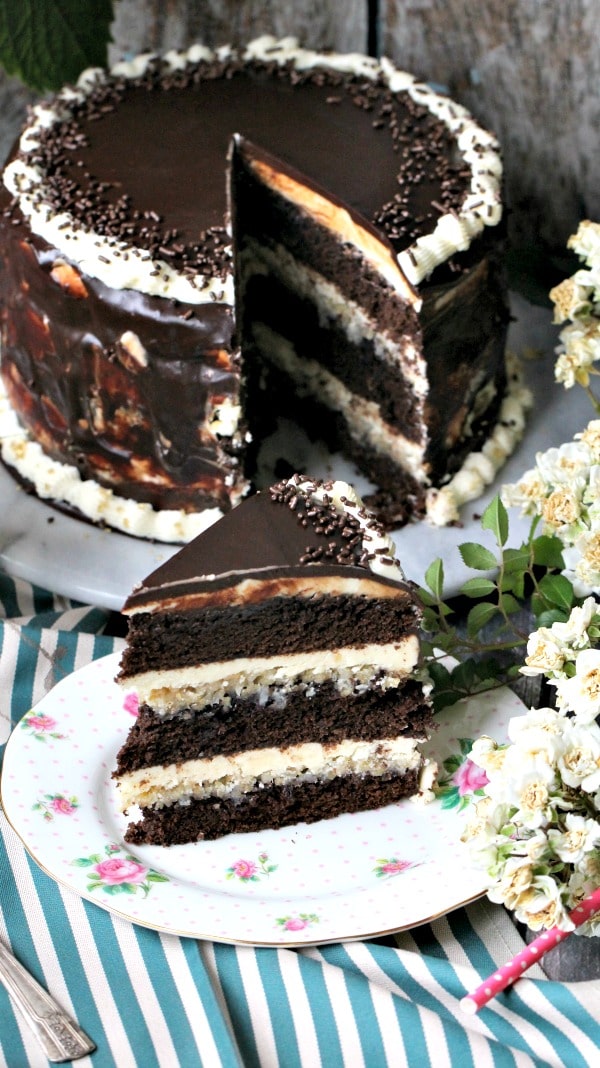 Chocolate Brownie Cake is what my chocolate dreams are made of. This cake is an ode to one of my favorite desserts which is the German Chocolate Cake, but this Chocolate Brownie Cake is even more indulgent and rich. Layers of rich, chocolaty brownie are topped with a creamy and luxurious mascarpone cream and coconut walnut custard. Every single bite is an explosion of flavors and textures! This cake is the ULTIMATE dessert!
Here are a few more Chocolate Desserts that I obsess over:
Tricks and Tips for perfect Chocolate Brownie Cake:
Use high quality chocolate and very high quality cocoa powder – when you make chocolate desserts, and you want the chocolate to shine, it's key to invest in high quality chocolate products as this is how your dessert will taste
Don't skip the salt – you see how in many desserts it says to add a pinch of salt, same in this one, and while you may skip it in other recipes, you definitely want to add it here, as the salt will enhance the chocolate flavor
Ingredients should be at room temperature – for that perfect soft and moist crumb make sure your all ingredients are at room temperature
You can control the sweetness level by using semi sweet or bittersweet chocolate in this recipe, but make sure you use unsweetened cocoa powder, you want a nice chocolate flavor, not more sugar in your dessert
Make sure you don't over bake the layers, each oven is different but checking at the 25 minutes mark is key to see how much more they need to be kept in the oven
A shortcut you can take while making this cake would be to buy the pre-made brownie mix packages, that will save you some time on the layers and it will be equally delicious. You will need 2 mixes.
Tools/Ingredients I used to make the Best Chocolate Brownie Cake:
Homemade Chocolate Brownie Cake with Vanilla Mascarpone Butter Cream
Chocolate Brownie Cake that is indulgent and rich, with layers of vanilla mascarpone buttercream, coconut walnut custard and chocolate ganache.
Author:
Katalina Kastravet
Ingredients
For the Brownie Layers:
8 large eggs
3 cups sugar
16 ounces /4 sticks melted butter / 450 grams
1½ cup cocoa, sifted
1 teaspoon vanilla extract
1¼ cup flour, sifted
½ teaspoon kosher salt
1 teaspoon baking powder
For the Coconut Filling:
1 cup walnuts, measure then finely grind in the food processor
1½ cup unsweetened or sweetened coconut flakes
1 cup heavy cream
1 cup sugar
3 eggs yolk
5 tablespoons unsalted butter, room temperature
For the Vanilla Buttercream:
3 sticks of butter, softened
8 oz mascarpone cheese, chilled
2½ cups powdered sugar
1 vanilla bean
pinch of salt
For the Chocolate Ganache:
8 ounces semisweet chocolate, chopped
2 tablespoons light corn syrup
1 cup heavy cream
Instructions
Preheat oven to 350°F.
Spray with baking spray or grease with butter the bottom of 3 8inch round pans, place parchment paper on the bottom and spray with baking spray again.
In the bowl of an electric mixer, whisk together melted butter and sugar until smooth. Add vanilla extract and each egg one at a time on low speed and whisk until well combined.
Using a large rubber spatula, or with the mixer on low speed, gently stir in flour, cocoa, baking powder and salt.
Spread batter equally into the pans and bake for 25-30 minutes until set.
Remove from oven and let cool completely into the pans before assembling the cake.
Run a knife thru the sides of the pans to release the brownie layers. Carefully, cover one pan with a cake lifter, and flip the brownie layer onto the cake lifter. Place on the counter and repeat with the remaining brownie payers.
For the Coconut Filling:
Place butter, walnuts and coconut in a large bowl and set aside.
In a medium sauce pan, on low/medium heat, stir together the heavy cream, sugar and egg yolks until the mixture begins to thicken and coats the back of a spoon (180 degrees F.). Pour the hot custard immediately onto the walnut-coconut mixture and stir until the butter is melted. Cool completely to room temperature before topping the brownie layers.
For the Vanilla Mascarpone Buttercream:
Place softened butter and mascarpone into the bowl of an electric stand mixer that has been fitted with the wire attachment. Turn the mixer on a medium setting and cream until smooth and combined, 2 - 3 minutes.
Add sugar, ½ a cup at a time. Add vanilla bean seeds and a pinch of salt and whisk until well-incorporated.
If the frosting is too thick add heavy cream one tablespoon at a time until it has reached the desired consistency.
For the Chocolate Ganache:
Place the chocolate and corn syrup in a medium bowl. Heat the cream in a small saucepan over medium heat until it just begins to boil. Remove from heat and pour over the chocolate. Let stand one minute, then stir until smooth. Cool to room temperature.
Assemble the Cake:
Using a cake lifter, place first cake layer on a cake plate.
Top with a half of the coconut walnut filling, spread it evenly. Top the coconut mixture with ⅓ of the frosting, also spread evenly. Repeat the process with the second brownie cake layer. Third (top) layer, is covered in frosting only, no coconut mixture.
Pour the chocolate ganache on top of the cake, distribute evenly and also ice the sides of the cake while the ganache is dripping down.
Decorate with frosting if you have any remaining and chocolate sprinkles.
Chill the cake for at least 2 hours before serving.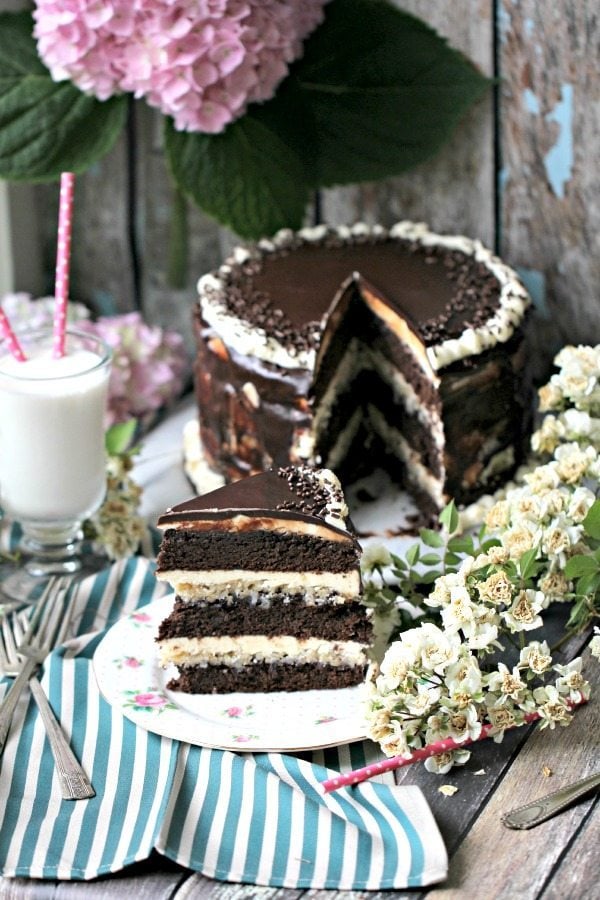 Peas and Peonies, LLC. owns the copyright on all images and text and does not allow for its original recipes and pictures to be reproduced anywhere other than at this site unless authorization is given. If you enjoyed the recipe and would like to publish it on your own site, please re-write it in your own words, and link back to my site and recipe page. Copying and/or pasting full recipes to social media or personal blogs is strictly prohibited. Sharing this recipe is very much appreciated and encouraged. Read my disclosure and privacy policy. This post may contain affiliate links.