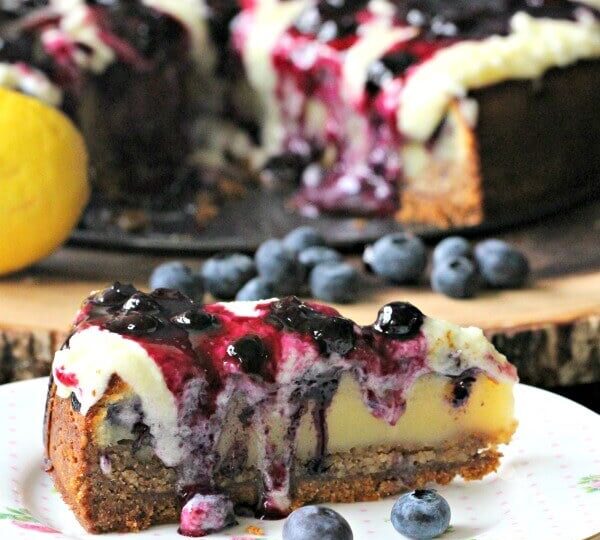 Blueberry French Custard Cake
French Custard Cake with blueberries, lays on a Biscoff Crust and is topped with lemon frosting and a homemade blueberry sauce.
I love making delicious cakes, since they are very popular on the blog. Also, they are so easy to make, look stunning and taste delicious. Having already so many tasty cakes, like this Strawberry Poke Cake, German Chocolate Poke Cake and Baileys Poke Cake, it only made sense to add a Blueberry French Custard Cake to the mix.
Blueberry French Custard Cake
This Blueberry French Custard Cake is perfection. I went ahead and topped it with some lemon mascarpone buttercream and homemade blueberry sauce. The buttercream is so perfect here, its like another creamy layer, but so different in texture from the custard. Also, it adds another decadent level of texture and fresh flavor. The lemon flavor works in harmony with the vanilla blueberry sauce to bring this dessert together.
You have it all here, creaminess, deliciousness, freshness and decadence, all in one beautiful french custard cake, that looks fabulous and it's actually very easy to make. You can totally skip the buttercream if you want to keep the cake a little lighter. However, make sure you top it with that homemade blueberry sauce!
This French custard cake is the ultimate summer dessert that you must try, we surely loved it and devoured every single crumb!And since we are planning our trip to Paris if anyone has any recommendations of things we must try, places we should go, please let me know!
How to make lemon zest
Follow the easy steps below:
Rinse the lemon.
Set your tool over a cutting board. A microplane produces a very fine zest, perfect for baking and cooking. If you don't have a microplane, use the smallest holes on an ordinary grater.
Grate the yellow skin of the lemon only. Grate just enough to get through the yellow skin, this way you can avoid the bitter white pith underneath.
Rotate the lemon and repeat. Once the white pith is exposed, rotate the lemon and zest the next strip of peel. Repeat until most of the peel is removed, or until you have enough zest for your recipe.
I wanted the cake to taste very fresh, the custard itself doesn't feel heavy, since its made with just a little flour and few eggs, its very creamy and light. I added some lemon zest for some summery brightness and freshness and also 2 cups of blueberries. Every delicious bite of this creamy goodness is followed by a tart burst of juicy blueberries. Similarly, a subtle lemon flavor and a delicious caramelized crumble from the biscoff crust.