Blueberry French Custard Cake
Last updated on June 18th, 2021 at 04:02 pm
French Custard Cake with blueberries, lays on a Biscoff Crust and is topped with lemon frosting and a homemade blueberry sauce.
I love making delicious cakes, since they are very popular on the blog. Also, they are so easy to make, look stunning and taste delicious. Having already so many tasty cakes, like this Strawberry Poke Cake, German Chocolate Poke Cake and Baileys Poke Cake, it only made sense to add a Blueberry French Custard Cake to the mix.
Blueberry French Custard Cake
This Blueberry French Custard Cake is perfection. I went ahead and topped it with some lemon mascarpone buttercream and homemade blueberry sauce. The buttercream is so perfect here, its like another creamy layer, but so different in texture from the custard. Also, it adds another decadent level of texture and fresh flavor. The lemon flavor works in harmony with the vanilla blueberry sauce to bring this dessert together.
You have it all here, creaminess, deliciousness, freshness and decadence, all in one beautiful french custard cake, that looks fabulous and it's actually very easy to make. You can totally skip the buttercream if you want to keep the cake a little lighter. However, make sure you top it with that homemade blueberry sauce!
This French custard cake is the ultimate summer dessert that you must try, we surely loved it and devoured every single crumb!And since we are planning our trip to Paris if anyone has any recommendations of things we must try, places we should go, please let me know!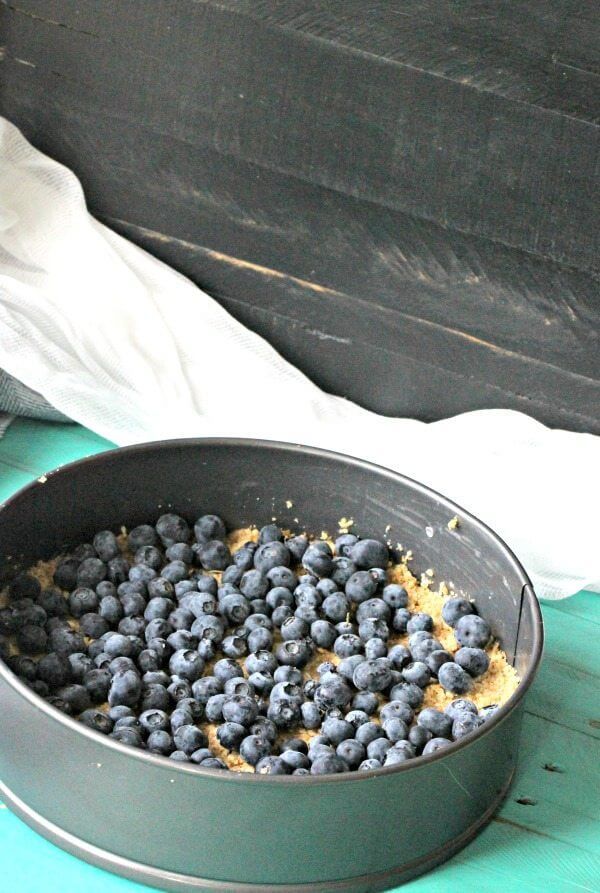 How to make lemon zest
Follow the easy steps below:
Rinse the lemon.
Set your tool over a cutting board. A microplane produces a very fine zest, perfect for baking and cooking. If you don't have a microplane, use the smallest holes on an ordinary grater.
Grate the yellow skin of the lemon only. Grate just enough to get through the yellow skin, this way you can avoid the bitter white pith underneath.
Rotate the lemon and repeat. Once the white pith is exposed, rotate the lemon and zest the next strip of peel. Repeat until most of the peel is removed, or until you have enough zest for your recipe.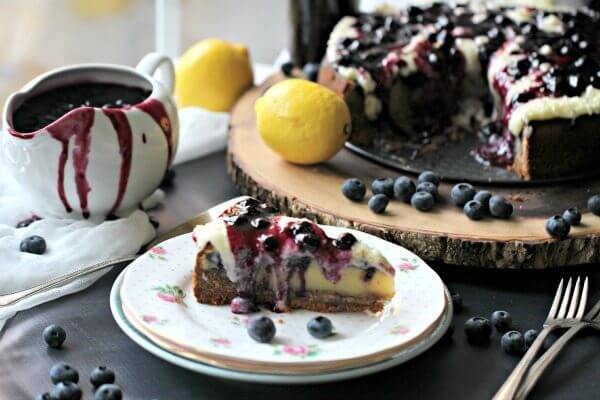 I wanted the cake to taste very fresh, the custard itself doesn't feel heavy, since its made with just a little flour and few eggs, its very creamy and light. I added some lemon zest for some summery brightness and freshness and also 2 cups of blueberries. Every delicious bite of this creamy goodness is followed by a tart burst of juicy blueberries. Similarly, a subtle lemon flavor and a delicious caramelized crumble from the biscoff crust.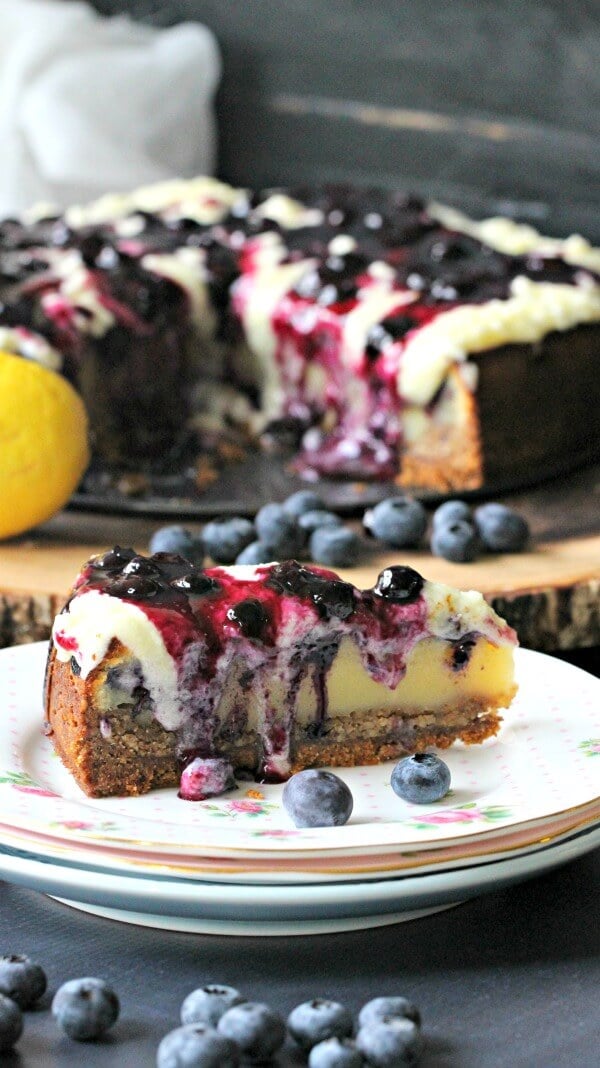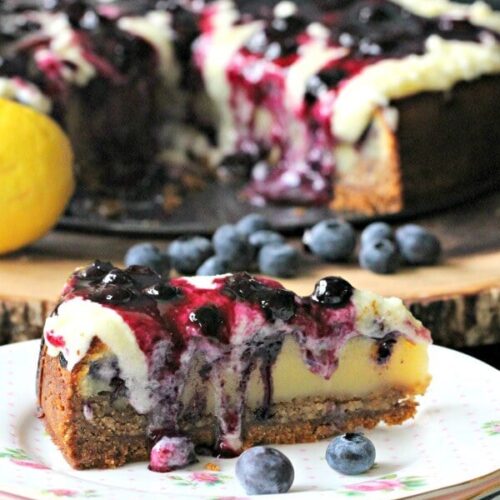 French Custard Cake
French Custard Cake with blueberries, lays on a Biscoff Crust and is topped with lemon frosting and a homemade blueberry sauce.
Save
Share
Print
Pin
Rate
Ingredients
Custard Cake Filling:
2

cups

heavy cream

3 1/2

tablespoons

butter

1

teaspoon

vanilla extract

3/4

cup

all-purpose white flour

1 1/4

cups

white granulated sugar

2

eggs

(+ 2 egg yolks)

1/2

teaspoon

salt

zest of one lemon

1 3/4

cups

blueberries

extra butter for the mold
Biscoff Crust:
3

cups

biscoff crumbs

10

tablespoons

unsalted butter

(melted)

2/3

cup

granulated sugar
Blueberry Sauce:
6

cups

fresh blueberries

(frozen work too)

1½

cups

water

1½

cups

sugar

6

tablespoons

cornstarch

(mixed with 6 tablespoons cold water)

2

tablespoons

vanilla extract
Mascarpone Lemon Buttercream:
1

stick butter

(softened)

5

oz.

mascarpone cheese

(chilled)

2½

cups

powdered sugar

zest of one lemon

pinch

salt
Instructions
Custard Cake Filling:
In a large bowl, whisk by hand until well combined eggs, egg yolks, flour, sugar, lemon zest and salt. Set aside.

In a small sauce pan, place heavy cream on medium heat until it starts to boil, remove from heat and mix in vanilla extract.

Slowly pour 1/3 of the heavy cream into the egg mixture and whisk constantly. Make sure you DO NOT pour all the heavy cream at once, since the high temperature will make the eggs cook.

Slowly pour the 1/2 of the remaining heavy cream, whisking until combined. Repeat with the remaining boiled heavy cream.

Cover the bowl with a plastic wrap and let it cool on the counter for 20 minutes, before transferring to the fridge for one hour.
Biscoff Crust:
Preheat oven to 350F.

In a food processor or blender grind the biscoff cookies until you get 3 cups of crumbs.

Mix the crumbs with melted butter and granulated sugar with a rubber spatula in a medium bowl until combined.

Press the mixture into the bottom of a 10inch spring form cake pan and slightly up the sides. Make sure it is tight and compact, otherwise the custard will leak.

Pre-bake the crust for 7 minutes at 350°F (177°C), before adding the custard filling.

Note: For a no-bake dessert, chill the crust for 2 hours before using in your recipe.

Butter the edges of the spring form pan. Layer the blueberries on the biscoff crust.

Remove the custard from the fridge and pour it into the pan. Bake for 50 minutes, until golden brown.

Remove cake from the oven and place on a wire rack to cool completely.
Blueberry Sauce:
The sauce can be made while the cake is cooking or many days in advance.

In a large saucepan over medium heat, combine blueberries, water and sugar. Stir frequently, but careful not to crush the berries, bring to a low boil.

In a small bowl, mix the cornstarch with cold water until combined.

Slowly stir the cornstarch into the blueberries, careful not to crush them. Simmer until the homemade blueberry sauce is thick enough to coat the back of a metal spoon, about 10 minutes.

Remove from heat and gently stir in vanilla.

If making the buttercream frosting, let the sauce cool completely before topping the cake.

Note: this makes a lot of sauce, save the rest for other recipes, or cut it in half.

Mascarpone Lemon Buttercream:

Place softened butter and mascarpone into the bowl of an electric stand mixer that has been fitted with the wire attachment. Turn the mixer on the medium setting and cream until it smooth and combined, 2 - 3 minutes.

Add sugar, ½ a cup at a time. Add lemon zest and a pinch of salt and whisk until well-incorporated.

If the frosting is too thick add heavy cream one tablespoon at a time until it has reached the desired consistency.

Top the cooled cake with the lemon mascarpone buttercream, and pour the cooled blueberry sauce on top of the frosting.
Nutrition
Calories:
535
kcal
|
Carbohydrates:
92
g
|
Protein:
4
g
|
Fat:
17
g
|
Saturated Fat:
9
g
|
Cholesterol:
58
mg
|
Sodium:
221
mg
|
Potassium:
127
mg
|
Fiber:
2
g
|
Sugar:
79
g
|
Vitamin A:
650
IU
|
Vitamin C:
7.9
mg
|
Calcium:
67
mg
|
Iron:
0.7
mg
More recipes you might love