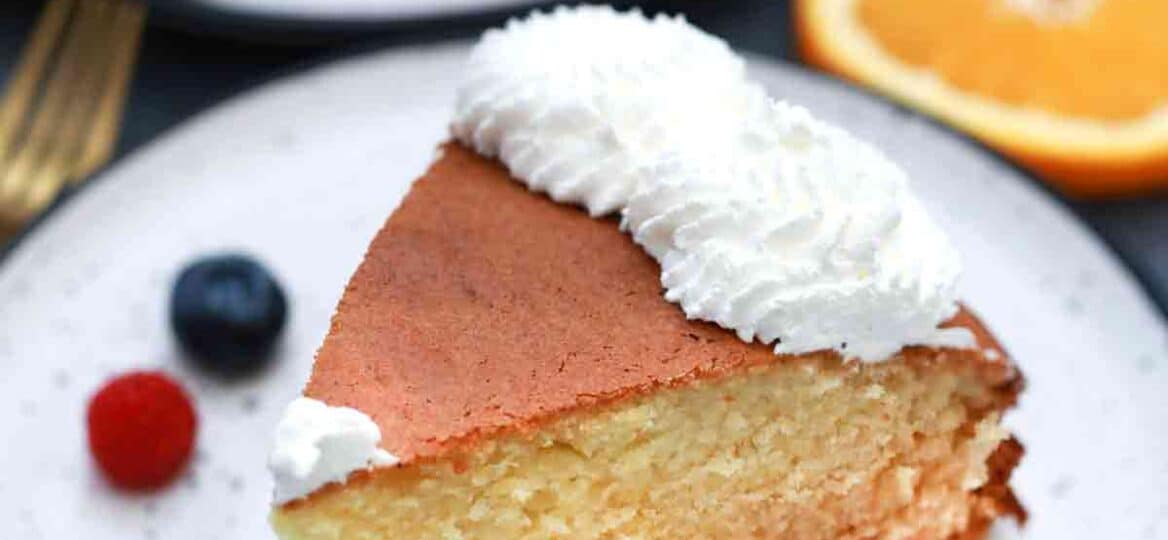 Orange Cake Recipe
Orange Cake is a fluffy and zesty dessert that you'll love to come back to. This French-original dessert is perfect, citrusy, soft, and melt in your mouth good.
Desserts can easily turn a bad day around. Have a bite of my Oreo Nutella Cake for a moist, indulging, and mouthwatering treat. You can also try the famous Homemade Carrot Cake and the salty-buttery Strawberry Pretzel Salad to satisfy your sweet tooth.
Yogurt Orange Cake Recipe
Yogurt Orange Cake is a simple yet flavorful dessert that is suited for any occasion and for all the four seasons. This tasty treat, although oftentimes overlooked, is perfect for any get-togethers with family and friends.
It definitely has a distinctive taste since it is bursting with a refreshing orange taste in every bite. Its tangy flavor leaves quite a unique, interesting, and appetizing taste in your mouth. Surely nobody can resist taking only one bite of this delicious dessert, especially when paired with a hot drink.
This fluffy goodness is beginner-friendly, does not require any stuffing, and the ingredients are those that you can easily find in your pantry.
You read that right! This is the go-to recipe for any small celebration, afternoon tea, or even for satisfying a sweet tooth at breakfast.
You can even try making this homemade goodness with your kids. Anyone can bake it, even those who have little to no experience in the kitchen. Just sprinkle some sweet confectioner sugar on top and this will look extra delectable!
How to make Orange Cake?
Prepare for baking. Start off by heating your oven to 350F. Prepare a pan by making sure to butter up the sides. Also, get a parchment circle and place it at the bottom.
Separate two mixtures. Whisk together some flour, baking powder, baking soda, and salt. In a separate container, prepare the batter by mixing the Greek yogurt, eggs, sugar, olive oil, orange juice, zest, and extract. Blend them until creamy.
Combine. Gradually combine both mixtures until well blended and without any signs of lumps. Once done, pour the mixture into the springform pan.
Bake. Bake for an hour. Once baked, cool for 10 minutes. Remove it from the pan and cool again for another 15 minutes.
Serve. You can serve it as it is or you can make it look more delectable by opting to add whipped cream and fresh berries on top.
Recipe Variations:
You can always try other fruit in this recipe. Try replacing oranges with lemons for a zestier and more citrus flavor.
For a different kind of variation, you may also try adding in chocolate chips in this recipe. This is an excellent combination for birthday events and other occasions.
For those looking for vegan options, you can always try this recipe without the butter, milk, and eggs. You may choose your preferred substitute to replace these ingredients.
How long to bake an Orange Cake?
This recipe takes only a few minutes to prepare. However, the baking time usually lasts an hour.
You also have to cool down the cake for another 15 minutes more before serving this dessert.
More delicious desserts:
When it comes to making desserts, most people like to stick with traditional and classic recipes. Try to explore more varieties by checking out my recipes for these unique, quirky, yet equally as delightful treats.
Recipe Tips:
Make this dessert look extra pleasing by adding some glaze on top. Fresh fruits are also great to give it a mouthwatering aesthetic that will make everybody want another bite.

Try to stick with using plain yogurt. Any flavored variety may not work well with the zesty taste.

Replace yogurt with sour cream if you don't have any on hand.
You may bake it for 50 minutes but let it sit inside the oven for another 10 minutes.

When baking for 60 minutes, do not immediately remove it from the oven when done. Always let it cool on a rack for at least 10 minutes.