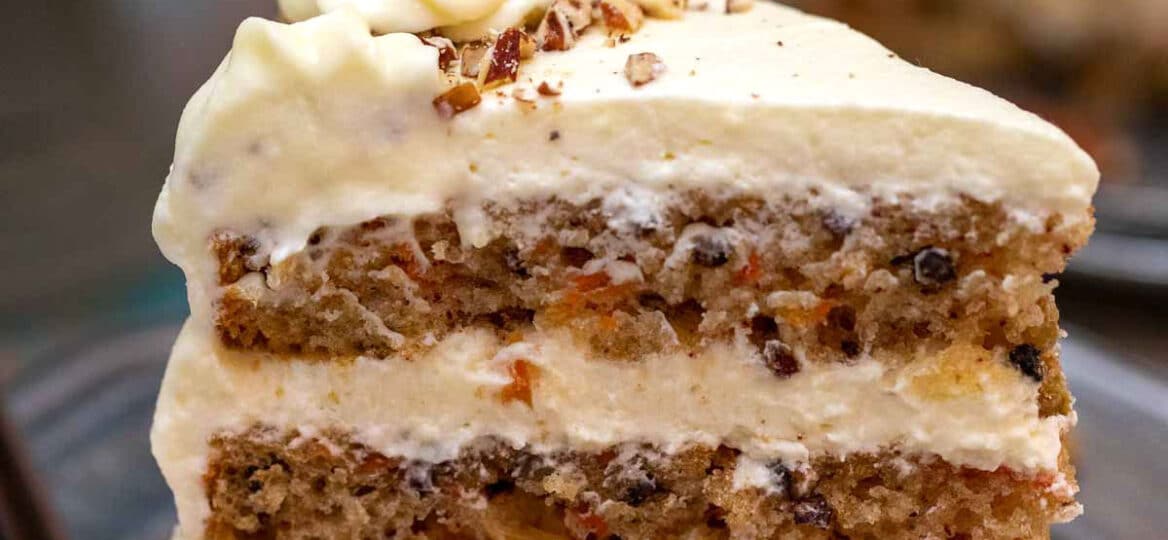 The Best Carrot Cake Recipe [video]
Homemade Carrot Cake is perfectly moist, tender and delicious. It is surprisingly simple to make and is topped with an easy homemade cream cheese frosting. Watch the video tutorial below and see how easy it is!
We have a fair share of cakes on our blog, and this one is hands down the best and our most favorite one. We already have a delicious Carrot Poke Cake which you can try, along with Apple Butter Cake.
Easy Carrot Cake Recipe
Carrot Cake is a very popular dessert that a lot of people tend to make around Easter. Even though this dessert is the perfect one for it, we believe it should truly be enjoyed all year long.
We have tried many variations of this carrot cake recipes, and this is the best you can get! It will result in a perfectly moist, flavorful and delicious cake. The texture is also amazing, and it looks so festive.
In addition, it has the right amount of spices, and yes, that all-time favorite cream cheese frosting of ours. It is not too sweet, with the right amount of carrots and a mixture of both butter and oil that complements it tremendously well.
You can decorate it the way you like, and with various toppings. Sometimes, we top it with some nuts or chopped pecans. Also, adding some coconut flakes or simply using some whipped cream works just as well.
Once you give it a try and realize how easy it is to make, you will be making it over and over again.
How to grate carrots for carrot cake?
We don't like to skimp on the carrots when it comes to this recipe, so we use 3 cups of grated carrot. This is usually about 4 large carrots. Before grading them, make sure to peel them off. You can use a box grater to grate your carrots, on in a food processor.
With a box grater:
First, peel them.
Then, place it against the side of the grater that has the smallest holes using a downward motion.
With the food processor:
Use the "shred" blade to finely process them. If they are not as fine as you would like, switch to the standard blade and briefly pulse the carrots until they are finely shredded. But make sure not to overdo this step, as you do not want to end up with a purée.
Can I substitute applesauce for oil in carrot cake?
Yes. Applesauce can be substituted with oil, just to make sure when doing so, to use a 1:1 ratio. We have tried this recipe both ways, and personally, like oil better because the oil will keep the moisture better in the cake.
In addition, replacing the oil with applesauce will impact the texture, and might result in a drier cake.
Should I put a carrot cake in the fridge?
Absolutely, and we highly recommend doing so! We like to make it at least 1-2 days in advance, as the cream cheese frosting sits, it absorbs better with the cake, making it really flavorful and moist. Typically, a cake will last in the fridge for 5-6 days.
Can I freeze the carrot cake?
Yes, and this is a perfect dessert to freeze. It can be frozen by individual slices in airtight containers for several months. Simply, wrap it with aluminum foil, this way you can thaw slices one at a time, as needed.
Also, you could freeze each cake layer prior to assembly. Once the layers are baked, make sure they are completely cooled. Then, store each layer in a ziplock freezer bag separately, and freeze for up to three months. When ready to serve, remove from freezer the night before, and frost it the next day!
Carrot cake recipe tips and notes
We used three 8-inch cake pans in this recipe and really like the size of it.
Ensure the measure precisely the dry ingredient as per recipe notes, and do not pack the flour into the measuring cup. Otherwise, you'll end up with too much in your recipe.
Also, we really love adding some spices to it, such as ground cinnamon, ginger, and nutmeg. They all add such a wonderful flavor to this cake and also are not too overpowering. However, skip them if you are not a fan.
Similarly, we use a bit more brown sugar than granulated sugar because it adds more moisture and flavor to it.
You can decorate it the way you like by adding nuts or other ingredients. Also, adding and mixing some raisins into the batter is another option.
Watch Recipe Video: