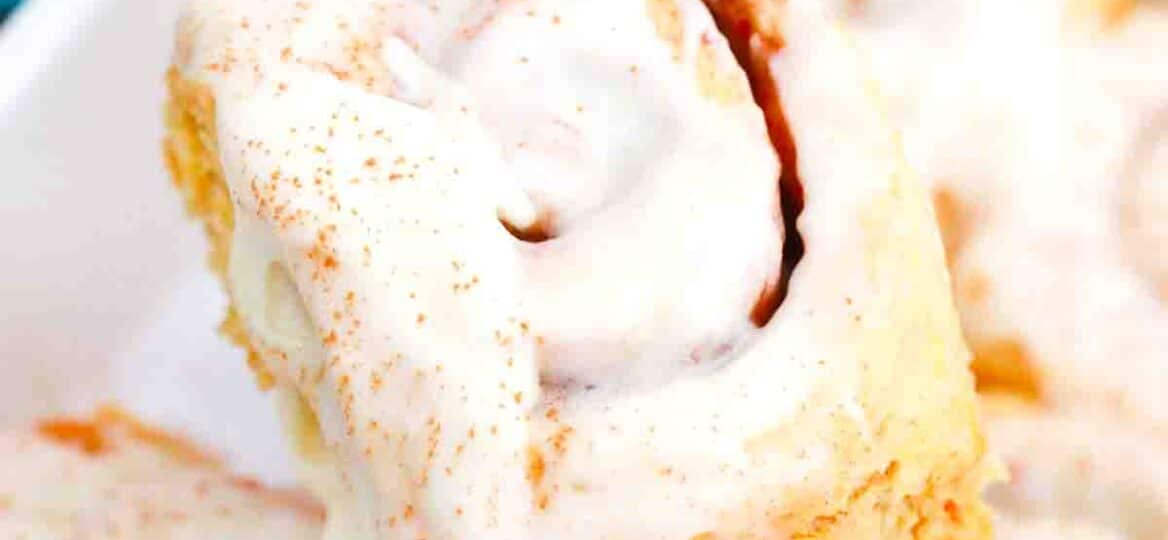 Fluffy Carrot Cake Cinnamon Rolls [Video]
Carrot Cake Cinnamon Rolls are sweet, soft, buttery pastries filled with raisins and cinnamon sugar, topped with cream cheese frosting. An amazingly ooey-gooey treat with warm spices. These are perfect for Easter brunch, Christmas morning, or any day of the year really.
If you like this recipe, you will love our Carrot Cake Roll recipe. Made with fresh carrots, ground walnuts, and warm spices like nutmeg, cinnamon, and ginger then filled with cream cheese icing, this is a truly decadent dessert. For something a little different, our Carrot Cake Cheesecake is like having two desserts in one. There is a yummy carrot cake layer on top of the cheesecake and the whole thing is covered in cream cheese icing.
Although sweet rolls (or sticky buns) have been around since ancient times, cinnamon rolls were invented in Sweden in the 1600s. The first recipe for cinnamon rolls contained dates, honey, and raisins as well as cinnamon and other spices. In fact, Sweden and Finland's people celebrate Cinnamon Bun Day on October 4th every year.
For this yummy carrot cake cinnamon roll recipe, just gather the basic dough ingredients with freshly shredded carrots, then slather on a layer of cinnamon, brown sugar, butter, and raisin filling. Add the cream cheese icing for the perfect topping. Your whole family will love this, and the kids will not even know they are eating a vegetable.
Are you looking for more carrot recipes? Try this carrot cake coffee cake made with carrots, yogurt, raisins, sour cream, brown sugar, and other delicious spices topped with a cinnamon crumble with a cream cheese layer. And this carrot cake cheese ball is perfect for any party or get-together like a big game day. You only need a handful of ingredients including cream cheese, honey, vanilla, carrots, pineapples, and raisins.
Follow us on Pinterest for more delicious recipes!
Ingredients needed:
The ingredients below are all you need to make these carrot cake cinnamon rolls. Then, scroll down to the bottom of the page to find complete instructions and exact measurements on our printable recipe card.
Dough:
Finely shredded carrots
Melted butter: Unsalted butter is best.
Large eggs
Vanilla extract
All-purpose flour
Milk: We used whole milk.
Granulated sugar
Light brown sugar
Active dry yeast
Ground nutmeg
Cinnamon
Kosher salt
Cinnamon sugar filling:
Raisins
Light brown sugar
Cinnamon
Softened butter: Unsalted.
Cream cheese icing:
Milk: Whole milk is best.
Softened butter: Unsalted.
Cream cheese: Softened to room temperature.
Powdered sugar
Vanilla extract
How to make carrot cake cinnamon rolls from scratch?
Proof the yeast: To begin, heat milk to 115 degrees F (use a candy thermometer) in a small bowl. Add granulated sugar and yeast to the warm milk, stirring with a wooden spoon until it is dissolved. Let it sit for five to 10 minutes to proof.
Mix vanilla and butter: Next, add vanilla extract and melted butter in a small bowl.
Make the dough: Then, mix four cups flour, brown sugar, salt, nutmeg, and cinnamon in the bowl of your stand mixer fitted with a dough hook attachment until a shaggy dough forms. Continue to run the mixer on low while you add the yeast mixture slowly. Then add the butter mixture and one egg at a time while you continue beating.
Add grated carrots: Add finely grated carrots to the flour mixture and increase the speed, letting it mix until the dough comes together into a ball. You want a slightly sticky dough. But if it is too sticky, add another tablespoon of flour, continuing to add by the tablespoon until it is the right consistency.
Cover dough loosely: Move dough to a large mixing bowl greased with oil and loosely cover, letting it sit in a warm area until it doubles in size, about an hour.
Preheat oven: Now, preheat the oven to 350 degrees F and spray a 9×13-inch baking pan with baking spray. Use the kind with flour in it.
Make the cinnamon filling: While you wait, whisk together the filling ingredients in a medium bowl.
Roll dough: Then, roll out your dough on a silicone mat (or a lightly floured surface) with a rolling pin to make a 12×20-inch rectangle and brush the whole thing with melted butter using a pastry brush. Then sprinkle with the cinnamon sugar mixture. Roll into a log, starting at one of the short ends, and pinch the ends to seal.
Cut the rolls: Now, use a sharp knife to cut the dough log into the number of rolls you want, placing them onto the prepared pan as you go. Cover loosely with a damp tea towel and let them sit in a warm space for another hour.
Bake: After, bake for 30 to 40 minutes or until the internal temperature is at least 200 degrees F and they are light golden brown. Let them cool for 30 minutes before frosting.
Make the frosting: While they cool, beat the butter and cream cheese in a large bowl or your stand mixer until it is light and fluffy. Then, mix the powdered sugar and vanilla into the bowl. Add milk, one tablespoon at a time until it reaches the consistency you like.
Serve warm carrot cake rolls: Finally, spread cream cheese icing onto homemade cinnamon rolls before serving them.
Recipe variations:
Chopped nuts: Add chopped walnuts to your icing for crunchiness.
Different milk: Feel free to use your own favorite milk such as coconut or almond milk if you cannot have regular milk.
No gluten: Using gluten-free flour is fine too but knead it a couple of minutes longer.
Vegan: Vegan butter is another good choice for making healthier cinnamon rolls.
Bread flour: In fact, you could also use bread flour but your rolls will be a bit chewier.
Instant yeast: You can use instant yeast instead and do not have to wait for it to proof.
Overnight cinnamon rolls: Leave rolls in the fridge overnight before cooking for extra tall rolls.
How to serve:
These are perfect for breakfast, brunch, or any time you want something sweet. If you love carrot cake, you should definitely try these cinnamon rolls with cream cheese frosting. Warm cinnamon rolls are good anytime with this delicious recipe.
Sprinkle some toasted coconut on top for an extra sweet surprise.
Baked rolls taste even more delicious with a dollop of whipped cream on top.
Another great topping for these yummy rolls is chocolate chips.
For caramel carrot cake cinnamon rolls, use our ooey gooey rich caramel sauce on top.
These are like little individual carrot cakes. Serve with a spoonful of vanilla ice cream for an extra treat.
Our carrot cake cinnamon rolls go great with a mug of warm hot chocolate.
Frequently asked questions
Do I have to peel my carrots before grating them?
I like to peel mine before grating them because I do not like the texture of the peeling. If you do not want to peel them, just make sure you wash them off well. You could also use baby carrots that are already peeled instead of regular carrots. Then, just pop them in the food processor or use a grater.
Do I have to chill the rolls overnight before cooking?
You do not have to chill them overnight but doing so can make a big difference. First of all, you can cut out all that prep time that you would normally have to do in the morning since it is already done. All you have to do is pop them in the oven. Also, letting them sit all night gives them a better flavor and higher rise.
What is the difference between cinnamon rolls and cinnamon buns?
Cinnamon rolls are frosted or glazed on top with some type of icing while cinnamon buns have the topping on the bottom of the pan. That means you flip over your cinnamon buns when they are done so they get all the sugar mixture that leaks out as it cooks. Buns also have a slightly crispy top. Buns are soft and chewy all the way through.
What are the nutrition facts in this recipe?
Each of these cinnamon rolls servings has 450 calories, 80 mg cholesterol, and 32 grams fat with 15 grams saturated fat. They also have 255 mg sodium, 45 grams carbohydrates, and 35 grams sugar. On the other hand, you also get 5 grams protein, 4 mg iron, 85 mg calcium, 2 mg vitamin C, 2,312 units vitamin A, and 230 mg potassium.
How to store leftovers:
Store: Wrap cinnamon rolls in plastic wrap and store them in an airtight container at room temperature for three days. Or you can refrigerate them for up to a week.
Freeze: To freeze your carrot cake cinnamon rolls, wrap in plastic and put them in a freezer-safe container. They can stay frozen for up to four months.
Thaw: For best results, remember to put your leftovers in the fridge to thaw overnight before serving.
More recipes for Easter:
Recipe tips:
You will need about three medium or two large carrots for this recipe.
Do not use regular cooking spray or olive oil. Use a spray for baking that includes flour.
This recipe makes 12 small, 8 medium, or 6 large cinnamon rolls.
If you use salted butter, omit the salt from the recipe.
You can use dark brown sugar if that is all you have.
Feel free to use a baking sheet instead of a baking dish. Just put them in a greased pan so they touch each other.
If your dough is sticky, you may not have added enough flour. Add a bit more until it is right.
Vegan butter is another good choice for making a healthier carrot cake cinnamon roll recipe.
The nutrition information depends on how large your cinnamon rolls are and the exact ingredients you use.
Carrot Cake Cinnamon Rolls
Ingredients
Dough:
1

cup

milk

2 1/4

teaspoons

active dry yeast

1/3

teaspoon

granulated sugar

4-4 1/4

cups

all-purpose flour

6

tablespoons

light brown sugar

1/2

teaspoon

salt

1

teaspoon

ground cinnamon

1/2

teaspoon

ground nutmeg

2

large eggs

room temperature

1 1/2

teaspoon

vanilla extract

1/4

cup

unsalted butter melted

1

cup

carrots

finely shredded - about 2 carrots
Filling:
6

tablespoons

unsalted butter softened

1

cup

light brown sugar

2

teaspoons

ground cinnamon

1/2

cup

raisins
Icing:
8

oz

cream cheese

softened to room temperature

1/2

cup

unsalted butter softened

3-4

cups

powdered sugar

1

teaspoon

vanilla extract

6

tablespoons

milk

1/2

teaspoon

ground cinnamon

optional
Instructions
Dough:
Add the milk to a microwave-safe cup and heat it to 115°F, or you can add it to a small saucepan and heat it on the stove. Dissolve the yeast and granulated sugar in warm milk, and stir to combine. Allow the mixture to proof for 5-10 minutes. The mixture should be foamy, if it's not, redo this step.

Next, in a bowl, stir the vanilla into melted butter.

After that, in the bowl of a stand mixer, using the dough hook, combine 4 cups of flour, light brown sugar, salt, cinnamon, and nutmeg.

With the mixer running on low, slowly add the yeast mixture.

After that, add the butter mixture.

Next, beat in the eggs one at a time.

Add the finely shredded carrots and increase speed, mixing until the dough comes together. If the dough is still sticky, add additional flour, one tablespoon at a time until the dough comes together in a smooth ball.

Transfer dough to a large oil-greased bowl. Cover it with a clean kitchen towel, and allow it to rise in a warm place for at least one hour or until doubled in size.
Filling and rolling the dough:
Lightly grease a 9x13-inch baking pan with butter or baking spray.

In a medium bowl, combine the brown sugar and cinnamon. Set aside.

On a clean counter, roll out the proofed dough into a 12-20-inch rectangle.

Brush the entire surface with melted butter and sprinkle with brown sugar and cinnamon mixture, 1 inch from the sides.

After that, sprinkle the raisins on top, distributing them evenly.

Starting at one of the short ends, begin rolling the dough into a log. Pinch to seal ends. Using a sharp knife, carefully slice the dough log into the desired number of rolls, I got 9 large rolls. Arrange them in the prepared pan. Cover loosely and allow to rise in a warm place for an additional one hour.
Bake:
Bake the rolls for 30-40 minutes or until the internal temperature reaches at least 200°F.

Remove from the oven and let rolls cool for 20-30 minutes before adding icing.
Cream cheese icing:
In a large bowl or stand mixer, beat together cream cheese and butter until light and fluffy.

Add the vanilla, cinnamon (if using), and powdered sugar. Stop to scrape the sides and bottom of the bowl.

Add in milk, one tablespoon at a time, until desired consistency is reached.

Spread the icing over the rolls and serve.