Deviled Egg Chicks are a tasty addition to your Easter dinner, and the best part is that they are easier to make than they look. All you need is a few ingredients including mayonnaise, mustard, and spices. Then just use black olives and carrot pieces for the eyes and beak. Voila! You have adorable baby chicks.
For more easy Easter recipes, try our Best Ever Deviled Eggs made with cream cheese, bacon, and pickle juice or Deviled Eggs Dip seasoned with white wine vinegar and hot sauce. For something totally different, try our Fried Deviled Eggs with crispy panko breading and sweet and spicy yolk mixture.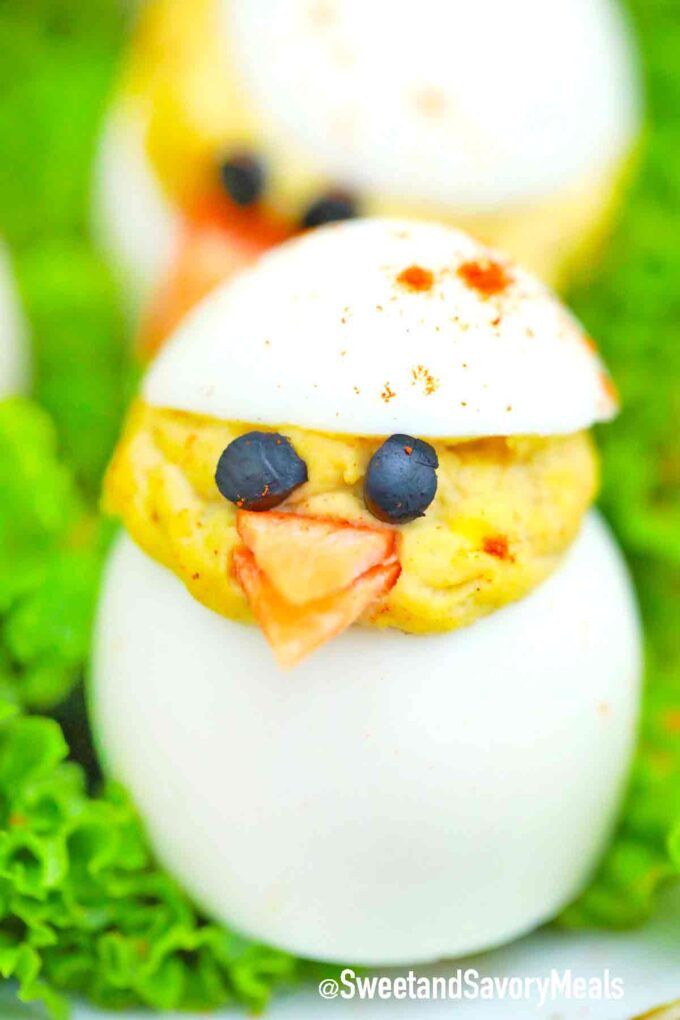 These are so much fun to do, and it is such a great way to use those colored eggs from Easter. It is fantastic to do with the kids. They will love putting on the eyes and beaks.
In addition, these would make such a presentable and fun appetizer. You can adjust the deviled egg filling to your own taste, by playing with the spices and seasoning.
Easter egg chicks are a fun and versatile way to eat those eggs. Also, you can dress them up by drizzling the tops with balsamic reduction and sprinkling on some smoked paprika and chopped chives.
Alternatively, make a spicy aioli using mayonnaise and Sriracha sauce, or just top them with a mix of freshly chopped herbs.
Also, eggs are healthy for everyone. Each little chick has only 80 calories, but it packs in almost six grams of protein, and they are a good source of iron, selenium, and vitamins A and B.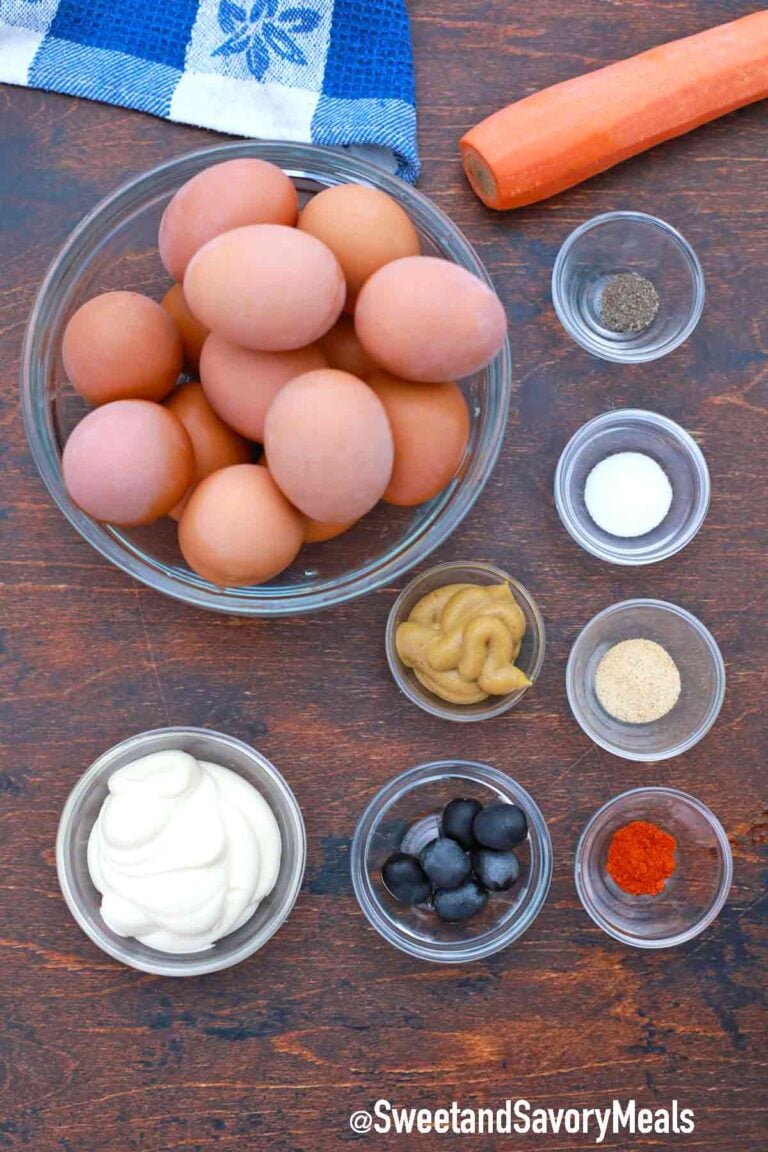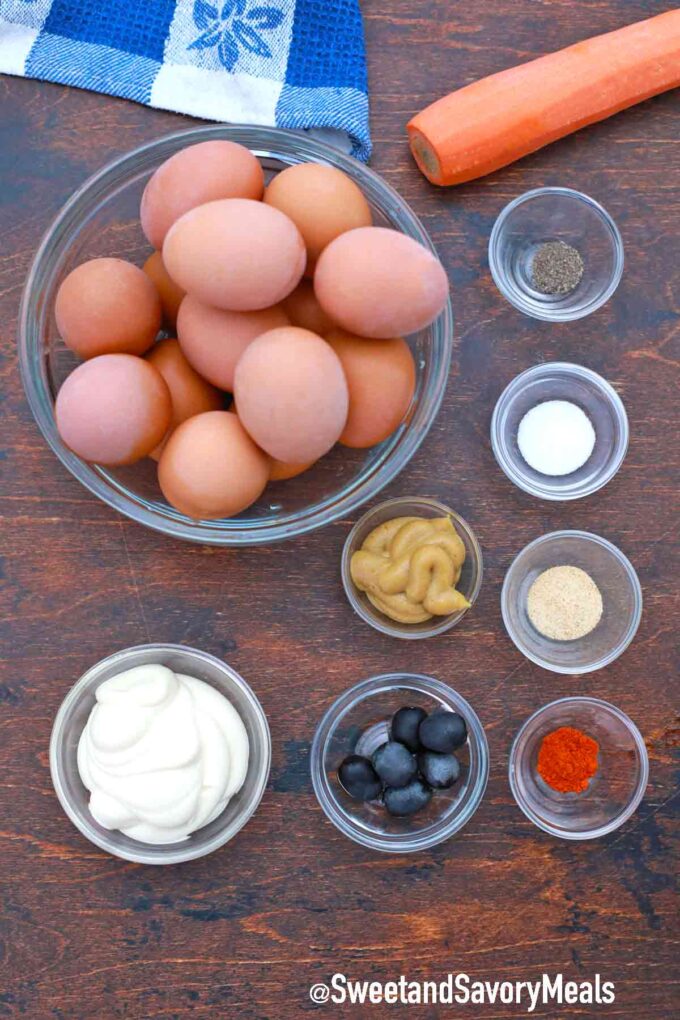 Ingredients needed:
You only need a few ingredients to make this easy recipe. Scroll down to our printable recipe card for more step-by-step ingredients.
Large eggs: Hard boiled and peeled.

Mayonnaise: Store-bought or make your own.

Mustard: We used Dijon mustard.
Carrot: For the beaks.
Olives: For the eyes. We used black olives, but you can use

green.

Spices: Garlic powder, onion powder, and paprika.
Salt and pepper: To taste.
What else you need:
Piping bag: To squeeze out the yolk mixture.
Sharp knife: For cutting the carrot and olives. We used a paring knife.
Plastic straw: To make the olive eyes.
How to make deviled egg chicks?
Cut the bottoms: First, cut a small slice off the bottom of the egg so it will stand up. Place eggs on a clean plate while you make the yolk mixture.
Cut the tops: Then, cut off the top third of the eggs and squeeze the top half of the egg base so the yolk pops out. Make sure you keep the tops and bottoms together, so they fit back together well.

Mix: Next, combine the cooked yolks together in a medium bowl and mash with a fork until they are completely mixed. Add 1/3 cup mayonnaise, mustard, and seasonings. Mash together until smooth.

Pipe: After, transfer the mixture to a piping bag and pipe the deviled egg filling into the bases of the eggs. Put the white tops back on the white bottoms and push down a bit in the back so it adheres with a yellow space showing.
Eyes: The next step is to make the eyes. Using the straw, push down on an olive so you get a little circle for the eyes.

Beaks: Using the sharp knife, cut the small pieces of carrots into small triangles for the beaks.

Serve: Last, put two olives pieces for the eyes and carrot triangles for beaks before placing them on a bed of lettuce to serve.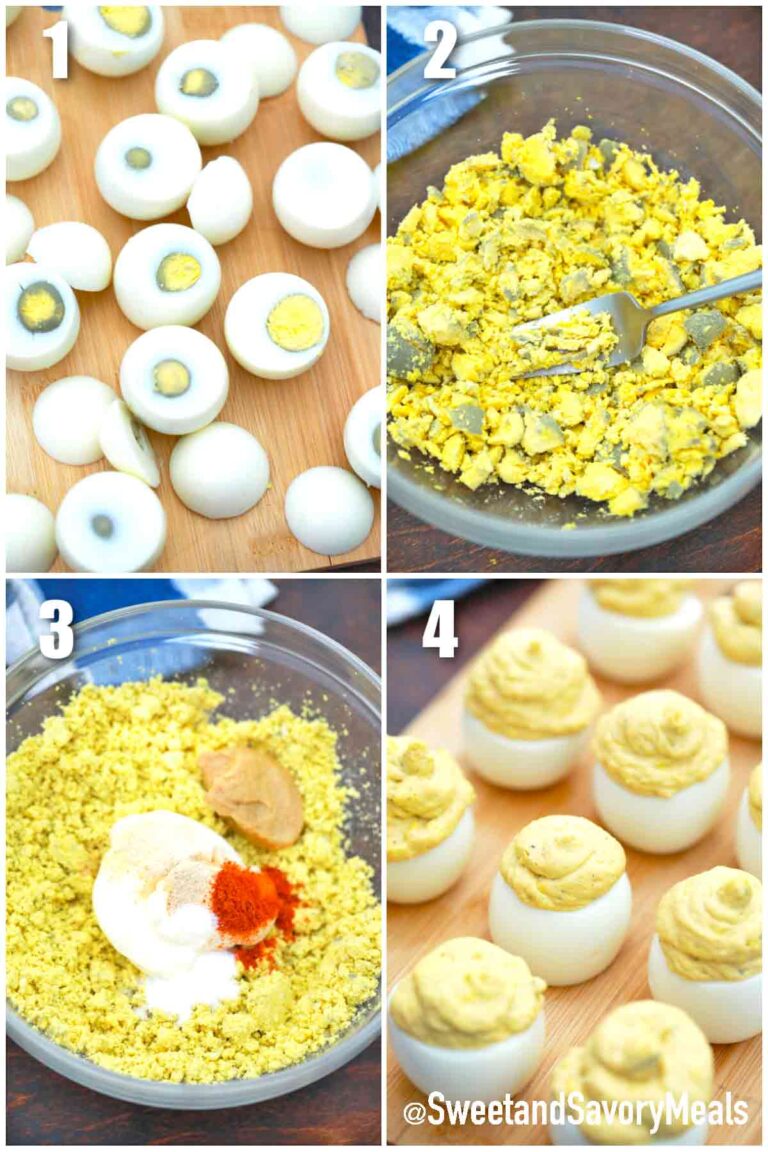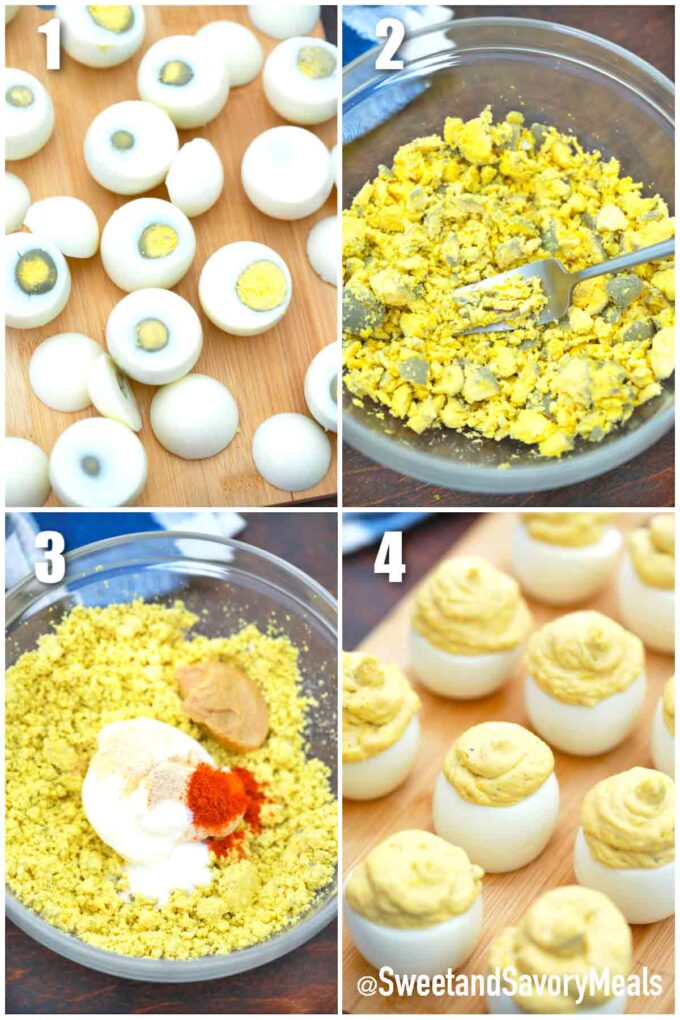 Recipe variations:
Pickle juice: You can add a bit of pickle juice to the yolk mixture for a tangy taste.
Eye substitutes: Substitute bacon, capers, or even raisins for the eyes if you do not have olives.
Spices: Feel free to use your own favorite spices like ginger, cumin, cloves, or lemon zest.

Instant: Use your instant pot to have them done in just five minutes.
Lemony: Try adding a bit of lemon juice to give your eggs a lemony flavor.
How to serve:
These deviled egg chicks are the perfect way to use up all those Easter eggs you colored for the holiday. Not only are they adorable, but they are delicious as well. An Easter chick is the perfect dish to make for family gatherings. You could also try one of our serving suggestions:
Use dill sprigs and parsley to make the chicks look like they are in the grass.
Serve with this delicious Easter leg of lamb stuffed with rosemary, shallots, thyme, and garlic.
Sprinkle an extra tsp garlic powder on top of the eggs for a garlicky burst.
These make a cute addition to this Easter nest cake on your Easter dinner table.
If you are using colored eggs and the color did not go through, you can use food coloring to color them yourself for a festive look.
These go great with potato chips and hot dogs for a nice light Easter brunch or snack.

Use leftovers to make this deviled egg potato salad.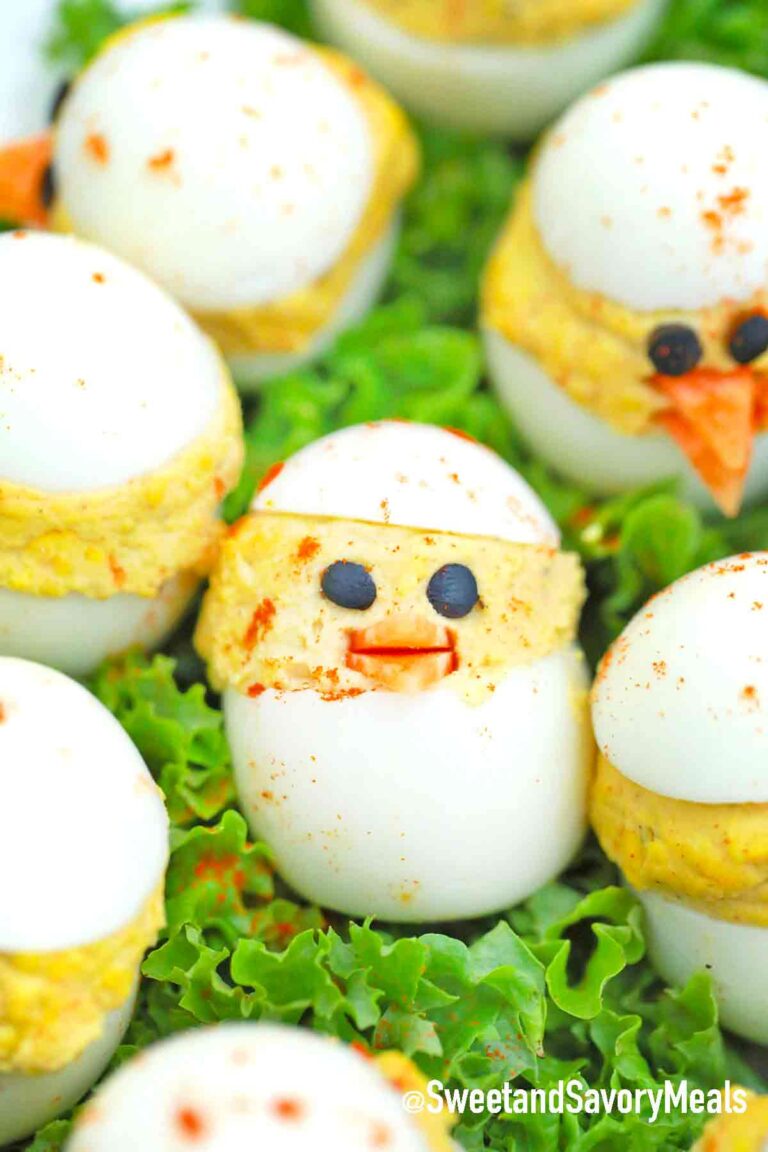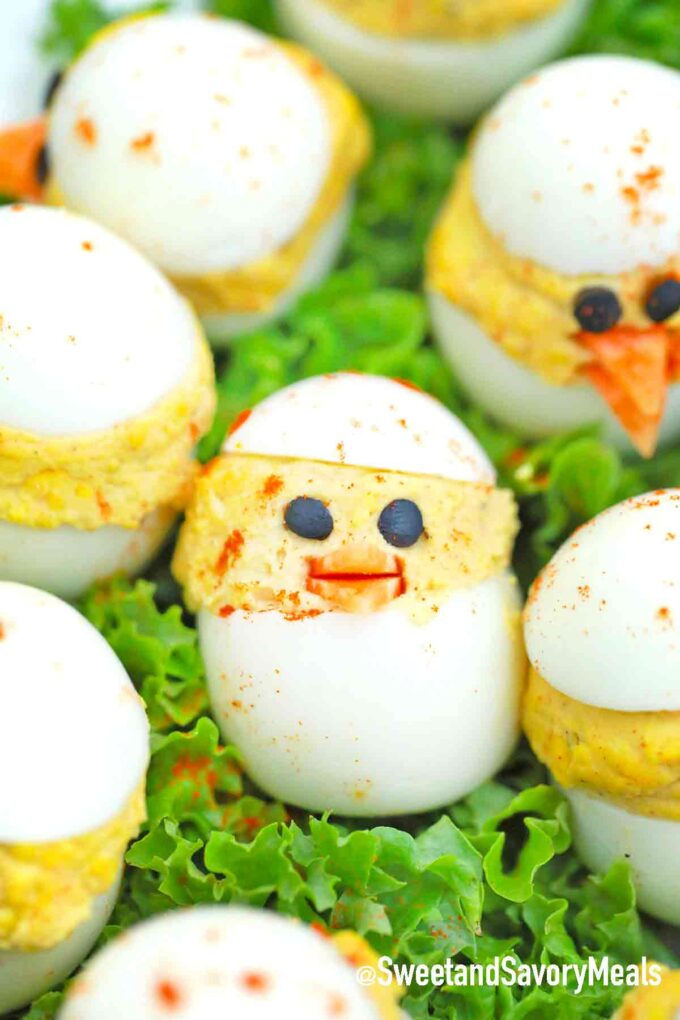 Frequently asked questions
Where did the name deviled egg come from?
Deviled eggs were first known in the 1200s. These early deviled eggs were made with spicy sauce and served as appetizers. The name, deviled, comes from a culinary term that is used to describe a boiled dish that is seasoned well or spicy.
Can I make hard-boiled eggs in the air fryer?
Yes, in fact, using your air fryer is the easiest way to make deviled eggs. All you need is eggs and an air fryer. For soft-boiled eggs, cook for nine to 11 minutes, jammy eggs take 11 to 13 minutes, and hard-boiled take about 14 to 16 minutes.
Remember to put them in an ice bath afterward to stop the cooking process.
What is the easy way to peel eggs?
After boiling the eggs and letting them sit in the hot water for 10 to 14 minutes, give them an ice bath. Make sure you have a bowl of ice water ready for them when they are done.
Put cold water and ice cubes in a large bowl and gently place the eggs in to stop them from cooking.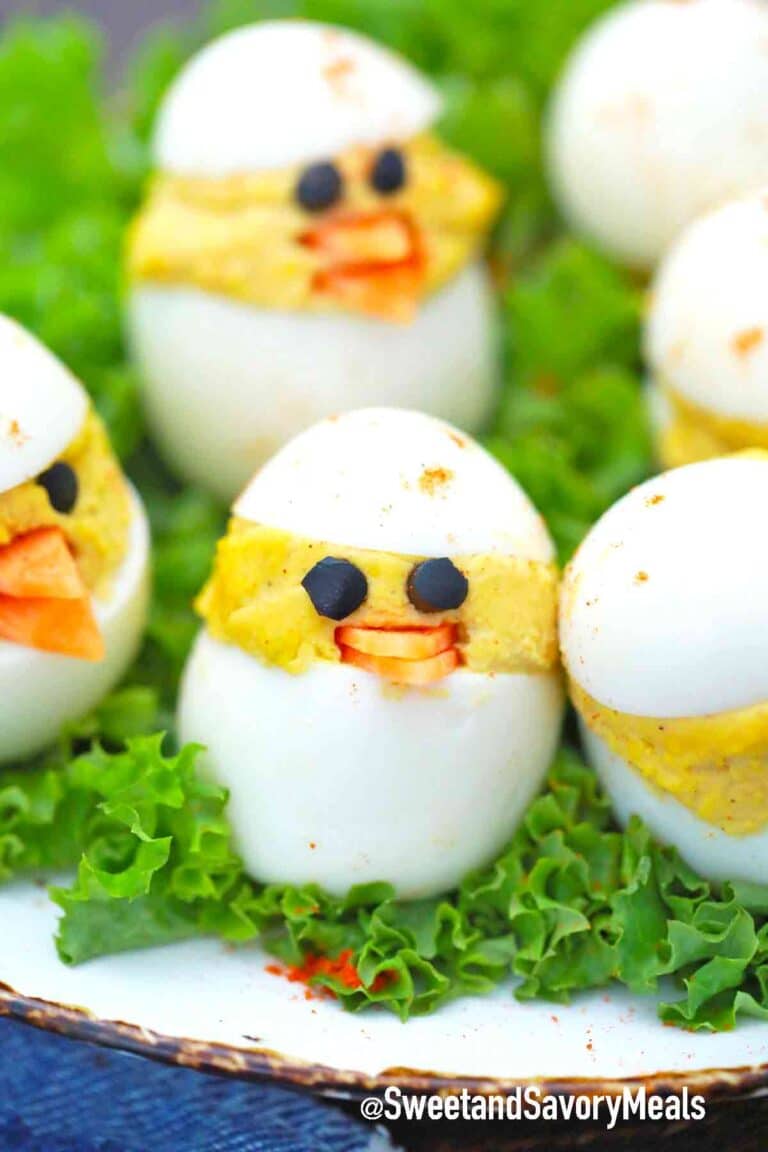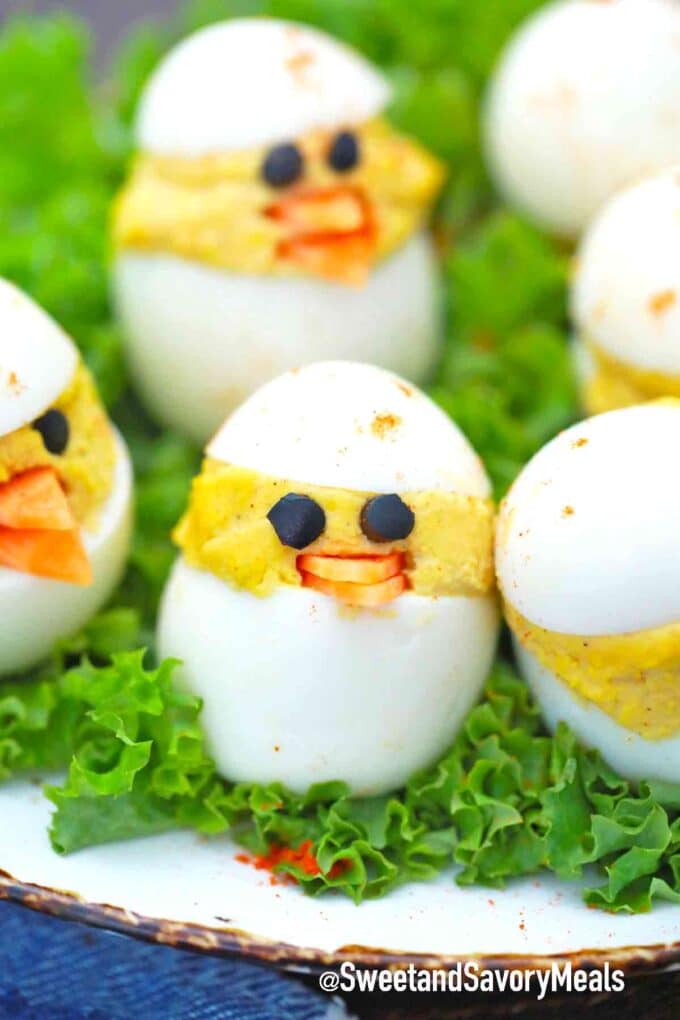 How to store leftovers:
Store: Save leftovers in an airtight container in a single layer to avoid messing up the design. Eat within three days.

Freeze: Freezing is not recommended.

Reheat: No reheating is needed. Serve chilled.
More Easter themed recipes:
Cooking tips:
If you do not have a piping bag, use a sandwich bag with the corner cut off.

Don't forget to cut a thin slice off the bottom of each egg so it will stand up.
Make a zigzag pattern on the bottoms and tops of the egg whites to look like they cracked open.

No olives? No problem. Use pickles instead.
Leave a little bit of the egg yolks on the top of the egg so it sits on top better.
You can use a food processor instead of a fork if you want.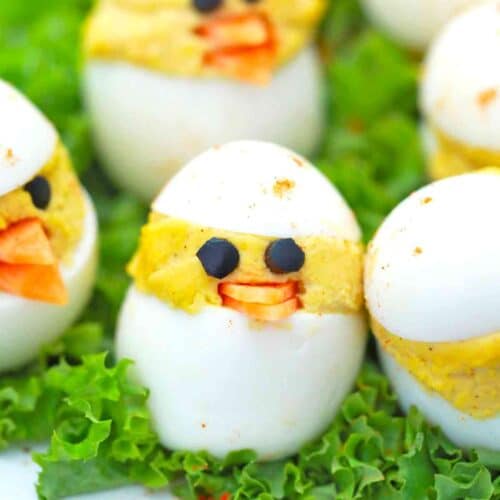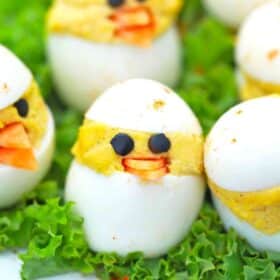 Deviled Egg Chicks
Deviled Egg Chicks are a tasty addition to your Easter dinner, and the best part is that they are easier to make than they look.
Save
Share
Print
Pin
Rate
Ingredients
12

large eggs

(hard boiled and peeled)

1/3

cup

mayonnaise

2

teaspoon

dijon mustard

1/4

teaspoon

garlic powder

1/4

teaspoon

smoked paprika

1/4

teaspoon

salt

(or to taste)

1/8

teaspoon

black pepper

(or to taste)

1

small carrot

(peeled)

6

black olives
Instructions
Start by peeling the hard-boiled eggs.

After that, using a sharp knife, slice a thin layer from the base of the egg to give it a flat surface to stand on.

Next, slice off about a third of the egg from the top and squeeze out gently to loosen the yolk to get it out. Add the yolks to a large bowl. Remember to keep the lids paired with their bases.

Mash the yolks with a fork and add the mayonnaise, mustard, garlic powder, paprika, salt, and pepper. Mash together until smooth.

Transfer mixture to Ziploc or pastry bag and pipe it generously back into the egg bases.

Place the tops back on and slightly press them.

Next, poke through an olive with a plastic straw and then gently squeeze down the straw to get little circles, use them for the eyes.

For the beaks, cut the carrot into a few thin rounds and thinly slice them into sixths.

Set chicks on a platter covered with lettuce leaves and garnish with fresh herbs.
Nutrition
Calories:
109
kcal
|
Carbohydrates:
1
g
|
Protein:
6
g
|
Fat:
9
g
|
Saturated Fat:
2
g
|
Polyunsaturated Fat:
4
g
|
Monounsaturated Fat:
3
g
|
Trans Fat:
1
g
|
Cholesterol:
166
mg
|
Sodium:
191
mg
|
Potassium:
66
mg
|
Fiber:
1
g
|
Sugar:
1
g
|
Vitamin A:
271
IU
|
Vitamin C:
1
mg
|
Calcium:
27
mg
|
Iron:
1
mg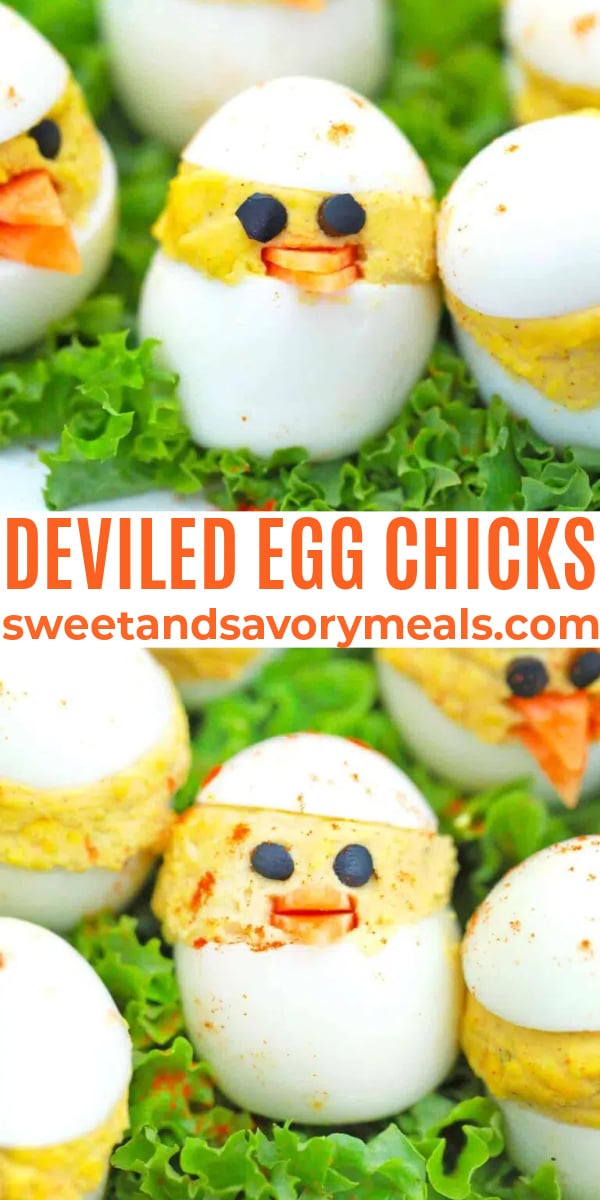 More recipes you might love