Fried Deviled Eggs [Video]
Last updated on May 27th, 2022 at 06:23 pm
Fried Deviled Eggs have a crispy panko breading with a sweet and spicy yolk mixture made with relish, mustard, and a bit of hot sauce. This unique appetizer will be a hit at your next Easter dinner or barbecue.
We found the best way to make hard-boiled eggs is with this special Hard Boiled Egg recipe. If you like this recipe, you will probably love our Best Ever Deviled Eggs with cream cheese, pickle juice, and bacon.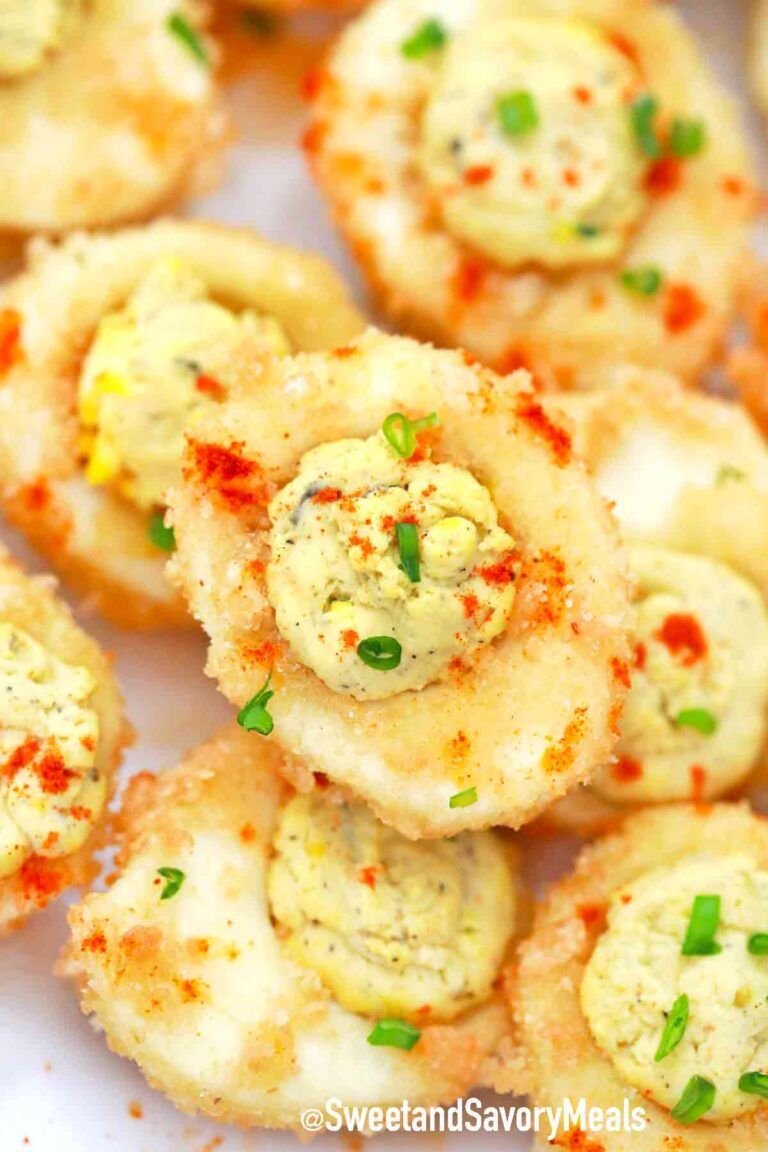 Deviled eggs are delicious on their own but deep-frying the egg whites before adding the egg mixture is just amazing.
The panko breadcrumbs are essential for these deep-fried deviled eggs and will probably be the best egg recipe you have ever made. They are easy to make and taste incredible.
You may also want to try our Deviled Egg Potato Salad made with Dijon mustard and sweet pickle relish.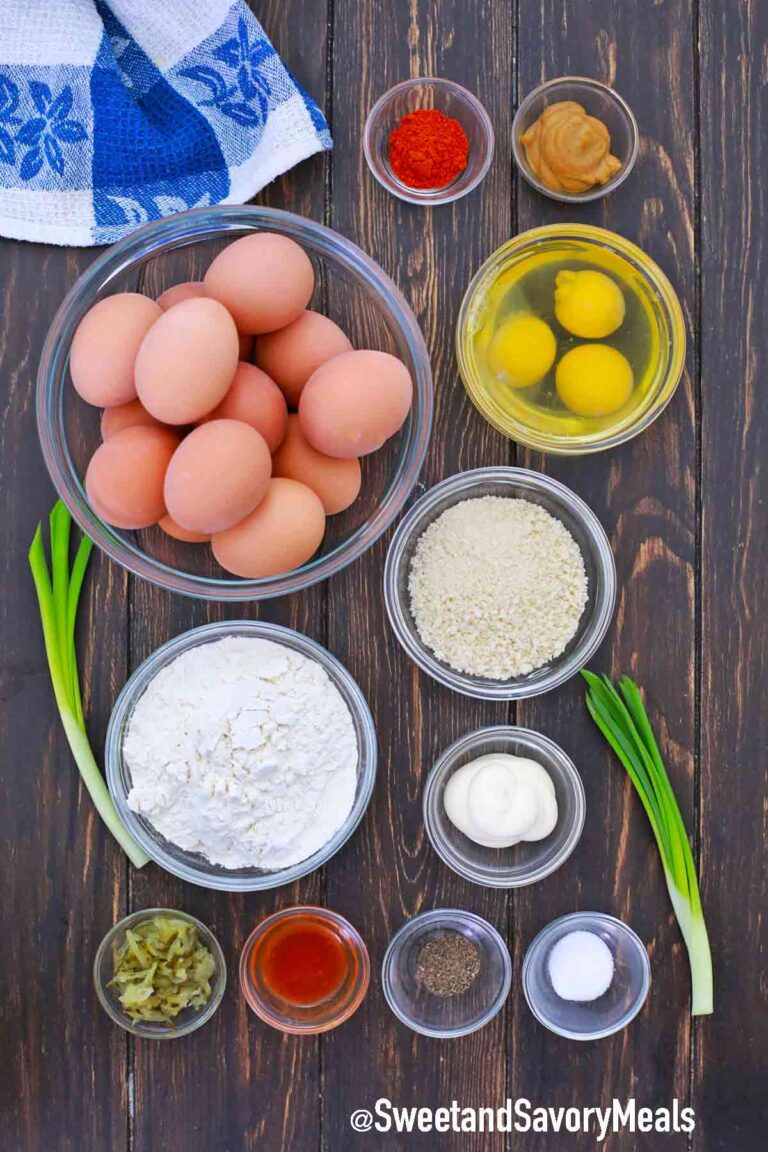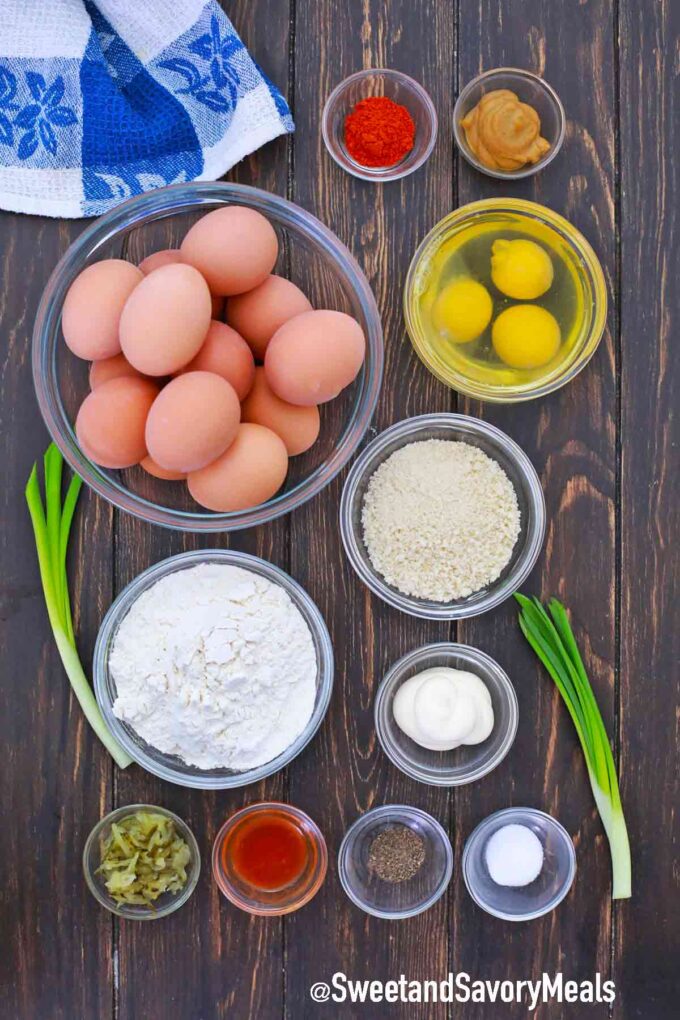 Ingredients needed:
Here are the simple ingredients for this easy recipe. For more info and measurements, find our recipe card below.
Large eggs: Hardboiled and peeled.
Flour: All-purpose flour is what we used.
Eggs: Whisked.
Panko bread crumbs: Or whatever type of breading you like.
Vegetable oil: Whatever kind of oil you use for frying.
Mayonnaise
Pickle relish
Mustard: Dijon mustard works great.
Hot sauce
Salt
Pepper
Paprika: Or whatever seasoning you like on top.
How to make fried deviled eggs recipe?
Preheat: First, in a large saucepan or large heavy frying pan over medium heat, heat cooking oil to frying temperature.
Prepare: Meanwhile, cut the eggs in half lengthwise and remove the yolk, putting it into a medium bowl.

Coat: Place flour, beaten egg, and panko breadcrumbs in separate shallow bowls. Then, dip the egg whites in each before placing them gently in hot oil with a slotted spoon.

Deep fry: Next, fry for three minutes, flipping after two, until they are golden brown.

Drain: After, remove and place eggs on a paper towel to absorb excess oil.
Smash: Then, combine the egg yolks with the rest of the ingredients in a small bowl, mashing with the back of a fork until it is smooth.
Fill: Last, using a piping bag or plastic sandwich baggie filled with egg yolk mixture, fill each deep-fried egg with the filling.
Serve: Finally, garnish with paprika or whatever seasoning you like before serving.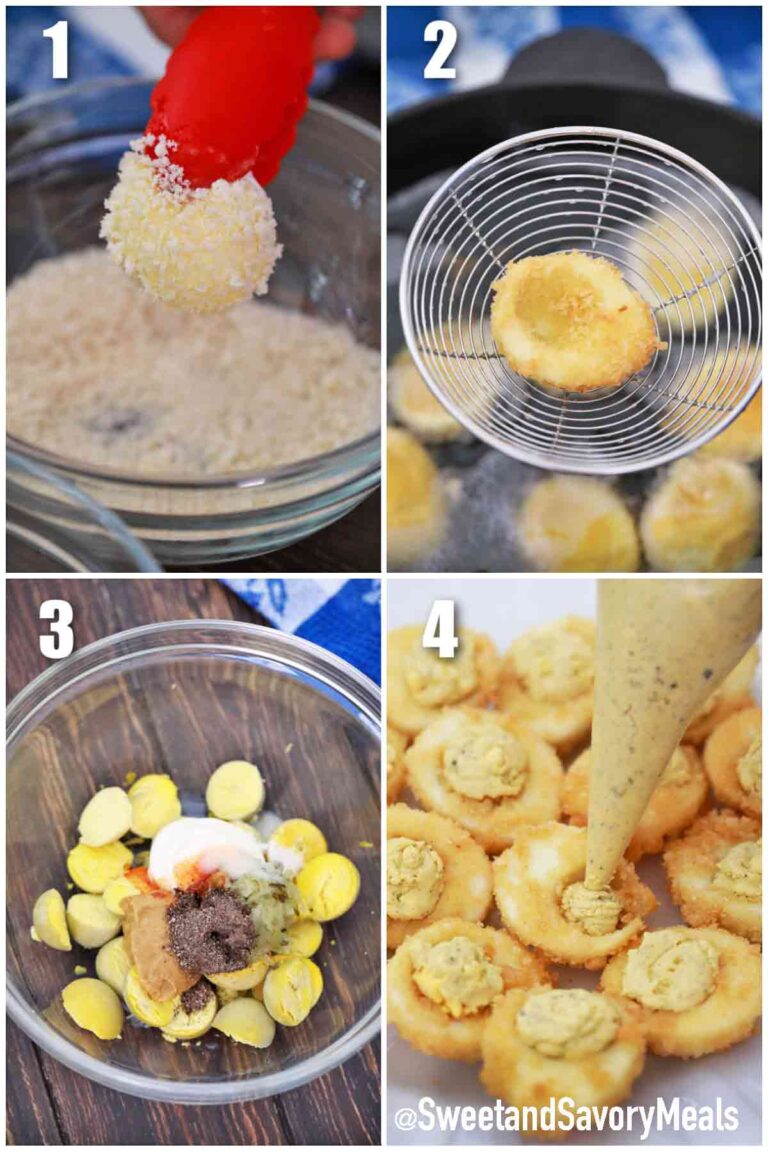 Recipe variations:
Sour cream: Add sour cream for extra creaminess.

Season: Feel free to use garlic powder, onion powder, or whatever seasonings you like.
Poppers: Add sliced jalapenos to make a jalapeno popper.
Cream cheese: Use ¼ cup of cream cheese in the mix for a really creamy yolk.
Vinegar: Adding a tablespoon of vinegar adds a nice tang.

Crackers: Instead of panko or flour mixture, you can use crushed Ritz crackers for a buttery flavor.
How to serve:
This delicious and easy recipe is perfect to make with the traditional deviled egg filling or your own creation. Or try one of these awesome ideas:
Sprinkle bacon bits or crumbled bacon on top because everyone loves bacon.
Speaking of bacon, these go great with maple bacon carrots or these tasty bacon-wrapped green beans.

Add some chives or green onions to the top before serving.
Use any leftovers for a unique fried deviled egg potato salad or egg salad.
If you want more spiciness, add a slice of jalapeno to the top of each one.

Try these dipped in your favorite sauce or try it with our creamy beer cheese dip.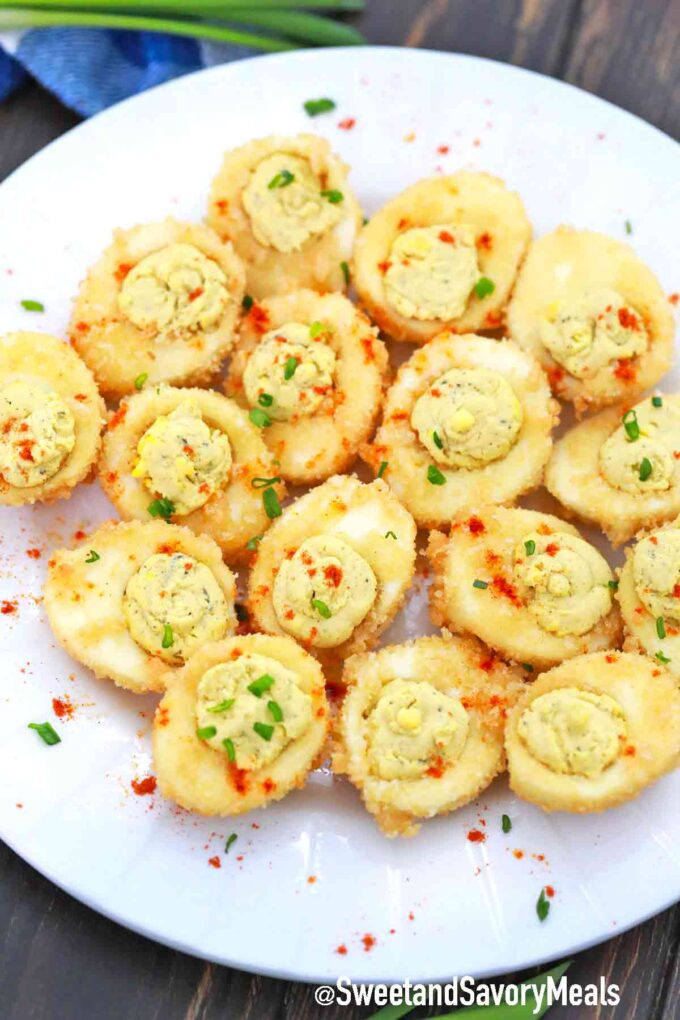 Frequently asked questions
What is the best way to boil eggs?
There are many theories on how to make the perfect hard-boiled egg. The most common is to put them into a pot of cold water on medium-high heat until it boils.
Then, set the pan aside from the heat for 10 to 14 minutes, depending on how many eggs you are boiling.
Can I use my air fryer to cook eggs?
To air fry, place them in the basket with a teaspoon of water in the bottom of it. Cook at 275 degrees F for 15 minutes for soft boiled or 17 minutes for hard-boiled.
Remove and place them in ice water for 10 minutes before peeling. Cooking time varies depending on how many eggs you cook and the size of your air fryer.
What about an instant pot?
For an even faster way to cook eggs, use your instant pot. Just pour one cup of water into the bottom of the pot and put the steamer basket or trivet at the bottom.
Place them in the basket and then close the lid and the pressure valve. Cook for five minutes for hard-cooked eggs.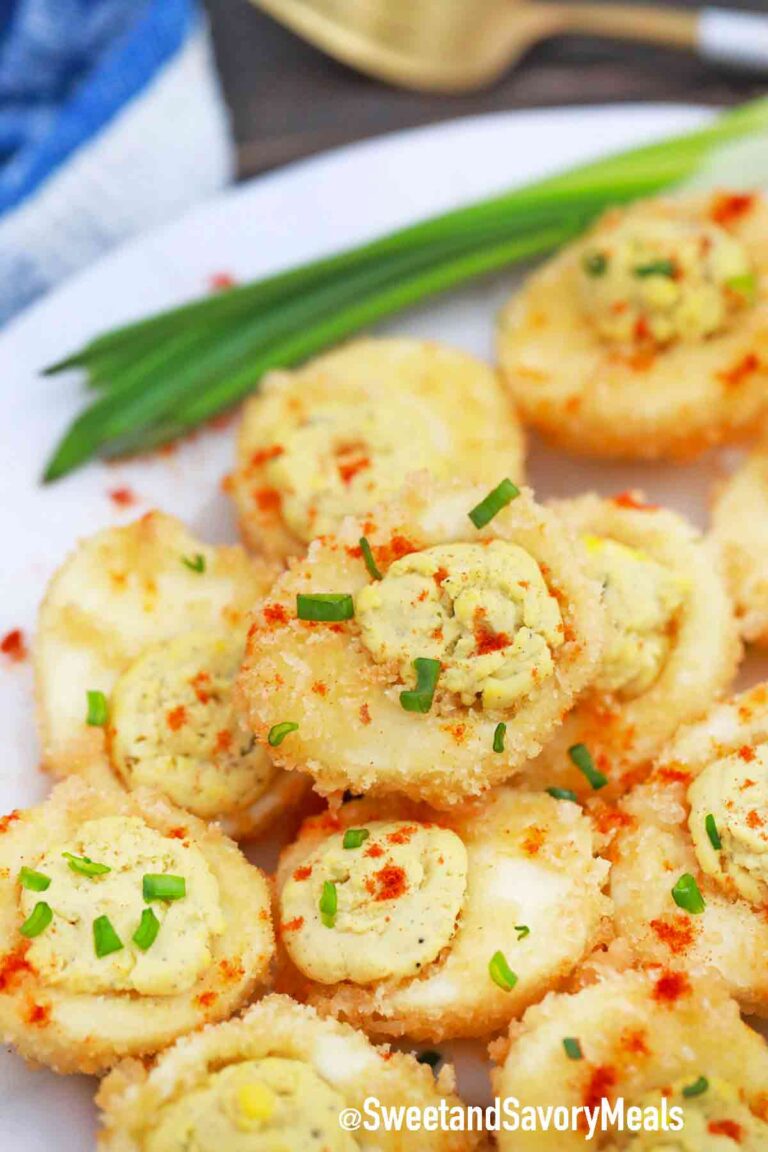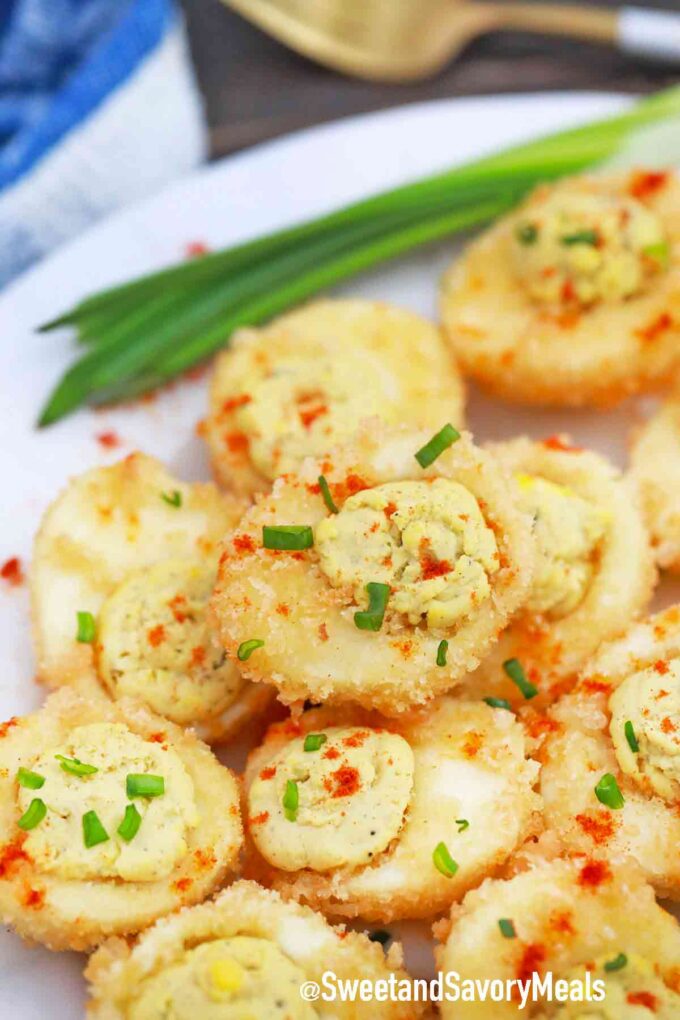 How to store leftovers:
Store: Place leftovers in an airtight container and store in the fridge for three or four days.
Freeze: Freezing is not recommended.
Reheat: Reheat in the microwave or serve at room temperature.
More Easter recipes:
Cooking tips:
Putting your boiled eggs into an ice bath afterward also makes them easier to peel.
Using older rather than fresh eggs can make them easier to peel.
Poke a small hole at the end of each egg to release air and allow it to expand.
Stirring for the first few minutes can help keep the yolks in the middle.
Be sure to shake off excess flour and breadcrumbs so the crust is not too thick.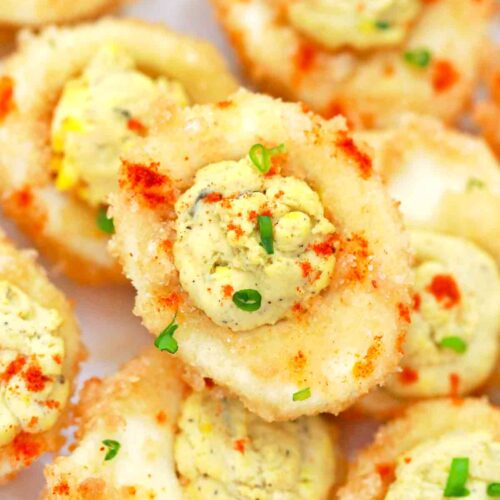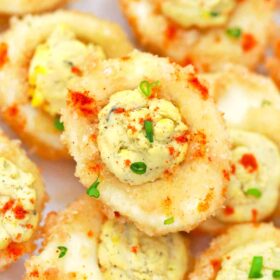 Fried Deviled Eggs
Fried Deviled Eggs have a crispy panko breading with a sweet and spicy yolk mixture made with relish, mustard, and a bit of hot sauce.
Save
Share
Print
Pin
Rate
Ingredients
12

hard-boiled eggs

(peeled)

1

cup

all-purpose flour

3

eggs

(raw and at room temperature)

1

cup

panko breadcrumbs

vegetable oil

(for frying)
Filling:
4

tablespoons

mayonnaise

2

tablespoons

pickle relish

2

tablespoons

mustard

1

teaspoon

hot sauce

1/2

teaspoon

salt

(or to taste)

1/4

teaspoon

ground black pepper

(or to taste)

paprika

(for garnish)
Instructions
Slice the hard-boiled eggs in half lengthwise.

Very carefully, separate the yolk from the egg white, and place the yolks in a medium bowl.

Add the Filling ingredients to the yolks, using a fork mix to combine until smooth, and taste to adjust for salt and pepper.

Add the mixture to a piping bag or Ziploc bag. Set aside in the fridge.

Add the flour to a shallow bowl, the raw eggs to another shallow bowl, and lightly beat them, and the panko to a third bowl.

Next, heat the oil for deep-frying in a deep pan over medium heat.

After that, coat the cooked egg white in flour first, after that dip it into the beaten eggs, and panko bread crumbs. Carefully place the egg whites into the hot oil and deep-fry until golden, for 2-3 minutes, flipping halfway.

Remove from the pan and arrange them on a plate covered with paper towels to drain excess oil. Let them cool.

Pipe the filling into the fried egg whites and dust with paprika and garnish with chopped green onions.

Serve or refrigerate for later.
Nutrition
Calories:
183
kcal
|
Carbohydrates:
12
g
|
Protein:
9
g
|
Fat:
11
g
|
Saturated Fat:
3
g
|
Polyunsaturated Fat:
3
g
|
Monounsaturated Fat:
3
g
|
Trans Fat:
1
g
|
Cholesterol:
229
mg
|
Sodium:
305
mg
|
Potassium:
121
mg
|
Fiber:
1
g
|
Sugar:
1
g
|
Vitamin A:
349
IU
|
Vitamin C:
1
mg
|
Calcium:
56
mg
|
Iron:
2
mg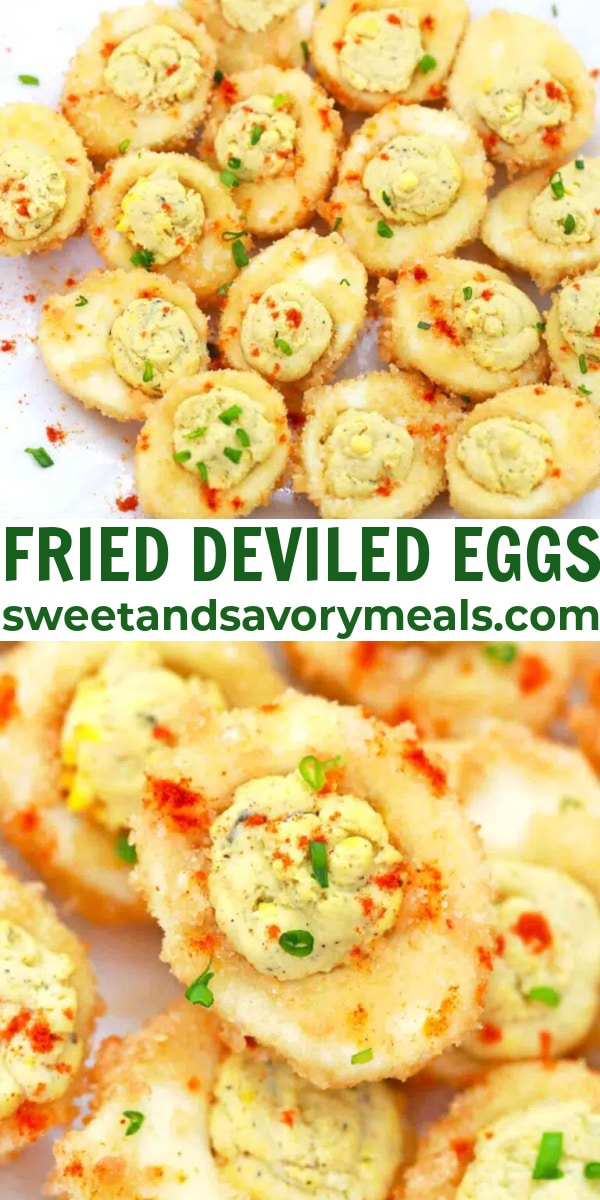 More recipes you might love