Air Fryer Bacon Wrapped Green Beans Recipe
Air Fryer Bacon Wrapped Green Beans is a great side dish that blends the flavors of the meaty bacon with tender and crisp beans. Also, you only need two ingredients to make these! This vegetable side dish will be a great addition to your Thanksgiving table.
The air fryer cooks this dish perfectly by using the hot air to make everything crispy on the outside and juicy on the inside! If you really love bacon, try this crunchy and cheesy Bacon Wrapped Meatloaf recipe to go with these. For another way to make green beans, roast them in the oven with two kinds of cheese in this Cheesy Baked Green Beans recipe.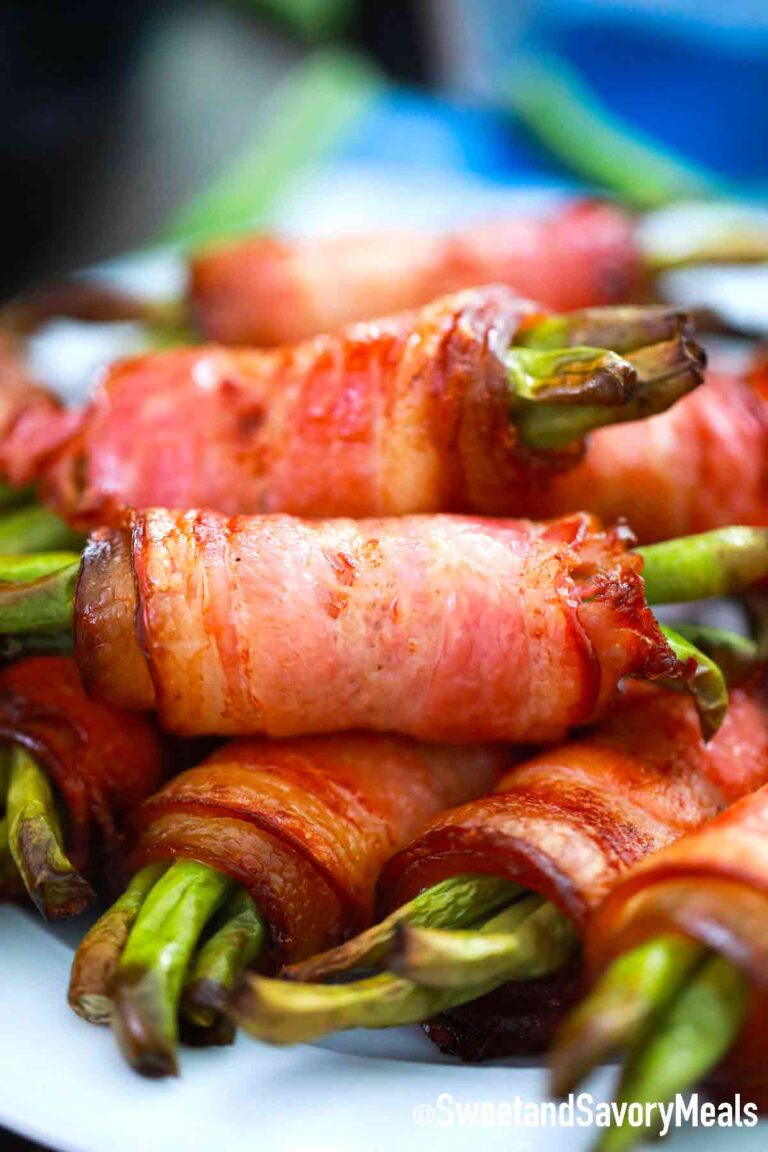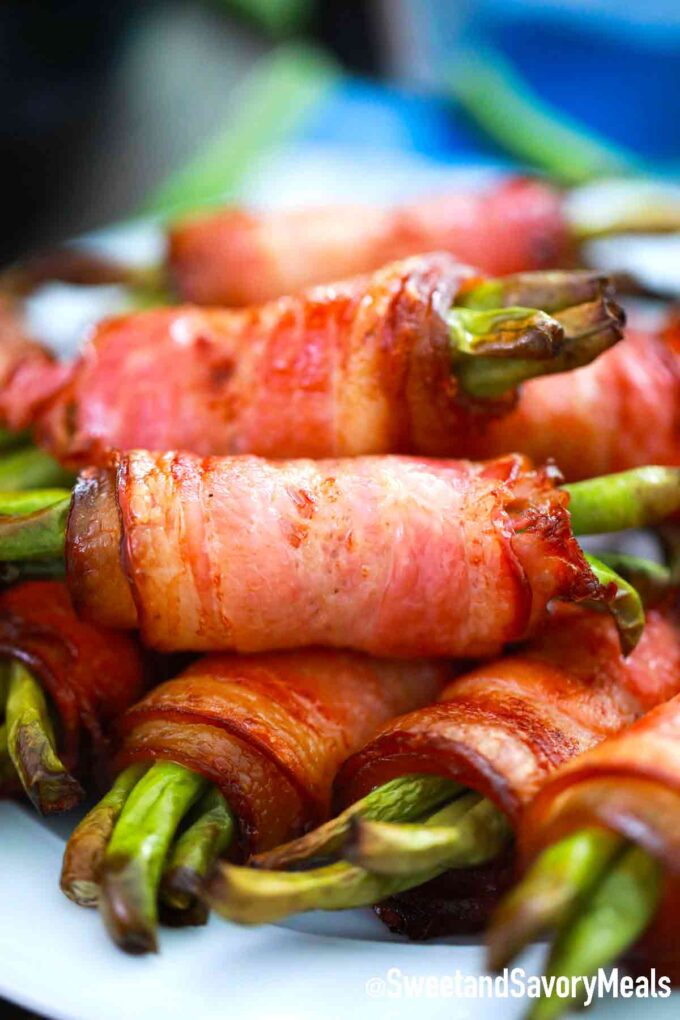 You cannot get much easier than this amazing side dish. It may look like you worked all day on making these tiny bundles of beans wrapped in crispy bacon! But all it takes is wrapping the beans with bacon and putting them in the air fryer for 10 to 15 minutes. Simple and fast, but oh so scrumptious, like many other tasty air fryer recipes.
Bacon and green beans just seem to go together, and the ease of this recipe along with the amazing taste and attractive presentation makes this the perfect side dish for any meal. And anyone who loves green beans as much as my family does will want to make these green bean bundles all the time.
This is an easy way to make air fryer green beans and it will quickly become one of your favorite recipes. It is the perfect side dish part of the Thanksgiving dinner table or other holiday dinners. This easy recipe has so much flavor, everyone loves these little bundles of bacon goodness.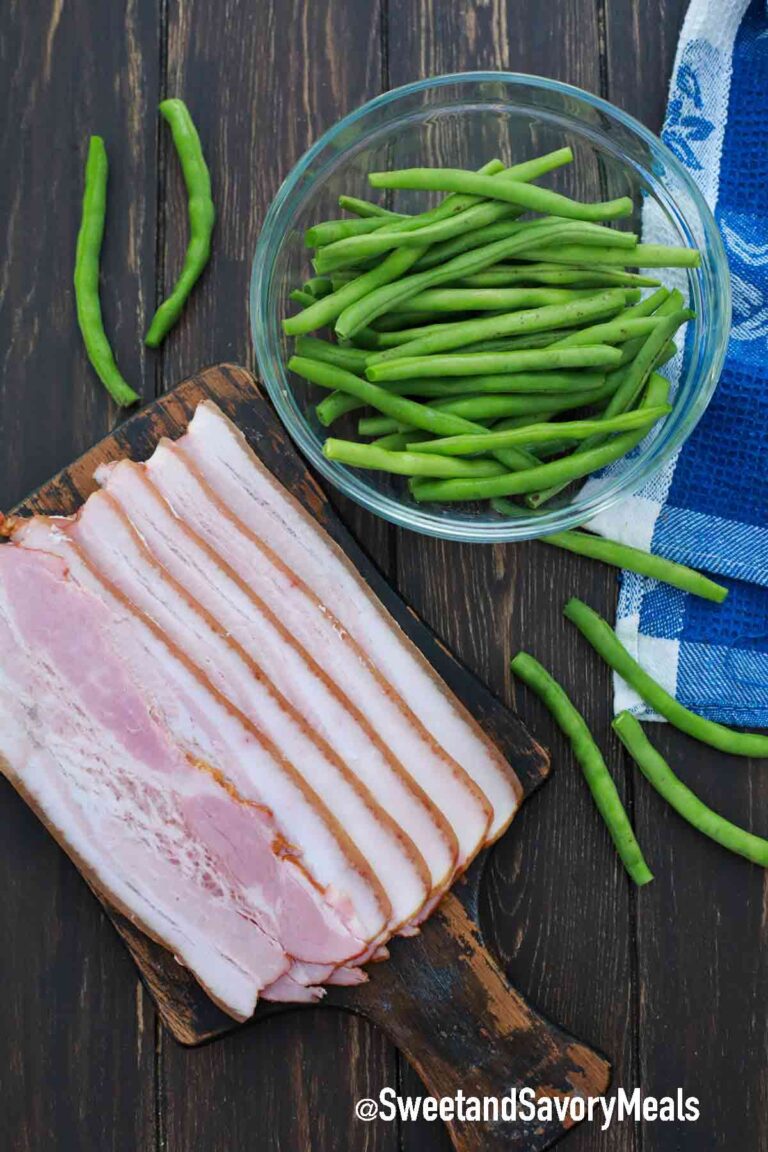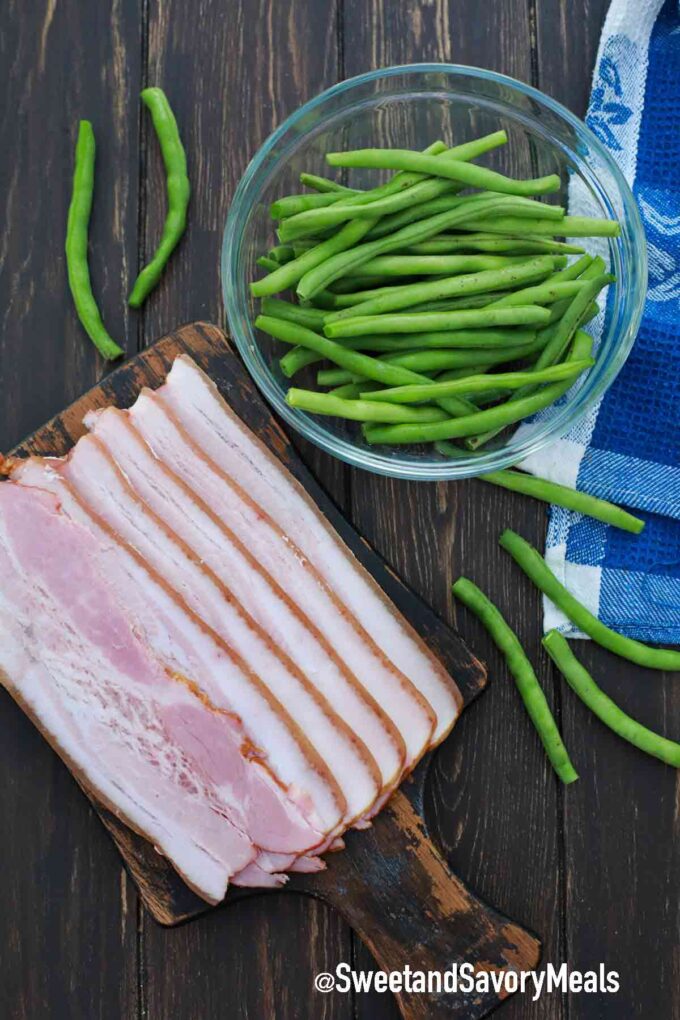 Ingredients needed:
With such a simple recipe, you probably will not need too much instruction, but you can scroll down to our recipe card to check the exact measurements and times. However, all you will need is:
Fresh green bean stalks: With the ends cut off.
Uncured bacon: You can use cured bacon if that is all you have.
Seasonings: We used kosher salt and black pepper.
How to make air fryer bacon wrapped green beans from scratch?
Preheat oven: To start, preheat the air fryer to 370 degrees F.
Beans: Then, wash the fresh green beans and cut the ends off.

French beans are also a delicious side dish.

Bacon: Next, cut each piece of bacon lengthwise if needed.

Prepare: Meanwhile, spray a baking sheet with cooking oil to set your bundles on before cooking.

Wrap: Finally, take the green beans and wrap them with a slice of bacon, then place it seam side down on the sheet.

Cook: Last, place each of the green bean bundles in a single layer on the bottom of the air fryer basket that has been sprayed with cooking oil. Cook for 10 to 15 minutes or until the bacon crisps and turns brown.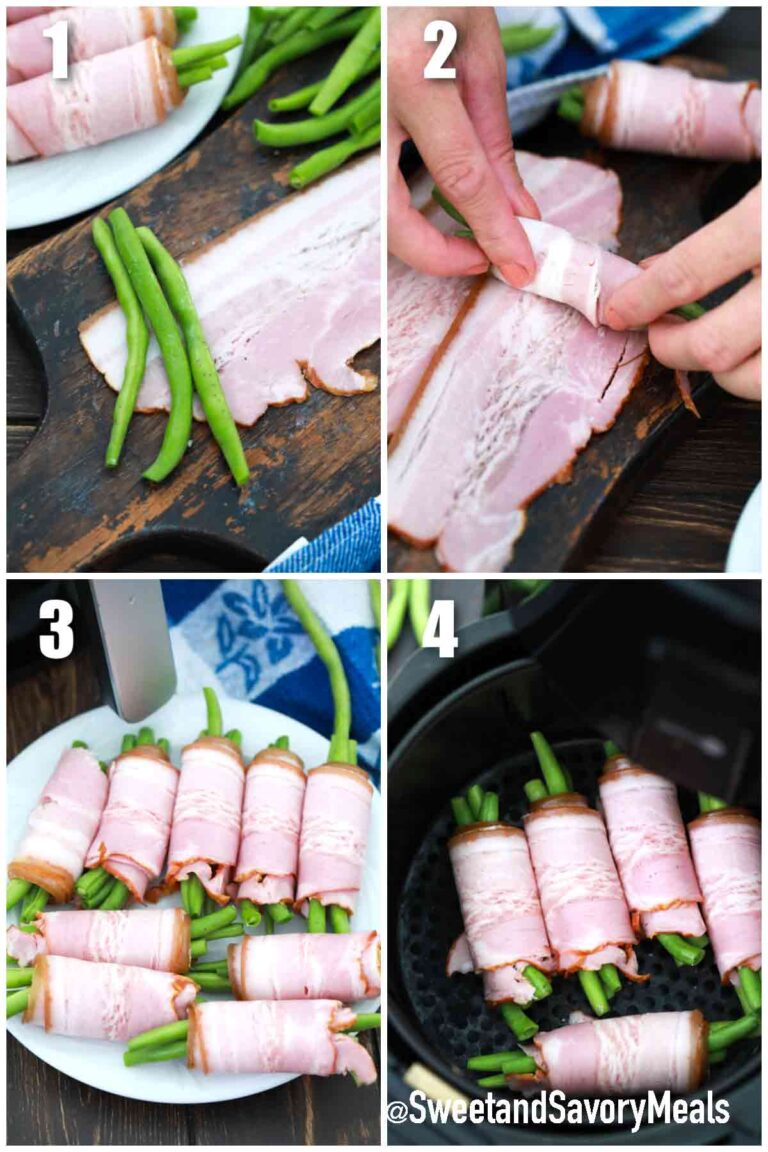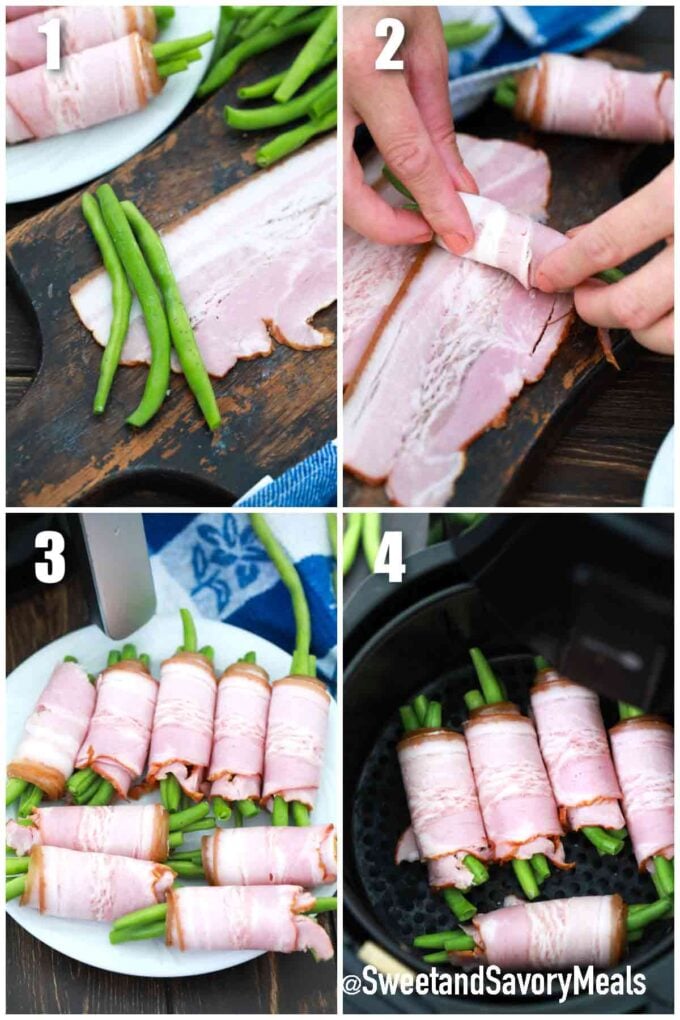 Recipe variations:
Turkey Bacon: For a change make this healthy air fryer recipe with turkey bacon.
No Bacon: Simply skip the bacon and make green bean fries, similar to how we made this asparagus recipe.
Sweeten it up: Another great alternative is to sprinkle some brown sugar on the bacon strips before putting them in the air fryer baskets.
Season it: Similarly, add your own favorite seasonings like garlic powder, onion, parsley, thyme, or paprika.
Spice it up: Alternatively, you can add some cayenne pepper or jalapenos to make your beans spicy.

Make it cheesy: For cheesy beans, sprinkle them with parmesan or shredded cheese.
How to serve:
Serve these bacon-wrapped green bean bundles next to your favorite main dish and another side dish. Or you can try one of these ideas: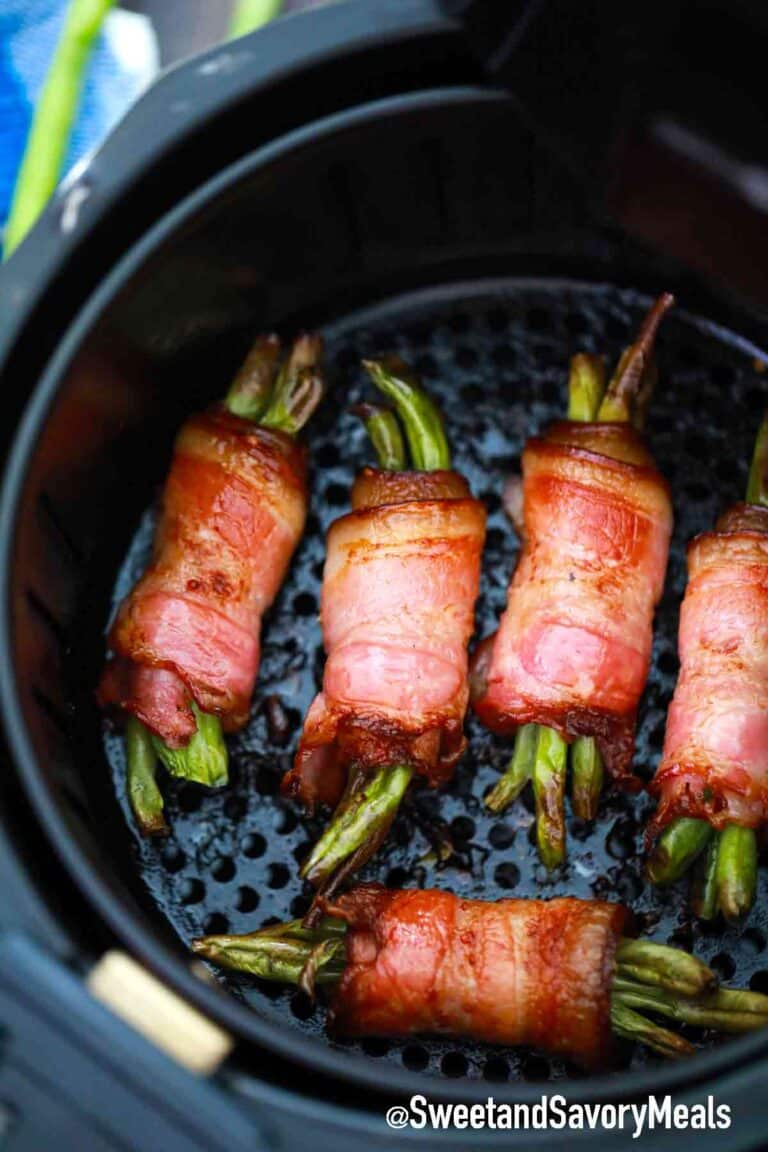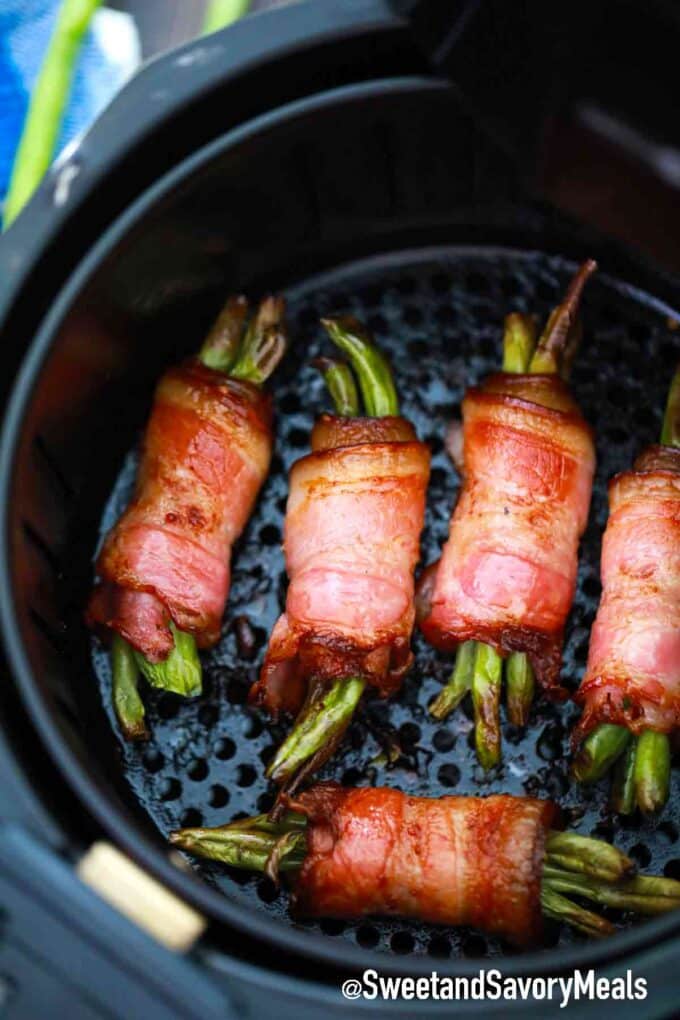 Frequently asked questions
What is uncured bacon?
Uncured bacon is pork belly (fat back or side of loin) that has not been preserved by artificial sodium nitrites. Instead, they use a type of celery, which is a form of natural nitrites, sea salt, and other flavorings like beets and parsley. The nitrites are what give bacon the pink color.
Bacon can be dry-cured or wet cured. Dry curing is done by rubbing the fresh pork with salt, seasonings, and nitrites. But these are not the natural nitrites that is used in uncured bacon. Then it is left to sit for one or two weeks. Then it is rinsed off and put into a smoker or oven to dry for weeks or even months.
Wet curing is a faster method, which is why it is what is used most often. They use the same preservatives, but they are mixed in a brine that the pork is soaked or injected with. Then it is smoked in an oven or smoker.
Can I use canned green beans for this?
You can use canned instead of fresh for this recipe, but the beans may get mushy if you use raw bacon. Instead, when using canned green beans, precook the bacon about halfway before wrapping them and then cut the cooking time in half from 10-15 minutes to 5-10 minutes.
Do I have to soak the green beans in ice water?
Blanching your green beans by placing them in boiling water is not necessary before cooking.
However, some people will blanch them before cooking and put them in ice water afterward to stop the cooking process. But it is not really necessary when cooking these beans with an air fryer.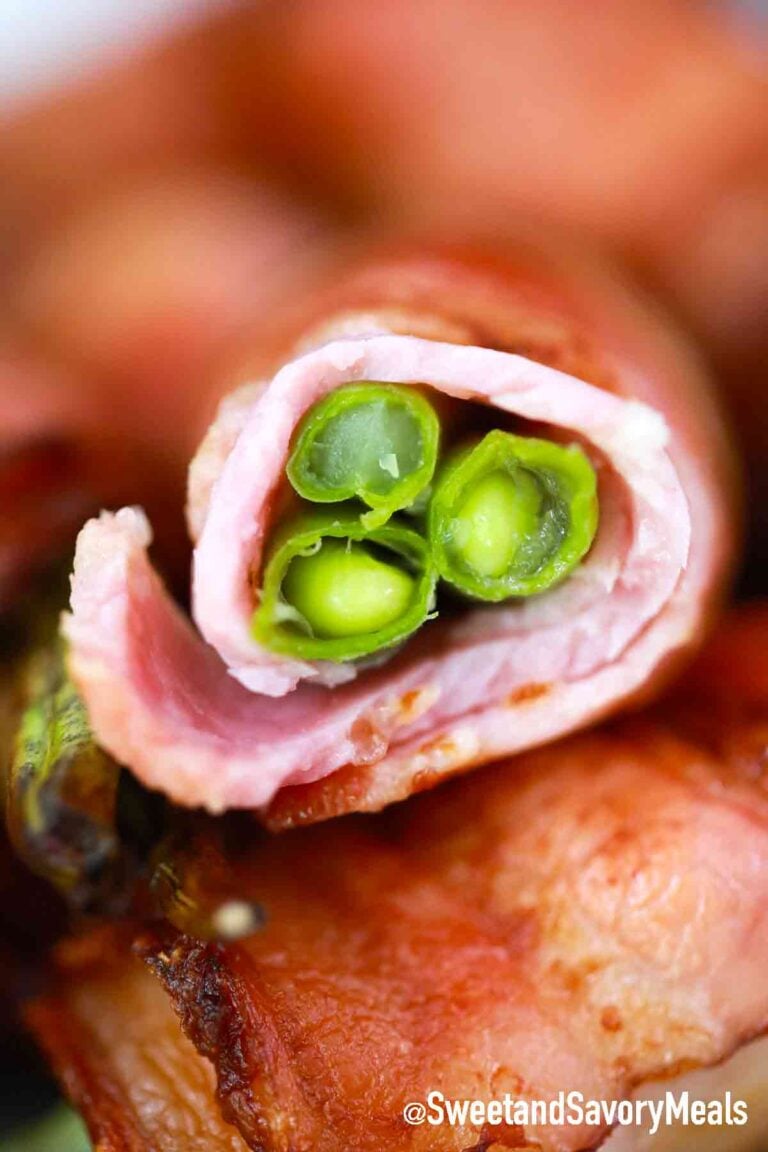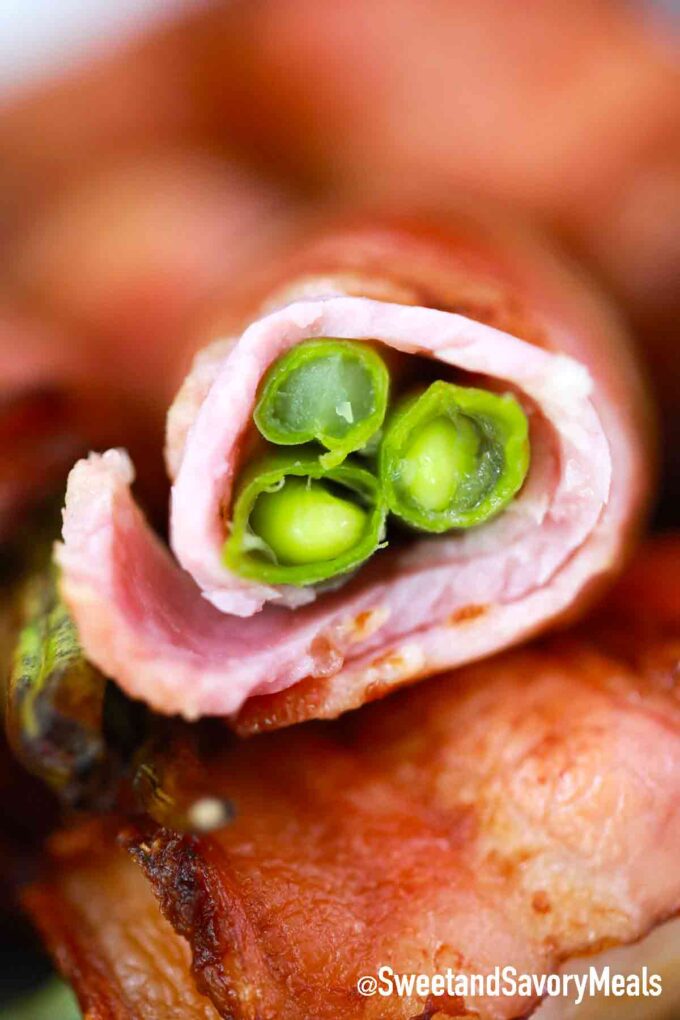 How to store leftovers:
Store: These will store well for up to three days in an airtight container in the fridge.
Freeze: You may also want to freeze any leftovers if you do not plan to finish them within the next few days. Just let them cool and then wrap them in plastic wrap and they will be good for about three months.

Reheat: Reheat your beans in the microwave, air fryer, or set the oven to 400 degrees F and reheat for five minutes.
Recipe tips:
Make sure your beans are dry before cooking by patting them with a paper towel.
As an alternative, to make sure the string beans are properly cooked, bring a large pot of water to boil and blanch for 2-3 minutes. After that, transfer them to a large bowl filled with ice to cool.
Also, better to choose thin strips of bacon, they get crispier and will cook more evenly!
If you want to use canned, use French green beans for a better texture.

You could also use frozen green beans but be sure they are thawed out and dried before cooking.

Use the leftovers in a casserole like this awesome vegan green bean casserole or add them to a salad such as this tasty crack corn salad.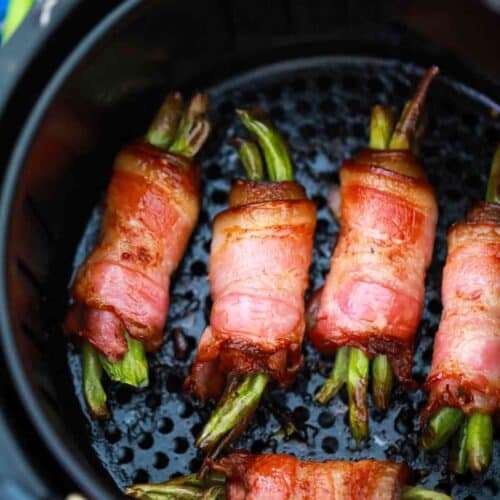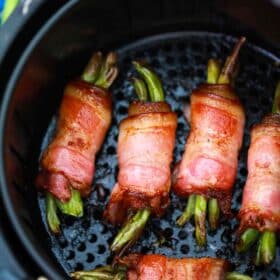 Air Fryer Bacon Wrapped Green Beans
Air Fryer Bacon Wrapped Green Beans is a great side dish that blends the flavors of the meaty bacon with tender and crisp beans.
Save
Share
Print
Pin
Rate
Ingredients
30

stalks fresh green beans

12

slices

uncured bacon
Instructions
Wash, pat dry, and trim the ends of the green beans.

Take about two-three green beans and wrap in bacon tightly around the stalk.

Arrange seam side down in a single layer in the air fryer basket. Cook in batches.

Air fry at 380 F for 10-15 minutes or until the bacon is cooked and crispy.
Nutrition
Calories:
40
kcal
|
Carbohydrates:
3
g
|
Protein:
1
g
|
Fat:
3
g
|
Saturated Fat:
1
g
|
Polyunsaturated Fat:
1
g
|
Monounsaturated Fat:
1
g
|
Cholesterol:
3
mg
|
Sodium:
7
mg
|
Potassium:
87
mg
|
Fiber:
1
g
|
Sugar:
1
g
|
Vitamin A:
285
IU
|
Vitamin C:
5
mg
|
Calcium:
15
mg
|
Iron:
1
mg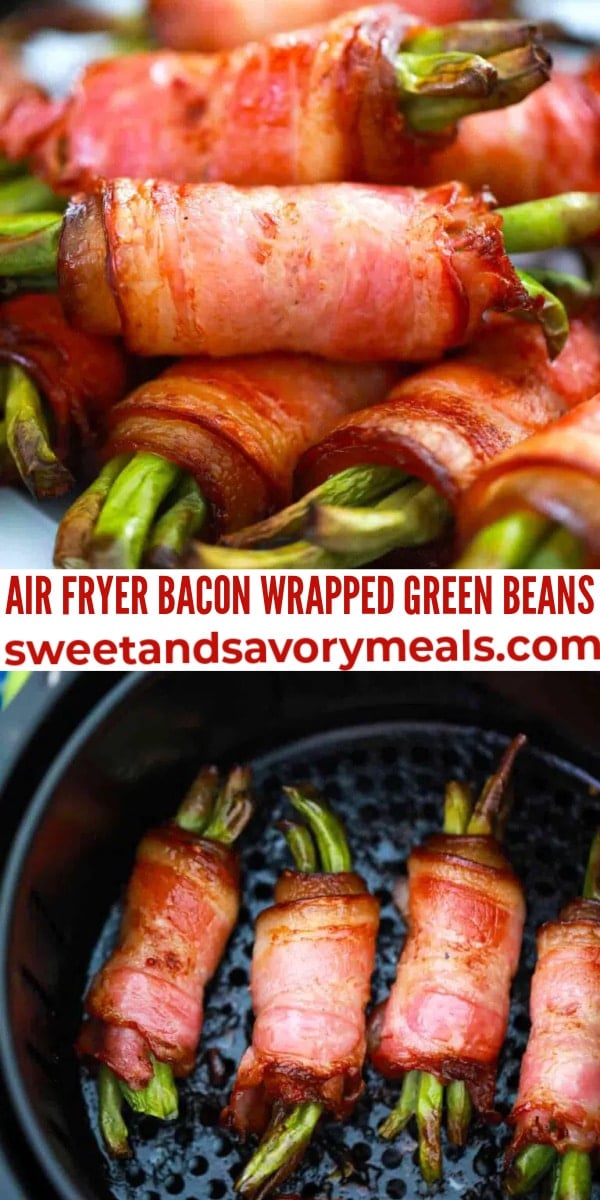 More recipes you might love