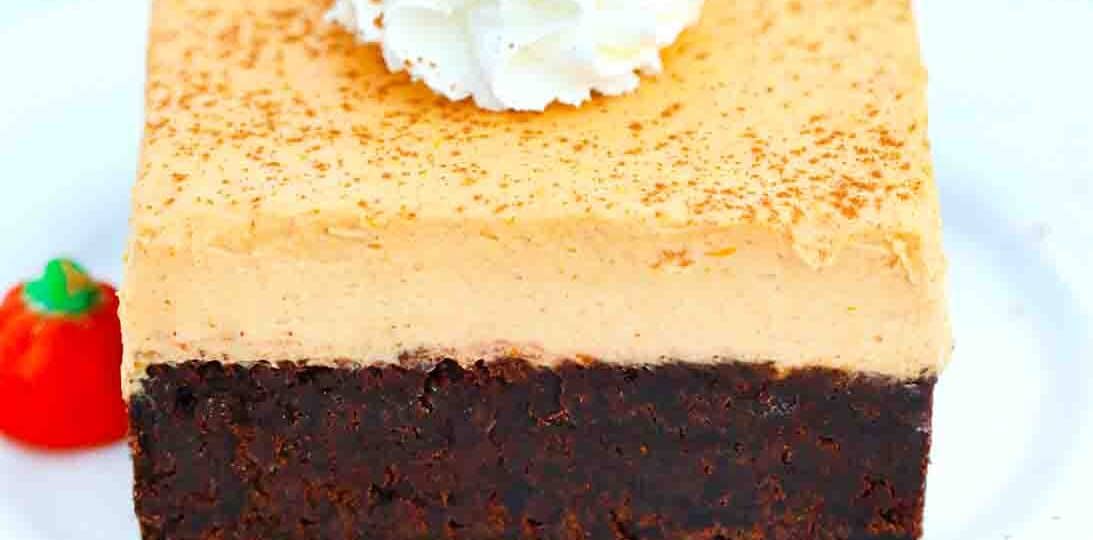 Pumpkin Mousse Brownies Recipe [Video]
Pumpkin Mousse Brownies are rich and chocolatey with a dense brownie layer and a light and fluffy pumpkin mousse on top. With just a handful of ingredients, you can make a delicious dessert that your whole family will love as soon as they taste it. In fact, these will probably be their favorite brownies for fall. Whether you are serving these at a Halloween party, Thanksgiving dinner, or any time, it will be one of your most popular recipes.
Not a fan of pumpkin? Then our Chocolate Mousse Brownies with cocoa powder, whipping cream, and milk chocolate is the perfect recipe to try. For a fruitier dessert, our Pomegranate Mousse Brownies are amazing and made from pomegranate, vanilla beans, and cocoa powder. If you want something different, try this recipe for Cognac Brownies covered in caramel topping.
We have been eating brownies for as long as I can remember. It all started in 1670 with the invention of chocolate by both Jane Barnard and Dorothy Jones who made what they called Chucalettoe and Coffee in Boston, Massachusetts.
It was then served as a chocolate drink and was even advertised for sale by Benjamin Franklin in the 1700s. But the brownie did not show up in records until 1898 when Bertha Palmer's recipe was published in a Sears Roebuck Catalog in Chicago.
These fudgy brownies are easily made in minutes and are the perfect fall dessert for everyone who loves chocolate. No matter when you serve them, they will be the highlight of the meal whether you are at a family dinner or serving these as a party snack. The chocolatey flavor blended with the creamy pumpkin mousse makes each bite a burst of flavors.
Looking for other dessert recipes? Our pumpkin bundt cake is sweet and fluffy with a cinnamon pecan glaze. If you do not want to turn on the oven and heat up the house, try this easy no-bake chocolate cheesecake with chocolate ganache and cream cheese. For something fruity, our mango mouse cake is light and tasty with mango nectar and strawberry jelly.
Follow us on Pinterest for more delicious recipes!
Ingredients needed:
You will need to gather all these basic ingredients to make this delicious homemade brownie recipe. When you are ready to get started, scroll down to find our recipe at the bottom of the page. It has all of the measurements and step-by-step instructions.
Chocolate brownies:
Unsalted butter
Semi-sweet chocolate chips
Unsweetened cocoa powder
Granulated sugar
Eggs
Salt
All-purpose flour
Pumpkin Mousse:
Softened cream cheese
Powdered sugar
Chilled pumpkin puree
Pumpkin spice jello pudding mix
Cool Whip
Orange food coloring
How to make pumpkin mousse brownies from scratch?
Preheat oven: First, you need to preheat your oven to 350 degrees F and grease a 9×13-inch baking pan.
Melt the chocolate: While the oven heats up, melt the butter and chocolate chips in a large glass bowl for one minute, stirring after 30 seconds.
Add the sugar: Next, stir in the sugar and cocoa powder before adding eggs, one at a time. Then, add the flour and salt and stir just until there are no more white streaks. Do not over-stir.
Bake the brownies: After, spread the brownie batter evenly into the prepared pan and bake it for 20 to 24 minutes or until it passes the toothpick test. The toothpick inserted in the middle should come out mostly clean or with fudgy crumbs. You do not want to overbake these!
Make the pumpkin mousse: While you wait for the brownies to cool, beat powdered sugar, orange food coloring, and cream cheese in a large mixing bowl with a hand mixer until it is smooth and creamy. Add pumpkin puree and mix well before folding in the jello and cool whip.
Cool the brownies: After the brownies are cool, spread the pumpkin mixture on top and chill for two hours.
Sprinkle, cut, and serve: Finally, cut brownies into squares and add a whipped cream rose on top before serving.
Recipe variations:
Pumpkin pie spice: Add pumpkin pie spice for even more pumpkin flavor.
Heavy cream: Instead of whipped cream, you can use heavy cream.
White chocolate: Try this with white chocolate chips for blonde pumpkin brownies.
Whole hazelnuts: Chop whole hazelnuts and add to the batter for hazelnut brownies. Pumpkin and hazelnuts go great together.
Vanilla: For more flavor, add a teaspoon of vanilla extract to the mousse.
Other spices: Feel free to add other spices to the mousse such as nutmeg or cinnamon.
Peanut butter brownies: Add a cup of peanut butter to the brownie batter for a chocolate pumpkin peanut butter mousse brownie.
Layered chocolate pumpkin brownies: Layer your mixtures for a nice blend of flavors in every bite. Just pour half of the brownie batter in first, then half the pumpkin mousse, and repeat. Add 5 to 7 minutes extra to your cook time but check often so you do not overcook it.

More chocolate: Add chocolate chips to the brownie mix for a more chocolatey flavor.

Other flavors: Try other flavors of jello pudding-like vanilla or chocolate.
How to serve:
Brownies are a popular dessert in any flavor, color, or type. But these brownies with pumpkin mousse are just mouthwatering. Seasoned with fall spices and cocoa, this recipe is going to become one of your favorite go-to Autumn desserts every year. Here are some of our serving suggestions you can try or share your own in the comments section below.
You could also top these delicious pumpkin brownies with chocolate shavings.
For an even sweeter dessert add a spoon of vanilla ice cream on the side. Another ice cream flavor that would be great is our easy no-churn pineapple ice cream.
Sprinkle cinnamon on top of the mousse for a sweet surprise taste.
Another scrumptious way to top these brownies is with your favorite sauce. Try our rich and creamy caramel sauce recipe.

Garnish with candy pumpkins and other candy decorations to make these delicious brownies more fun.
This dessert pairs well with any turkey or pork dish. Try our creamy turkey casserole recipe or these apple cinnamon pork chops.

Add a handful of rainbow sprinkles or chocolate chips for an even prettier brownie.
Frequently asked questions
How do I make my mousse fluffier?
If you want a really fluffy pumpkin mousse, use the whisk attachment on your electric mixer and whip it until soft peaks form. Or you can do this by hand with a whisk but it may take a while.
You have to make sure you get all the air in there. Another way to fluff it up is to use a mixture of heavy cream, powdered sugar, and salt instead of whipped cream.
What is the best way to soften cream cheese?
We have all forgotten to take the cream cheese out ahead of time at least once. If this happens to you, don't worry, you can soften it in minutes. For example, you can remove the cheese from the box and foil wrapper and put it in the microwave in a large bowl for 30 to 45 seconds.
Or remove it from the box, leave it in the wrapper, and put it in a hot water bath for 5 to 10 minutes. Another way to soften it is to turn your oven to low heat and let the block of cream cheese sit on top of it for about 10 minutes.
Why are my brownies not fudgy?
There are several ways to make sure your brownies turn out fudgy instead of cakey. Just add 1/4 cup of vegetable oil or increase the butter. You could also increase the number of chocolate chips.
Another way to make them fudgy is to decrease the flour a little bit. Even a few tablespoons can make a difference. And make sure you do not scoop your flour. Use a spoon and pour it into your measuring cup.
What are the nutrition facts in this recipe?
Each of these delicious brownies has about 350 calories and 19 grams of fat, which includes 7 grams of saturated fat, 6 grams of monounsaturated fat, 4 grams of polyunsaturated fat, and 2 grams of trans fat. You also get 25 grams of sugar, 40 carbs, 30 milligrams of cholesterol, and 175 milligrams of sodium.
On the plus side, each brownie holds 2 milligrams of iron, 28 milligrams of calcium, and 2 milligrams of vitamin C as well as 2977 units of vitamin A, 2 grams of fiber, 104 milligrams of potassium, and 5 grams of protein. Of course, these numbers vary depending on the size of the brownie you eat.
How to store leftovers:
Store: You can store your leftover brownies in an airtight container in your refrigerator for about five days. If they last that long!
Freeze: If you cannot eat all of your brownies in a few days, it is also safe to freeze your mousse brownies for up to three months. Let them cool completely and then put them on a baking pan and flash freeze for an hour in the freezer to harden the mousse. Then, put them in a freezer bag where you can keep them for up to 90 days.
Thaw: For best results, thaw overnight in the refrigerator before serving.
Reheat: Do not reheat this brownie pumpkin dessert. The mousse will melt.
More brownie recipes:
Baking tips:
Use a box mix instead of the other ingredients to cut prep time. You can use any kind of brownie mix you like such as hazelnut brownie, which is incredibly delicious with this recipe.
If you use brownie mix, use the temperature on the box. We used 350 degrees F for ours, but the box mix may be different.

In fact, to save even more time, you can use store-bought brownies already made.
Make sure you let the brownies cool completely before adding the pumpkin mousse or it will melt.
Instead of the microwave, you can also melt your chocolate in a large bowl of hot water bath.
Leave your cream cheese out on the counter for about an hour to soften before using.
It is best to use chilled pumpkin puree as it gives you a more fluffy pumpkin mousse.
You do not have to use the orange food coloring. It just adds more color to the dish.
Pumpkin Mousse Brownies
Ingredients
Brownie layer:
1 1/4

cup

unsalted butter

1 1/4

cup

semi sweet chocolate chips

2/3

cup

unsweetened cocoa powder

2

cups

granulated sugar

4

eggs

room temperature

1/2

teaspoon

salt

1 1/4

cup

all-purpose flour
Pumpkin Mousse:
8

oz

cream cheese

softened

1 1/2

cups

powdered sugar

1/2

cup

pumpkin puree

3.2

oz

package pumpkin spice Jell-o

8

oz

Cool Whip

Orange gel food coloring

optional
Instructions
Preheat the oven to 350 degrees F.

Grease with baking spray or butter a 9x13" pan and set it aside.

Add the butter and chocolate chips to a large bowl and melt in the microwave for about 1 minute, stirring every 30 seconds until smooth and melted.

Stir in cocoa powder and sugar until combined.

Mix in eggs, one at a time.

Next, add salt and flour, and stir just until combined.

Spread the batter into the prepared pan.

Bake for 20-24 minutes or until a toothpick inserted into the center comes out mostly clean or with fudgy crumbs. Do not overbake!

Allow to cool completely before adding the mousse.
Pumpkin Mousse:
In a large mixing bowl, beat together cream cheese and powdered sugar until smooth and creamy.

Add pumpkin puree and pumpkin Jell-o and mix well.

Stir in Cool Whip until fully incorporated, if you want add some orange food coloring.

Next, spread the mixture over the cooled brownies.

Chill for 2 hours or overnight before serving.

Sprinkle on top some cinnamon powder before serving.

Cut into squares and serve with whipped cream.