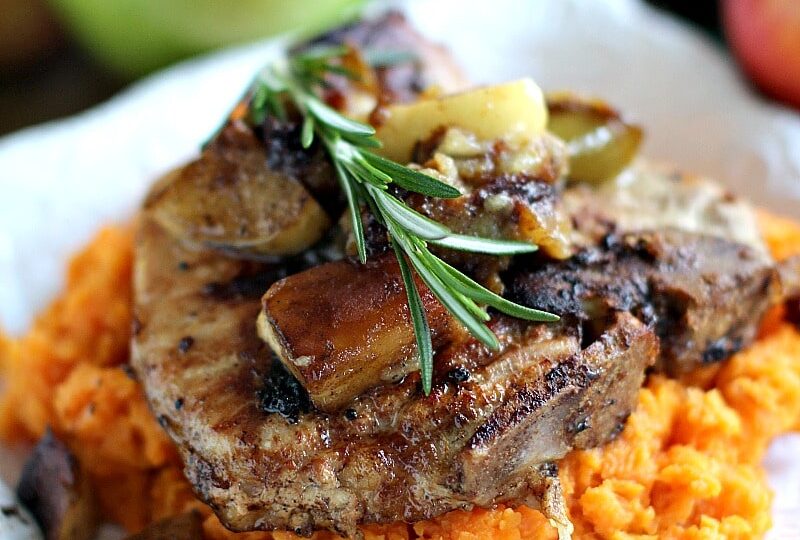 Apple Cinnamon Pork Chops
Apple Cinnamon Pork Chops with fresh rosemary, brown sugar and cinnamon apples is a perfect dinner dish.
Like my other Pork Chop dishes Instant Pot Apple Cider Pork Chops, and Cherry Sauce Pork Chops, this one is easy to make, full of flavor, and ready in under 30 minutes.
Apple Cinnamon Pork Chops
Juicy and flavorful Apple Cinnamon Pork Chops served for dinner make the perfect autumn meal. The flavors of brown sugar and cinnamon will fill your house, while the apples cooked in butter will melt in your mouth. Served over a bed of mashed sweet potatoes, this meal is delicious and filling.
I like to use organic or fresh natural pork because it is naturally tender and juicy without added steroids, hormones or artificial ingredients. Fresh Pork Bone-In Chops are my go-to for quick and delicious weeknight dinners. The pork chops came out delicious and ready in under 30 minutes!
Why You Will Love This Apple Cinnamon Pork Chops Recipe:
Very easy to make, with minimum ingredients and dishes to clean.
A hearty and delicious meal, that looks good to be served on weekends, or for a special dinner occasion.
The meal is packed with protein, so a light side dish like roasted veggies or salad is perfect and also easy to prepare.
Pin This Apple Cinnamon Pork Chops Recipe to your Favorite Board
How To Cook Tender Pork Chops?
Take the pork chops out of the refrigerator about 15 minutes before you plan to start cooking. Bringing the meat up to room temperature helps it cook more evenly throughout.
The thicker the pork chops the better. Since the pork chops are lean, if the cut is very thin, they will cooker quicker, which leaves more room for error. It is easier to cook thicker pork chops. Aim for a double cut, which is about 1 1/2 inches thick. Also, bone-in pork chops have some fat around the bone, which results in juicier meat and the bone provides some protection for overcooking.
Don't overcook the pork chops. The pork chops don't require much cooking time, so be very careful not to overcook and dry out the meat. Cook the chops between 145 and 160°F and let them rest a few minutes before serving.
Always rest the meat. After its done cooking, transfer to a separate plate, tent with foil, and let the meat rest for five minutes.
Can I substitute chicken for pork?
Absolutely. Chicken is a great alternative for pork in many recipes including this one. If you are going to use chicken, I would recommend using either bone-in/skin-on chicken thighs or chicken breast. The cooking time for chicken breast will also be longer, make sure the internal temperature of the chicken is 165 degrees Fahrenheit, that means the chicken is cooked and safe to consume.
Tips & Tricks To Make The Perfect Apple Cinnamon Pork Chops:
Try to buy organic pork, the quality of the meat is very important.
Look at the color of the pork, it should be a nice reddish pink color to a purplish red. People think that lighter colored pork is usually fresher and better, but it is the opposite. The darker the pork is the better it will taste!
The meat also should not have an unpleasant rotten smell, if you smell that and see more of a brownish color, look for a better cut.
Use fresh apples not canned. Fresh apples pair well with this dish, and it will also give more flavor to it.
If you like it spicy, you can add cayenne pepper or red pepper flakes.
More Side Dishes you can serve with Pork Chops: