Shake and Bake Pork Chops
Shake and Bake Pork Chops are super crispy and tender, baked on one sheet, and ready in less than one hour. This one-pan meal will indulge the whole family and makes for easy cleanup.
We love one-pan dishes since they are easy to make and can feed a larger crowd. In this version, we baked the Shake and Bake Pork Chops with potatoes, onion, and carrots, and the combination is absolutely delicious. We recommend you also try the other one-pan dishes, such as One Pan Honey Garlic Chicken and Rice, One Pan Italian Chicken and Rice, and Cranberry Orange Chicken.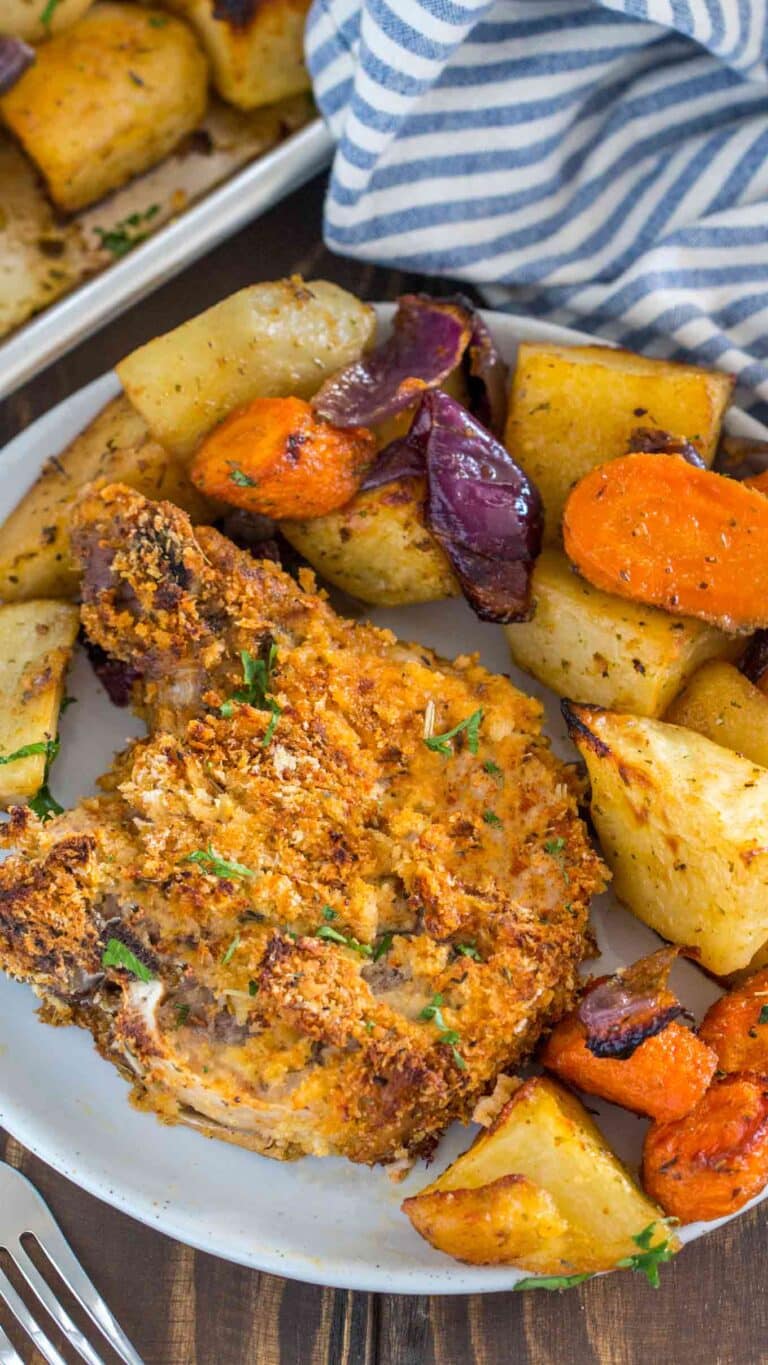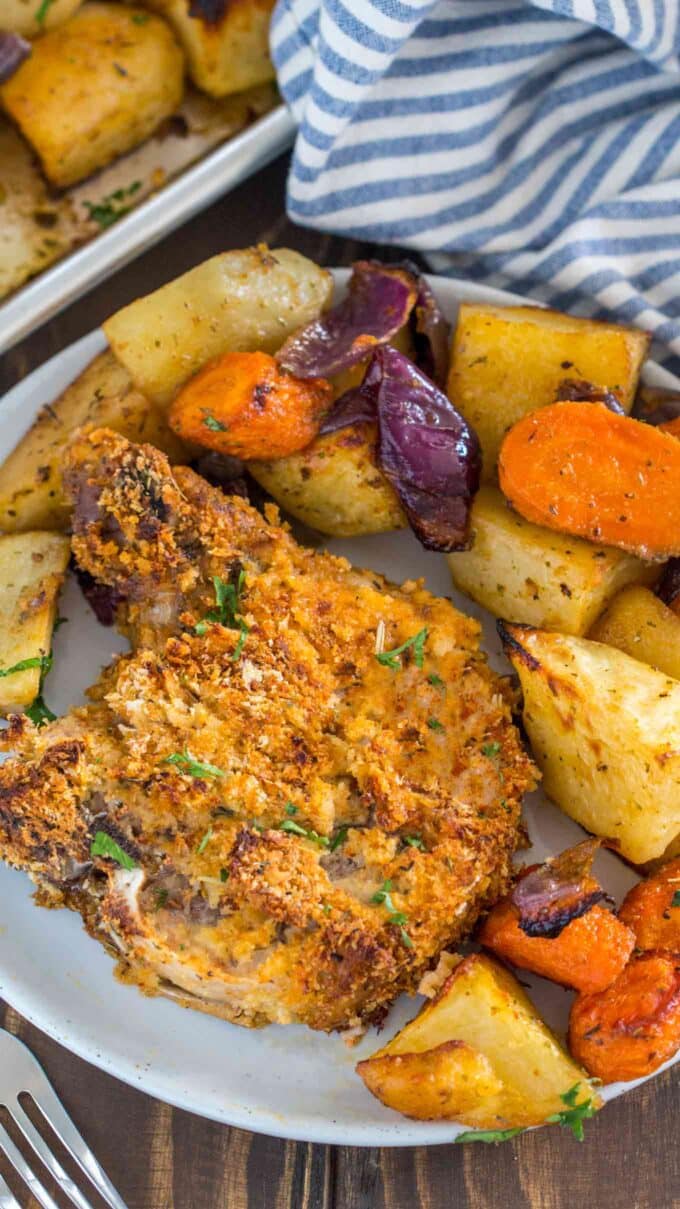 Easy Shake and Bake Pork Chops
Shake and Bake Pork Chops are coated with the delicious panko breadcrumb mixture and baked to golden brown perfection. This recipe brings all the childhood memories, and the home-based seasoning takes this dish to a whole new level. To make this a full meal, we baked the pork chops with potatoes, red onions, and carrots. Similarly, you can mix the Shake and Bake Pork Chops with your favorite veggies, such as asparagus, broccoli or bok choy.
We used ranch salad dressing and seasoning mix, garlic, thyme, and Italian herbs seasoning for the mix. Then, we used the mixture to coat both the potatoes and for the pork chop breading. The dry ranch seasoning gives this dish a rich and tangy flavor.
The nice thing about the breadcrumb coat is that it does two functions. First, it gives the pork chops the perfect golden color and crunchiness, and secondly, it preserves the moisture and gives the pork chops a nice and juicy center.
How to make a shake and bake pork chops?
Shake and Bake Pork Chops are very easy to make. The recipe consists of setting up 2 easy stations:
Egg and Milk Dip Stations
Here you just combine the egg and the milk, whisk to combine and dip the pork chops first before tossing into the breadcrumb mix.
Here you combine the panko breadcrumbs with the seasoning mix and toss in the pork chops after you dip them in the milk mixture.
How long do you bake shake and bake pork chops?
For this shake and bake pork chops version, we have used bone-in pork chops, about 1 inch thick. It is best to cook them at 400°F for about 25 minutes, or until golden brown. For boneless center-cut pork chops, the cooking time will be about the same.
If you cook the pork chops at a lower temperature, such as 350°F degrees, the cooking time should be increased to about 40 minutes. Please note, that cooking at a lower temperature will make the pork chops to have a softer crust.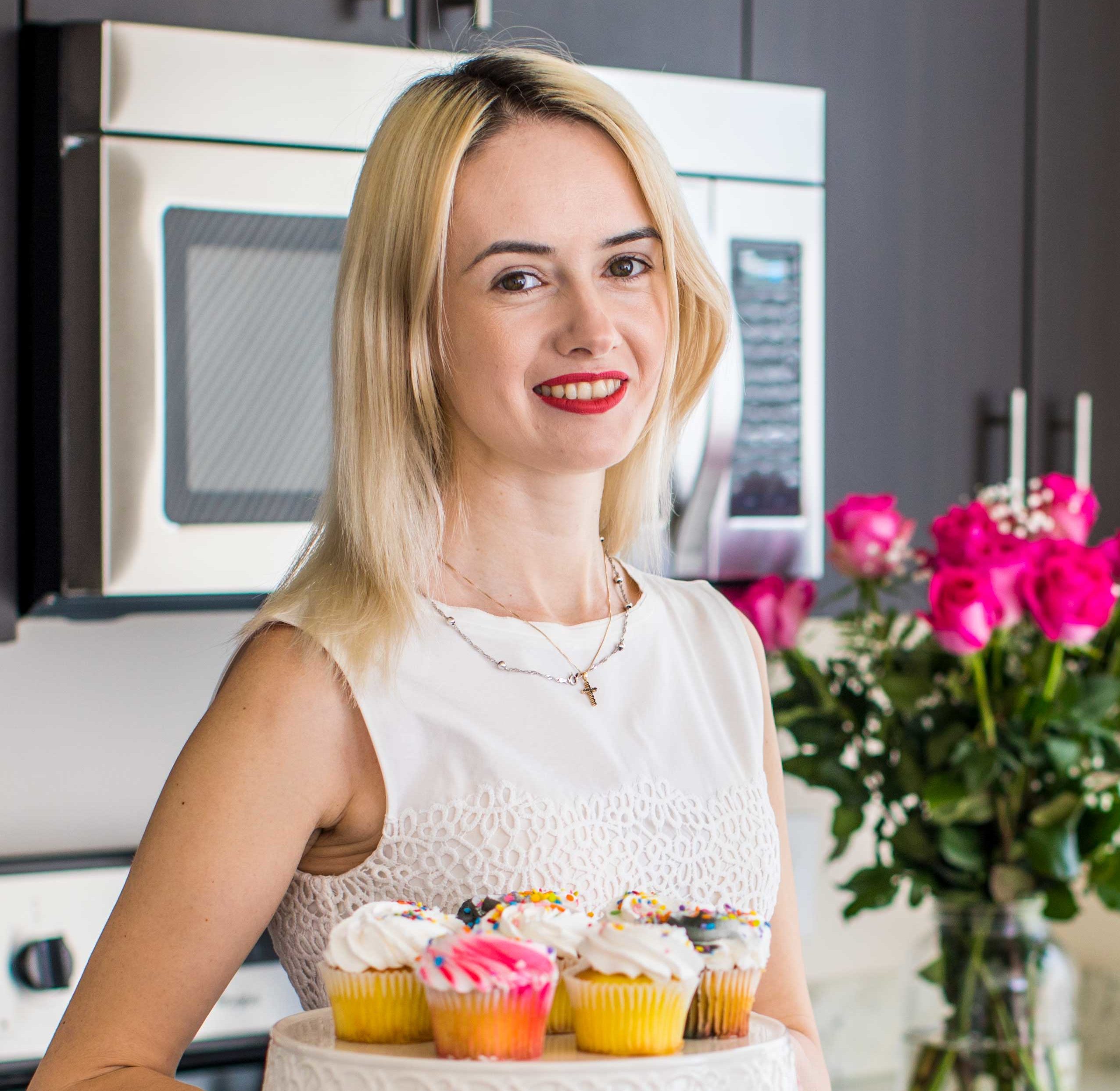 Follow us on Pinterest for more delicious recipes!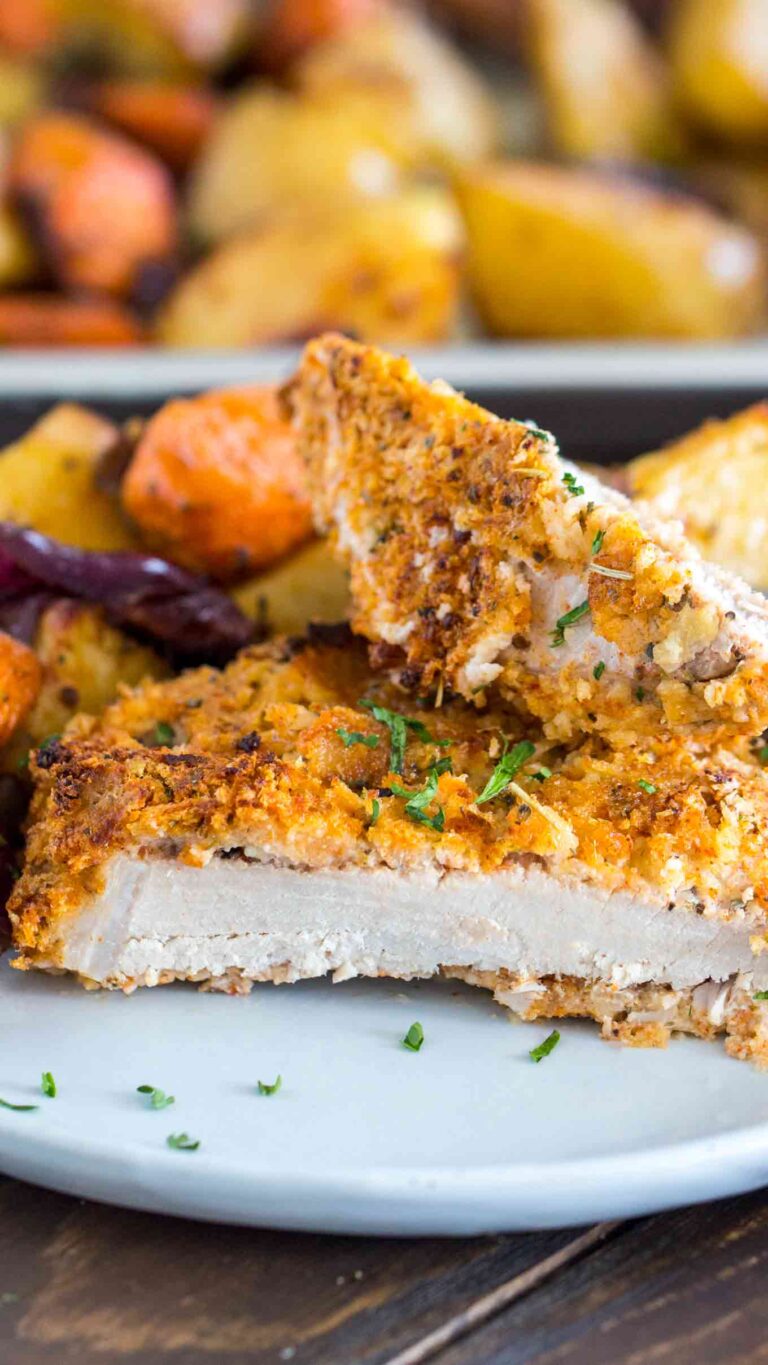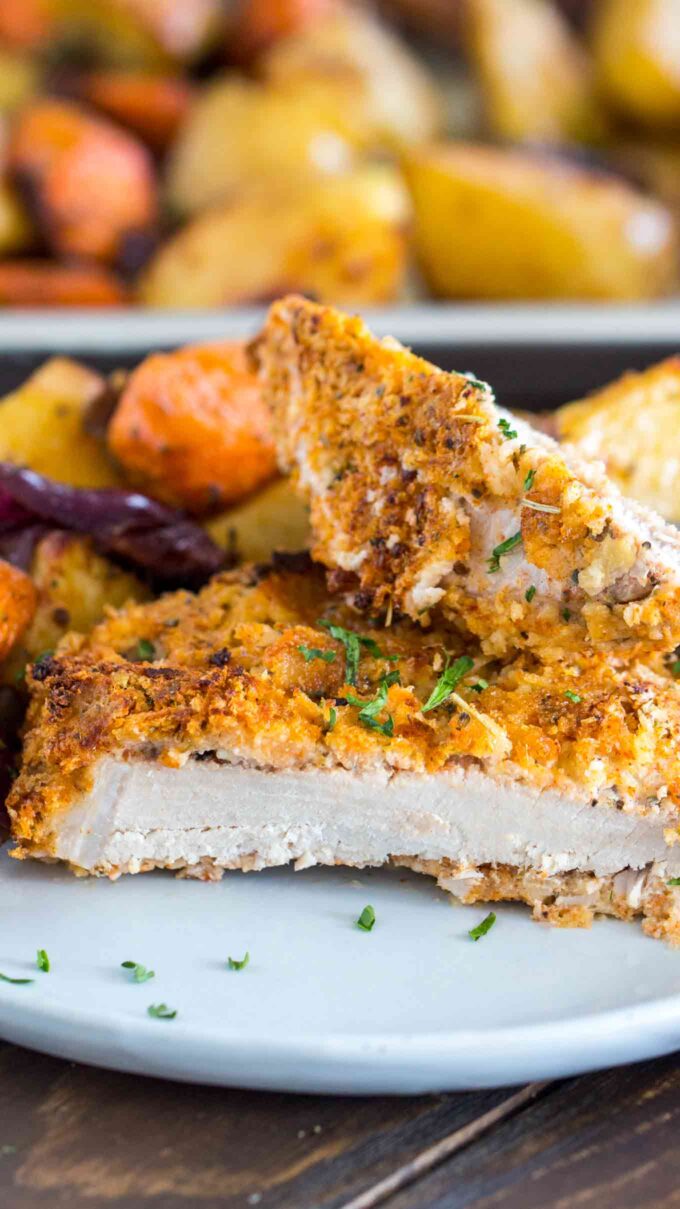 How do you make baked pork chops crispy?
The secret to making the pork chops crispy is to bake them at a higher temperature. For best results, we recommend you bake them at 400°F for about 25 minutes. Similarly, you could bake them at 425°F for about 18-20 minutes.
Can I substitute chicken for pork chops?
Absolutely. Chicken is a great alternative for pork chops in many recipes including this one. If you are going to use chicken, I would recommend using either bone-in/skin-on chicken thighs or chicken breast.
The cooking time for chicken breast will also be longer, make sure the internal temperature of the chicken is 165 degrees Fahrenheit. That means the chicken is cooked and safe to consume.
Can you fry Shake and Bake Pork Chops?
If you wish to pan-fry your coated pork chops, use a small amount of vegetable oil that is low in saturated fats like canola oil. Fry the pork chops in a large skillet over medium-high heat, for about 5 minutes on each side.
Are Pork Chops healthy or good to eat on a diet?
Pork chops are lower in fat and calories than some other cuts of pork, including ribs. They are great as a part of an overall healthy and balanced diet but keep the serving size to about 3 ounces to avoid consuming too much fat or calories. Add more nutrients by serving the pork chops with roasted veggies or salad. Avoid frying them and keep the breading light to cut on calories.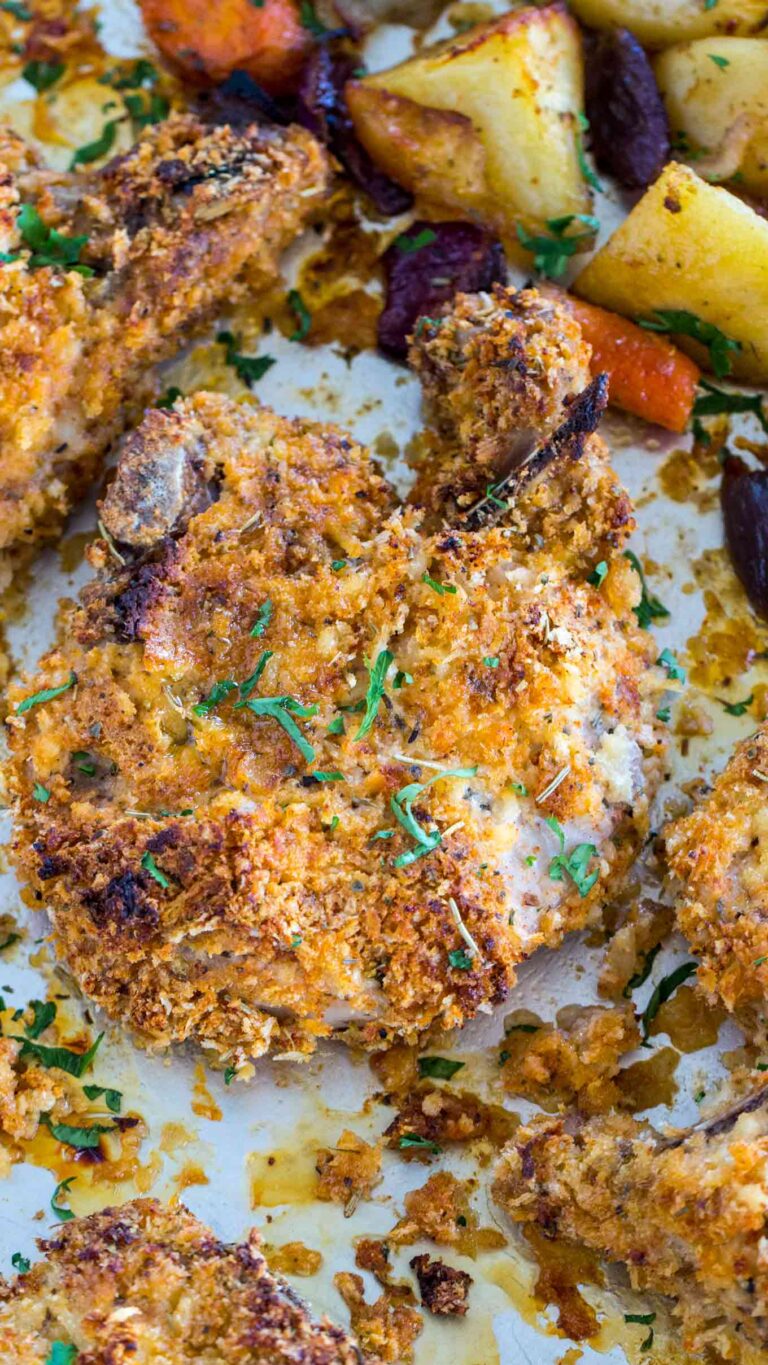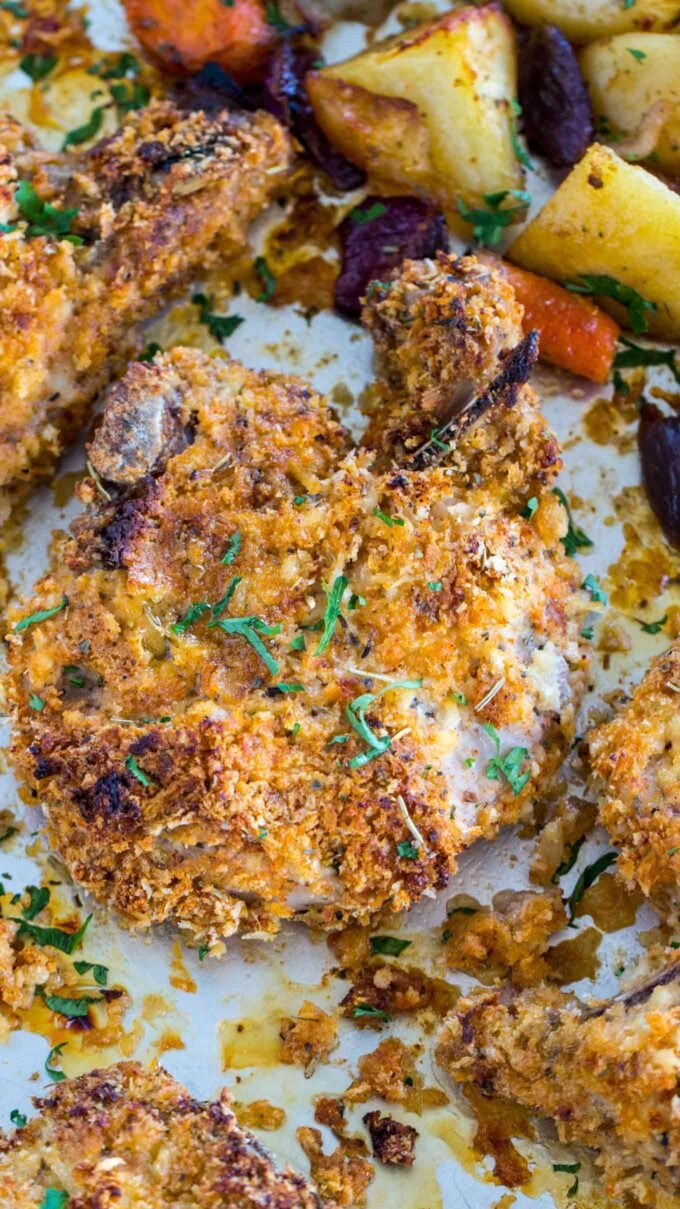 What can I use instead of Ranch seasoning?
1 teaspoon dried parsley
1/4 teaspoon ground black pepper
1/2 teaspoon salt
1/2 teaspoon of garlic powder, onion powder, and dried thyme
In a small bowl, stir together all the ingredients and use it as a substitute for Ranch Dressing Mix.
What to serve with Shake and Bake Pork Chops?
Baking the pork chops is an excellent idea because you can mix them with your favorite side dishes. We love to season some potatoes and bake them together with pork chops. Similarly, you could bake them with sweet potatoes, broccoli, asparagus, bok choy, zucchini, or mushrooms.
What wine pairs well with Shake and Bake Pork Chops?
Pork pairs nicely with red wines such as Pinot Noir or Cabernet. Preferably to use light-bodied red wines that don't overpower the flavors of the meat. Similarly, the bright acidity is a nice match for the slight fattiness in the pork.
Oven-Baked Pork Chops Recipe Tips:
Try to buy organic pork, the quality of the meat is very important.
Look at the color of the pork, it should be a nice reddish pink color to a purplish red. People think that lighter colored pork is usually fresher and better, but it is the opposite. The darker the pork is the better it will taste!
The meat also should not have an unpleasant rotten smell, if you smell that and see more of a brownish color, look for a better cut.
If you like it spicier, add some extra cayenne pepper or red pepper flakes.
For a thicker coating, after you dip the pork chops in the milk mixture and toss them in the breadcrumb mixture, repeat the dipping and tossing one more time.
If you plan to dip and toss twice, you will need to double the breadcrumb mixture.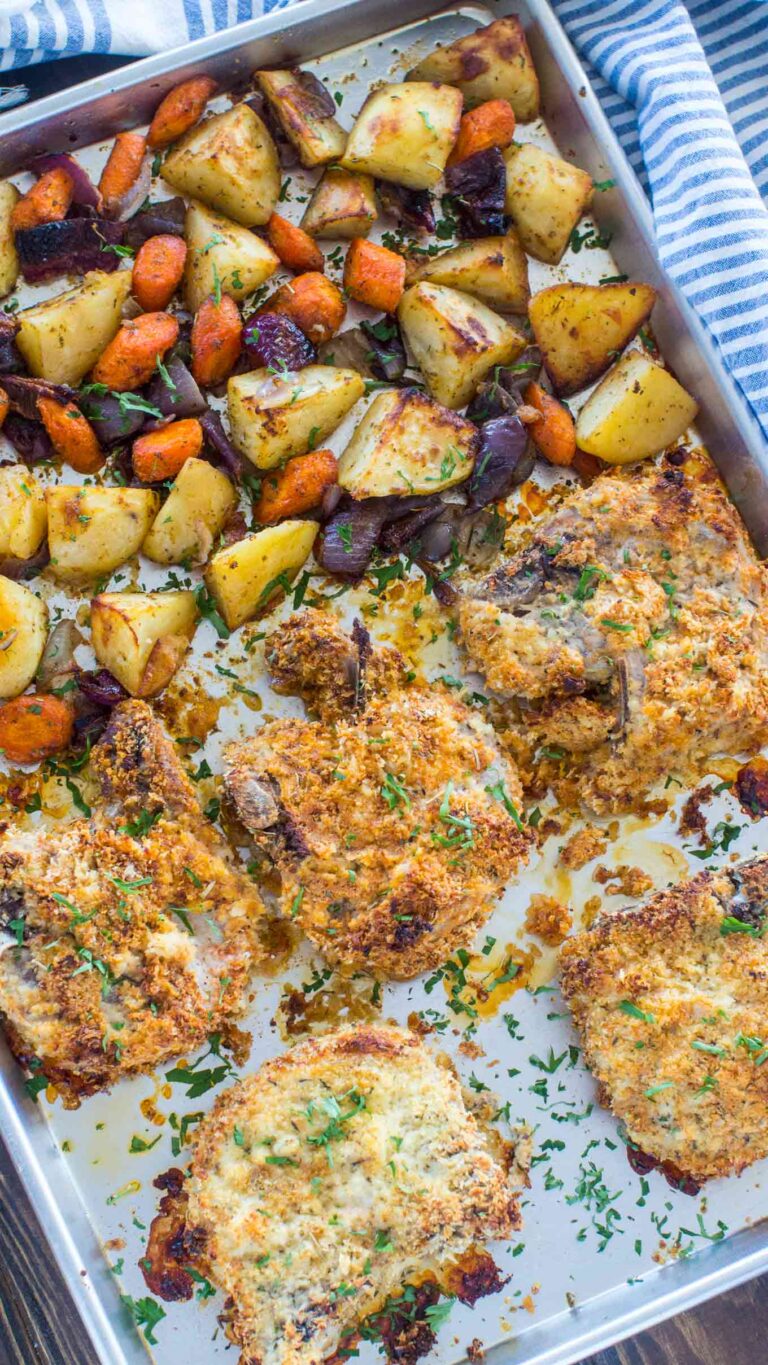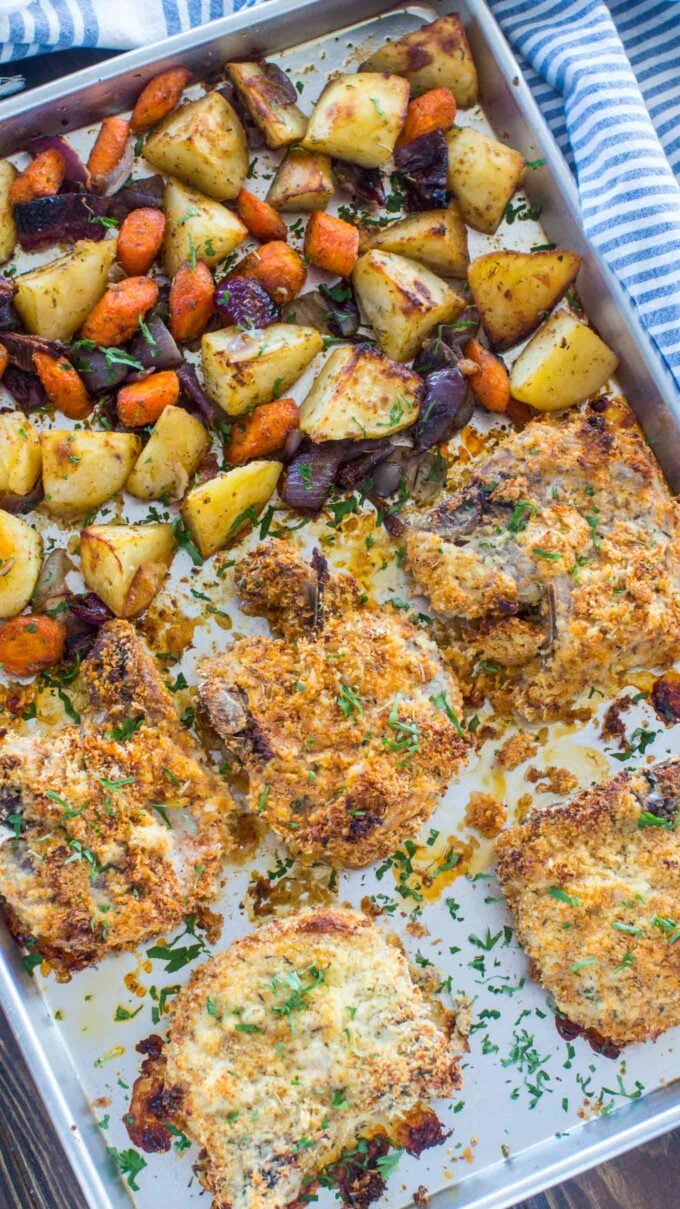 Save Recipe
Shake and Bake Pork Chops
Author: Catalina Castravet
Serves: 5 servings
Prep time:

15

minutes
Cook time:

30

minutes
Total time:

45

mins
Ingredients
Seasoning Mix
Calories: 516 Carbohydrates: 32 Protein: 44 Fat: 22 Saturated Fat: 7 Cholesterol: 156 Sodium: 252 Potassium: 895 Fiber: 6 Sugar: 3 Vitamin A: 3840 Vitamin C: 22.8 Calcium: 157 Iron: 7.4
Save Recipe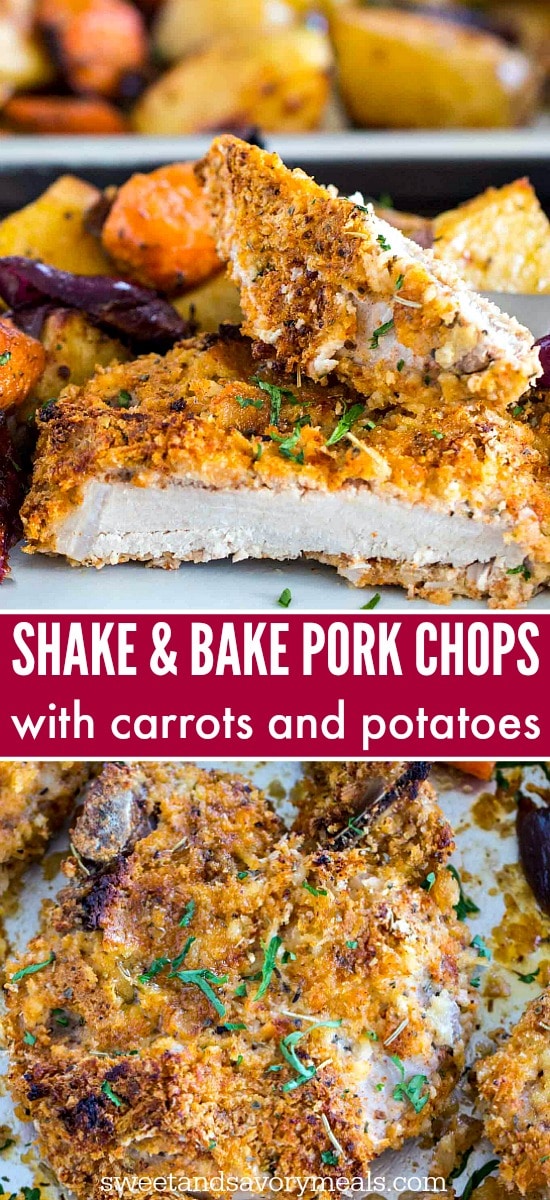 More recipes you might love