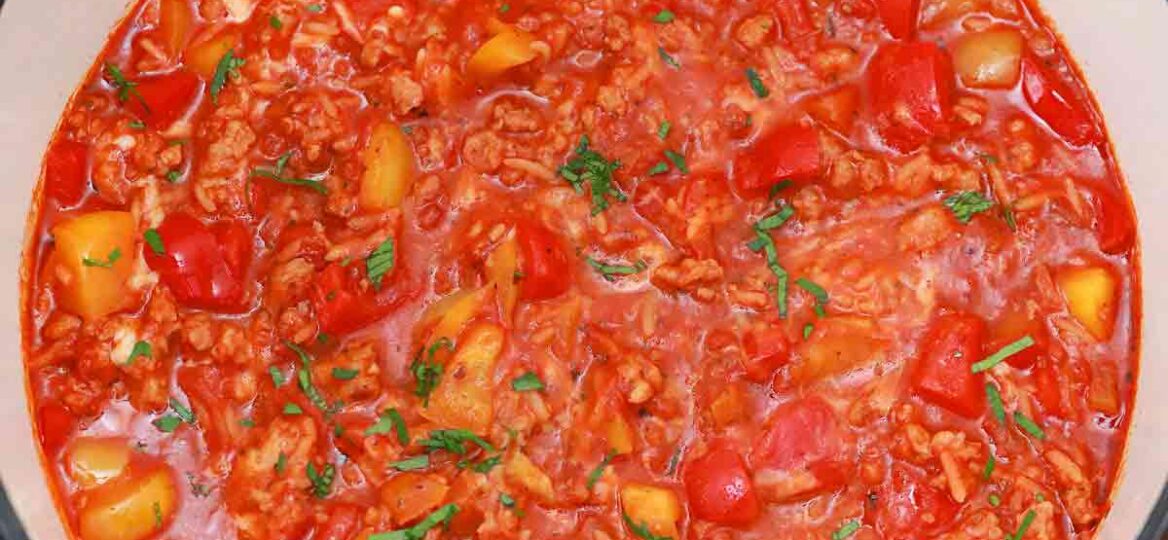 Unstuffed Peppers is everything delicious about stuffed peppers packed in one easy skillet or dutch oven meal! Seasoned sausage meat, rice, and vegetables are cooked together, then finished with melted cheese. A family-sized meal that takes less than an hour to make!
Don't you just love one-pan recipes? Any meal that doesn't leave me a ton of dirty pans to wash is always a winner in my book. One skillet is all you need to make this Sticky Honey Garlic Beef, Whole Roasted Red Snapper with Potatoes, and Cranberry Orange Chicken for dinner tonight!
Homemade Unstuffed Peppers
Unstuffed Peppers are what I make when the cravings strike, but I'm not in the mood or don't have time to fill up individual peppers one by one. The solution? Throw it all in one pan for an incredibly flavorful and hearty skillet meal!
My family really enjoys this delicious comfort food, especially with all that cheese that gets melted and golden on top. Also, I love serving it straight from the skillet, so it's piping hot and everyone can serve themselves while talking about our day.
There are so many ways to customize it too, from changing up the protein to swapping veggies and seasonings!
What is Unstuffed Peppers Skillet?
The dish has all of the components of Stuffed Peppers, such as the meat, tomatoes, rice, and peppers— except we skip the stuffing part.
Instead, all the ingredients are cooked together in the same pan, kind of similar to Spanish paella. The beauty of this version is that it allows the flavors to meld, so you get a bit of everything in every bite.
How do you make Unstuffed Peppers?
Brown the sausages. First, crumble and brown them nicely, then add the aromatics. Then, drain as much of the excess fat as you can.
Cook meat with rice and seasonings. To the browned sausage, add Worcestershire and tomato paste, then sauté a bit. Follow this with the rice, fresh tomatoes, water, herbs, and season to taste. Cook over a gentle simmer for about 10 minutes.
Add peppers. Next, take your diced peppers and stir them in, and let the rice finish cooking until perfectly tender. Stir once more.
Finish with cheese. Top with mozzarella and let it melt.
Serve. Plate it up with freshly chopped parsley, and enjoy hot!
Recipe Variations:
Use other meats: Try this with other meats like low-fat ground turkey, shredded roast chicken, lean pork, and ground beef. Bacon is a great addition to the main protein too!
Add more veggies: This dish is also delicious with other veggies like corn kernels, mushrooms, shredded zucchini, frozen green peas, fresh baby spinach, and carrots.
Make it vegetarian: Skip the sausages and use tofu or other meat substitutes.
Use other seasoning blends: Switch it up with some taco mix or Cajun seasoning blend.
Use other cheeses: Boost the flavor with some sharp cheddar, spicy pepper jack, or Monterey Jack.
Skip the white rice: Enjoy it with quinoa, cauliflower rice, or fiber-rich brown rice.
What rice is best for unstuffed peppers?
Long grain rice is ideal for this dish. Its flavor is very mild, and it absorbs the flavors of the sausages and seasonings beautifully.
What is the correct rice to water ratio?
Generally, follow a 2:1 ratio of water to rice. That's assuming you're using the regular raw variety, not any quick-cooking kind.
Also, make sure your skillet is big enough as well because the rice will expand when it's done. I explain how to achieve perfect rice every time here!
Can you make it in advance?
Yes, because it freezes well without compromising taste and texture. If you do make it ahead, follow storing instructions properly.
How to store leftovers?
First, cool the dish completely before transferring it to a well-sealed container. Then, consume leftovers within 3 days if kept in the fridge.
How to freeze it?
Follow fridge storage instructions, except using a freezer-friendly container. Consume within 1 month after freezing.
In addition, I suggest dividing it into portions first so you can heat up only as much as you want to eat! To serve, thaw overnight, then microwave until hot.
More easy comfort food Recipes:
Recipe Tips:
Substitute stock for the water for a boost of umami and flavor.
Make it more visually appetizing by using different-colored veggies.
If you like it spicy, use hot sausages.
Also, feel free to make it in the Instant Pot.
For a Mexican twist, try my Slow Cooker Stuffed Peppers recipe.
Deliciousness to your inbox
Enjoy weekly hand picked recipes and recommendations