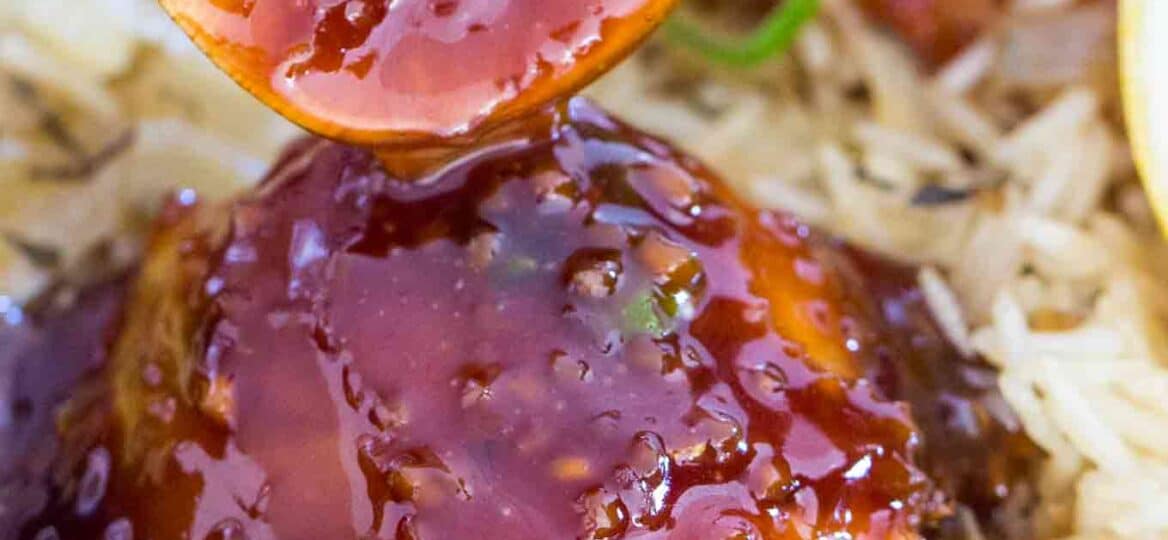 Easy One Pan Honey Garlic Chicken and Rice [Video]
One Pan Honey Garlic Chicken and Rice is sweet and savory with tender chicken baked with flavorful rice. This is a restaurant-quality meal made easily and conveniently at home.
We love making easy and delicious poultry meals for the family to enjoy. Among our most popular dishes are Instant Pot Orange Chicken, Slow Cooker Garlic Sesame Chicken and One Pan Italian Chicken.
One Pan Honey Garlic Chicken and Rice
One Pan Honey Garlic Chicken and Rice is so amazingly tasty that I guarantee you it will become one of your go-to dinners. This meal is so easy to make, budget-friendly, easy to find ingredients and bursting with flavors.
The chicken is incredibly tender and served with the most delicious, sticky, honey garlic sauce. You can totally cook the rice separately, but why would you, if you can easily cook everything in one pan and infuse it with flavors.
After you brown the chicken, sear the rice with some onions, you add it back to the pan, cover with foil and bake everything. You end up with amazing buttery rice and super juicy meat, covered in the most fantastic sauce. One Pan Honey Garlic Chicken and Rice may just win the medal for one of the best dinners ever.
Take a look at the video below for step by step guide on how to prepare this meal.
One Pan Honey Garlic Chicken and Rice Recipe Tips:
I used organic boneless thighs, but this recipe also works with skin-on – bone-in chicken tights and as I have mentioned above with chicken breast. You don't have to adjust the cooking time for bone-in chicken thighs.
Also, if you are allergic to honey, you can replace it with maple syrup.
You can use sesame oil instead of canola oil for extra flavor.
For extra flavor add fresh ginger, but if you don't have any on hand, use 1 teaspoon of ground ginger powder.
Similarly, you can add more or less garlic, based on your own taste preference.
You can make this meal spicier by adding 1/2 teaspoon of red pepper flakes or more or some hot sauce.
Rice vinegar can be replaced with apple cider vinegar or any white vinegar.
If the sauce is too runny, add a cornstarch slurry, mix 1-2 teaspoons of cornstarch with the same amount of water and add it to the sauce. Please note, that the sauce will get thicker with time, so definitely wait a bit before adding more cornstarch.
3-4 minutes before the dish is done, uncover the pan, brush the chicken with the honey garlic sauce and broil it for 3-4 minutes for a crispier top.
Can I make this meal using Boneless Chicken Breast?
Yes, you can, sear the chicken to brown it, set them aside, cover with foil. Add the rice to the pan, and do NOT add the chicken. Follow the directions for the sauce. Transfer the rice to the oven and cook the rice covered for 25 minutes. After that add the chicken breast on top and cook for another 20 minutes. Add the sauce on top of the chicken and enjoy.
This is such an easy recipe, that you can also adjust based on your preference. You can skip the sauce part and just cook it with a garlic rub, some oil, salt, pepper, fresh lemon zest, and juice. It will taste delicious and it will make up for a very easy and quick dinner.
What wines pair well with Honey Garlic Chicken and Rice?
A nice, fruity red wine such as Zinfandel or Syrah will pair nicely with the flavors in this delicious homemade dish.
For a white option, Riesling or Pinot Grigio are always a great match for the chicken dish like this.
How to store leftovers?
If you end up with leftovers, simply transfer it to an airtight dish and refrigerate. It is best to store in the fridge for up to 4 days. Also, you can freeze it using a freezer-proof dish, for up to 3 months.
Deliciousness to your inbox
Enjoy weekly hand picked recipes and recommendations