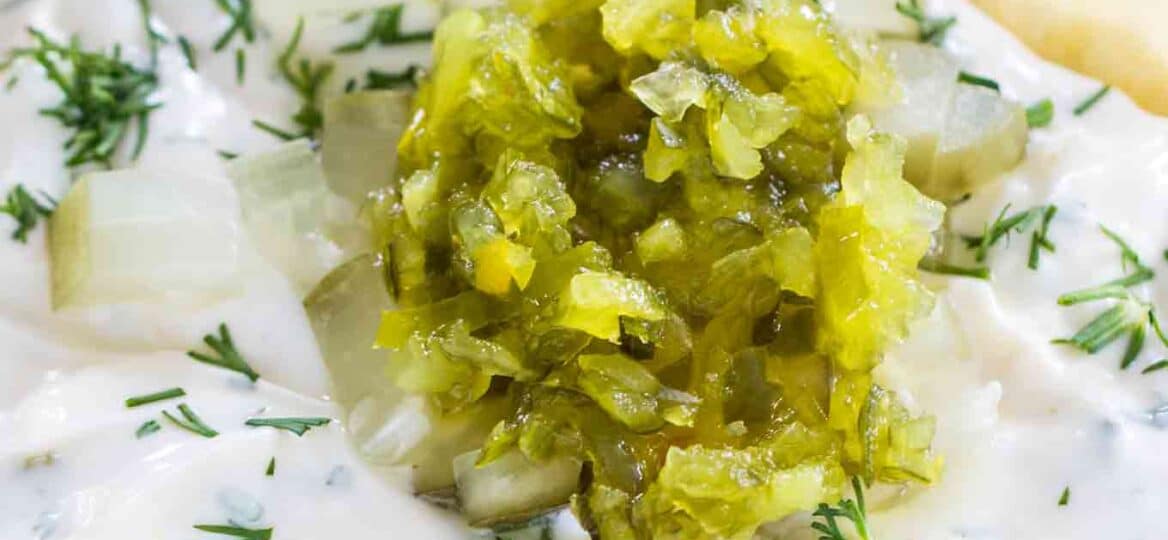 Dill Pickle Dip will amaze your guests as a keto-friendly appetizer or easy party snack for any gathering. The popular pickle flavor can now accompany any dippable food!
Dips are perfect for parties, they are easy to make, can be prepared in advance and are so versatile when it comes to flavors and foods you can serve them with. Among our most popular dips, you will find this amazing Spinach Artichoke Dip and the unbelievably delicious and filling Buffalo Crack Chicken Dip.
Easy Dill Pickle Dip
You will notice that we use sweet relish in addition to diced dill pickles in this recipe. The combination of dill and sweet pickles makes this dip extra special and exceptional. Usually, Dill Pickle Dip is a favorite among party appetizers. We like to serve it with crunchy veggies, chips or even mini hot dogs and sausages.
What do you need to make Dill Pickle Dip?
Mayo
Sour Cream
Sweet relish
Pickles
Horseradish
Pickle juice
Green onion
Fresh dill
How do you make Dill Pickle Dip?
First, add all the ingredients to a large bowl and stir to fully combine.

Next, garnish the dip with extra diced pickles, fresh dill, and diced green onions.

Serve with chips or crunchy veggies on the side.

Store in the fridge in an airtight container.
What is sweet relish?
Relish is a pickled condiment of cucumber jam and it is a common condiment in North America.
First, to make cucumbers into sweet pickles, they are pickled in a mixture of vinegar, water, sugar, and spices. Similarly, other seasonings like a mustard seed, cinnamon, and onion are frequently used to marinate with sweet pickles.
In addition to seasoning, sweet pickle relish uses red pepper, sugar, and vinegar. Instead of spears, the cucumbers are finely diced, while the cider vinegar gives it the tang that is associated with pickles.
What is a good substitute for sweet relish?
You can substitute dill relish for sweet relish, but the flavor will be much more tart than sweet. Similarly, it is also recommended to use capers, olives, parsley or cilantro for flavor instead of sweet relish.
How long does pickle dip last?
Since this recipe is made with dairy products, it will need to be refrigerated continuously. When you refrigerate the homemade Dill Pickle Dip appropriately, it should last three to four days.
How to freeze dill pickle dip:
Like most dips, this one is freezer-friendly. A general rule of thumb to follow, the higher the fat content in the dip, the better it will freeze. Before freezing, just be sure to transfer it to an air-tight container, and use the dip within 2 months.
What do you eat with dill pickle dip?
This recipe is very easy to make and also bonus points for being keto-friendly. Since the dip is non-pretentious, you can serve it with a large variety of dippable snacks.
We recommend pretzels, potato chips, peppers, carrot sticks, and celery as they all taste great with dill pickle dip. If you have leftovers by any chance, use the dip as a sandwich spread the next day. It will add extra flavor and its especially delicious on chicken or ham sandwiches.
Other foods to serve with it:
Watch HOW TO MAKE DILL PICKLE DIP VIDEO:
Deliciousness to your inbox
Enjoy weekly hand picked recipes and recommendations