Bacon Wrapped Broccoli Tots [video]
Bacon Wrapped Broccoli tots are a fun, healthier twist on tater tots. Wrapping the tots in bacon and covering them in maple and brown sugar glaze, makes for a delicious and easy party appetizer!
We love Bacon on this blog and especially quick and easy appetizers in which bacon is front and center. We have Bacon Wrapped Shrimp in a brown sugar glaze, these are always a hit.
Check our Bacon Wrapped Drumsticks, Bacon Wrapped Meatloaf or Bacon Wrapped Pork Tenderloin, for a dinner option that any bacon lover will simply adore.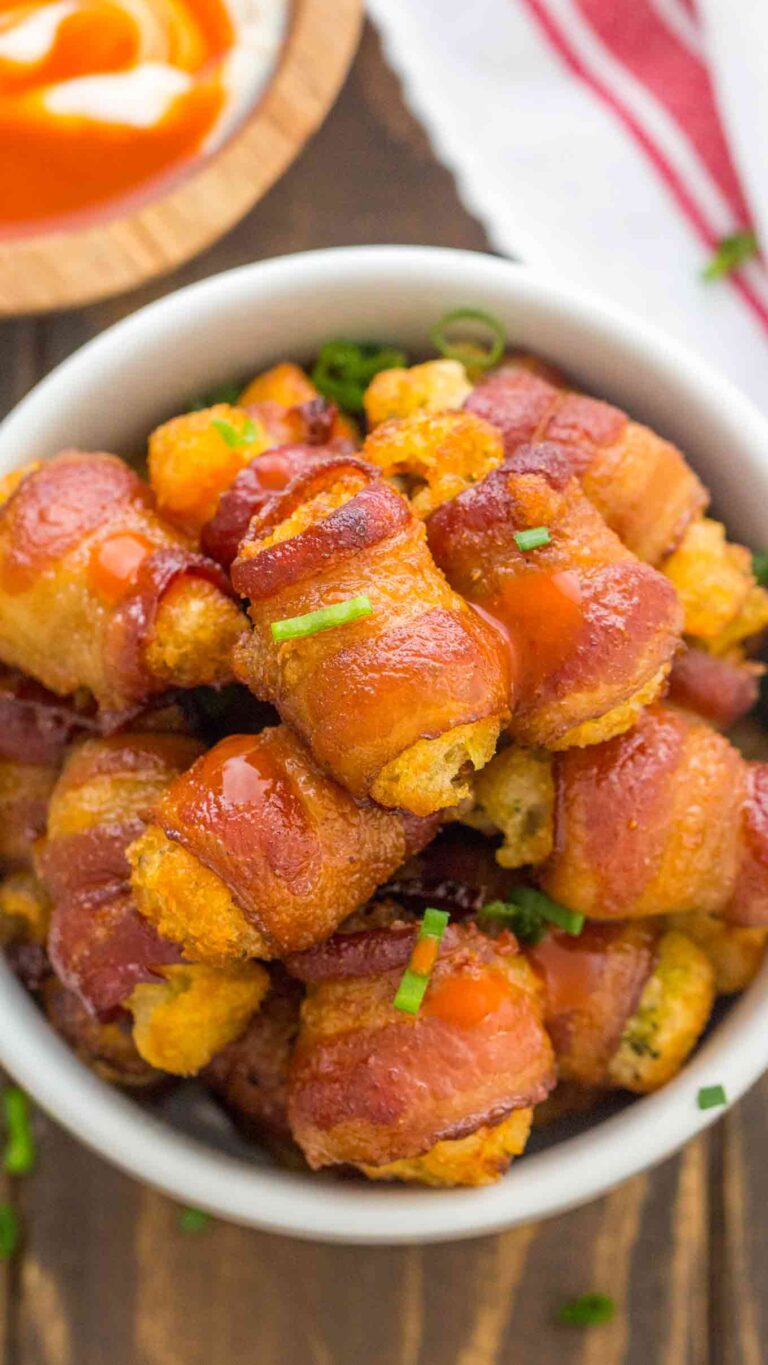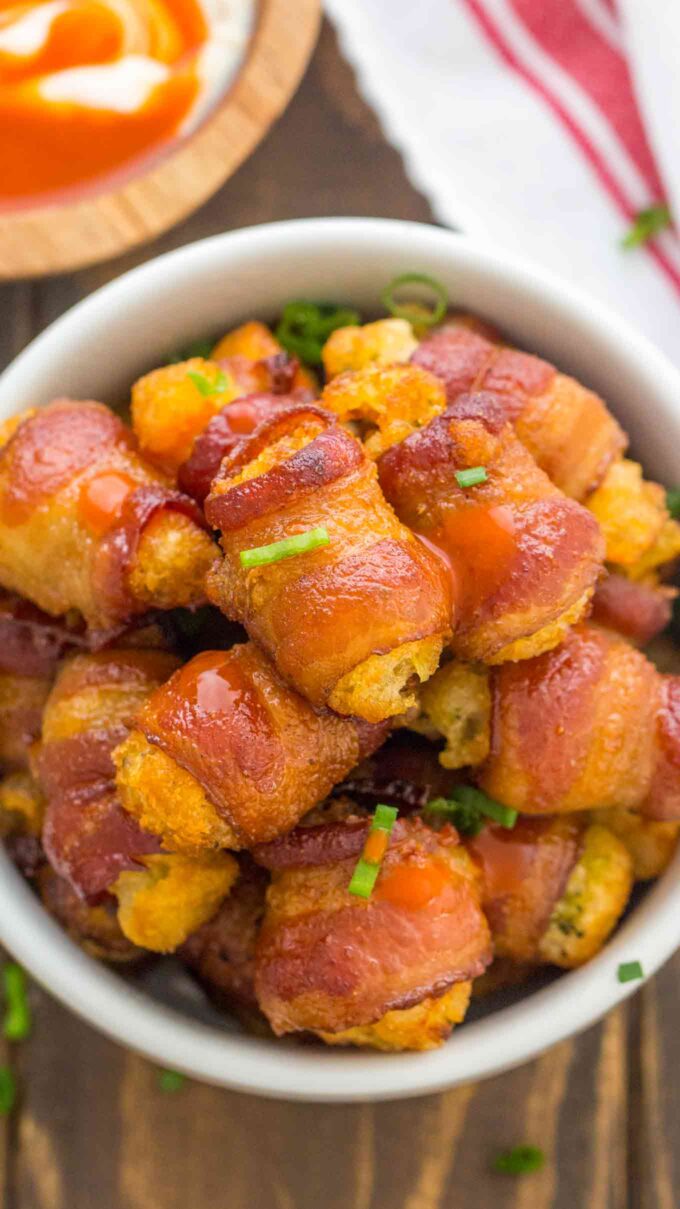 Easy Bacon Wrapped Broccoli Tots
Broccoli Tots are already delicious and in my opinion the best way to get you broccoli fix, but since bacon makes everything better, don't hesitate to give these a try!
How do you make Broccoli Tots?
Just as tater tots are made from finely minced potatoes, broccoli tots are made with finely minced broccoli. They're bite-sized finger food, so of course, kids love to eat them. Broccoli tots are a great way to add veggies to any meal.
You can make your own broccoli tots from scratch, or buy them pre-made from the frozen food section of the grocery store. To make this recipe as quick and easy as possible, we use the pre-made variety.
Other Varieties of Veggie Tots
As we mentioned, veggie tots are a great way to make eating veggies fun and delicious. The vegetable pieces are very small, making them more palatable for kids. We have seen several varieties of veggie tots available in grocery stores. With recipes available online, another option is to make them yourself.
Feel free to get creative with them! Firm veggies that are easily shredded or minced are great options for making veggie tots. If you want to try making your own, we recommend the following veggies:
cauliflower tots
carrot tots
broccoli tots
tater tots
sweet potato tots
Brussels sprout tots
corn tots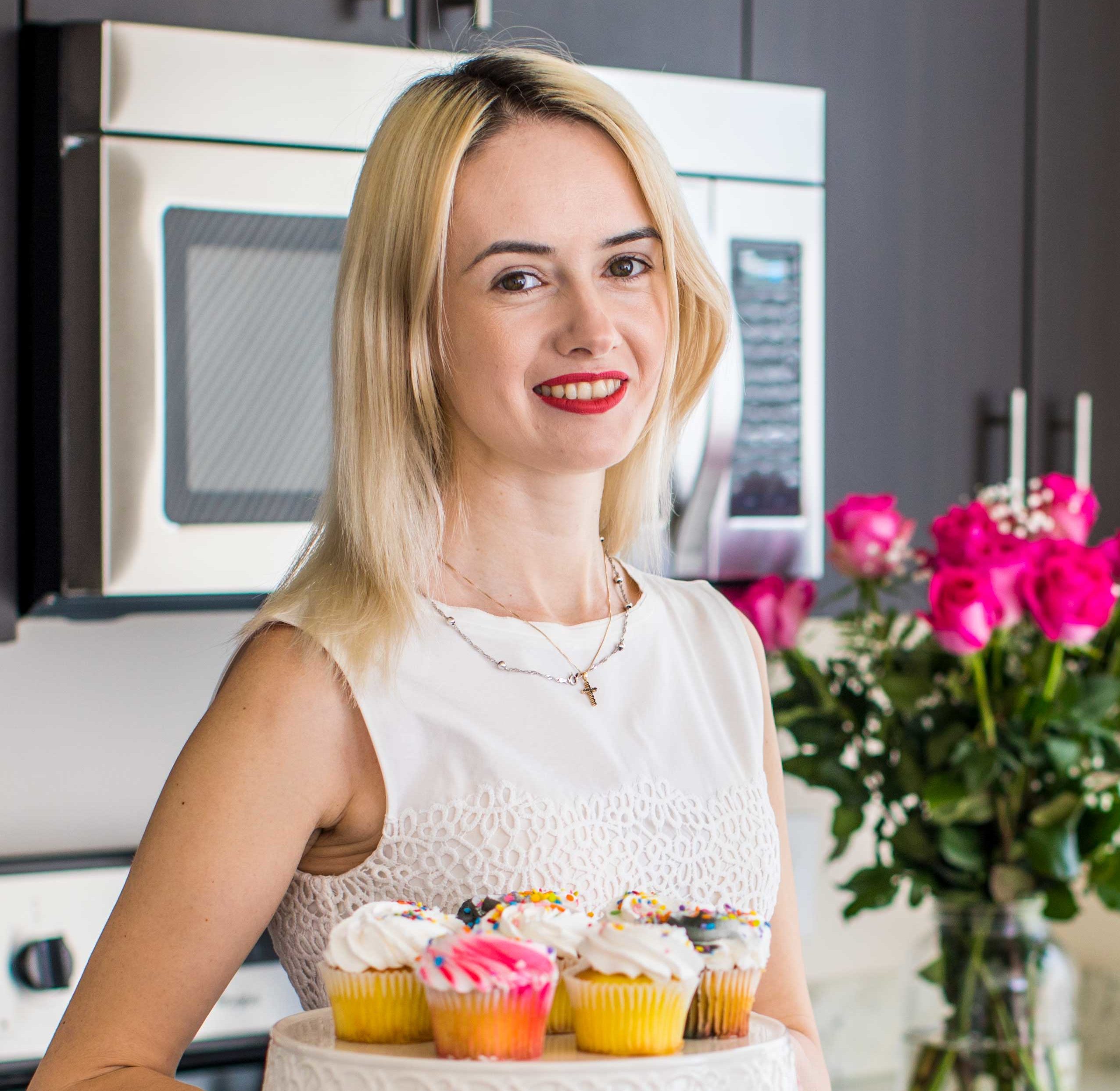 Follow us on Pinterest for more delicious recipes!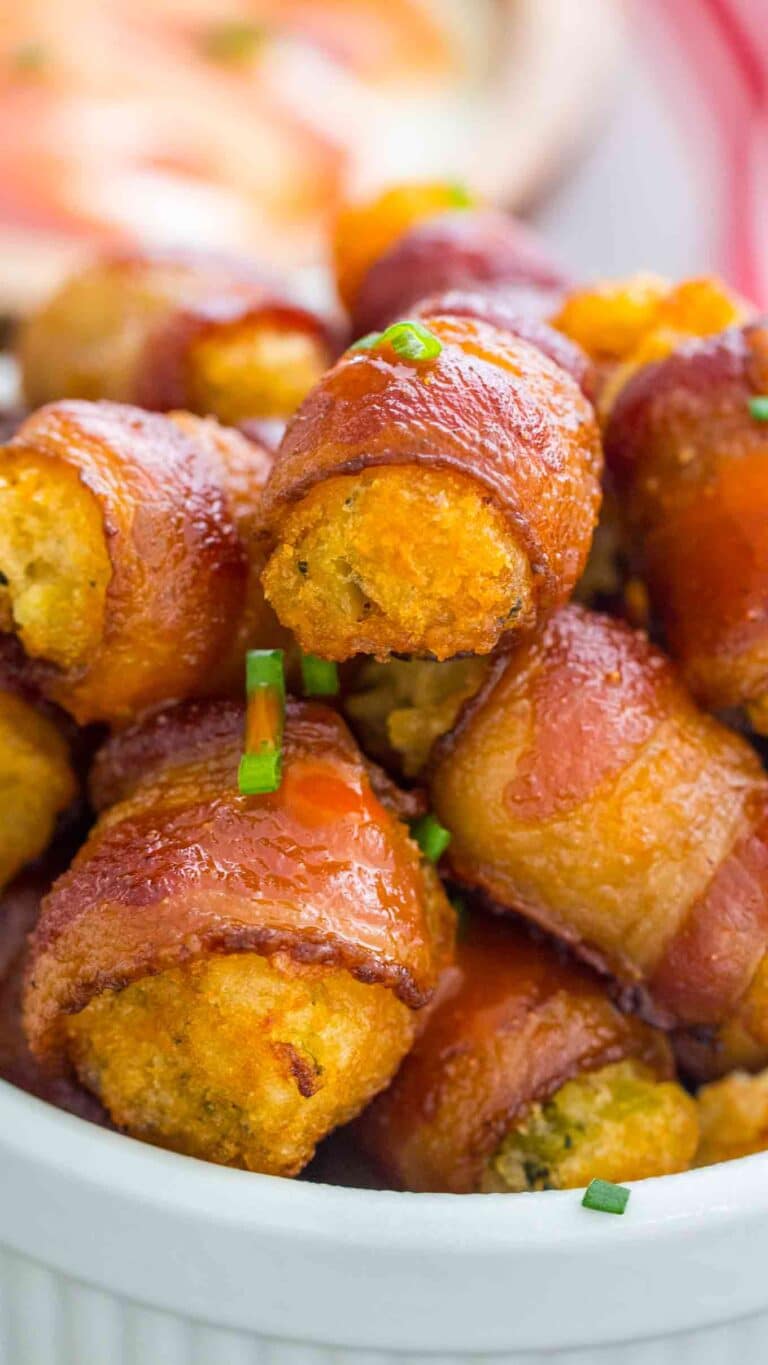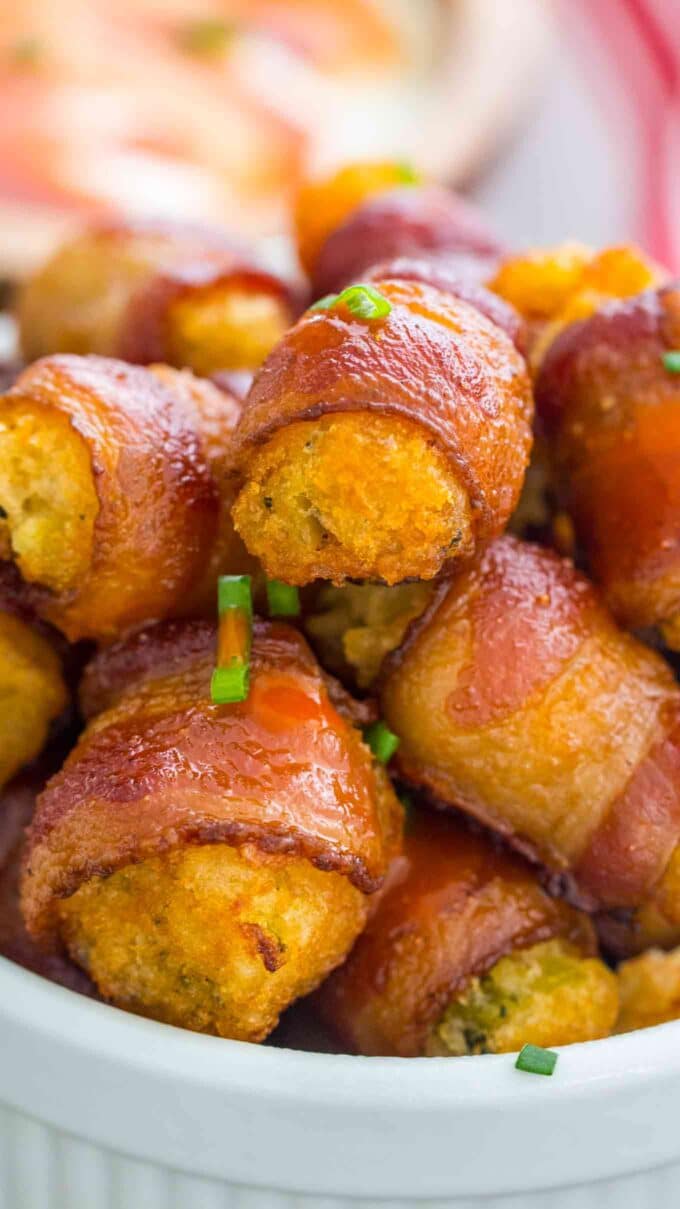 What do you need to make Bacon Wrapped Broccoli Tots?
Bag of frozen broccoli tots
Bacon
How do you make Bacon Wrapped Broccoli Tots?
To make the veggie tots into an easy appetizer, simply wrap eat tot with bacon. After all, nearly everyone loves bacon! One of our favorite bacon appetizers is Bacon Wrapped Shrimp with Brown Sugar.
After you wrap them with bacon, brush each one with maple and brown sugar glaze, then bake for about 20 minutes, until the bacon is crispy and the glaze caramelizes.
How do you make sticky brown sugar glaze?
1/3 cup maple syrup
1/4 cup brown sugar
1/2 teaspoon paprika
1/4 teaspoon cayenne pepper
Instructions
First, add all the ingredients to a small bowl or measuring cup and stir well.

When combined, use a baking brush to brush the glaze onto the bacon wrapped broccoli tots.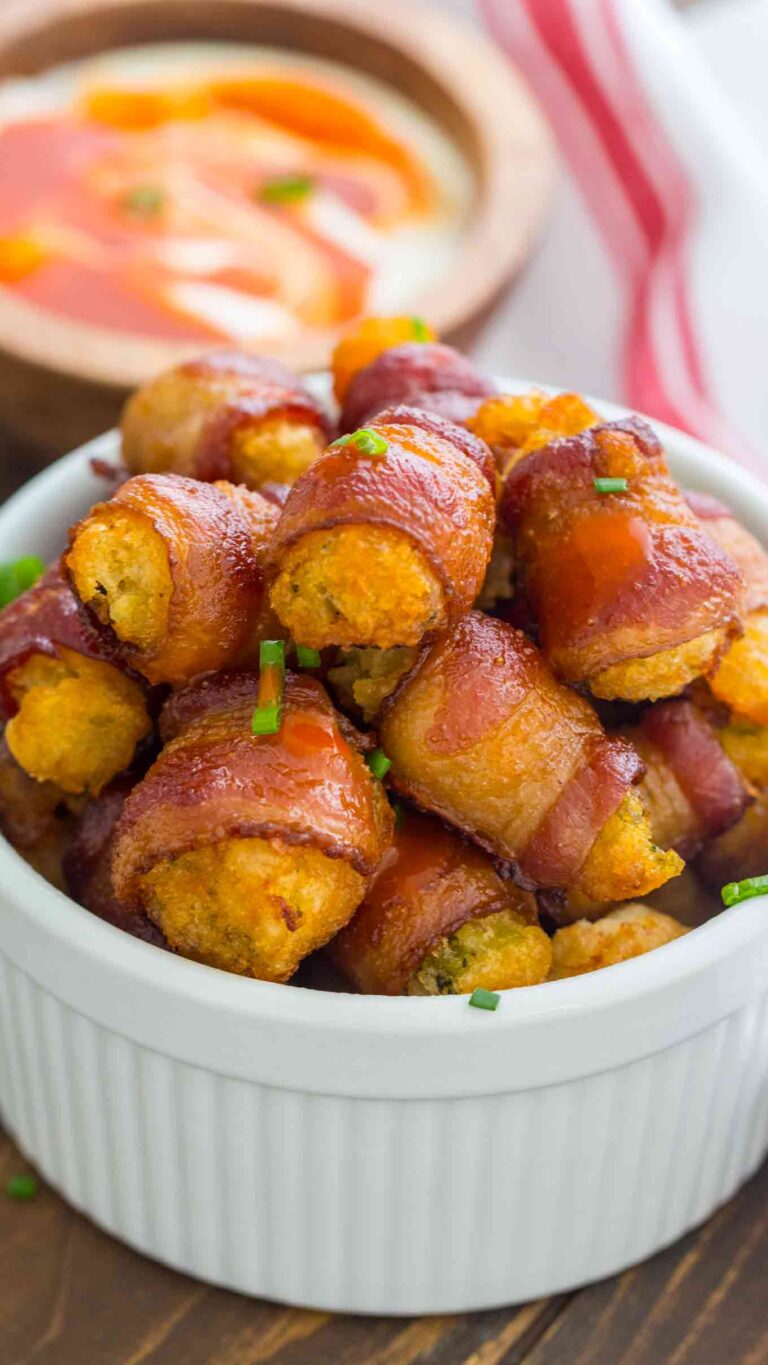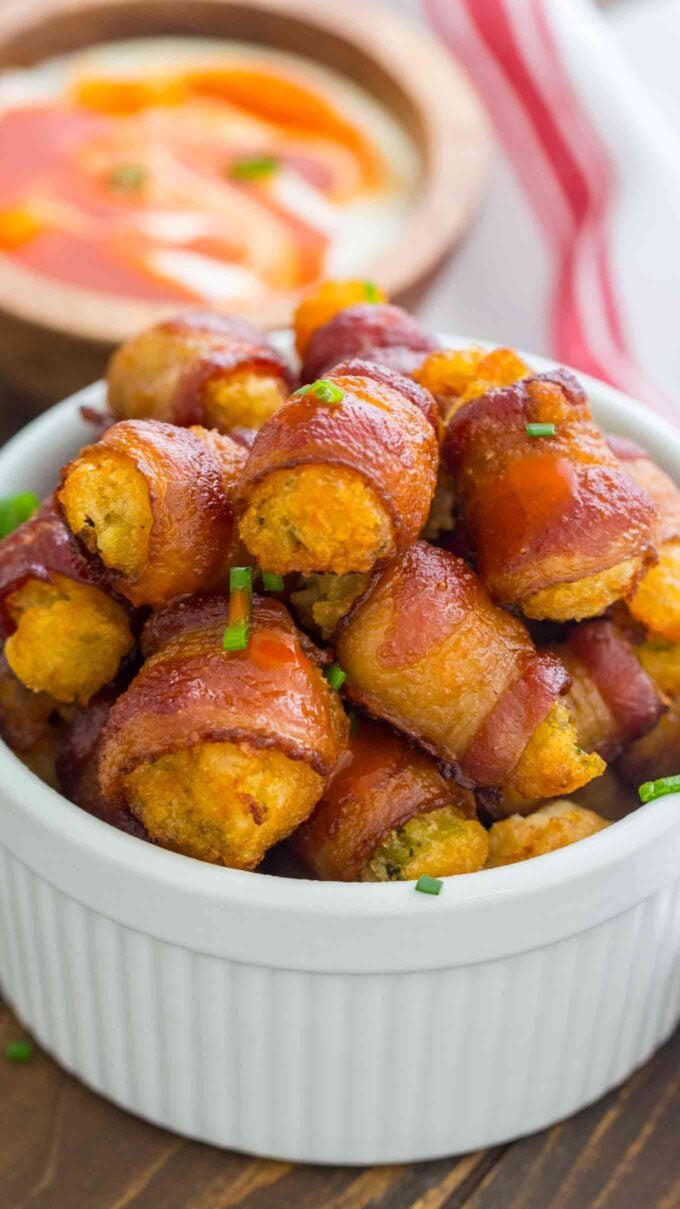 What do you serve with broccoli tots?
If you will be serving them as an appetizer, offer a variety of dipping sauces along with the Bacon Wrapped Broccoli Tots. We recommend a maple syrup-based sauce, similarly, a great choice is ranch dressing. For an Asian flair, a simple teriyaki dipping sauce is a delicious option.
Watch recipe video:
Save Recipe
Bacon Wrapped Broccoli Tots
Broccoli tots are a healthy twist on tater tots. The tots are wrapped in bacon and covered in maple brown sugar glaze. This is an easy appetizer recipe!
Author: Catalina Castravet
Serves: 10
Prep time:

10

minutes
Cook time:

20

minutes
Total time:

30

mins
Nutrition information
Calories: 252 Carbohydrates: 15 Protein: 6 Fat: 18 Saturated Fat: 6 Cholesterol: 29 Sodium: 315 Potassium: 237 Fiber: 0 Sugar: 12 Vitamin A: 315 Vitamin C: 32.8 Calcium: 36 Iron: 0.5
Save Recipe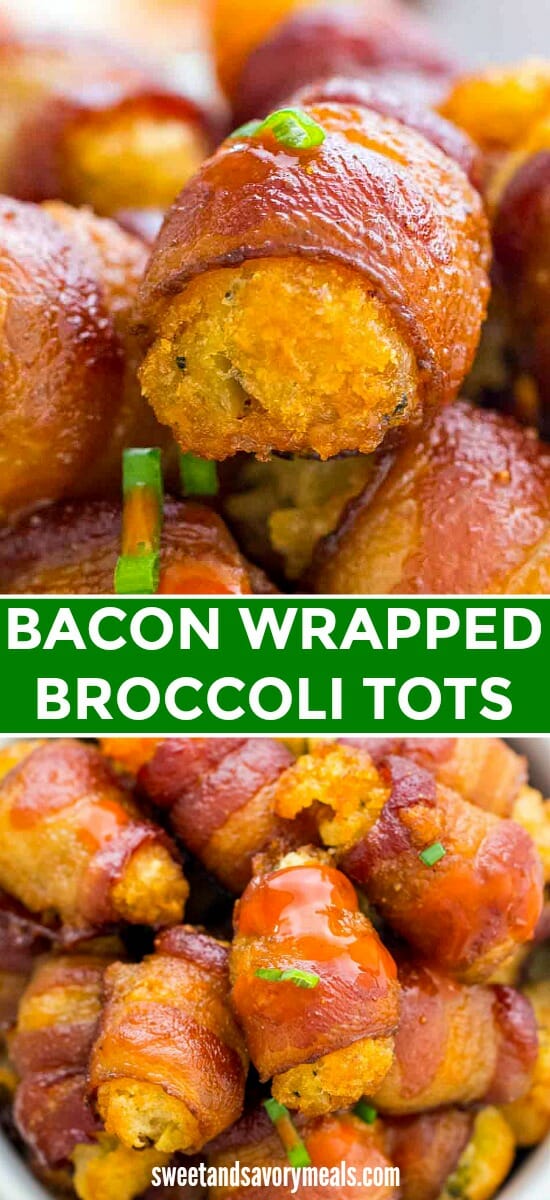 More recipes you might love
Categories: