Bacon Wrapped Shrimp with Brown Sugar [video]
Bacon Wrapped Shrimp is the perfect finger food. A great combo of sweet and savory, thanks to the delicious smoky brown sugar rub that and crispy bacon.
We love easy and delicious appetizers that can feed a crowd. Our other favorites are easy crab cakes, spinach artichoke dip, and cheesy turkey sliders.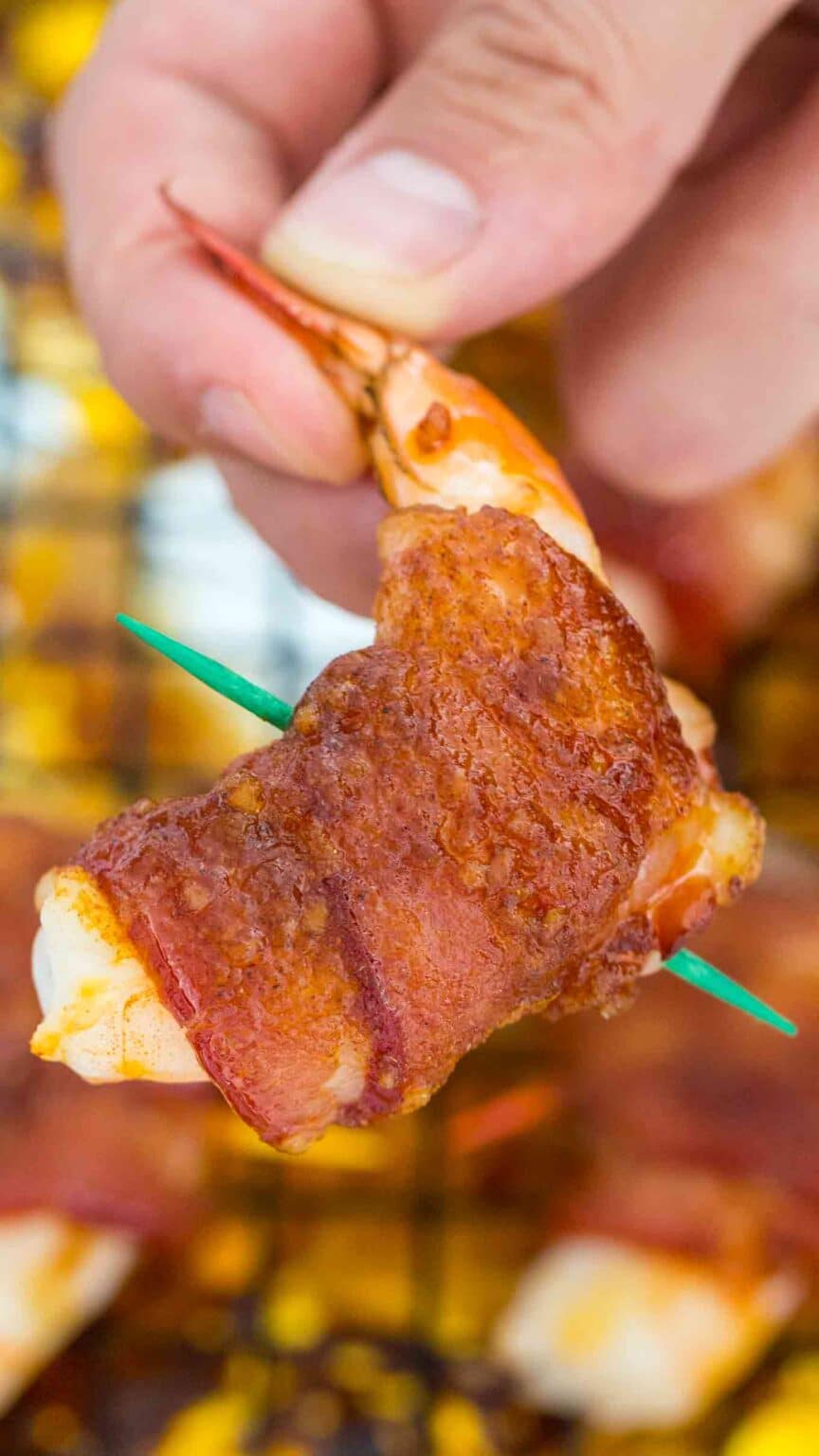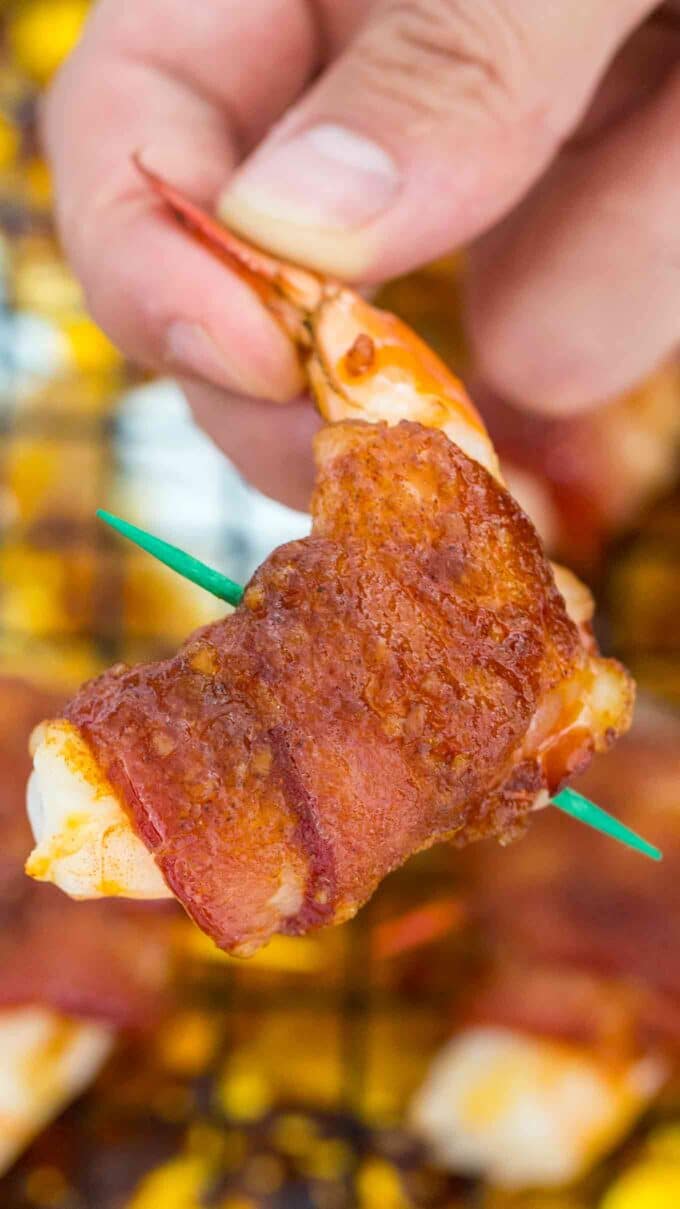 Easy Bacon Wrapped Shrimp
We eat a lot of shrimp in our family, we are huge fans. My husband is an expert at cooking shrimp, he usually makes it in the most amazing garlic sauce, which is so tasty when you dip in some crusty, warm bread. I recently made these Bacon Wrapped Shrimp and they were a huge success, so much, that my husband took a break from his beloved garlic shrimp.
If you are looking for the perfect finger food and you love seafood and bacon, look no further, this recipe is the bomb. The shrimp is wrapped in thick bacon slices, coated in the most amazing brown sugar glaze and broiled to crispy perfection. Serve these with your favorite dipping sauce, and make sure you make a double batch.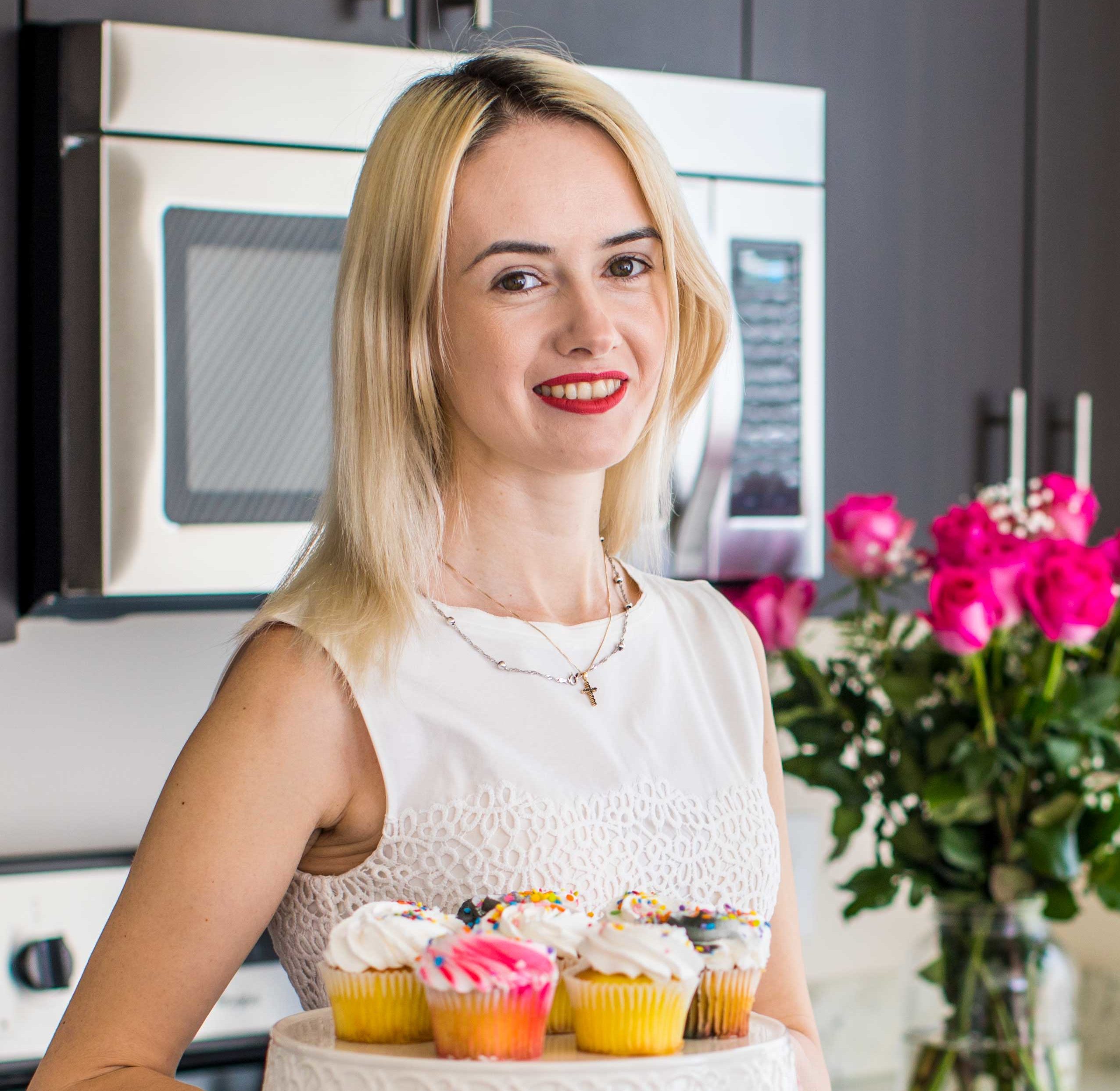 Follow us on Pinterest for more delicious recipes!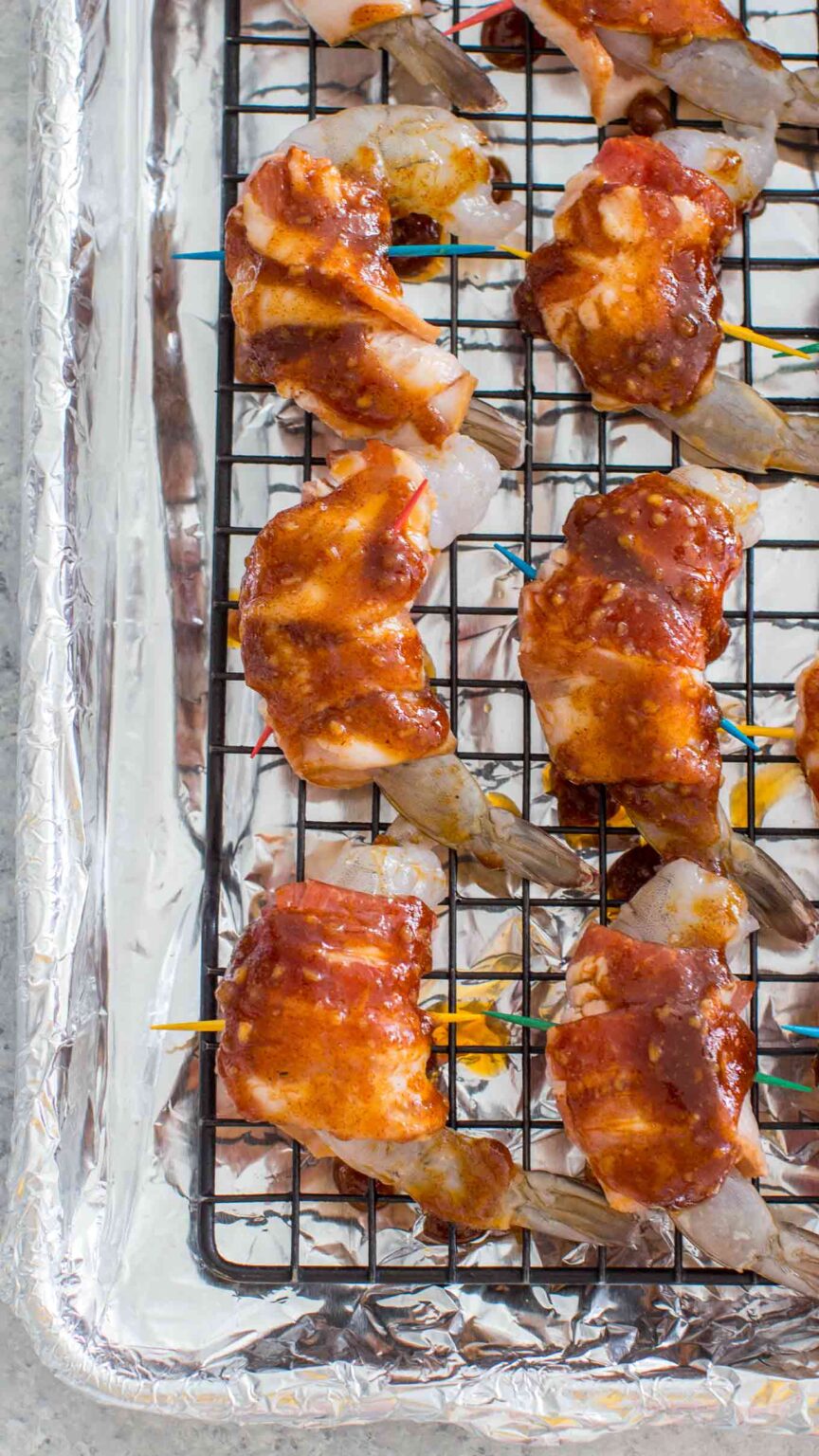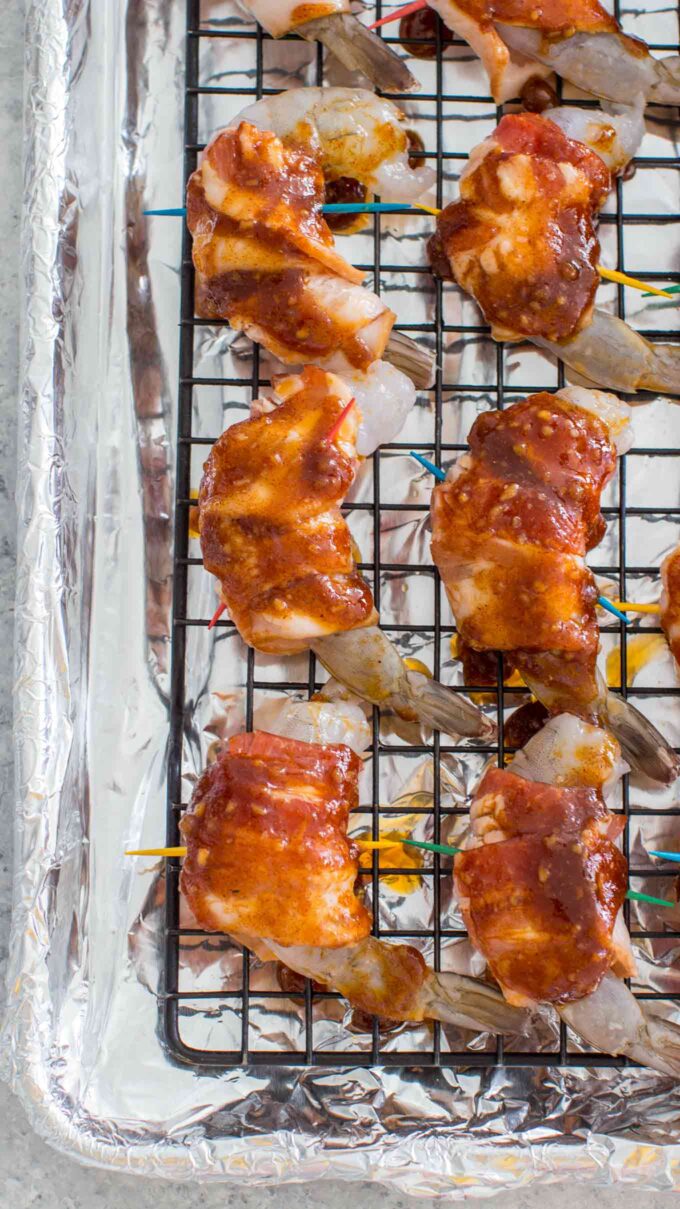 What do you need to make Bacon Wrapped Shrimp?
This is a very easy recipe, that is made with just a few ingredients, all easy to find. Here is a basic list of what you will need:
How long do you cook Bacon Wrapped Shrimp in the oven?
You have to bake the shrimp in a 450F preheated oven, for 15 to 20 minutes or until bacon is crisp around the edges and shrimp turn pink.
How long do you grill Bacon Wrapped Shrimp?
Lightly oil grill grate, arrange shrimp on the grill and cook for 3 to 4 minutes, turning once. The shrimp will be done when the bacon is fully cooked.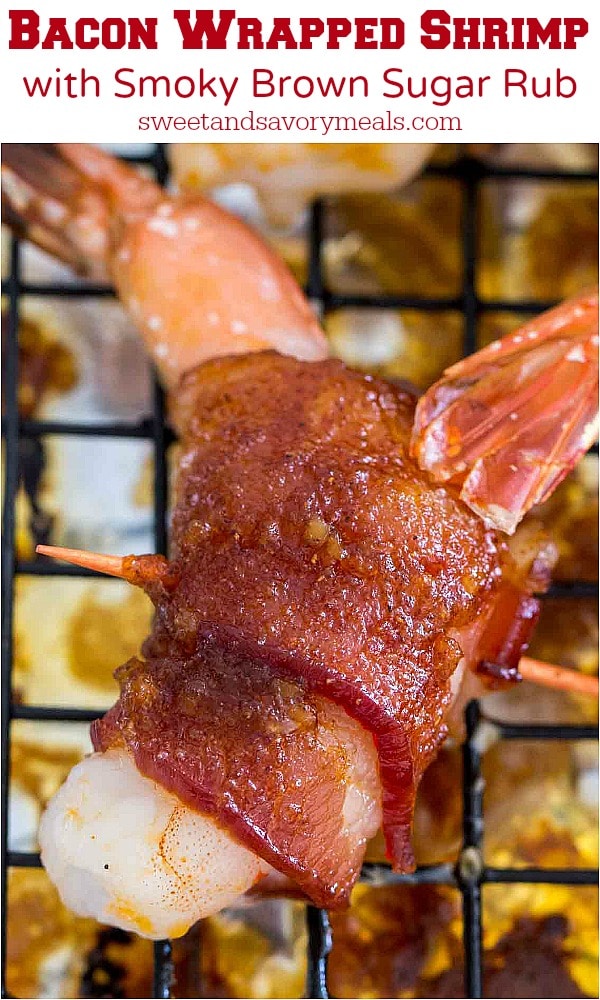 How do you make the Brown Sugar Rub?
The Brown Sugar Rub is what takes these Bacon Wrapped Shrimp to the next level. The combination of the crispy bacon infused with the smoky brown sugar coating gives the shrimp a caramelized layer, that is too good to resist. The saltiness from the bacon compliments the sweetness of the brown sugar. The tender and juicy shrimp is the perfect vessel that makes these flavors work in harmony.
To make the rub you just have to mix: onion powder, Cajun seasoning, smoked paprika, salt, minced garlic, and oil. The mixture will be thick, so you will have to spoon it over the shrimp. Also, an important note, the oil may tend to separate, so make sure you stir the mixture frequently.
How to peel and devein shrimp?
To peel raw shrimp, start underneath, where their legs are attached.
Use a paring knife to devein by making a shallow slit down the middle of the back to expose the black strip intestine.
Gently remove the black strip of the intestines and wipe it off on a paper towel.
To remove the tails just squeeze the shrimp out from the bottom of the tail segment.
Looking for more Shrimp Recipes? Check these out:
Watch Recipe Video:
Save Recipe
Bacon Wrapped Shrimp
Bacon Wrapped Shrimp is the perfect finger food. A great combo of sweet and savory, thanks to the delicious smoky brown sugar rub that and crispy bacon.
Author: Catalina Castravet
Serves: 4 servings
Prep time:

20

minutes
Cook time:

15

minutes
Total time:

35

mins
Ingredients
Brown Sugar Rub:
Notes:
The baking time has been determined by cooking large shrimp, if you are using small or medium shrimp, they will cook faster, while the bacon won't be as crispy. In that case, you can slightly pre-cook the bacon, to avoid over cooking the shrimp, or for best results just use large shrimp.
Nutrition information
0 Calories: 536 Carbohydrates: 29 Protein: 13 Fat: 41 Saturated Fat: 8 Cholesterol: 111 Sodium: 751 Potassium: 192 Fiber: 0 Sugar: 26 Vitamin A: 515 Vitamin C: 1.8 Calcium: 73 Iron: 1.3
Save Recipe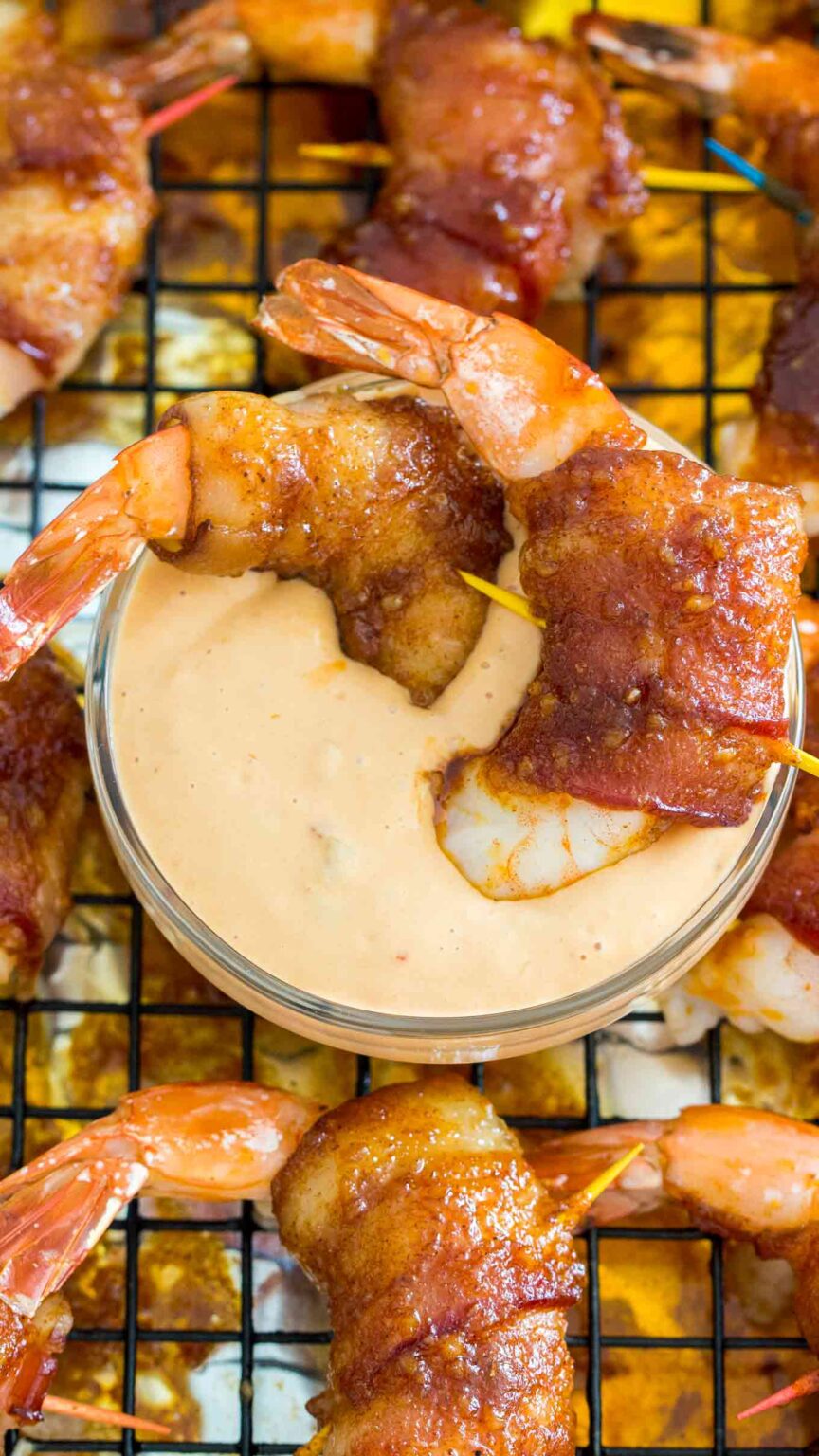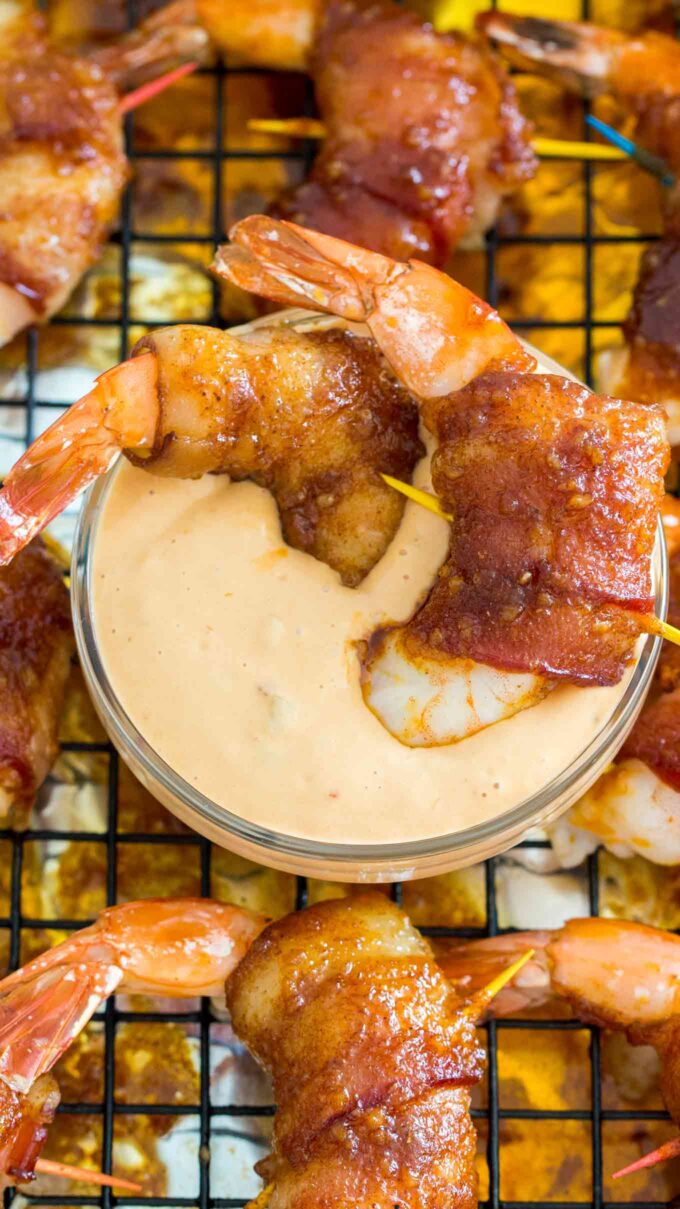 More recipes you might love
Categories: