Spicy Garlic Shrimp Recipe
Last updated on May 12th, 2022 at 04:41 pm
This Spicy Garlic Shrimp recipe is so easy to make, flavorful and delicious, that it will become a staple in your house! With only a few ingredients like butter, garlic, red pepper flakes, basil and a fresh squeeze of lemon juice, this dish can be ready in under 20 minutes.
Easy shrimp recipes are traditional in our house, they make the quickest and most delicious dinners. I also love Bacon Wrapped Shrimp, Instant Pot Shrimp Boil and PF Chang's Crispy Honey Shrimp Copycat, because they all take less than 30 minutes to make and are very tasty!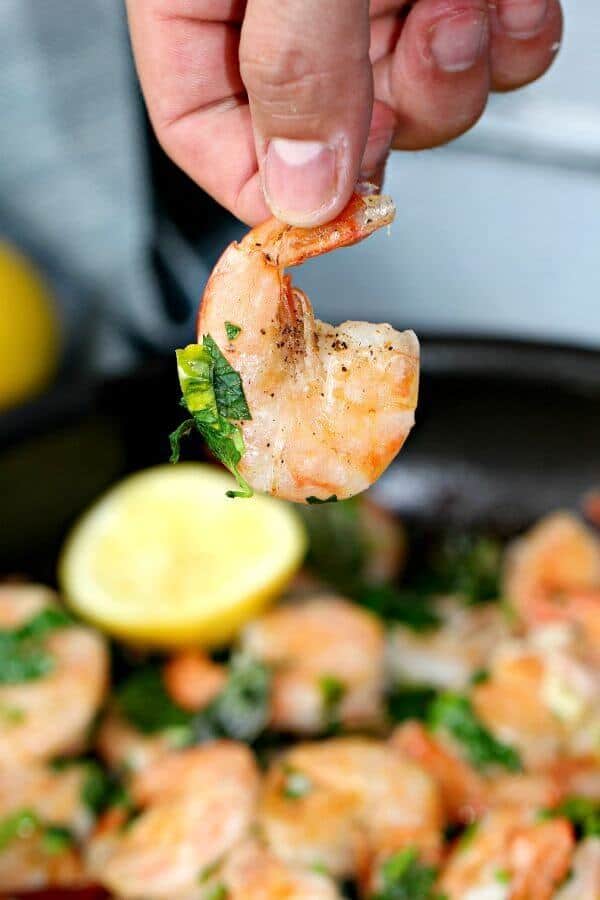 Spicy Garlic Shrimp
Spicy Garlic Shrimp has long been one of my favorite dinner dishes to make for a few reasons. First, it is very easy and timely. Second, it is very delicious full of flavors, and third its a cheaper alternative compared to what you pay at a restaurant.
The shrimp are plump and soak all the lemon garlicky goodness, the chili peppers add such a nice hot kick, while the basil and parsley balance everything with their freshness and beautiful vibrant green color.
To make it even more delicious, I use a French Baguette for dipping and soaking all that juicy and flavorful garlicky sauce. It's just PERFECT!
What kind of wine pairs well with Spicy Garlic Shrimp?
White wine usually pairs well when cooking shrimp or any other seafood dish. Sauvignon Blanc or Chardonnay would be ideal wines to use for shrimp. This is your go-to category. If possible, choose a wine that has a moderate alcohol content, preferably between 10 and 13 percent, and generous acidity.
Why cook shrimp with the shells on?
For my Spicy Garlic Shrimp Recipe, I always use and recommend to use deveined shrimp but with shells on. The shells add a lot of flavor to them. Not that I expect you to eat them, but when left on for the cooking process, shrimp shells contribute a depth of flavor and perfectly soak the sauce. In addition, shrimp cooked in their shells have a plumper texture. Also, they don't seem to go from perfectly cooked to overcooked. But if you do choose to peel the shrimp before cooking, below you can find the easy steps to do so:
How to peel and devein shrimp?
To peel raw shrimp, start underneath, where their legs are attached.
Use a paring knife to devein by making a shallow slit down the middle of the back to expose the black strip intestine.
Gently remove the black strip of the intestines and wipe it off on a paper towel.
In order to remove the shrimp tail, just squeeze the shrimp out from the tail segment, discard the tail.
What to serve with Butter Garlic Shrimp?
This dish has such strong and flavorful garlicky, buttery and spicy sauce. It is so delicious that I personally enjoy it pure and simply by using a fresh French Baguette for dipping and soaking all that juicy and flavorful sauce. Other suggestions would be using:
Garlic Bread is the perfect alternative to French Baguette.
Asparagus or garlicky roasted broccoli in olive oil could be a good side dish for them.
For pasta lovers, any freshly cooked pasta will do the trick.
Serve on top of a fresh chopped salad, or make a creamy Shrimp Caesar salad.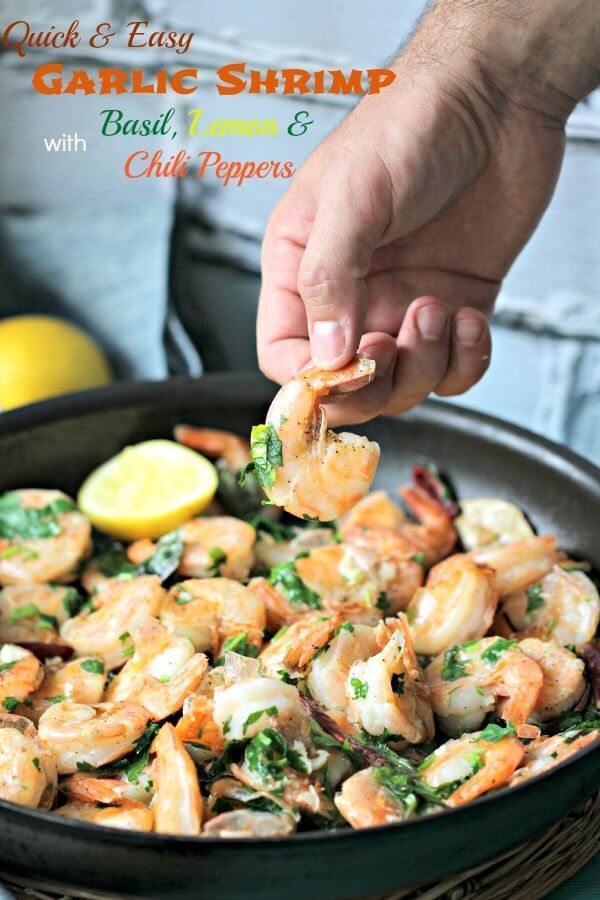 Tips for the perfect Garlic Shrimp:
Use large or jumbo shrimp. When heating them, they tend to shrink. So, using a large size shrimp is optimal, since they will loose in size a bit.
Wash the shrimp really well and dry them with a paper towel before cooking.
Have all ingredients chopped and ready to go (jalapeno, parsley, basil, garlic, lemon). This dish is prepared quickly so having all the ingredients measured. Chopped and ready to go, will ensure you do not overcook the dish.
Use fresh garlic and lots of it. Since garlic is the essential flavor in this shrimp, I always use only fresh garlic. Using bottled garlic will just not taste the same.
Use fresh lemon juice – if you've ever tasted bottled lemon juice, you'll notice that the flavor is not as citrusy and bright as the real fresh lemon. So my advice is to stick with fresh lemon and squeezing it when cooking.
Use fresh basil – basil gives this dish such a nice aroma, that you really want to use the freshest basil. It pairs nicely with shrimp, just chop and toss into your shrimp by the end of your cooking.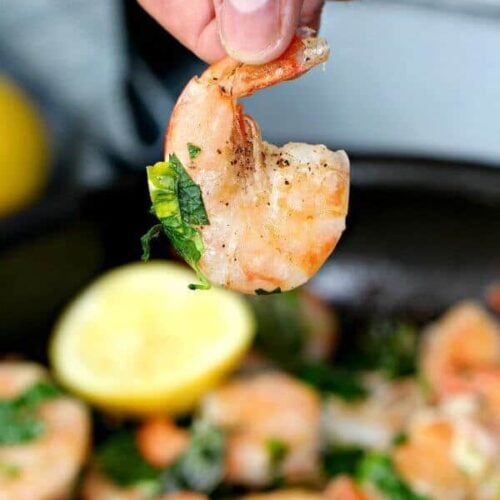 Spicy Garlic Shrimp Recipe
This Spicy Garlic Shrimp recipe is so easy to make, flavorful and delicious, that it will become a staple in your house!
Save
Share
Print
Pin
Rate
Ingredients
2

pounds

large shrimp

(devein with shell on)

2

garlic heads

(chopped garlic (heads not cloves))

1/2

cup

extra-virgin olive oil

1/2

cup

white wine

1

teaspoon

butter

Juice of 1 fresh lemon

3

dried chili peppers

1

fresh jalapeño

(chopped)

1/2

cup

fresh basil

(chopped)

1/2

cup

fresh parsley

(chopped)

3

bay leaves

Salt and Pepper
Instructions
In a large nonstick heavy skillet over medium heat, add the oil, when barely starts to simmer add half of the chopped garlic, jalapeno, bay leaves, and chili peppers.

Adjust the heat to the lowest setting to keep the mixture at that gentle simmer and cook the garlic for 1-2 minutes, stirring occasionally, until the garlic achieves a pale golden color.

Add the shrimp to the skillet, and turn up the heat, sprinkle generously with salt, pepper.

Cook for 4 minutes and add the lemon juice, butter, white wine and the rest of the garlic, stir gently and continuously until the shrimp is just cooked, another 4-6 minutes.

Taste the mixture and add a little more salt if needed. Keep the pan over very low heat. Sprinkle the basil and parsley on top of the shrimp, turn off the heat, cover the pan and let it stand for 5 minutes before serving, so the herbs will soften a bit.

Serve with bread for dipping.
Nutrition
Calories:
506
kcal
|
Carbohydrates:
2
g
|
Protein:
46
g
|
Fat:
31
g
|
Saturated Fat:
4
g
|
Cholesterol:
574
mg
|
Sodium:
1778
mg
|
Potassium:
253
mg
|
Fiber:
0
g
|
Sugar:
0
g
|
Vitamin A:
920
IU
|
Vitamin C:
20.3
mg
|
Calcium:
350
mg
|
Iron:
5.6
mg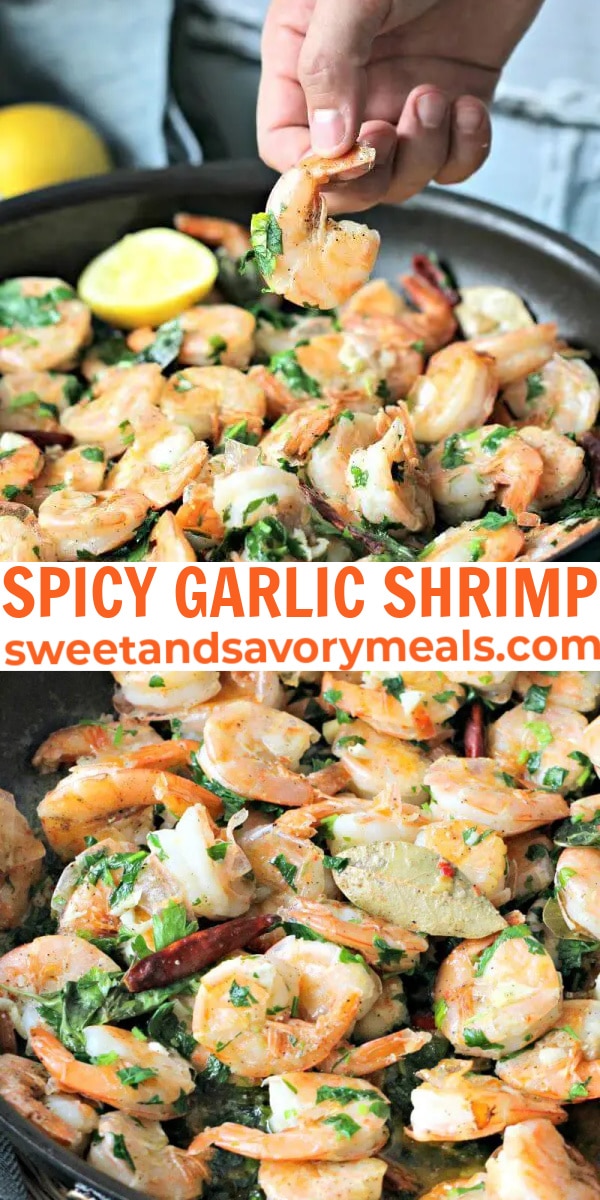 More recipes you might love