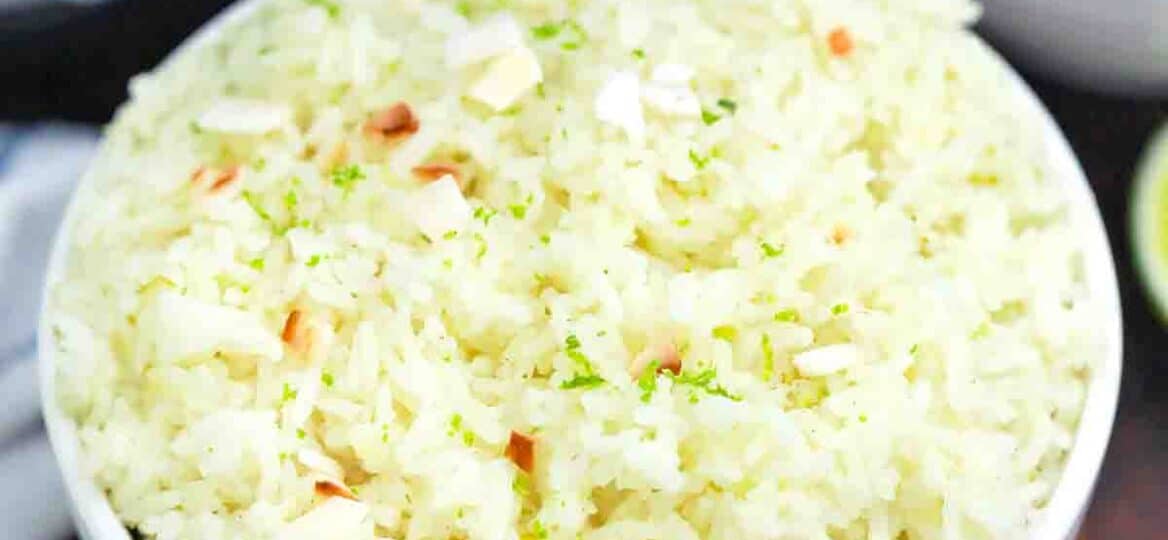 Instant Pot Coconut Rice Recipe
Instant Pot Coconut rice is perfectly cooked in creamy coconut cream and flavored with lime juice and lime zest. The al dente rice is perfectly cooked to the point of just between chewy and fluffy rice. With this famous Asian recipe, making coconut rice has never been easier and you can have it on the table (and in your stomach) in 15 minutes!
If you love this instant pot recipe, try this Instant Pot Rice Pudding recipe with sweetened condensed milk, cinnamon, and long-grain white rice. Another great instant pot rice recipe is this Instant Pot Rice and Beans made with black beans, brown rice, and jalapenos.
Our instant pot coconut rice recipe takes plain jasmine rice and makes the best fluffy rice you have ever tasted. With the help of coconut milk, chicken stock, lime zest, and lime juice, your family will be amazed at the flavors bursting from this innocent-looking side dish cuisine.
And you can change it as needed using full-fat coconut milk, low-fat coconut milk, or even coconut cream, depending on what your diet entails.
I have been cooking rice all my life but this coconut rice made in the instant pot is the easiest and tastiest rice I have ever made. If you are looking for some easy instant pot recipes, check out our instant pot recipe page. There are many choices for side dish cuisine as well as whole meals.
For a full Asian meal, try our Instant Pot Garlic Sesame Chicken flavored with garlic, soy sauce, and sesame oil.
Ingredients needed:
You may already have these basic ingredients for this instant pot coconut rice recipe. For the exact recipe and measurements, scroll down to our recipe card.
Rice: We used jasmine rice but you can also use basmati or some other rice.
Coconut cream mix:
Pure 100% coconut milk: Unsweetened.
Chicken stock: Unsalted is best.
Sea salt: Or you can use regular table salt.
Lime zest
Lime juice
How to make Instant pot coconut rice recipe?
Clean the rice: First of all, you need to rinse rice in cold water in a strainer or colander and then let it drain completely.

Make coconut cream: Use a small bowl to mix the ingredients for the coconut milk mixture. This includes chicken stock, coconut milk, and sea salt.

Making instant pot coconut rice: Pour one cup of jasmine rice in the instant pot and then add the coconut cream. Stir well until your rice is completely covered by the cream. Close the lid to the pressure cooker and set it on high pressure. Cook for five minutes and then do a 10-minute natural release.

Serve: Finally, open the top of the instant pot carefully to avoid the hot steam. Fluff up the instant pot coconut rice before serving.
How to make slow cooker coconut rice:
Double or triple the recipe: Because you are cooking in a slow cooker, a small amount of rice and milk could scald and overcook. Double or triple your recipe for the best results. And don't worry, you can store it in the fridge or freezer for future use if you need to.

Rinse your rice: The next thing to do is to clean your rice well. Put it in a colander or strainer and run water over it, stirring with a wooden spoon. Let it drain while you make the coconut milk.

Make the coconut milk: Then, mix the ingredients for the coconut milk mixture in a medium bowl.

Cook the rice: Once the rice is completely drained, you can add it and the coconut milk mixture to your slow cooker. Stir it up and close the lid. Cook on high heat for 1.5 to 2 hours.

Fluff and serve: Last, fluff the rice with two forks and serve nice and hot.
How to make stovetop coconut rice:
Rinse rice: First, rinse your jasmine rice in a colander, and then let it drain completely.

Mix the coconut milk: Meanwhile, mix the ingredients for the coconut milk mixture in a small saucepan with a cover.

Cook the rice: Next, add the rice and cook on medium-high heat until it boils. Then, cover and turn the heat down to low and let it simmer for 20 minutes.
Remove the lid: After, remove the lid and let the coconut rice continue to cook for about five minutes.

Cover and sit: Then, cover it again and let it sit for 10 minutes before fluffing it up using two forks.
Serve your coconut rice: Lastly, serve warm as a side dish to whatever entree you are having.
Recipe variations:
Full fat coconut milk: For the best flavor and thickness, we suggest full fat coconut milk. It should be 100% pure and without sugar or other sweeteners.

Low fat coconut milk: You could use low-fat or light coconut milk but your rice may not be as creamy.
Brown rice: You can use brown rice instead of white jasmine rice if you prefer.

Basmati rice: Another great rice that would work in this side dish is basmati rice. Jasmine rice is softer and plumper but the basmati rice has a nice chewy texture that many people prefer.

Toasted coconut flakes: Add 1/4 cup of toasted coconut flakes to your rice when cooking for even more coconut flavor.
Add extra flavor: Feel free to add your favorite herbs and spices like cinnamon, thyme, rosemary, or whatever you like.

More gusto: For a burst of flavor, try adding your favorite extracts such as lemon, vanilla, or even raspberry.
Lemon juice: Alternatively, use lemon juice and zest instead of lime juice for a different taste.
Parboiled rice: Try making this instant pot coconut rice with parboiled rice for extra nutrients, fiber, and protein.
How to serve:
Our instant pot coconut rice recipe goes with any dish from a casual barbecue burger to a formal NY strip steak. The best thing about coconut rice besides how easy it is to cook is that it is so versatile. You can make it sweet for Asian dishes or savory for Mexican dishes. Here are some fun ideas to try:
Serve your instant pot coconut rice with bang bang shrimp or shrimp cocktail.

Actually, you can use this rice as a base for other foods like beef tips and rice or lemon chicken.
This instant pot coconut rice also goes great with chicken dishes. Try our savory instant pot chicken teriyaki or another favorite chicken meals your family enjoys.
Sprinkle your rice with a bit of sugar and cinnamon and have it for dessert or a snack anytime.

You can also mix this instant pot coconut rice in with stir-fries like this honey garlic chicken stir fry.

This coconut rice is perfect for a one-dish cuisine by mixing in some veggies like carrots, peas, or broccoli and whatever meat you like.
Frequently asked questions
What kind of rice is best for instant pot coconut rice?
Even though this instant pot coconut rice recipe is made with jasmine rice, that does not mean you cannot use a different kind of rice. You can choose from short grain, medium grain, or long-grain white rice, brown rice, or wild rice. Other types include arborio, basmati, and parboiled rice.
What is the difference between an electric pressure cooker and an instant pot?
The most important difference is that an instant pot uses less pressure than a pressure cooker. However, the instant pot does cook at a higher pressure than other cooking methods so it still has the high-temperature advantage. Also, an instant pot can do many other things like sauteing, slow cooking, steaming, and baking.
Using an instant pot can seem very overwhelming at first with all the pressure cook and pressure release settings. Some recipes call for a quick pressure release while others want you to do a natural pressure release to let the pressure release naturally. Just follow the instructions and you will be fine.
Can I use my rice cooker for this instant pot coconut rice recipe?
Yes, in fact, it is a bit easier because you do not have to perform the pressure release afterward. Just mix the ingredients in the rice cooker and set it to quickly cook. If yours does not have this setting, just use the fastest setting available.
What is the difference between refrigerated coconut milk and canned coconut milk?
The coconut milk that comes in a can is typically made with coconut and water. The coconut meat is grated or pureed and then the liquid is extracted using a cheesecloth or other straining tool.
On the other hand, while the refrigerated carton of coconut milk starts with the same ingredient (pureed coconut), it also has a lot of other ingredients. Most of them have a lot of water and sweeteners added for flavor and consistency, making is sweet but very thin like traditional milk.
How to store leftovers:
Store: Instant pot coconut rice is easy to store in the fridge. Just wait for it to cool completely before putting it in a zipper baggie or another airtight container. It will be good for about two or three days.

Freeze: To keep your instant pot coconut rice even longer, put it in a freezer bag or another freezer-safe airtight container. It will last up to two months in the freezer.

Thaw: Let your instant pot coconut rice defrost in the fridge overnight before using.

Reheat: To reheat, add a bit of leftover coconut milk or chicken stock and heat it up on the stovetop. Or you can reheat it in the microwave in 30-second bursts until it is heated through. Be careful not to overcook or your coconut rice will be dry and hard.
More instant pot recipes:
Cooking tips:
Be sure to rinse your rise. It only takes a minute and it makes a huge difference because it removes the surface starch.

It is important to note that the unsweetened milk in this recipe is not the same as the refrigerated coconut milk you use for drinking.

If you are serving this rice alone, use 1/2 teaspoon of salt but with salty foods, you can just use 1/4 teaspoon.

Use the best coconut milk you can find for this recipe because it is one of the most important ingredients.

If you keep getting the instant pot burn notice, you may not have enough liquid in the pot. Add more coconut milk or chicken stock and it should be fine.
Use coconut water instead of chicken stock for an even more intense coconut flavor.
Rice is naturally gluten-free so it is great for everyone.

You can also use the rice function on your instant pot.
Instant Pot Coconut Rice
Ingredients
Coconut Milk Mixture:
1/2

cup

Thai unsweetened coconut milk

3/4

cup

chicken stock

unsalted or low sodium

1

teaspoon

lime juice

1

teaspoon

lime zest

1/2

teaspoon

fine sea salt
Garnish:
Toasted coconut flakes

Lime zest
Instructions
Place the rice in a rice colander and rinse well under cold tap water until clear. Drain well.
Coconut Milk Mixture:
In a medium bowl mix well all the Coconut Milk Mixture ingredients.
Pressure Cook:
Add the Jasmine rice to the inner pot of the pressure cooker.

Pour the coconut milk mixture on top and stir well. Make sure all the rice is covered in liquid.

Close and lock the lid, point valve to sealing (on old models). Pressure cook at High Pressure using Manual/Pressure Cook button for 5 minutes. After that do a 10 minute Natural Release. Quick Release any remaining pressure manually and open the lid carefully.

Fluff the Instant Pot Coconut Rice using two forks and serve topped with toasted coconut flakes and lime zest.