Instant Pot Teriyaki Chicken [Video]
Instant Pot Teriyaki Chicken features succulent white meat drenched in a bold and savory Asian sauce. Tastes like a take-out meal and ready in less than 30 minutes!
Asian-inspired stir-fries are a life-saver during busy weeknights. Pick a protein, veggies, and sauté with the easiest Szechuan Sauce, General Tso Sauce, or Sweet and Sour Sauce for a delicious dinner that takes no time at all!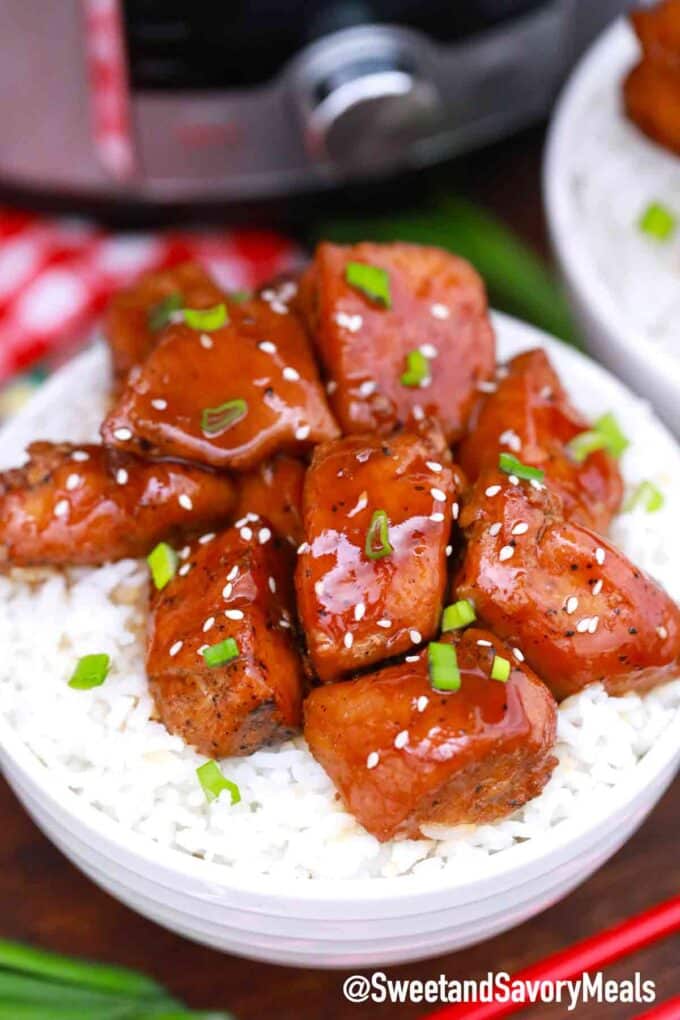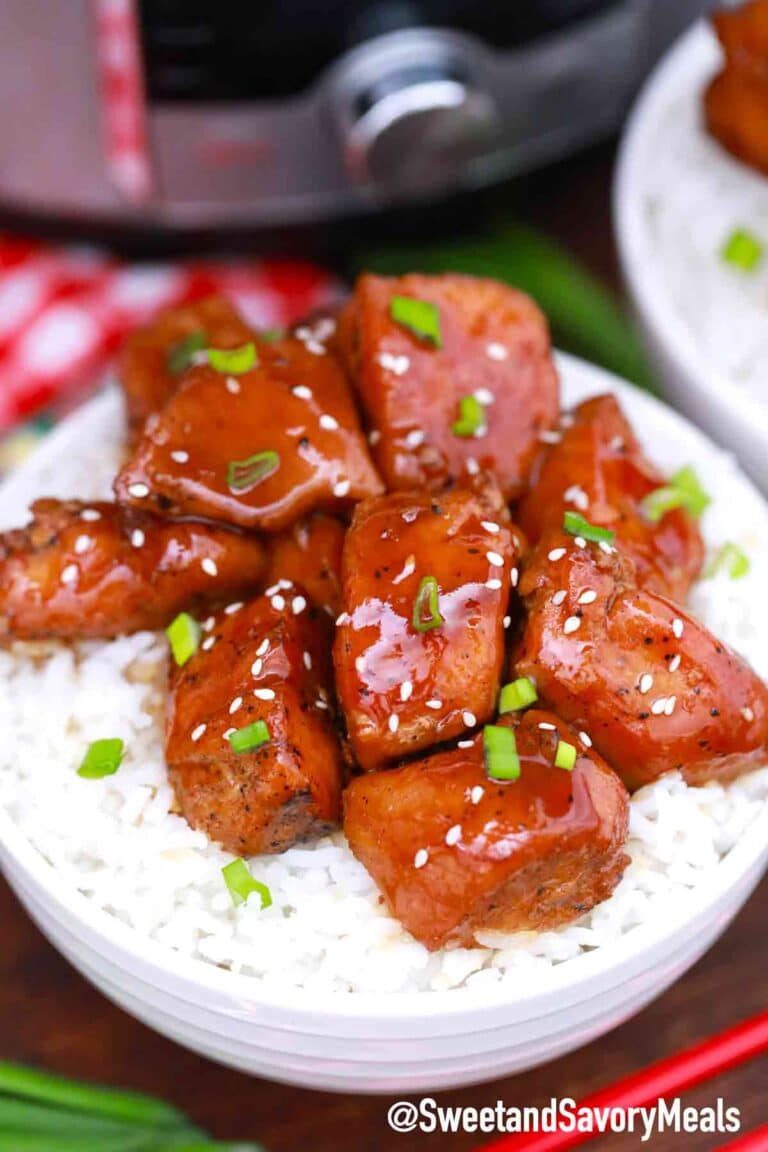 Pressure Cooker Teriyaki Chicken
Instant Pot Teriyaki Chicken is my homemade take on this popular Japanese dish. Traditional teriyaki requires making and reducing the sauce, marinating the meat, then broiling or grilling it over hot coals. So delicious, but a little too complicated for a regular dinner.
My solution? The ever-reliable Instant Pot! It can produce perfectly juicy meat and a flavorful, caramelized teriyaki sauce in a matter of minutes. Served with a bowl of hot rice, even the pickiest eaters won't be able to resist!
Can raw chicken be cooked in the Instant Pot?
Yes! The intense heat and pressure inside the IP are more than enough to fully cook raw chicken meat. Not sure if the meat is done yet? Double-check the internal temp with a meat thermometer!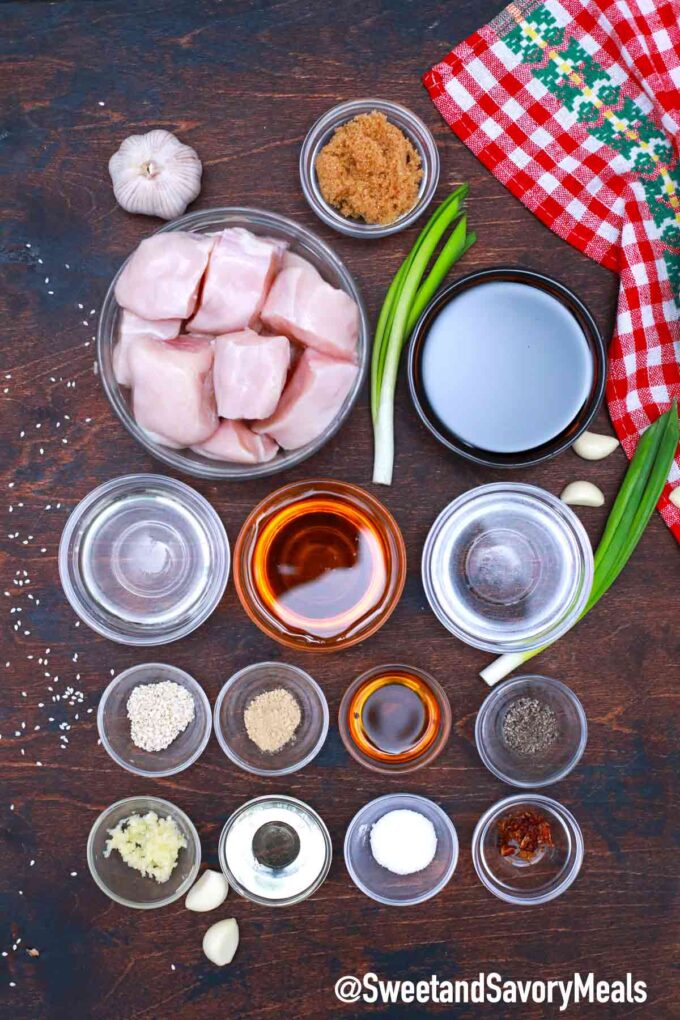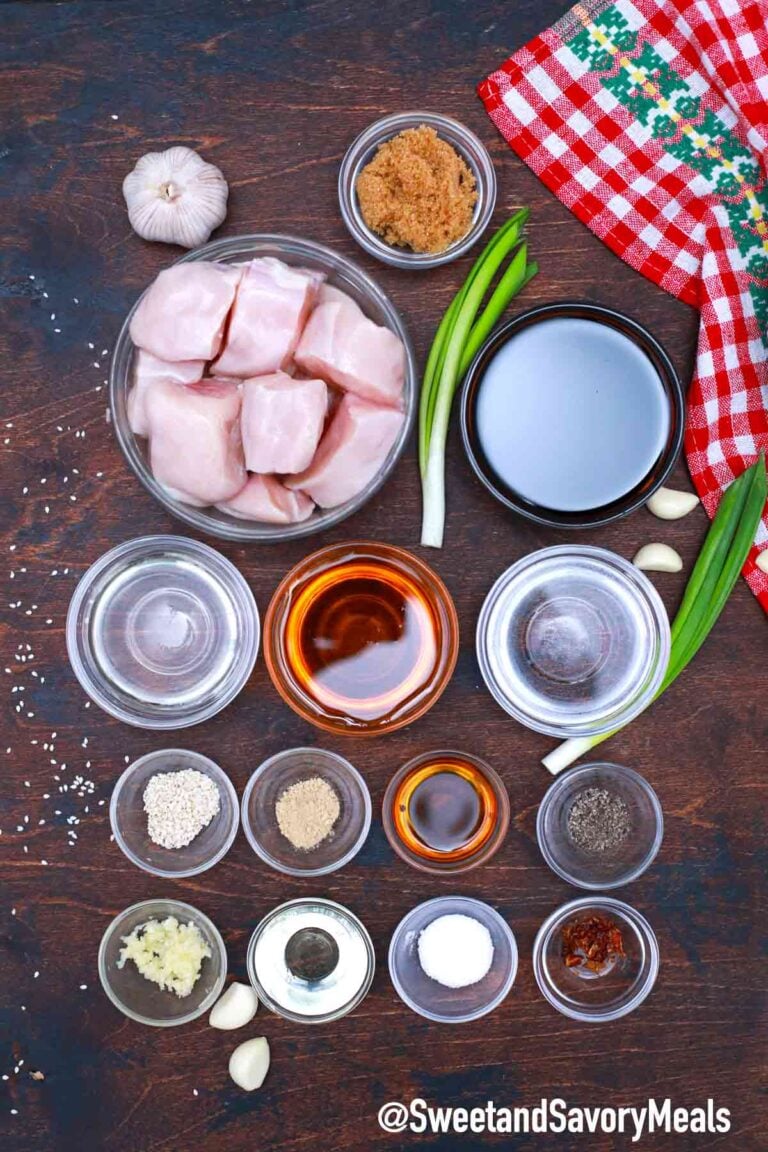 What is the minimum liquid for Instant Pot?
Based on the size of your IP, these are the general amounts:
For a mini, 3-Quart model: at least half a cup
6-quart model: at least 1 cup
For an 8-quart model: at least 2 cups
Whatever you do, never hit "Pressure Cook" without liquid in the IP. It will fail to build steam (crucial for pressure cooking) and will also trigger a Burn notice.
How long do you cook chicken in the Instant Pot?
Breast: about 10 to 15 minutes
Thigh: 10 to 12 mins. on average
Whole: Plan for about 23 to 25 minutes cook time
Drumsticks: around 15 to 30 minutes, depending on the size of the pieces
Quarter leg: Anywhere from 22 to 30 minutes
Wings: 10 to 15 minutes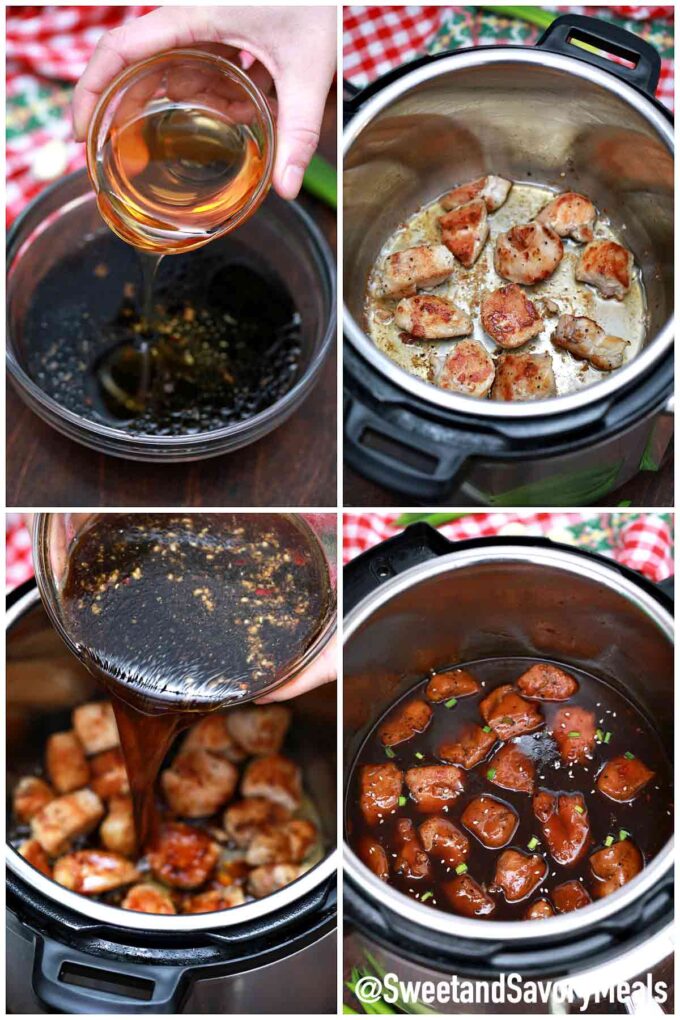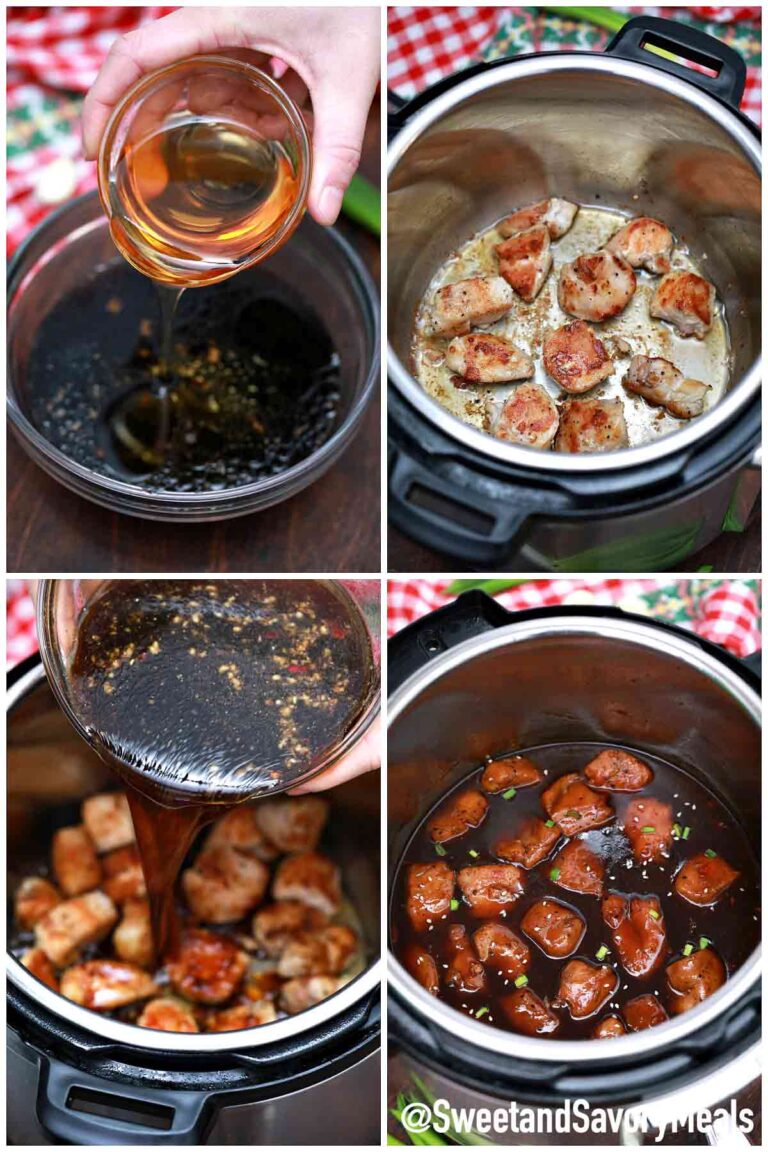 How to cook homemade Instant Pot Teriyaki Chicken?
Brown. Sear the seasoned breast cubes using the IP'S Sauté function.
Cook. Mix the teriyaki sauce and pour over the meat inside the IP, then set to 5-minute High Pressure. Vent quickly after.
Thicken. Remove the breast cubes from the IP. Stir in a cornstarch-water slurry into the teriyaki sauce, and simmer until thick.
Serve. Top with some fresh spring onions and enjoy this teriyaki over rice, soba noodles, or with a side of steamed veggies!
Recipe Variations:
Use other meats: Try this with boneless thighs or tender cuts of pork!
Shred-it: Once you're done with the dish, shred it for use on salads and sandwiches.
Make it spicy: Triple the number of crushed pepper flakes.

Make it zesty: Brighten up the teriyaki sauce with the juice and zest of any citrus or use a splash of sweet, fruity wine.
Can you use frozen meat for Instant Pot Teriyaki Chicken?
Yes! Just skip the searing part and go directly to pressure cooking. A great way to get dinner on the table even if you forget to thaw your meat!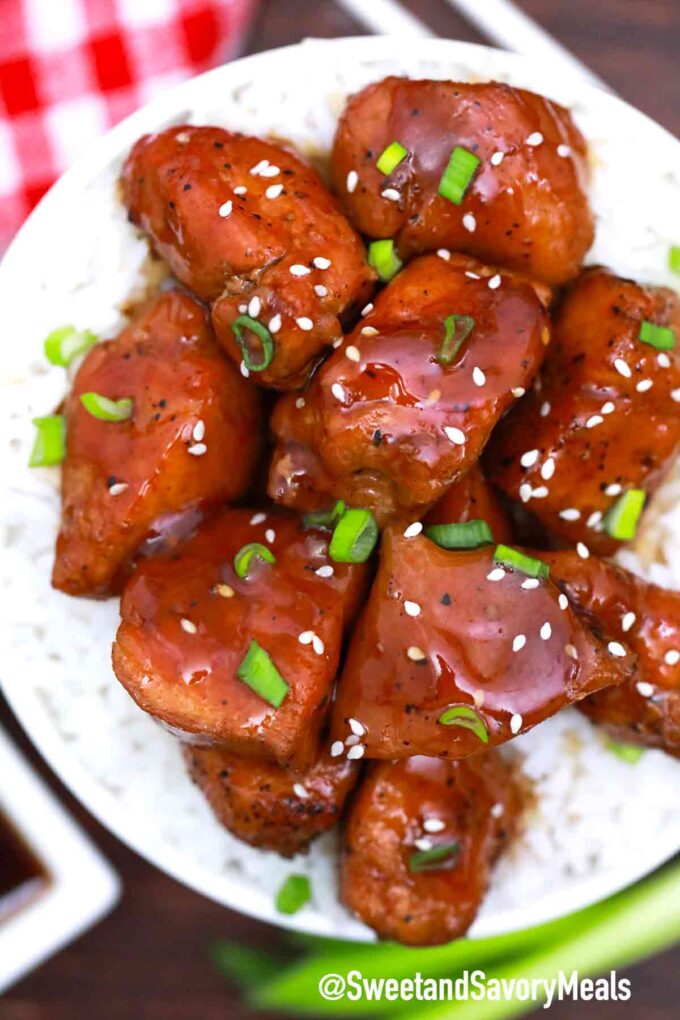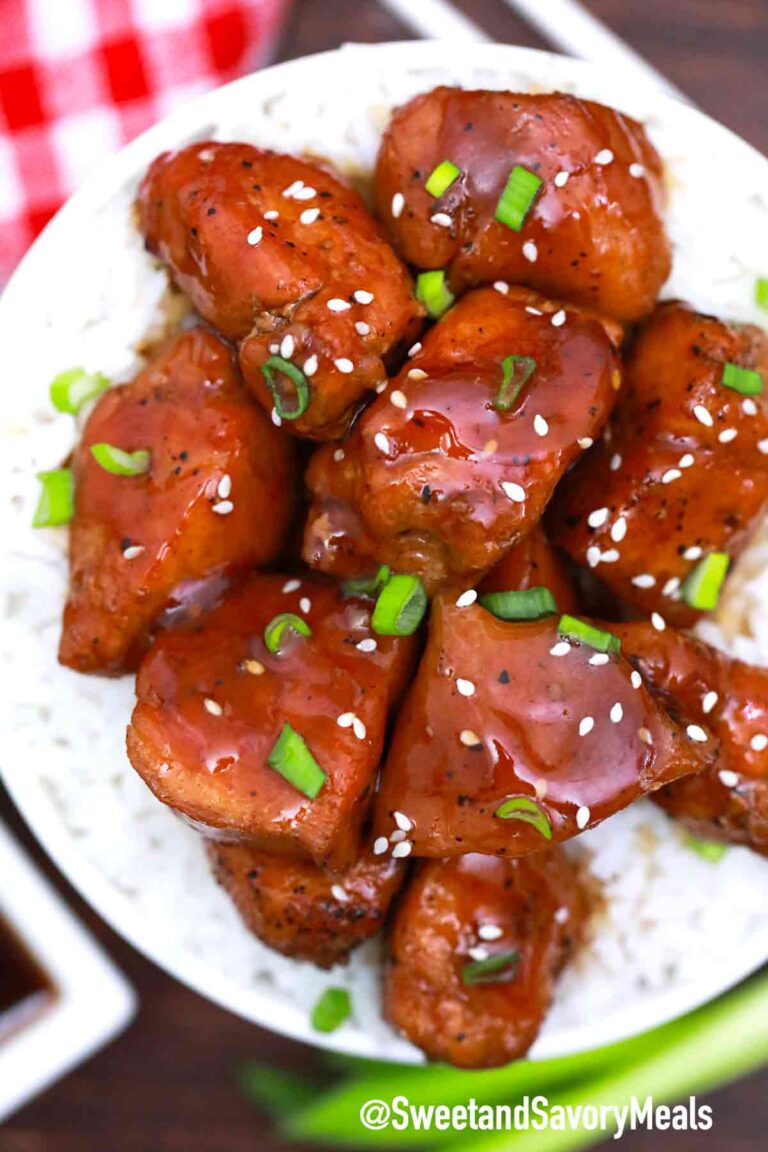 How long does frozen chicken need to be cooked in the Instant Pot?
If you're cooking from frozen, just add a few more minutes to what the recipe calls for.
To make this dish from frozen, pressure-cook the meat for 15 mins. first on a trivet with a layer of liquid underneath., just follow the steps for the teriyaki sauce, and you're done!
What is the sauté button on the Instant Pot?
It makes your IP function like a regular skillet. Great for searing, reducing, and thickening sauces, sautéing aromatics, and other cooking methods you would usually do on a hot pan.
How to store:
After cooling the leftovers, transfer to a container with an air-tight lid. Place in the fridge and consume within 3 days.
How to freeze:
Cool the leftovers, then transfer them in a freezer-safe baggie or container. Freeze up to a month. To reheat, thaw and microwave until hot.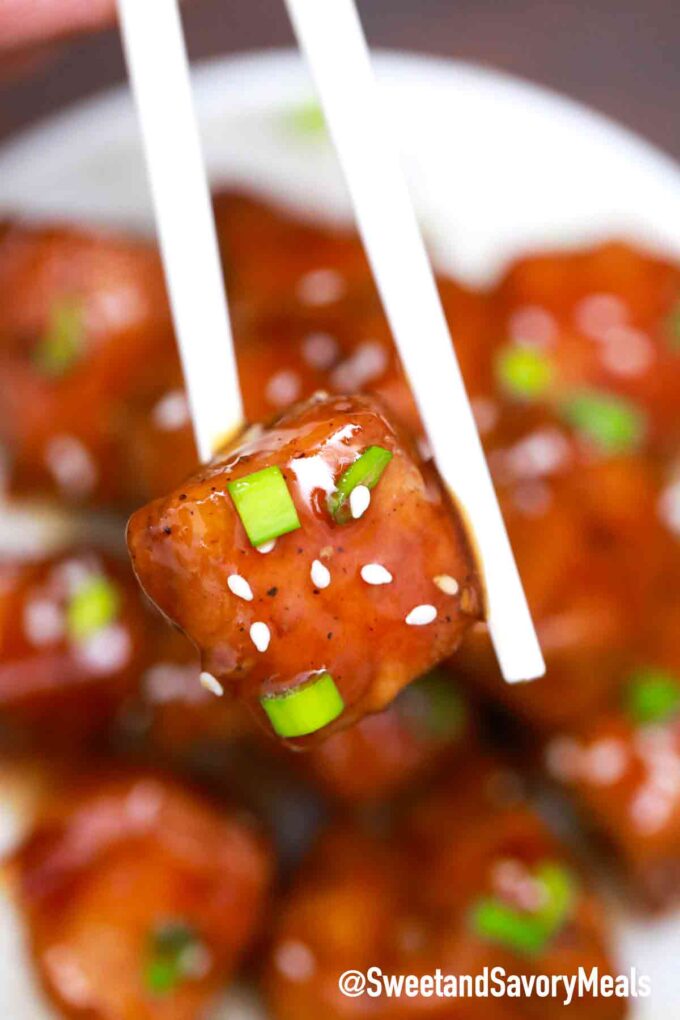 More Instant Pot Chicken Recipes:
Recipe Tips:
If you don't have cornstarch, you can also use a flour slurry as a thickener instead.
You substitute apple cider vinegar for rice vinegar.
Sear the meat in batches so they brown, not steam.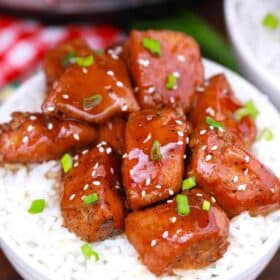 Instant Pot Teriyaki Chicken
Instant Pot Teriyaki Chicken features succulent white meat drenched in a bold and savory Asian sauce.
Save
Share
Print
Pin
Rate
Ingredients
Chicken:
4

boneless skinless chicken breasts

(cut into 1-inch cubes)

1/4

teaspoon

salt

1/4

teaspoon

ground black pepper

2

tablespoons

canola oil
Sauce:
4

cloves

garlic

(minced)

1/2

teaspoon

salt

1/4

teaspoon

freshly ground black pepper

1

cup

low sodium soy sauce

1

tablespoon

sesame oil

1/2

cup

water

1/2

cup

honey

2

tablespoons

brown sugar

1/2

cup

rice vinegar

1

teaspoon

ground ginger

1/2

teaspoon

crushed red pepper flakes
Slurry:
3

tablespoons

cornstarch

3

tablespoons

cold water
Garnish:
2

green onions

(chopped, for topping)

Sesame seeds
Instructions
Whisk together all the SAUCE ingredients in a medium bowl and set aside.

In a large shallow bowl add 1/4 teaspoon salt and 1/4 teaspoon black pepper ad the chicken cubes and toss to coat.

Set the Instant Pot to saute mode and once hot add the canola oil.

Once the oil is hot, add the diced chicken in the Instant Pot, cook IN BATCHES, and quickly brown on all sides.

Add the browned chicken to the IP and pour the sauce on top, give it a quick stir.

Place the lid on the Instant Pot, and turn the vent to seal. Press "pressure cook" and set the timer to 5 minutes. Once cooking time is over, do a quick release.

Using a slotted spoon, remove chicken from the sauce and transfer to a large bowl.

Set the Instant Pot to the "saute" setting and bring sauce to a simmer.

Stir together corn starch and water in a bowl until smooth, and whisk into the sauce until thickened.

Turn off the Instant Pot, transfer cooked chicken back to the pressure cooker and stir well to coat in the sauce.

Garnish the Instant Pot Chicken Teriyaki with chopped spring onions, sesame seeds and serve over rice.
Video
Nutrition
Calories:
449
kcal
|
Carbohydrates:
53
g
|
Protein:
28
g
|
Fat:
15
g
|
Saturated Fat:
2
g
|
Cholesterol:
72
mg
|
Sodium:
2704
mg
|
Potassium:
571
mg
|
Fiber:
1
g
|
Sugar:
42
g
|
Vitamin A:
168
IU
|
Vitamin C:
3
mg
|
Calcium:
28
mg
|
Iron:
2
mg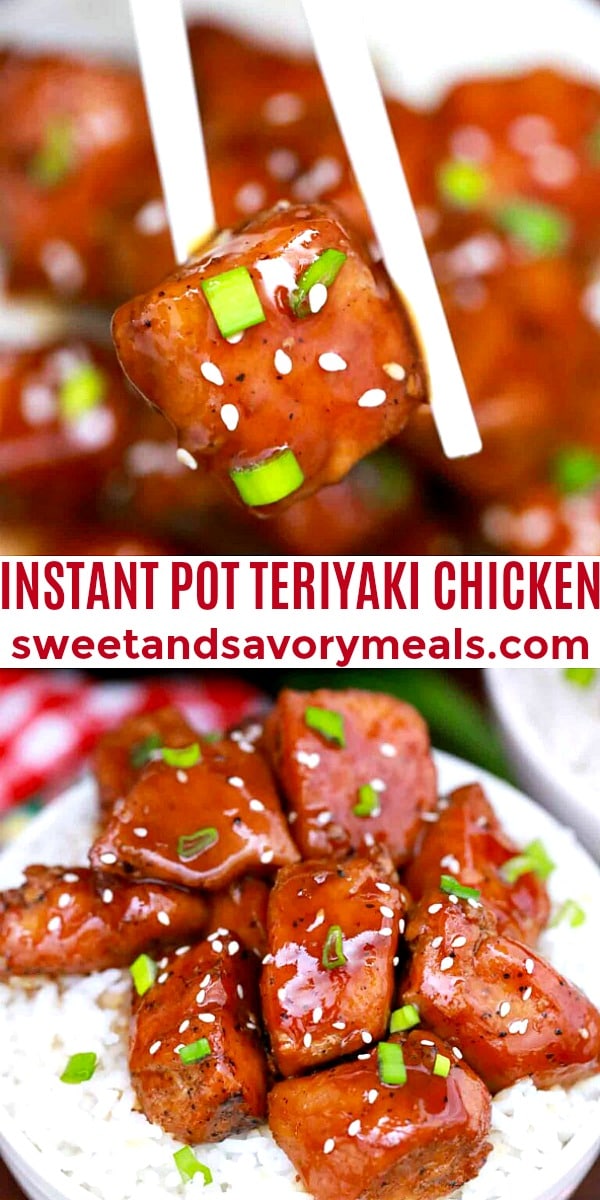 More recipes you might love