Instant Pot Szechuan Chicken
Instant Pot Szechuan Chicken is the no-fuss fix for your Chinese cravings! This easy recipe features the famous mouth-numbing Szechuan peppercorn!
Add this recipe to the list of your pressure cooker recipes along with these other favorites Baked Potatoes, Egg Bites, and Cream of Mushroom soup!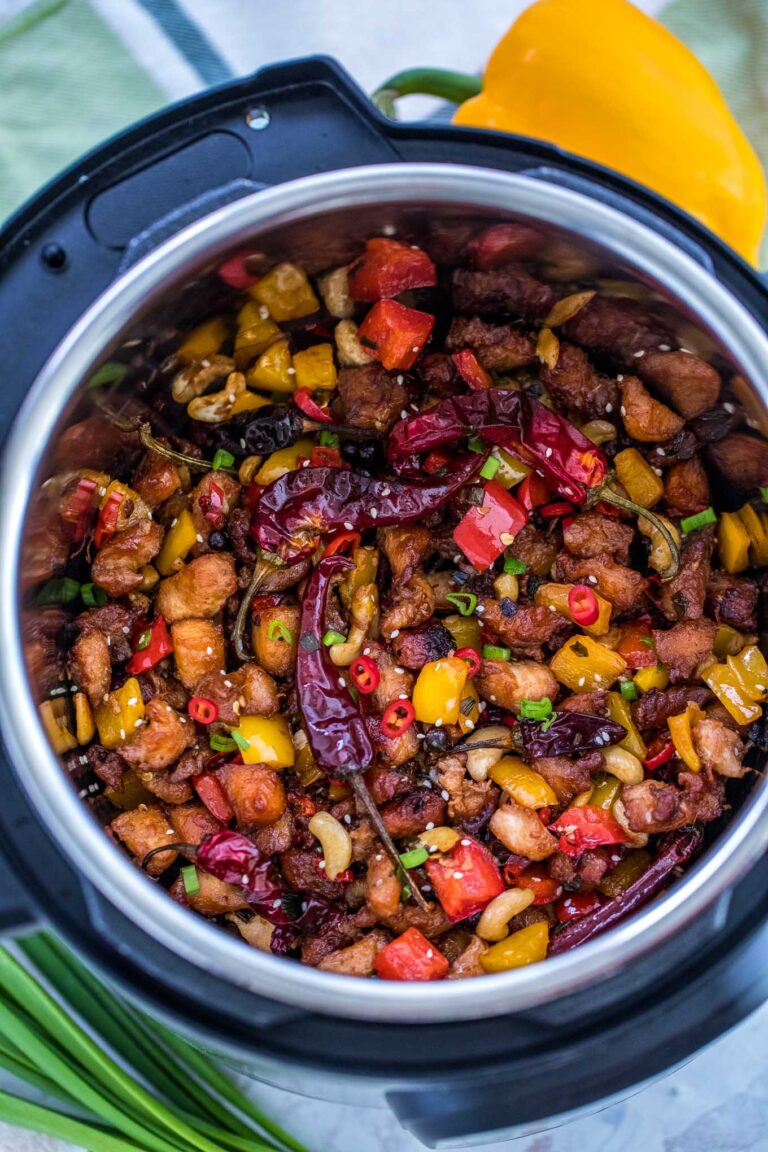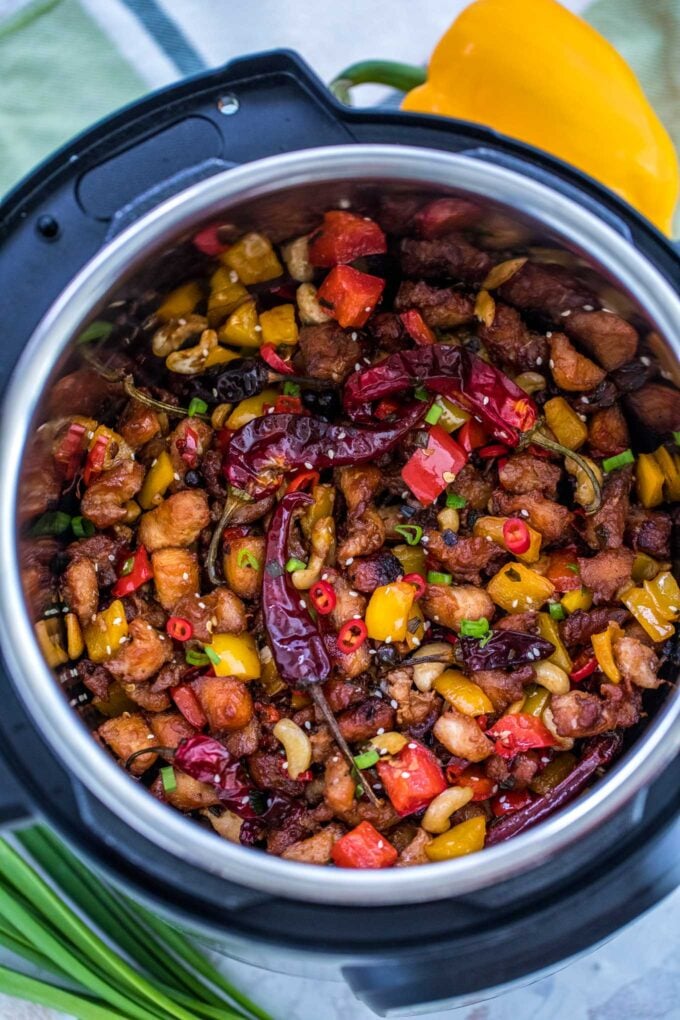 Easy Instant Pot Szechuan Chicken
Instant Pot Szechuan Chicken is an easy dinner made quickly in the pressure cooker. This is a hearty Chinese dish, that tastes better than take-out, and is also way healthier!
You get protein from the chicken breasts as well as various nutrients and minerals from the vegetables. Also, you get a lot of deep and rich flavors from it. Being an Asian-inspired meal, it has many spices in it, that makes this recipe quite unique.
All you need to do is to have the ingredients ready and your Instant Pot. No special skills required! Give it a try, and you will see how quick and satisfying this recipe is!
What is Szechuan Chicken?
It is derived from the Szechuan province of China and is famous for its peppercorns. The conventional method of cooking this is by stir-frying. But don't worry, the IP has different modes of cooking including sautéing, which we will utilize in this recipe.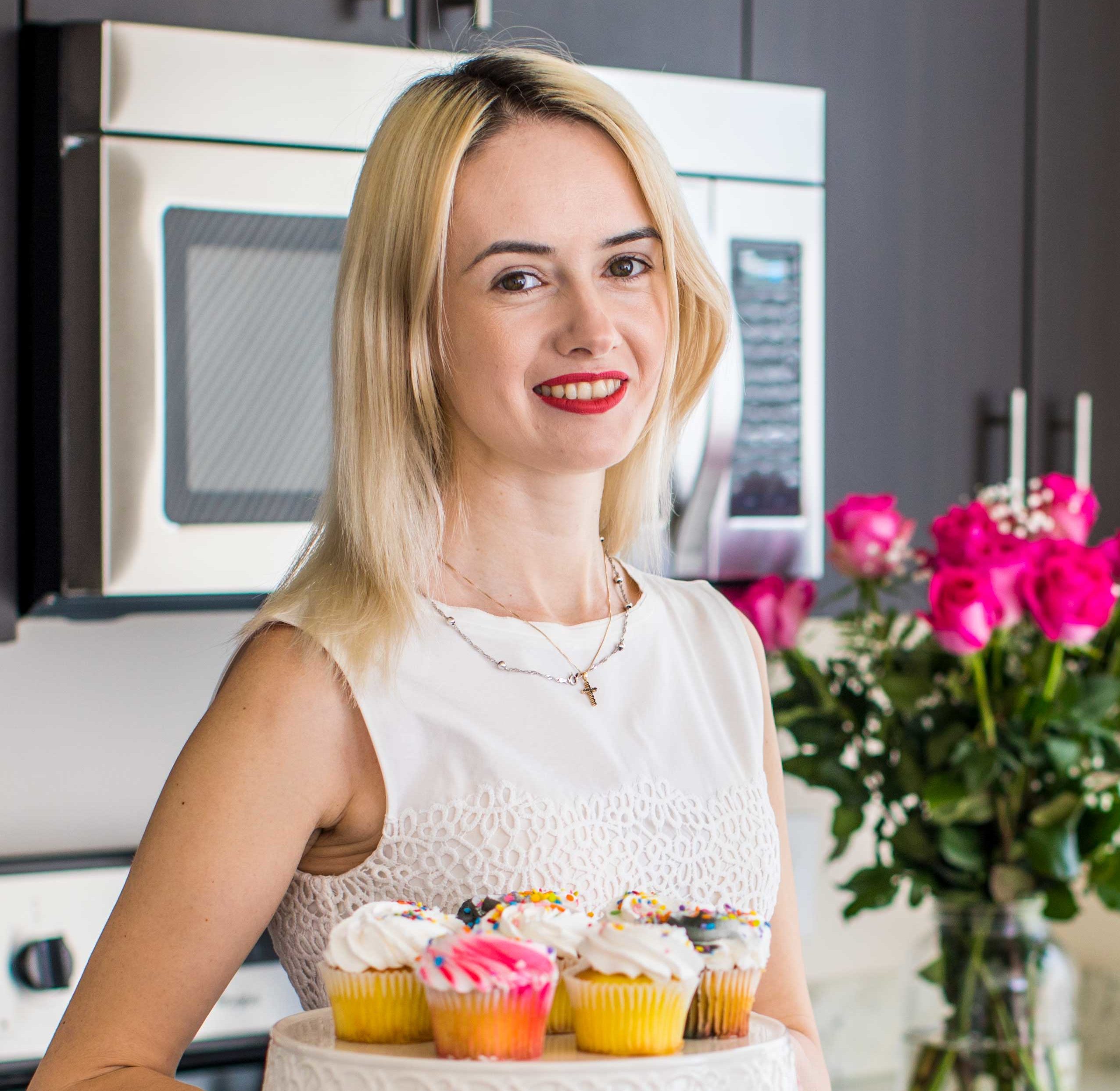 Follow us on Pinterest for more delicious recipes!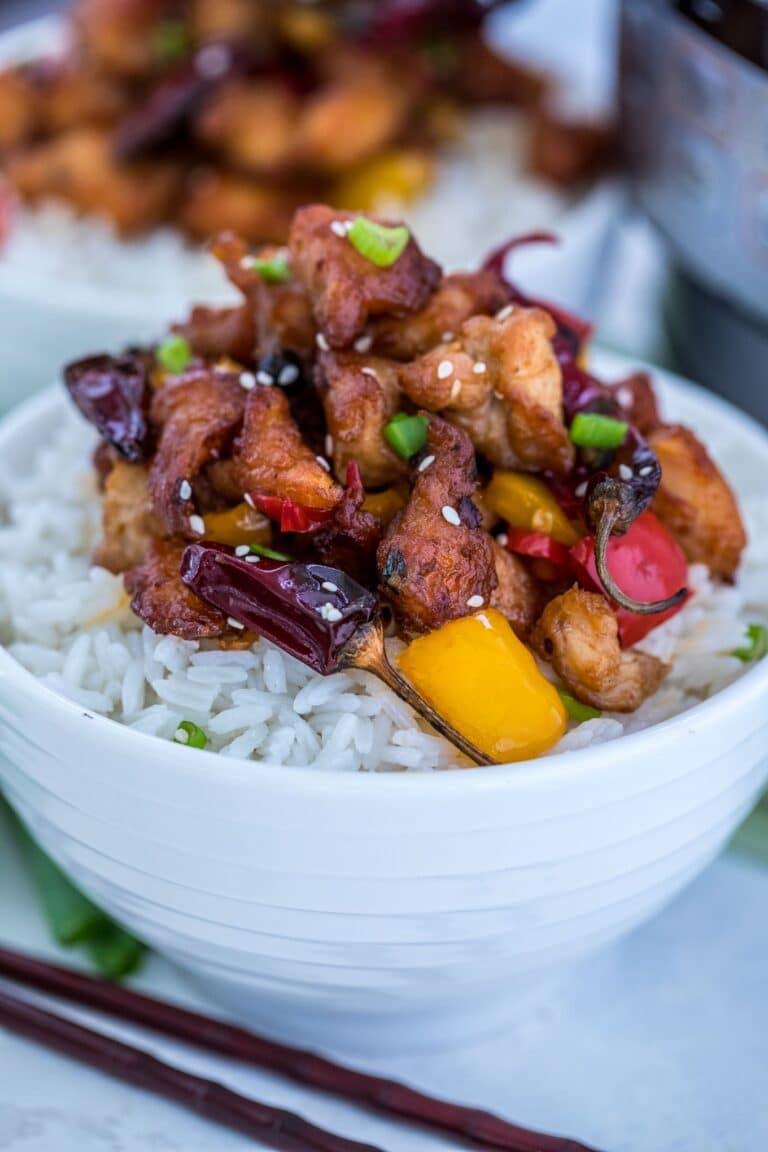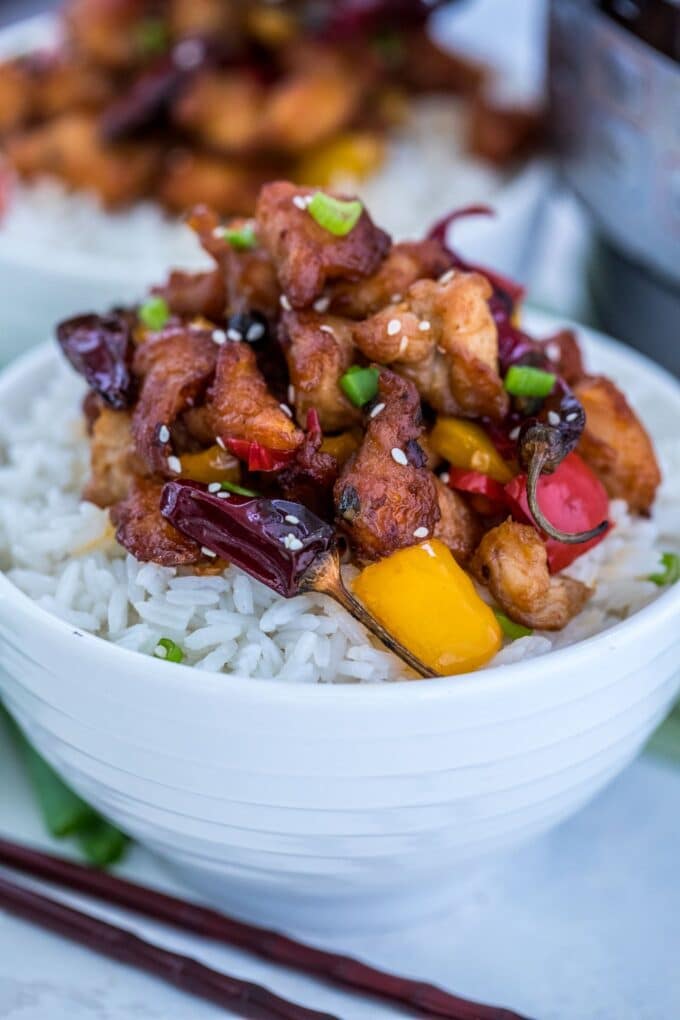 What do you need to make Instant Pot Szechuan Chicken?
You will need the following ingredients:
Chicken breasts marinated in a mixture of cornstarch, rice wine, soy sauce, sesame oil, and white pepper.
Vegetables and spices such as Szechuan peppercorns, fresh and dried red chilis, red and yellow bell peppers, ginger, garlic, green onions, and peanuts.
White sugar, and sesame oil.
Some vegetable oil for sautéing.
Chopped green onions.
Can you make this recipe with other types of meat?
You can apply this recipe to other types of meat like beef, pork, or fish. Just remember to adjust the time of cooking depending on the meat you are using. For example, fish will require less cooking time.
What is Szechuan Sauce?
It is a thick sauce that tastes sweet, spicy, and savory at the same as it sports the different spices that make this dip Chinese. We do have a recipe for this that you may want to check out.
How do you make Szechuan Sauce?
Basically, we combine the ingredients in a saucepan, whisk them all together, and add the slurry. The slurry made of cornstarch and water is what makes this sauce thick. To check out the full step-by-step recipe of it, click on this link.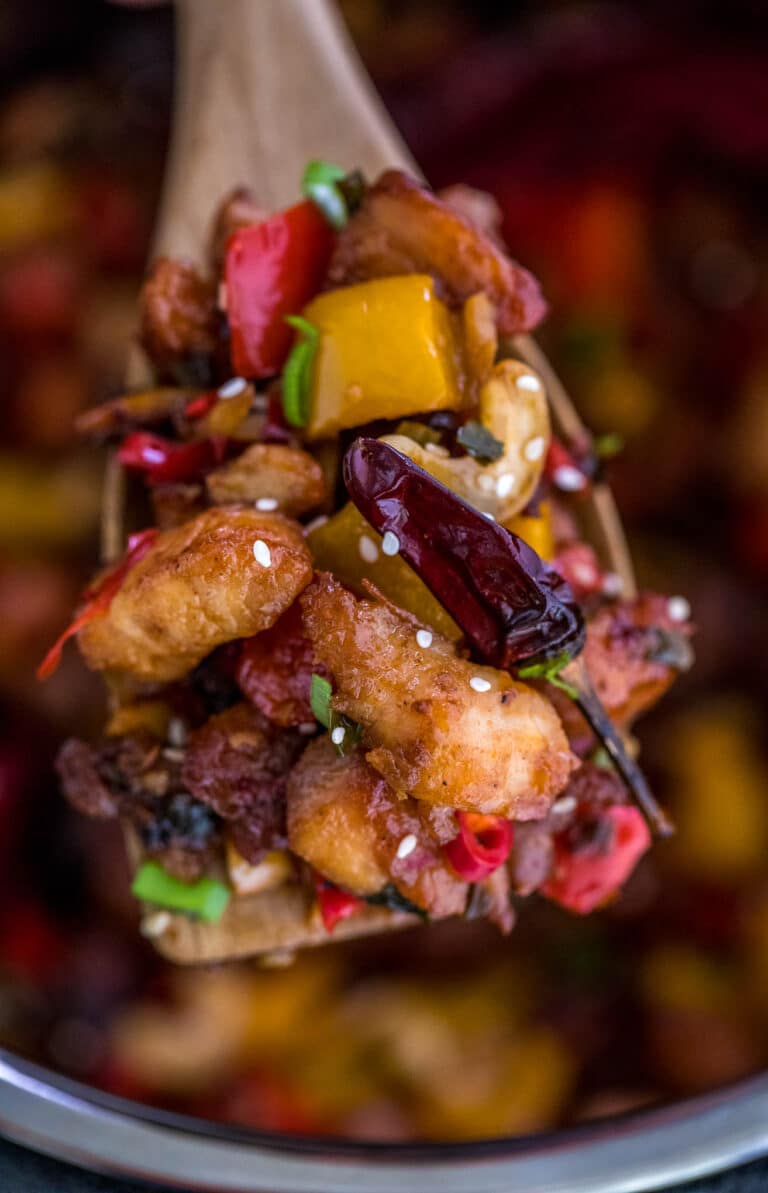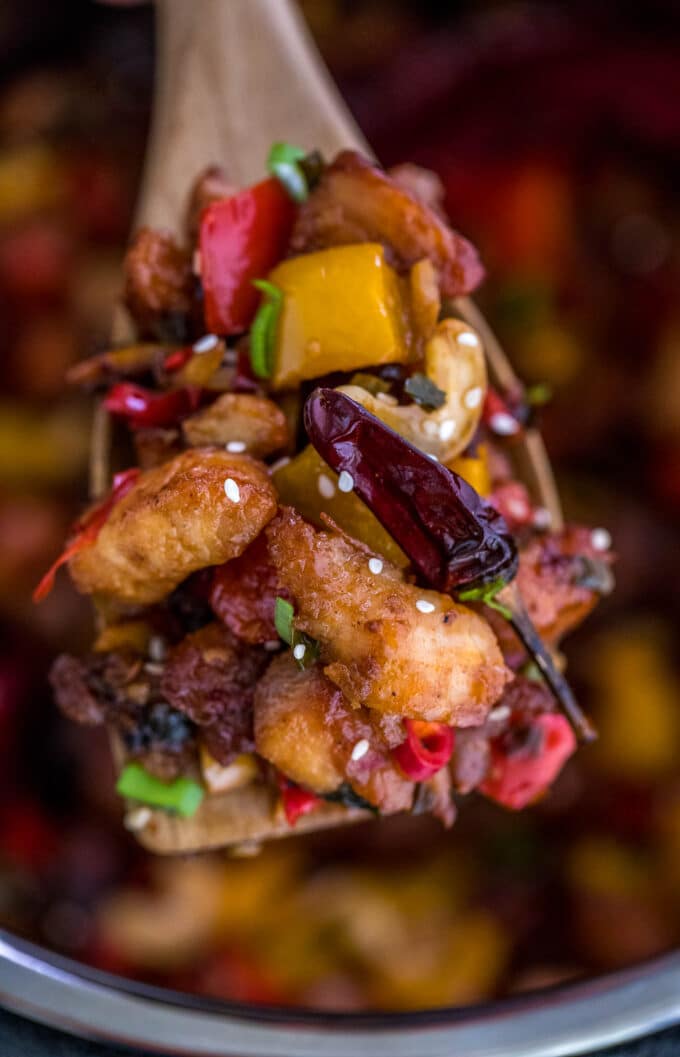 Can you make Szechuan Chicken on the stove?
Absolutely! If you are lacking a pressure cooker and would like to make it on the stove, you can check out the recipe in this link.
How to store it?
Let the whole dish cool down and place leftovers in an airtight container. Kept in the refrigerator, it will stay good for 4 to 5 days. Hence, you can make this in advance! Simply reheat when needed.
Can you freeze it?
Yes! It can be frozen for up to 3 or 4 months. Just make sure that you put this in a freezer-safe airtight container.
What to Serve with Instant Pot Szechuan Chicken?
Eat this with fried or steamed rice, noodles, or any vegetable side dish, such as steamed broccoli.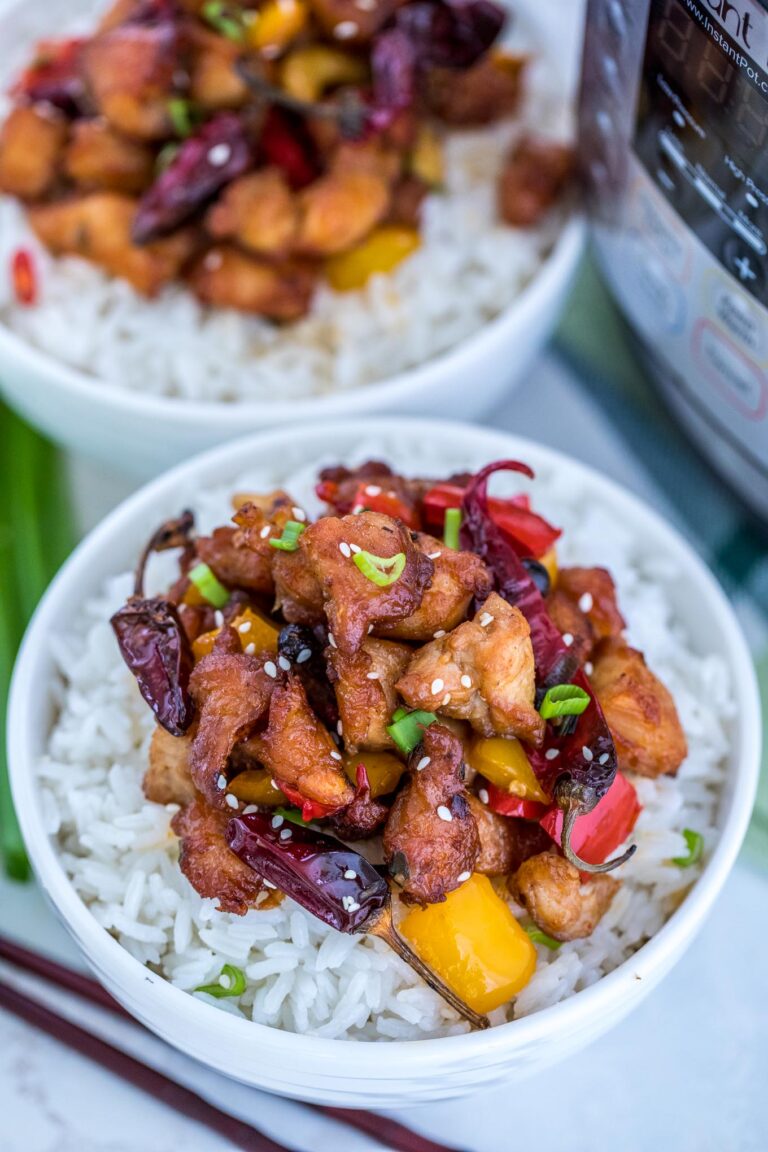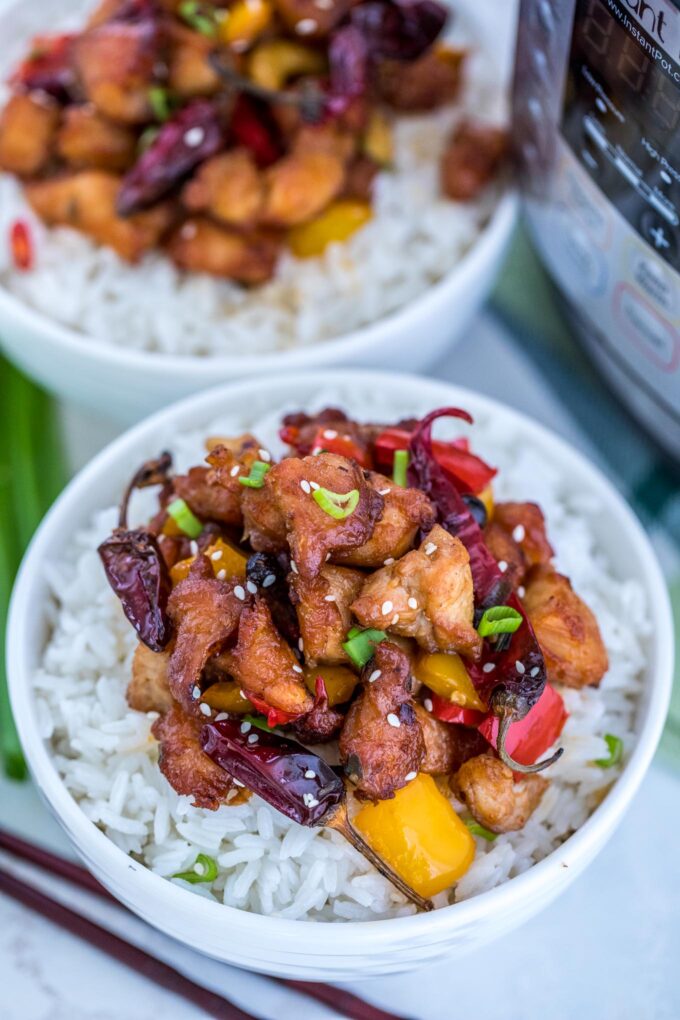 Recipe Tips
You are free to adjust the level of spiciness that comes with this dish. Simply, add or lessen some of the peppers involved.
Also, when chopping the vegetables, be sure to cut them as evenly as possible to ensure that they cook fairly at the same rate, without overcooking.
Feel free to use other cuts of chicken like those from the legs and wings.
In addition, feel free to swap the vegetables with your favorite once.
For deeper flavor, add some minced garlic and some ginger to it.
Save Recipe
Instant Pot Szechuan Chicken
Author: Catalina Castravet
Serves: 4 servings
Prep time:

25

minutes
Cook time:

5

minutes
Total time:

30

mins
Ingredients
2 lbs boneless and skinless chicken thighs (cut into 1-2 inch pieces)
Marinade:
3 tablespoons cornstarch
1 tablespoon rice wine
1/2 teaspoon white pepper
1/4 cup soy sauce
2 tablespoons sesame oil
Other Ingredients:
vegetable oil as needed for frying
1 tablespoon Szechuan peppercorn
5 fresh red chilis (cut into thin rounds)
15 dried red chilis (whole)
1 red bell pepper (cut into bite-size cubes)
1 yellow bell pepper (cut into bite-size cubes)
1 tablespoon minced ginger
4 cloves garlic (minced)
1/2 cup green onions (chopped)
1/2 cup peanuts (or cashews unsalted and roughly chopped)
1 tablespoon white sugar
2 tablespoons rice wine
2 tablespoons sesame oil
2 tablespoons soy sauce
2/3 cups chicken broth
Cornstarch Slurry:
2 tablespoons cornstarch
4 tablespoons water
Garnish:
Green onion chopped
Sesame seeds
Fresh red chilis (chopped)
Instructions
Marinate:
Combine marinade ingredients in a bowl and add the cubed chicken. Toss to combine and marinate for 30 minutes or more.
Saute:
Select Saute on High on the Instant Pot, wait for it to read HOT.
Add about 1 inch of oil and wait for it to start shimmering. Once hot, fry the chicken in one layer if needed in batches until browned and crispy. Remove and set aside on a plate.
Discard oil from the inner pot, leaving only about 2 tablespoons. Add the Szechuan peppercorns and dried red chilies. Fry for about 1 minute, just until fragrant.
Add the rest of the fresh red chilies, ginger, garlic, and bell peppers. Stir and fry for about 2 minutes.
Add chopped green onions and nuts. Fry for a minute.
Add back the fried chicken pieces, stir and add the sugar, rice wine, soy sauce, and sesame oil. Toss to coat. Add the chicken broth.
Pressure Cook:
Close the lid, point the valve to seal. Pressure Cook for 5 minutes, followed by 5 minutes of Natural Pressure Release.
Thicken:
Open the lid, select saute. In a small cup mix cornstarch and water until dissolved and add the mixture to the pot. Stir to combine until thickened.
Serve as is or over rice, garnished with chopped scallions, sesame seeds, and more red chilis.
Calories: 617 Carbohydrates: 23 Protein: 52 Fat: 33 Saturated Fat: 5 Cholesterol: 215 Sodium: 1668 Potassium: 966 Fiber: 3 Sugar: 4 Vitamin A: 1185 Vitamin C: 97.7 Calcium: 66 Iron: 3.9
Save Recipe
More recipes you might love