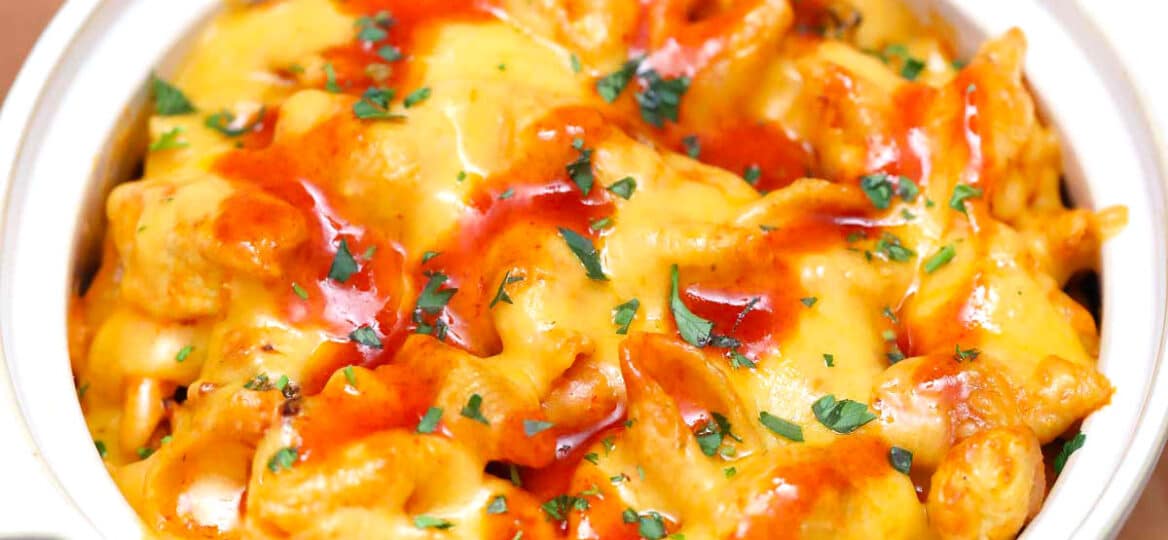 Instant Pot Buffalo Chicken Pasta [Video]
Instant Pot Buffalo Chicken Pasta is cheesy, creamy, and a bit tangy with a slight kick! Hearty and easy to make, it is everything that you need for a quick dinner!
We love using the IP for similar dishes because we do not need to cook the noodles separately. Instead, we use the same pot which means less cleanup needed. This dish is a great example of that along with other IP recipes like Taco Pasta, Pizza Pasta, and Jalapeno Popper Pasta!
Buffalo Chicken Pasta
Instant Pot Buffalo Chicken Pasta is easy to make with just a few basic ingredients and the trusty pressure cooker. The best part of this whole thing is that this dish is ready within minutes! So, if you are in a hurry to have something tasty to eat for lunch or dinner, then, you should try this.
I love how the bacon and white meat pieces offer a textural contrast with the cheesy and creamy shells. Also, the hot sauce and the ranch match well to give character to the dish.
This is a nice offering to all your adult guests in case you are hosting a game night. But I have served this to kids and they love it as well! It is just a hearty dish overall that everyone loves!
What is Instant Pot Buffalo Chicken Pasta?
If you love Buffalo Wings and Mac and Cheese, then, you will love this dish! It is like a combination of these two favorites just like the Buffalo Chicken Dip.
I like how the buffalo sauce melds well with the ranch seasoning and how all the cheeses and garlic make this dish savory.
It has cheeses that coat the shells and bits of bacon and chicken. So, you get carbs and protein in just one hearty dish.
Can I use pre-shredded chicken in Pressure Cooker Buffalo Chicken Pasta
Yes! You may even use leftover or rotisserie ones if you like. Or, use the IP to cook the whole breasts before shredding them and combining them in this dish.
You may incorporate the steps described in the post about cooking frozen chicken breasts in the Instant Pot to this recipe, minus the herbs.
What type of pasta is best to use?
Any short or medium-sized pasta is perfect for this dish. Elbow, shell, penne, or farfalle will do.
How to make Instant Pot Buffalo Chicken Pasta
Sauté: Use the sauté function of the IP to heat some olive oil and cook the white meat. Do this in batches then, set aside.
Deglaze: Pour in a cup of the broth and use it to deglaze the bottom of the pot using a wooden spoon.
Pressure-cook: Stir in the rest of the broth, the seasonings, butter, and hot sauce along with the pasta. Combine everything. Then, top the mixture with the meat and cream cheese and do not stir. Cook for 4 minutes before doing a quick release.
Broil: Stir in the cheddar and bacon bits. Then, transfer into a casserole and top with more cheese before broiling.
Serve: Garnish with hot sauce and parsley before serving.
How to store
Refrigerate: Put this in the fridge and it will stay good for up to 3 days.
Freeze: Make sure that it is placed in a lightly greased baking dish that can withstand freezing. Cover it with foil then wrap with plastic. When ready to consume within the 6-month storage period, bake it covered with foil at 350 degrees Fahrenheit.
Recipe Tips
To cook your bacon, bake it at 400 degrees Fahrenheit for up to 20 minutes, placed in a baking sheet and arranged in a single layer.
You can make your buffalo sauce, too.
Serve it with some vegetables or bread.
Deliciousness to your inbox
Enjoy weekly hand picked recipes and recommendations