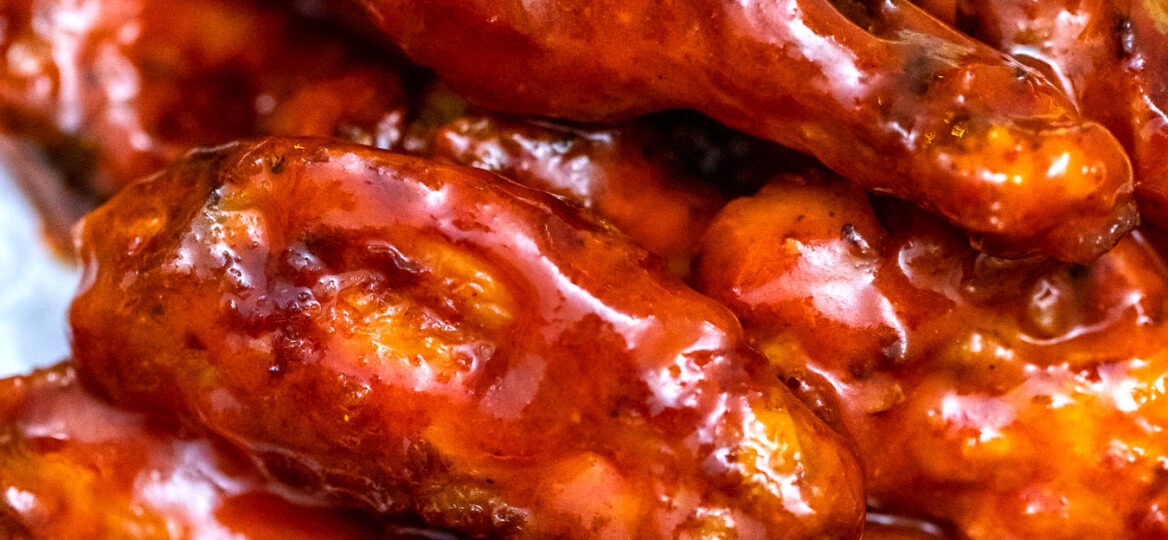 Baked Buffalo Wings Recipe [Video]
These Baked Buffalo Wings are super crispy and coated in a delicious homemade spicy sauce. They are the perfect snack or party food!
We love serving them during gamedays, Superbowl, or gathering as appetizers along with Spinach Artichoke Dip, Bacon Ranch Cheese Ball, and Oven BBQ Ribs.
Best Crispy Buffalo Wings
Homemade Classic Buffalo Wings are a hearty and flavorful snack that are baked instead of fried. Even though the wings are not fried, they are just as crispy! We love making them at home in our delicious spicy sauce.
If you were looking for a healthier alternative to the fried wing, but equally crispy, then this recipe is the one! The secret in making them extra crispy is to bake them on the wire rack.
All you have to do is to generously coat them with the sauce and put them in the oven. You do not need anything fancy or extra tools, to have restaurant-quality wings, easily made in your own kitchen. Also, if you love them mild, simply adjust the heat level in the sauce.
Why is it called Buffalo Wings?
They are called so because they were created in a restaurant in Buffalo, New York in the 1960s. Generally, the wings are cooked unbreaded and are either deep-fried or oven-baked then coated or dipped in a sauce.
Nowadays, this recipe has become very popular and is served in various restaurants worldwide.
HOW DO YOU MAKE BUFFALO SAUCE?
The secret to getting the BEST Buffalo Wings is in the sauce. Obviously, you can get it from the store. However, for the best flavor, we highly recommend making the sauce at home.
It is simply a mixture of melted butter, garlic powder, onion powder, and hot sauce, and honey. Check out the recipe here.
How to make Crispy Buffalo Wing in the Oven?
Watch the short video recipe above, for a quick tutorial. But the general steps are as follows:
Prepare the wing: Prior to cooking them, ensure to dry them out with paper towels. Then, add the poultry into a bowl, and add the baking powder, salt, pepper, garlic powder, onion powder, and smoked paprika.
Coat them: Toss them evenly to coat with the baking powder and spices.
Bake: Place the wings on the wire rack in a single layer, and bake.
Serve: Pour the spicy sauce over them, and serve warm!
Depending on the oven, you will need between 45-55 minutes at 400 degrees F. Also, it is important to spread out in one layer on the wire rack.
It is best to check the doneness using a meat thermometer. Simply, inserted it into the meaty section of the wing. The internal temperature should read 165 degrees.
How To Make Buffalo Wings Extra Crispy?
As stated above, the secret to making them extra crispy is to put them on a wire rack inside of a rimmed baking sheet. This is because the rack allows air to pass through them freely.
Also, put an aluminum foil under, so it does not drip and mess up the oven.
How to make Slow Cooker Buffalo Wings?
Making them in the crockpot is equally easy and delicious.
First, prepare the sauce as stated above.
Then, place the chicken wings into the slow cooker and pour sauce mixture over them.
Set the cooking time on HIGH for 2.5-3 hours or LOW for 4-5 hours.
Also, you could cook frozen chicken wings in the Slow Cooker. If using frozen, remember that they will create and leave more liquid in the pot. Therefore, remove them from the Slow Cooker once cooked, and add some extra sauce, quickly broil for about 3-5 minutes.
What to serve with Buffalo Wings?
They are great appetizers and party pleasers. The classic way to serve them is with blue cheese dip, ranch dipping, or garlic sauce. Alternatively, feel free to dip them in Chipotle or Horseradish Sauce.
Another option would be pairing them with some veggies, such as celery, and carrots for a game day!
More delicious Appetizers:
How to store them?
If you have leftovers, simply transfer to an airtight container and refrigerate for up to 3 days. Reheat in the oven or microwave for a few minutes until warm.
Similarly, you can freeze them in a freezer-safe dish, for up to 3 months.
Deliciousness to your inbox
Enjoy weekly hand picked recipes and recommendations