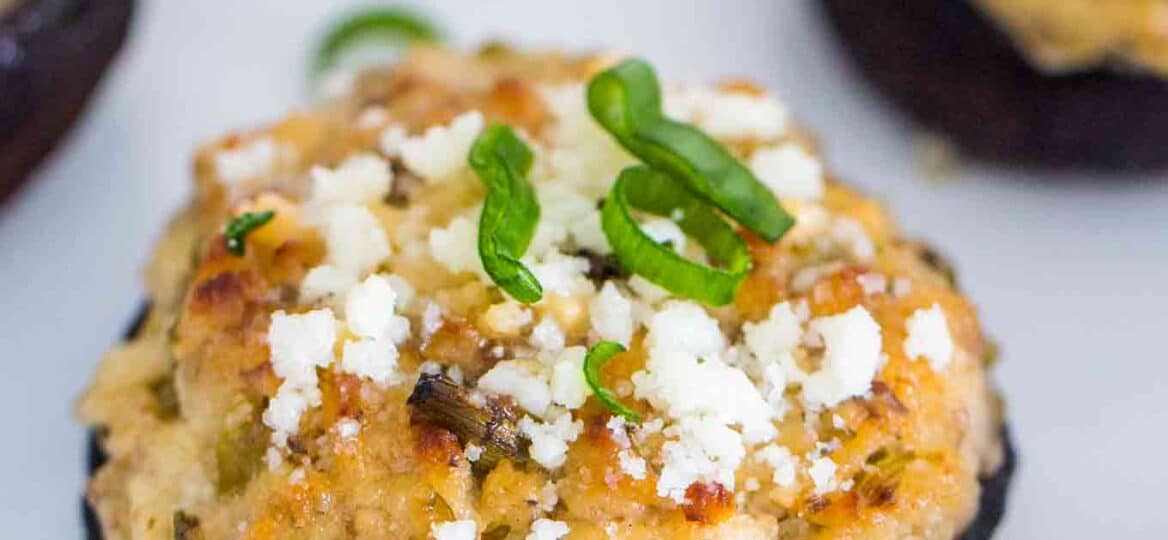 Best Stuffed Mushrooms Recipe
Stuffed Mushrooms with garlic, Parmesan, and cream cheese are the ultimate appetizer for any occasions. They are perfect bite-size appetizers, stuffed with rich and flavorful ingredients that everyone loves.
Nothing gets us more excited this time of year than a holiday appetizer spread. We like to have a good mix of options on our Christmas tables: Spinach Artichoke Dip, Slow Cooker Kielbasa, and Shrimp Cakes.
How to Make Stuffed Mushrooms?
Stuffed Mushrooms with Parmesan cheese will quickly become your go-to appetizer. They are a hearty bite appetizer or side dish, and are perfect for the holiday season, game-days, Superbowl, or any other occasion! Also, the flavors are mouthwatering, and the best part is that they are ready in less than 30 minutes.
The cream cheese, Parmesan and garlic make them very special, and I guarantee you will enjoy every bite of them. The breadcrumbs give them a nice crispy texture, while the cheese and butter melt in your mouth.
Another great bonus about them is that you can play and pick with your own ingredients. For example, you can use your favorite cheeses for stuffing, or add some bacon crumbs, or spinach. Whichever way you go, they will be a huge hit. This dish can be served as an appetizer or side dish. Also, they store well, and leftovers taste delicious.
How to Clean Mushrooms?
First, wash rinse them under cold water. Then, wipe mushrooms dry with a paper towel, and remove stems and scoop out gills. Lightly rinse them under cold water to remove any dirt. Do not soak them in water as they will absorb much of the liquid and release the water while they cook.
Ingredients for Stuffed Mushrooms filling?
butter
mushroom stems
green onions
garlic
breadcrumbs
Parmesan cheese
cream cheese
mayo
Italian seasoning
parsley
How to make Stuffed Mushrooms with Parmesan Cheese?
Preheat oven to 400°F.
Spray with some oil a baking sheet that has been lined with parchment paper.
Clean the mushrooms, remove stems, and roughly chop stems. Place mushroom caps onto the baking sheet.
In a small bowl combine all the ingredients together.
Fill each mushroom cap with the prepared garlic stuffing.
Place them onto the prepared baking sheet.
Bake for about 15-20 minutes, or until the filling is golden brown.
What type of mushrooms should I use?
It is best to use baby Bella mushrooms as they have a perfect "bite-size". Also, they taste delicious and are available year-round, so they should be your main go-to type for this recipe.
Portobello is also commonly used for stuffing, but due to their large size, I prefer to stick with baby mushrooms.
What can you stuff mushrooms with?
They can be stuffed with lots of ingredients, some top ideas are listed below:
For meat lovers, you can use ground pork, chicken or beef for stuffing.
Similarly, you can use a variety of Italian sausages. Just remove the casings and chop the sausage before frying.
Veggies such as spinach or asparagus. Especially if you combine them with butter and some cream cheese, it's delicious.
Various cheeses such as mozzarella, Parmesan, Gouda, or other cheese you might like.
Love Crab Stuffed Mushrooms?! Simply add some crab to the mixture.
Green onions.
For a creamy version, go with cream cheese and sour cream. These will be the best and creamiest stuffed mushrooms ever!
Can I make Stuffed Mushrooms ahead of time?
Yes, it is very easy to prepare them ahead, and then bake before your guests arrive. The stuffing takes about 15 minutes to assemble together. Once you make the stuffing, fill the mushroom caps with it, cover with plastic wrap and put in the refrigerator.
You can also refrigerate them up to 2 days in advance. When ready to serve, simply preheat the oven, and bake them for 20 minutes.
How long will stuffed mushrooms last in the fridge?
If you want to refrigerate them, add them to an airtight container. Then, refrigerate it up to 3-4 days. Preferably, heat in the oven or microwave until warm, before serving.
Can I freeze them?
You can freeze stuffed mushrooms before or after cooking. In either case, arrange them in layers in a container with parchment paper or foil in between. Freeze for up to 3 months.
Check out other mushroom recipes
Stuffed Mushrooms With Parmesan Recipe Tips:
We recommend serving them with melted cheese, bacon lardons and breadcrumbs alongside a salad.
If you are looking for a low ca'rb option, simply leave out the breadcrumbs. Also, you could swap them with almond meal.
We prefer panko breadcrumbs compared to regular breadcrumbs, as they are more crunchy and work best in this recipe. However, if you cannot find them, regularF will work as well.
Deliciousness to your inbox
Enjoy weekly hand picked recipes and recommendations