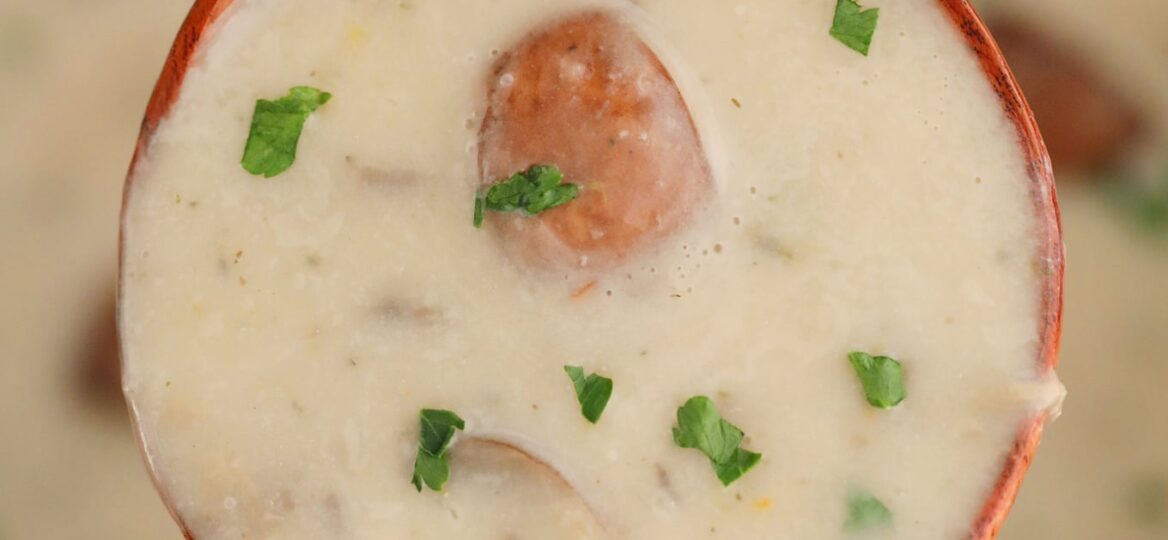 Cream of Mushroom Soup Recipe
Cream of Mushroom Soup is a classic soup made with cream, mushrooms, and herbs. Learn how to cook it at home, to enjoy it anytime you want it.
Homemade soups and stews are perfect to serve during the colder times of the year. Enjoy this creamy mushroom soup on its own, or serve it with something nice and crunchy like our bacon-wrapped chicken, fried chicken, and some twice-baked potatoes!
Homemade Cream of Mushroom Soup is so deep and flavorful that you will never go back to the canned stuff again! This recipe is super easy to make, ready in minutes, and just perfect to enjoy during a cold night!
We just love how the mushroom's flavor is brought out in this classic dish. Also, the garlic, onion, and fresh herbs bring just the right balance of flavors, without overpowering it. When the soup season hits, this dish is always on the menu. My whole family loves it very much, and we serve it with some crusty bread or a salad on the side.
You might know this as something that you can just get at the grocery store but in reality, it is way better to make it easily right in your kitchen! All you need to have are a few staple pantry items, your favorite mushrooms, and some chicken broth.
Not only is this recipe easy, but it is also a lot healthier to make on your own than buying the canned version. You can even adjust the taste according to your preference. Besides, it is a hearty meal with a creamy texture that everyone will love!
What is Cream of Mushroom Soup?
It is a creamy soup that is made with chicken stock, heavy cream, herbs, and spices that bring out the natural earthy flavor of the mushroom.
The condensed version is a common ingredient in other recipes, like casseroles, and is a staple in everyone's pantry.
Ingredients:
Mushrooms: Use whatever type of mushrooms you like. Fresh mushrooms such as cremini mushrooms, porcini mushrooms, baby portabella, or wild mushrooms work the best. Just go with what you like or have available on hand.
A bit of olive oil
Butter and heavy cream: This makes the creamy base of the soup.
Onion and garlic
All-purpose flour: To thicken the soup.
Broth: I love using homemade chicken stock as it is more flavorful compared to the store-bought version. However, feel free to use whatever you like. Also, beef stock, mushroom stock, or vegetable stock will work just as fine.
Worcestershire sauce: It adds a nice balance of flavors here.
White wine or red wine: Use good quality wine, such as sauvignon black or pinot grigio. If you do not want to use wine, simply use more broth or an alcohol-free version. Also, you could use a bit of balsamic vinegar to give it some acidity.
Herbs: Such as dried thyme, rosemary, Italian herbs, red pepper flacks, sea salt, black pepper, fresh thyme, and parsley.
How do you make Cream of Mushroom Soup?
Melt butter: First, in a saucepan, over medium heat, sauté the mushrooms and onions in butter.
Combine the flour: Then, in a separate bowl, mix together the flour, salt, pepper, and broth until fully combined.
Bring to boil: Next, add the mixture to the mushrooms and onions and stir. After, pour in the rest of the broth. Let it boil until it thickens.
Add the cream: Reduce heat, stir in the cream and let it simmer for about another 15 minutes while stirring once in a while.
Blend: Using an immersion blender or a food processor, puree soup till the desired consistency is reached.
Serve: Let it cool, then, serve!
Substitutions and Variations:
Broth: Swap the chicken broth, with beef or vegetable broth.
Dairy-free: Make it dairy-free by swapping the cream with coconut milk, oat milk, or almond milk. Just keep in mind that the soup would not be as thick and creamy.
Other herbs: Feel free to use your favorite herbs. Some great additions would be a bay leaf, fresh rosemary, cayenne pepper, ranch seasoning, tarragon, thyme springs, etc.
Add meat: To add some proteins, simply mix in some shredded chicken, turkey, ham, or bacon.
Make it without cream: If you don't want to use cream, substitute it with evaporated milk or regular milk (whole milk or 2%). Just simmer it over low heat for about 1-2 minutes to heat it through.
What is condensed cream of mushroom soup?
Condensed soup has minimal water content making it thick and highly concentrated. This means that it has been boiled and left cooking for quite some time that water has been lessened.
Also, in this recipe, we are not making the condensed version, but the creamy one that is pure comfort food.
Actually, the canned version is exactly what the condensed one is. It is thick and must be watered down usually before using in recipes.
How do you thicken the cream of mushroom soup?
Adding in roux usually does the trick. It is more flavorful, and all you have to do is stir in flour and butter together (as in this recipe).
The flour will absorb the moisture thereby thickening the rest of it.
Can I make this soup in the Instant Pot?
Absolutely! Making it in the pressure cooker is very easy and fast, and make it for a great weeknight meal.
Check out the full Instant Pot Cream of Mushroom Soup here.
What to serve with it?
Serve it in bread bowls, along with some crusty bread, dinner roll, garlic bread, or some bruschetta.
Also, it pairs well with green bean casserole, caesar salad, or some greens.
How to store it?
You can make it in advance, and simply put it in the refrigerator as long as it is placed in an airtight container and properly cooled.
Also, it is best to store it for up to 4 days. When ready to serve, simply reheat it.
To reconstitute, just add some water, broth, or milk when reheating.
How to freeze it?
Once it has cooled down, transfer it into a large freezer bag. You can keep laying flat in the freezer for up to 3 months!
Freeze in single portions so you will only defrost what you will be reheating. If you are to use up one portion the next day, transfer the frozen portion to the refrigerator the day before so that it will start to thaw out.
More soup recipes:
Recipe Tips
Any type of mushroom can be used in this recipe, such as shiitake, cremini, portobello, etc.
Also, for additional flavor, you can add herbs like thyme and parsley. Just use whatever you like. Adding some bouillon will also add a depth of flavor to it.
If you think that the consistency is too thick, just add some more broth or mushroom broth, to achieve the preferred consistency. Otherwise, if it is too light for your liking, let it boil for a longer time.
You can use milk in place of cream, just remember to add it when the heat has been lowered to avoid curdling.
For a spicier kick, add some crushed red chili peppers to it.
In addition, you can top the soup with shredded parmesan, cheddar, or mozzarella cheese, for enhanced flavor.
Best Cream of Mushroom Soup Recipe
Ingredients
4

tablespoon

butter

unsalted

1

sweet onion

diced

4

cloves

garlic

minced

5

cups

mushrooms

sliced

6

tablespoons

all-purpose flour

4

cups

chicken broth

vegetable broth or water

2

tablespoons

Worcestershire sauce

1/2

cup

red wine

or use more broth for an alcohol-free version

1

teaspoon

dried thyme

1

teaspoon

dried rosemary

1

teaspoon

Italian herbs

1/4

teaspoon

red pepper flakes

optional

1/2

teaspoon

salt or to taste

1/2

teaspoon

pepper or to taste

1

cup

heavy whipping cream
Garnish:
Fresh thyme

Chopped Parsley
Instructions
Place a large Dutch oven over medium-high heat, once hot, add the butter and melt.

Then, add the diced onion, stir and cook for 1 minute. Add the garlic, stir and cook for 30 seconds, just until fragrant.

Next, add the sliced mushrooms, stir and cook for about 8-10 minutes. Add the dried thyme, rosemary, Italian herbs, pepper flakes, salt, and pepper. Stir and cook for 2-3 minutes.

In a large measuring cup combine: 1 cup of broth with flour and whisk to combine. Set aside.

Add the wine to the pot, stir and cook for 2 minutes.

Next, add the broth and flour mixture and stir to combine. The mixture will be thick.

Add the remaining broth, little by little, stirring to combine. Bring to a boil.

Next, reduce heat to medium, cover and simmer for 10-15 minutes, stirring occasionally, until thickened.

Reduce heat to low and stir in the cream until fully combined.

If preferred, use an immersion blender to cream the soup more, leaving some mushrooms intact.

Taste and adjust for salt and pepper.

Serve garnished with fresh thyme and chopped parsley.