Cream of Mushroom Soup Recipe
Cream of Mushroom Soup is a classic soup made with cream, mushrooms, and many herbs. Learn how to cook it at home, to enjoy it anytime you want it.
Have this soup by itself or serve it with something nice and crunchy meat recipes like our bacon-wrapped chicken, fried chicken, and some twice baked potatoes!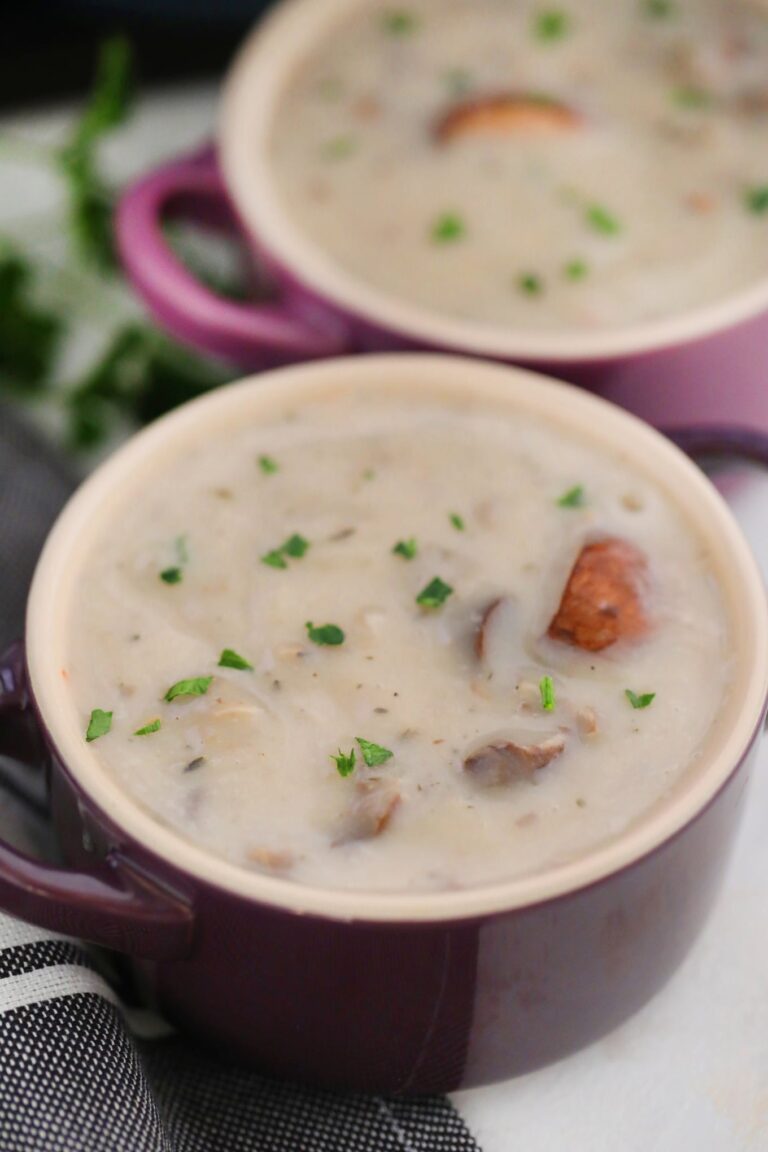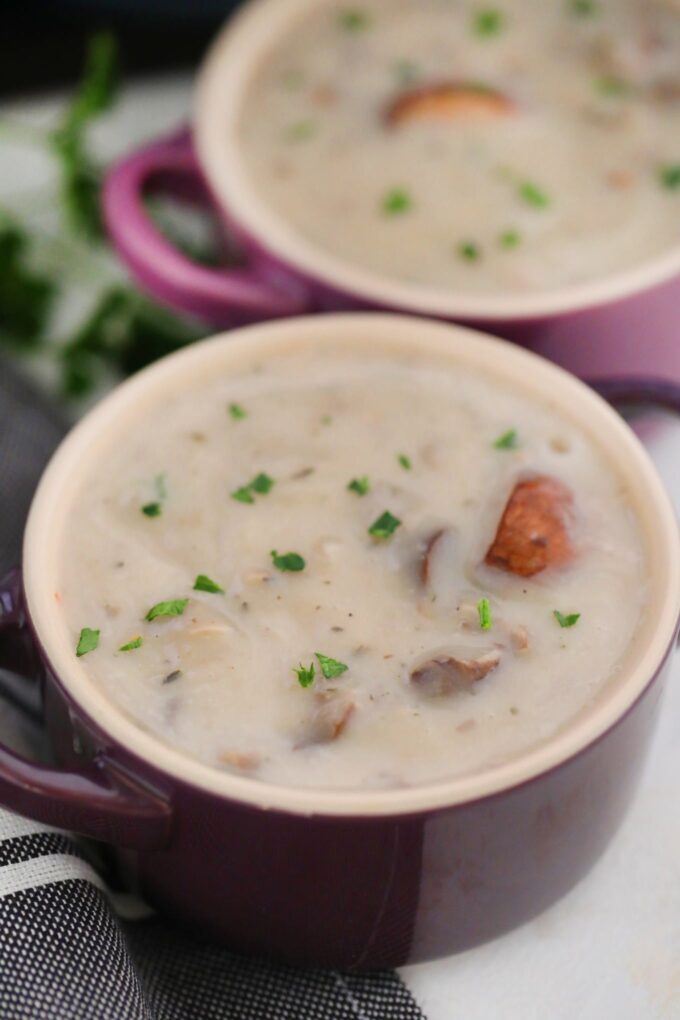 Easy Cream of Mushroom Soup
Cream of Mushroom Soup is a kind of creamy soup that can be elevated to more complex recipes with the addition of other ingredients. We just love how the mushroom's flavor is brought out in this classic dish. When paired with other dishes, it makes for a satisfying meal altogether.
You might know this as something that you can just get at the grocery store but in reality, you can make it easily right in your kitchen! All you need to have are a few staple pantry items, your favorite mushrooms, and some chicken broth.
Not only is this recipe easy, but it is also a lot healthier to make on your own than buying the canned version. You can even adjust the taste according to your preference. Besides, it is a hearty meal that everyone will love!
What is Cream of Mushroom Soup?
It is a creamy soup that has herbs and spices that bring out the natural earthy flavor of the mushroom. The condensed version, is a common ingredient in other recipes, like casseroles, and is a staple in everyone's pantry.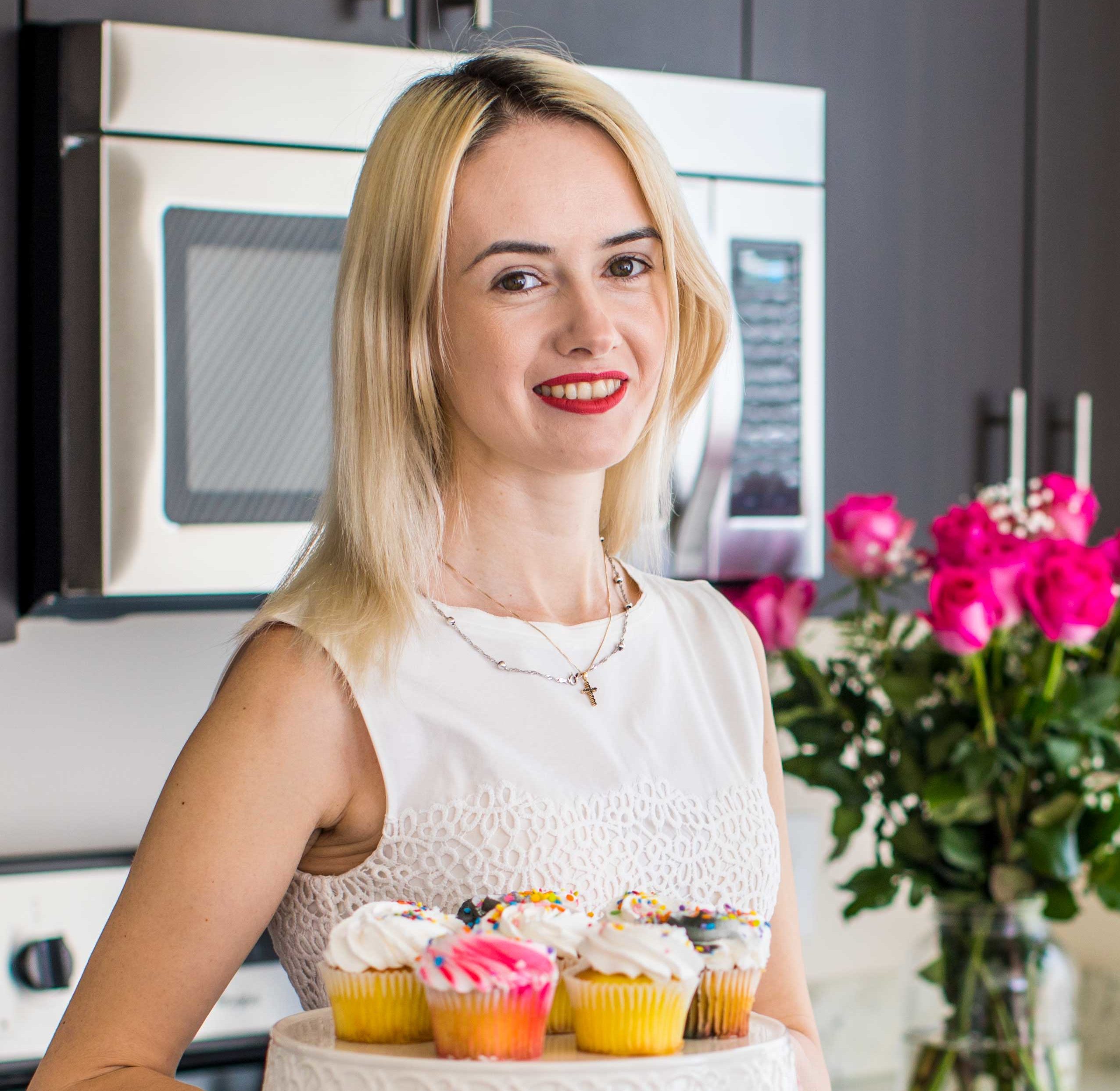 Follow us on Pinterest for more delicious recipes!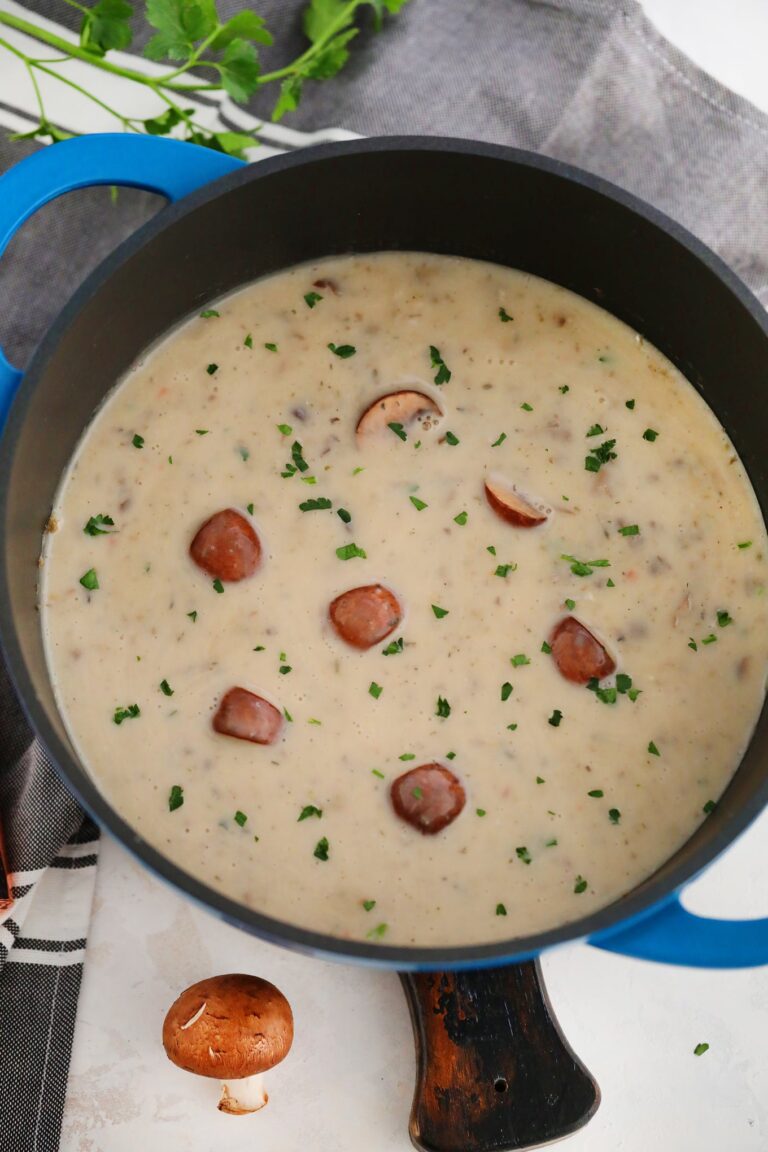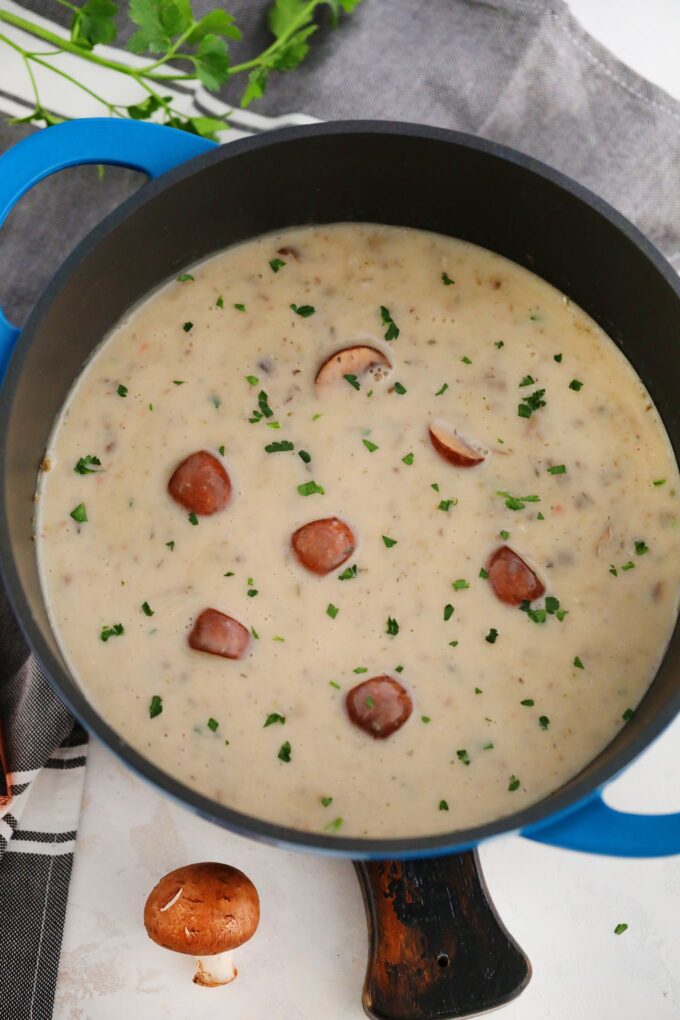 How do you make the classic Cream of Mushroom Soup?
In a saucepan, sauté the mushrooms and onions in butter.
In a separate bowl, mix together the flour, salt, pepper, and broth until fully combined.
Then, add the mixture to the mushrooms and onions and stir. After, add in the rest of the broth.
Let it boil until it thickens.
Lower the heat, stir in the cream, and let it simmer for about another 15 minutes while stirring once in a while.
Let it cool, then, serve!
What is condensed cream of mushroom soup?
Condensed soup has minimal water content making it thick and highly concentrated. This means that it has been boiled and left cooking for quite some time that water has been lessened. In this recipe, we are not making the condensed version, but the creamy one that is pure comfort food.
Actually, the canned version is exactly what the condensed one is. It is thick and must be watered down usually before using in recipes.
How do you thicken the cream of mushroom soup?
Adding in roux usually does the trick. It is more flavorful, and all you have to do is stir in flour and butter together (as in this recipe). The flour will absorb the moisture thereby thickening the rest of it.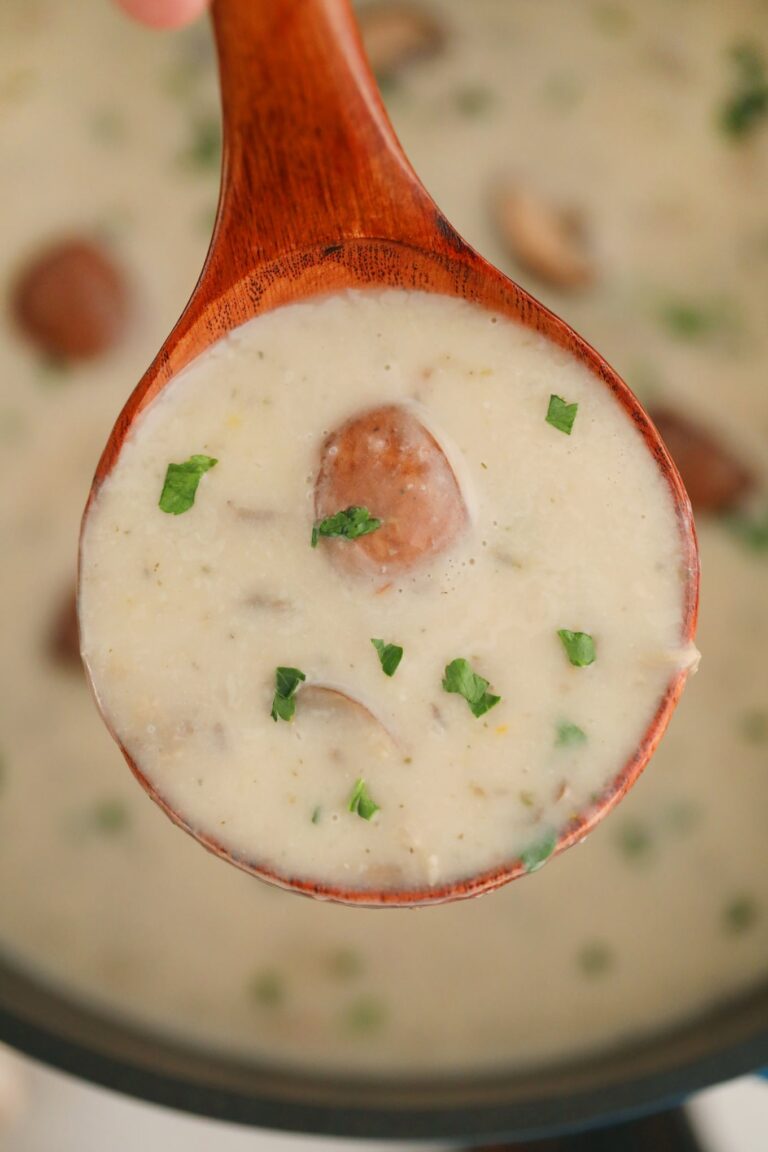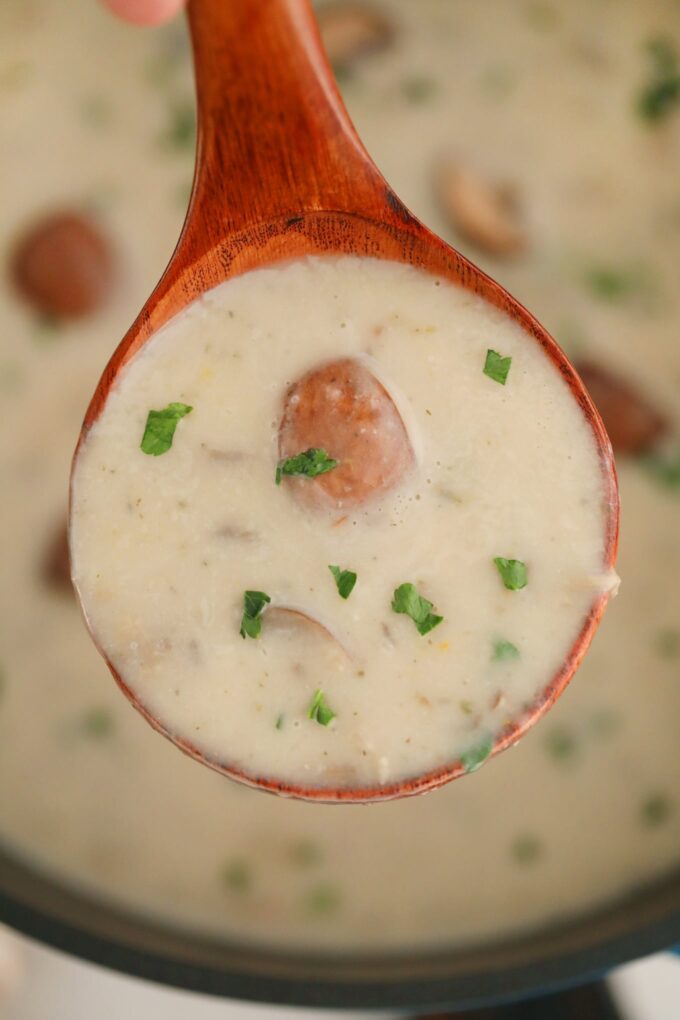 Can I make this soup in the Instant Pot?
Absolutely! Making it in the Instant Pot is very easy and fast. We love making it in the pressure cooker as well. If you want to try the Instant Pot version of it, click on this link.
What can you eat with cream of mushroom soup?
You can eat just about anything with it though crusty and warm bread is the best (as a welcome contrast to all that creaminess). Personally, we like having garlic bread with it, or some bruschetta.
You can also serve some pasta with it, risotto, or some greens. There are a lot of options, and you can even upgrade this classic recipe into more complicated ones!
How to store it?
You can make it in advance, and simply put it in the refrigerator as long as it is placed in an airtight container and properly cooled. Best to store it for up to 4 days. When ready to serve, simply reheat it.
To reconstitute, just add some water, broth, or milk when reheating.
How to freeze it?
Once it has cooled down, transfer it into a large freezer bag. You can keep laying flat in the freezer for up to 3 months!
Freeze in single portions so you will only defrost what you will be reheating. If you are to use up one portion the next day, transfer the frozen portion to the refrigerator the day before so that it will start to thaw out.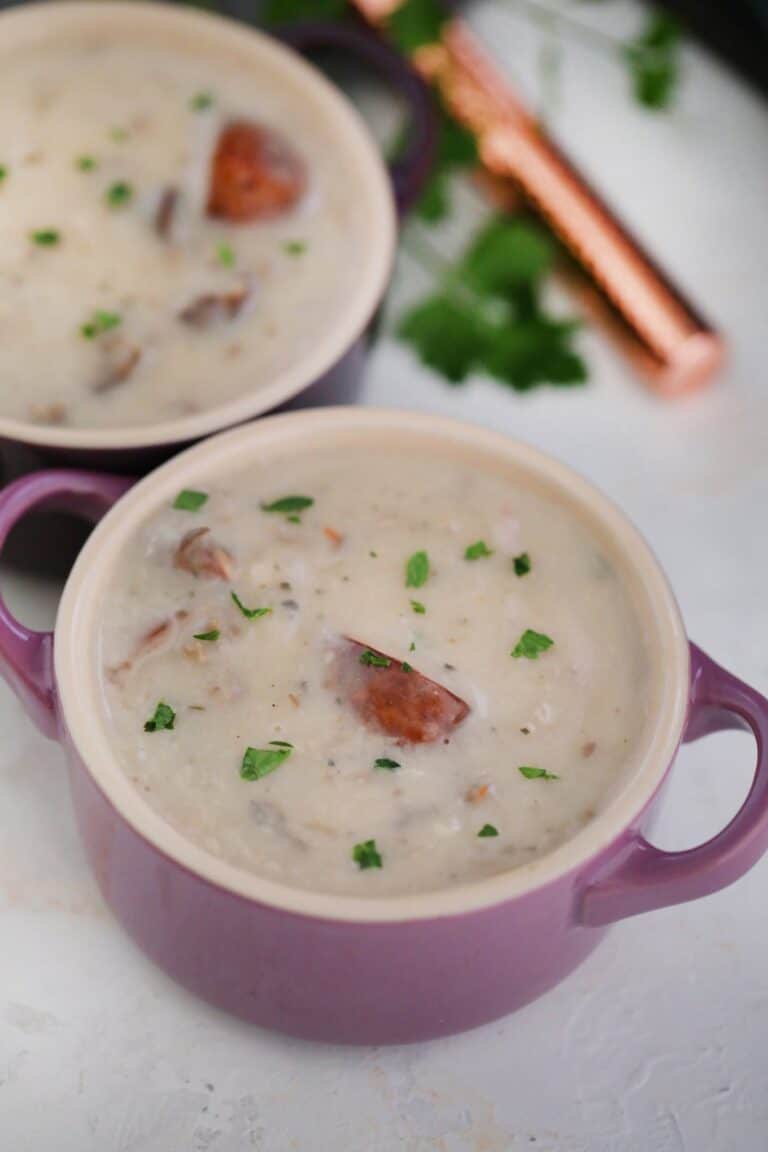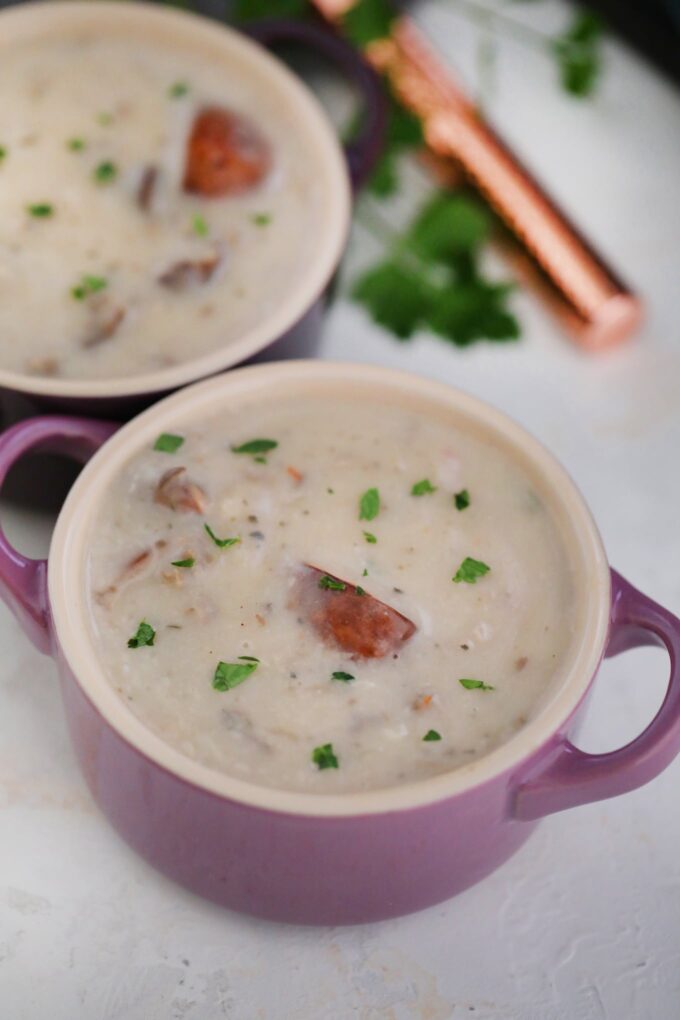 More soup recipes:
Recipe Tips
Any type of mushroom can be used in this recipe, such as shiitake, cremini, portobello, etc.
Also, for additional flavor, you can add herbs like thyme and parsley. Just use whatever you like.
If you think that the consistency is too thick, just add some more broth to achieve the preferred consistency. Otherwise, if it is too light for your liking, let it boil for a longer time.
You can use milk in place of cream, just remember to add it when the heat has been lowered to avoid curdling.
For a spicier kick, add some crushed red chili peppers to it.
In addition, you can top the soup with shredded parmesan, cheddar, or mozzarella cheese, for enhanced flavor.
Save Recipe
Best Cream of Mushroom Soup Recipe
Cream of Mushroom Soup is a classic soup made with cream, mushrooms, and many herbs. Learn how to cook it at home, to enjoy anytime you want it.
Author: Catalina Castravet
Serves: 6 servings
Prep time:

10

minutes
Cook time:

30

minutes
Total time:

40

mins
Nutrition information
Calories: 192 Carbohydrates: 19 Protein: 6 Fat: 9 Saturated Fat: 2 Cholesterol: 1 Sodium: 939 Potassium: 601 Fiber: 2 Sugar: 7 Vitamin A: 455 Vitamin C: 16 Calcium: 103 Iron: 2.3
Save Recipe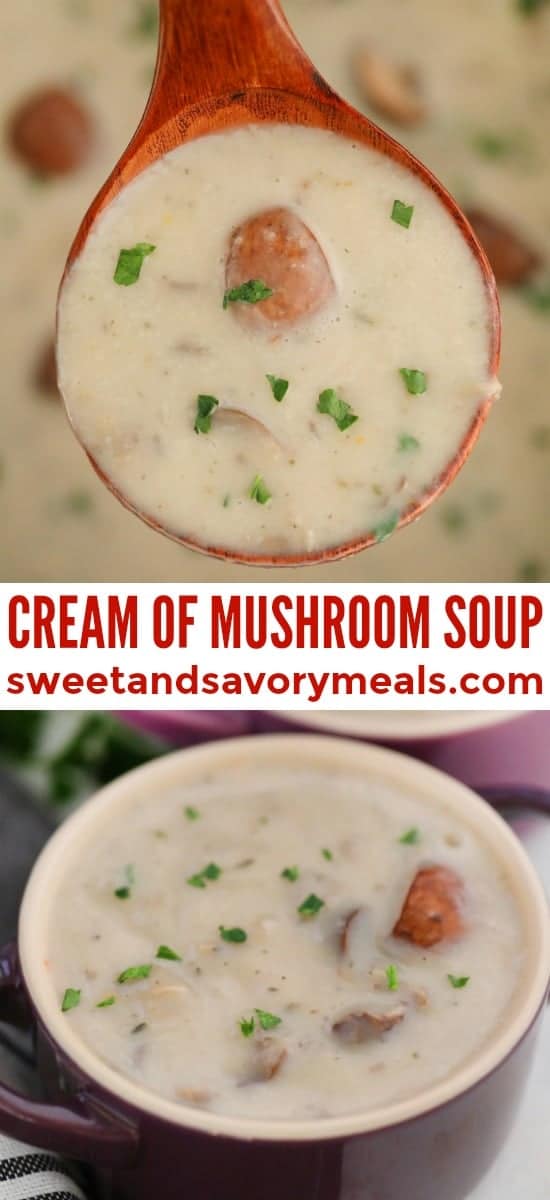 More recipes you might love
Categories: