Fried Chicken Recipe [Video]
Last updated on June 18th, 2021 at 07:22 pm
This Fried Chicken Recipe is soaked in buttermilk and is super crunchy on the outside and tender on the inside. A great and easy dish that is perfect to entertain guests or host a game day.
When it comes to comfort food, this is our favorite meal. It is easy to make and full of flavor. We brine the chicken in buttermilk and pickle juice, infuse it with spices and seasoning, which results in super crispy meat. Our other homemade favorites are fried cheese sticks, crab cakes, and bacon wrapped shrimp with brown sugar.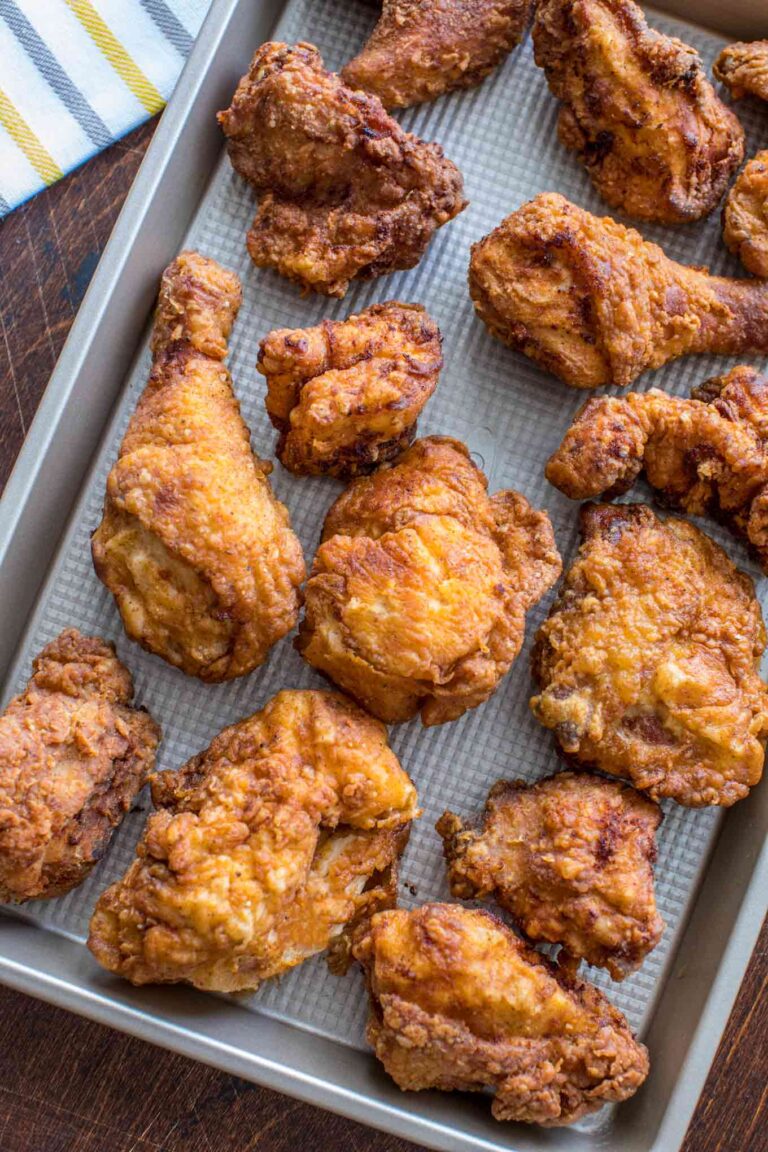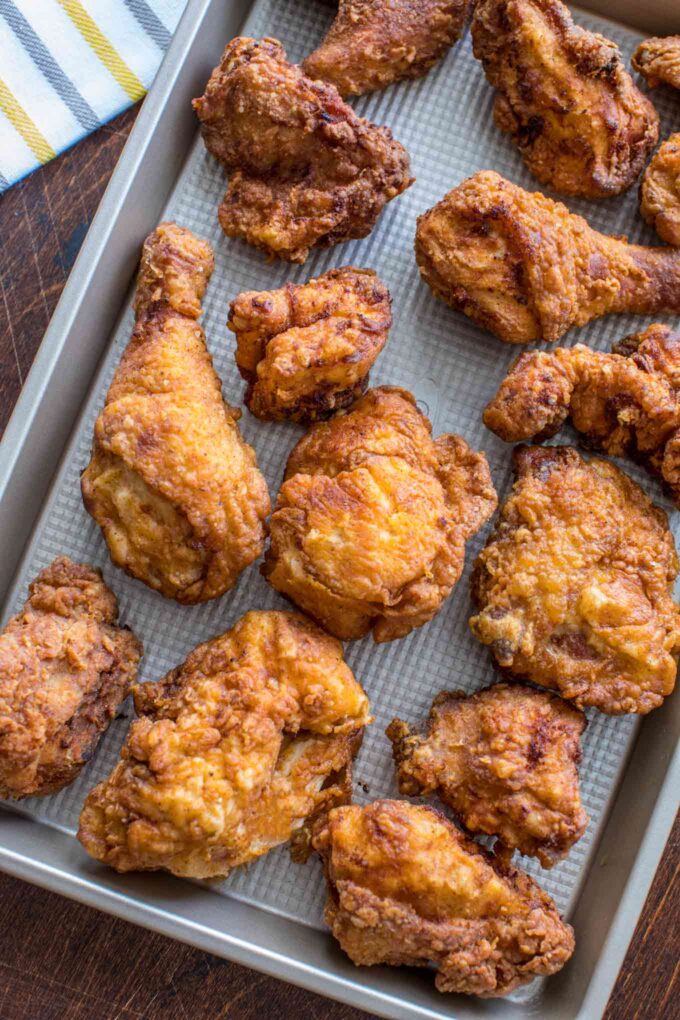 Easy Fried Chicken Recipe
This Fried Chicken Recipe is always a winner. We have been making it for many years and is by far our most favorite chicken recipe to make. We soak it in buttermilk and pickle juice at least 30 minutes in advance, which leaves the meat super tender and moist on the inside with a crispy texture on the outside.
For the PERFECT finish, we coat it in the flour mixture with spices and seasoning. This combination gives this dish ultra flavor and tenderness which is just irresistible. Similarly, you can keep it simple with just flour, salt, and pepper. No matter which path you go with, we guarantee you will love it on your first bite.
How to make the chicken super crispy?
To make it super crispy try to follow the below steps:
Double dip the poultry in buttermilk – after dredging it with flour, dip in buttermilk, and again, toss in flour, this makes the chicken super crispy and tender.
Use iron cast skillet – we recommend doing so as the iron cast skillet maintains the heat better, and spreads it more uniformly throughout the cooking process.
Let it rest before frying – resting the meat after coating it with flour and dipping in buttermilk will form a nice and perfect crust.
Preheat the oil – before placing the chicken in the skillet, ensure the oil reached the right temperature. The oil and heat should be about 350 degrees F prior to cooking. When you add the chicken, the temperature will drop. Keep it at 300 to 325 degrees while it is frying. If it is too hot, the outside will get burned.
Do not overcrowd the pan – Similarly important is not to overcrowd the pan with poultry when frying. Try using smaller batched for ultimate results.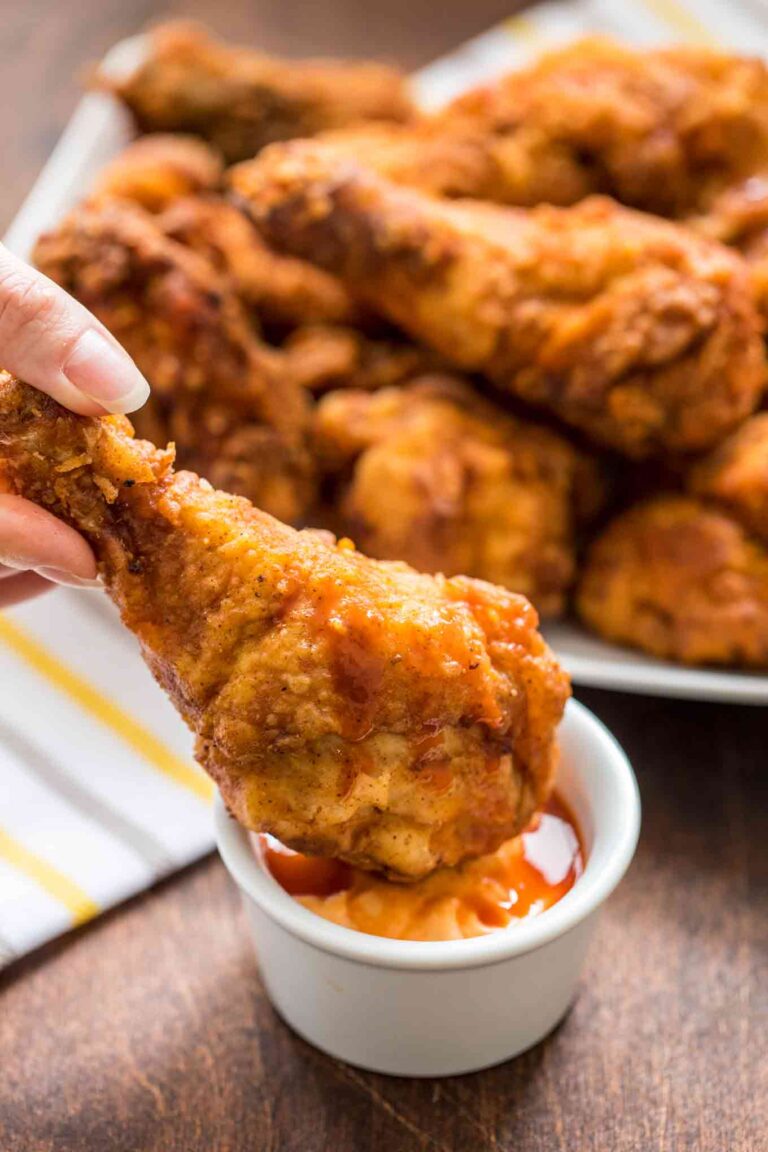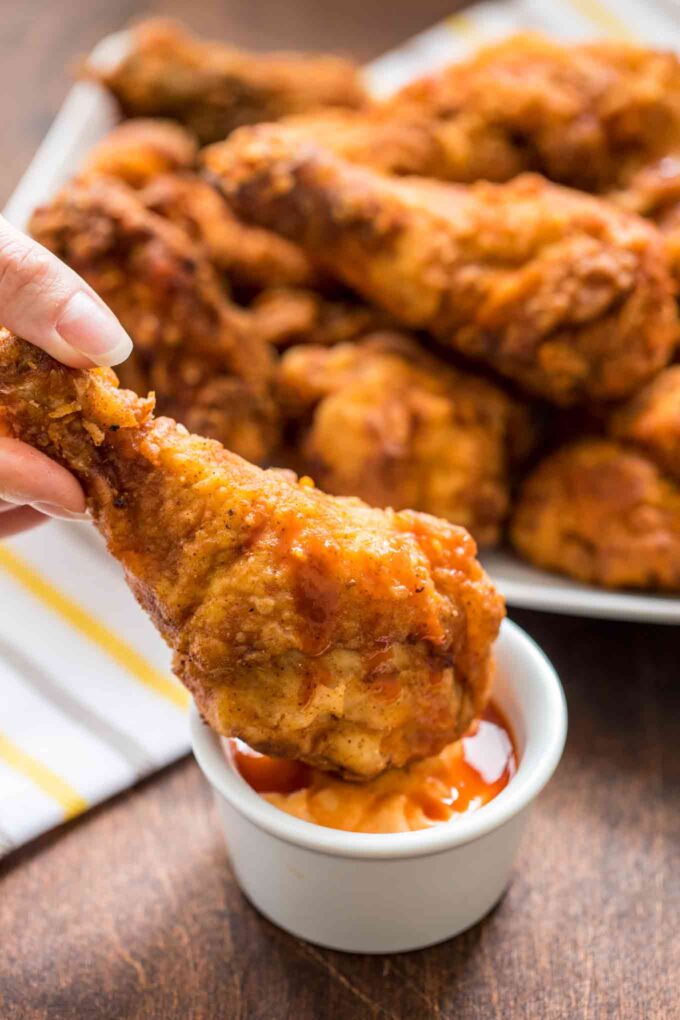 How long should fried chicken rest?
Try not to fry it immediately after dredging as it usually results in the coating to peel off. So is best to let it rest for at least 10 minutes on a wire cooling rack while oil heats. Resting it properly helps the coating stick, which results in a crispy skin.
What oil is best for frying the chicken?
When frying it is highly important NOT TO USE low smoke point oils such as extra-virgin olive oil. This will cause a bitter taste which you want to avoid. Instead go with canola, vegetable, or peanut oil as they have a higher smoke point and are ideal for this recipe.
What to serve with fried chicken?
You can enjoy it as is with some ketchup, or mix it up with:
HOW to store fried chicken?
It is best to refrigerate it in a shallow airtight container or wrap tightly with a heavy-duty aluminum foil or plastic wrap. Then, store it in the fridge for up to 3-4 days. However, once refrigerated it may not be as crispy as before. Reheat it in the oven or microwave.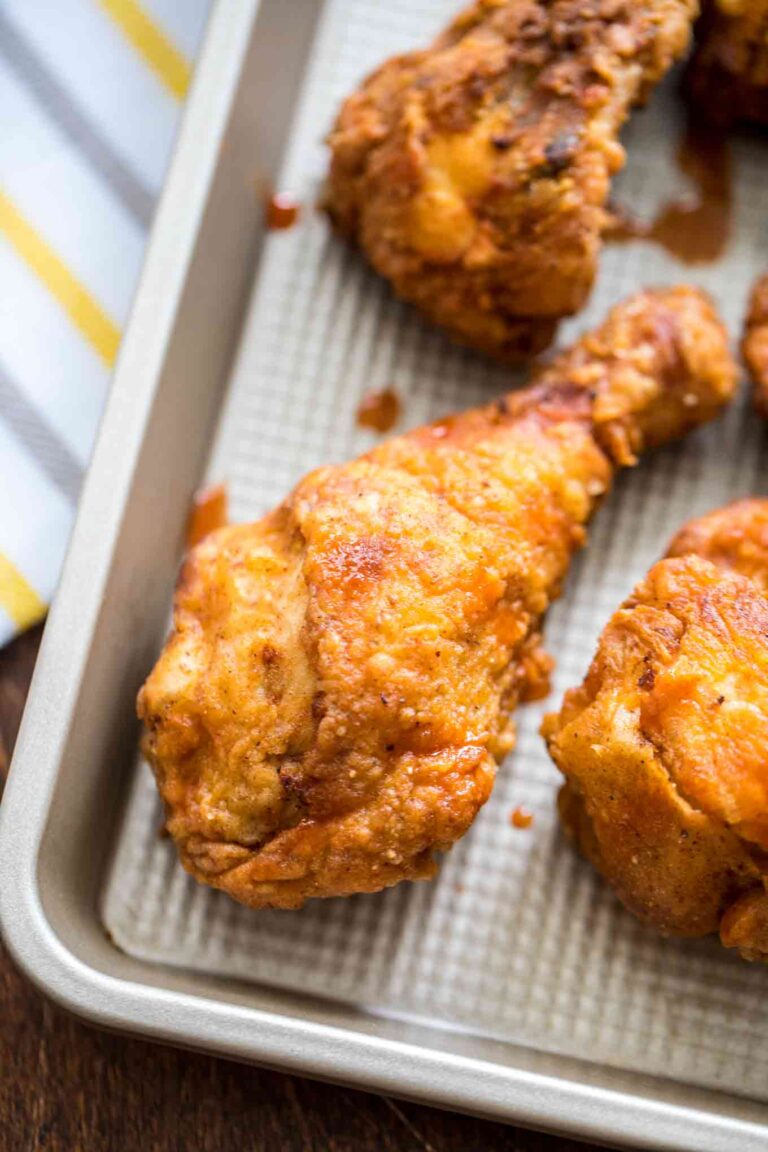 Fried Chicken Recipe tips and notes:
Before frying it, bring the brined meat to room temperature. It is best to remove it from the fridge at least 20 minutes prior to cooking so the meat is not too cold when placing in the oil.
Once fried, don't keep it on a paper towel for too long as it may result in soggy meat. Instead, drain the chicken on a wire rack. This will result in a crisp texture.
A quick way to ensure the oil is hot enough for cooking in by placing the tip of a wooden spoon in the oil. If you see little bubbles form around it, the oil is ready to go.
Similarly, you could use a thermometer to measure the oil temperature, this is the most accurate way.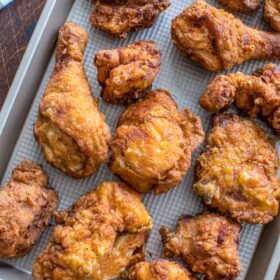 Homemade Fried Chicken Recipe
This Fried Chicken Recipe is soaked in buttermilk and is super crunchy on the outside and tender on the inside. A great and easy dish that is perfect to entertain guests or host a game day.
Save
Share
Print
Pin
Rate
Ingredients
4-

pound

chicken

(cut into pieces)

vegetable oil for frying
Brine:
2

cups

buttermilk

2

cups

pickle juice

1/4

cup

hot sauce

(optional)
Coating:
2

cups

flour

1

tablespoon

salt

1

teaspoon

ground black pepper

1

tablespoon

paprika

1

tablespoon

garlic powder
Instructions
Cut the chicken and discard the backbone. We usually cut the chicken into 8-10 smaller pieces.

Add pickle juice and buttermilk to a large bowl, stir to combine. For a spicier kick, add some hot sauce as well.

Next, add the chicken pieces into the mixture. Set aside for 30 minutes, or refrigerate for up to 24 hours.

In a medium shallow bowl mix flour, salt, pepper, garlic powder, and paprika.

Place a wire rack onto a baking sheet and set it nearby.

Remove one chicken piece from the buttermilk mixture, toss it well into the flour mixture, and place it onto the prepared cooling rack. Let it sit for 20-30 minutes.

To save time, you can add the flour mixture to a large baking dish, dump the chicken into it, and toss to combine, before placing it onto the cooling rack.

Place a large/deep frying pan and fill it 1/2 full with oil. Heat oil to 365 degrees and fry the chicken in batches careful not to overcrowd it. Cook chicken for 10 or more minutes, until crispy and golden brown.

Remove and set aside on a cooling rack placed on top of paper towels, to drain chicken of excess oil.

Serve with your favorite sauce and enjoy.
Nutrition
Calories:
990
kcal
|
Carbohydrates:
86
g
|
Protein:
68
g
|
Fat:
50
g
|
Saturated Fat:
15
g
|
Cholesterol:
235
mg
|
Sodium:
5596
mg
|
Potassium:
967
mg
|
Fiber:
3
g
|
Sugar:
8
g
|
Vitamin A:
1850
IU
|
Vitamin C:
19.6
mg
|
Calcium:
234
mg
|
Iron:
7.3
mg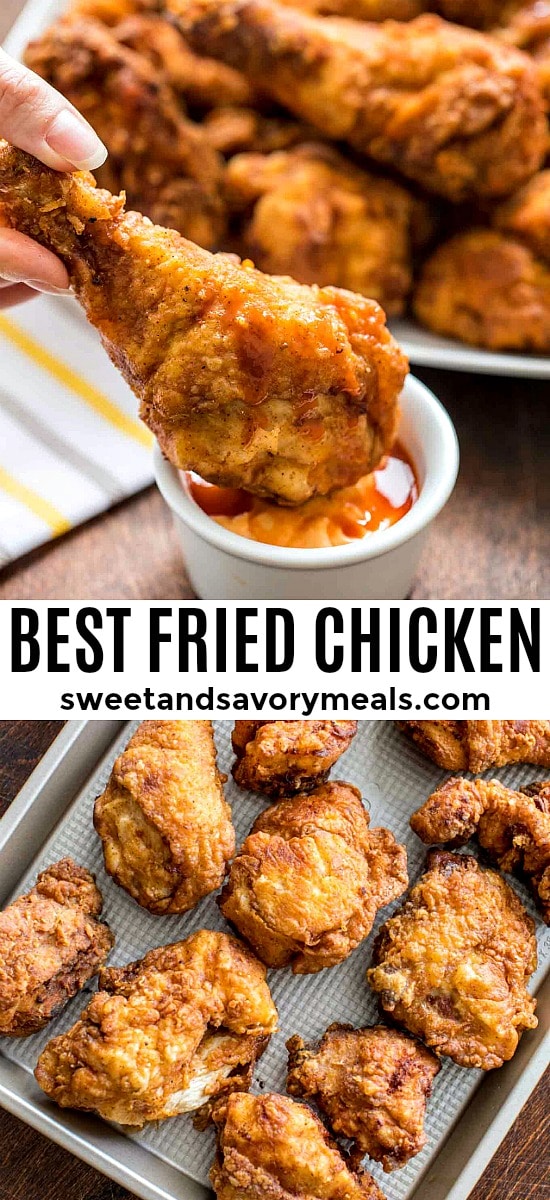 More recipes you might love