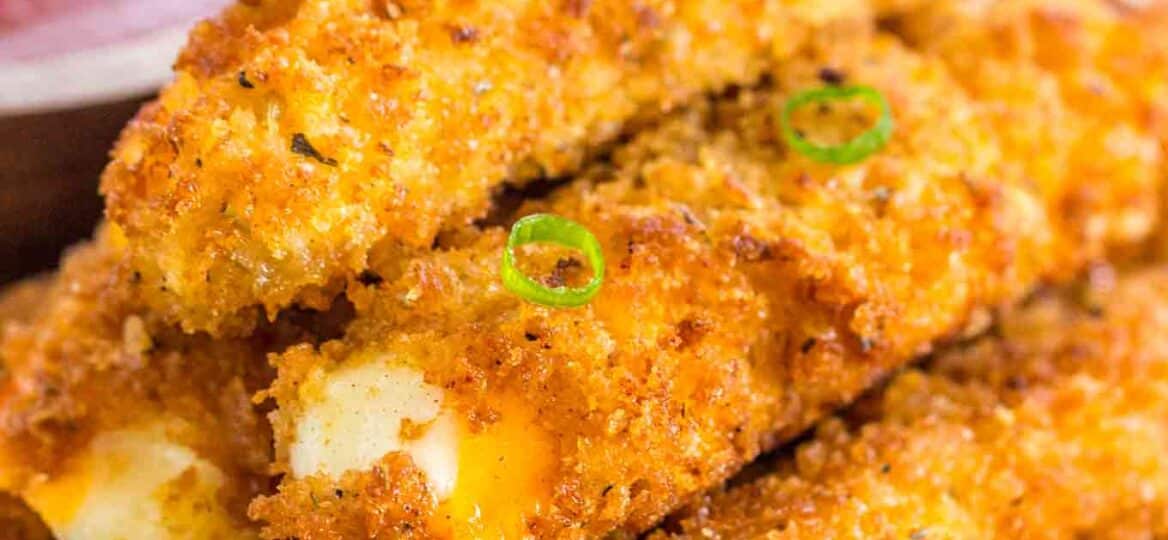 Fried Mozzarella Cheese Sticks
Fried cheese sticks are a delicious and classic appetizer that is coated in batter and deep-fried till golden brown and crispy! They are the perfect party snack to pair homemade marinara sauce! Follow this recipe and learn how to quickly and easily make them in your own kitchen.
Quick and easy appetizers are ideal for parties or to feed a larger crowd. If you want a bite of our favorite appetizers, try this Air Fryer Bacon Wrapped Green Beans, Air Fryer Sweet Potatoes, or Avocado Egg Rolls.
These Homemade Fried Mozzarella Cheese Sticks are a great appetizer and finger food for the whole family to enjoy. I like to make a larger batch of them and serve for days to come.
The combination of mozzarella and cheddar cheese string sticks adds much flavor to them. Also, the panko crumbs topping and the flour mixture give them that irresistible and crispy coating. And when you dip them into a homemade marinara sauce, you know you have a winner! Every bite is pure heaven, that both kids and adults love!
We love snacking on them all the time and are favorite when it comes to lunch boxes. This time we transformed our favorite snack into one of the easiest and most delicious appetizers and finger foods!
Enjoy them as a short snack, during game days, or super bowl. The sticks are delicious and can be easily made in advance and stored for later.
Ingredients needed:
Cheese string: I love using mozzarella and cheddar. However, you can also use your favorite types of cheese sticks.
Panko bread crumbs or Italian breadcrumbs: Both are great options and are super crispy. But, if you don't have them on hand, feel free to use regular bread crumbs.
Seasoning: Such as Italian seasoning, smoked paprika, garlic powder, salt, and black pepper.
Large egg
Buttermilk
Oil: For deep frying use oils with a high smoke point such as vegetable oil or canola oil.
How do you make cheese sticks?
This recipe is made very similar to the way we make most deep-fried recipes, including our Cheesecake Factory Honey Truffle Chicken.
Here are the steps:
Egg mixture: In a bowl, combine buttermilk, egg, salt, and pepper. Then, set it aside.
Breadcrumb mixture: In a separate bowl, whisk together the bread crumbs with Italian Herbs seasoning, paprika, garlic powder, salt, and pepper.
Dredge: Next, dredge the cheese strings first in the beaten egg mixture, then toss in the breadcrumbs mixture. Repeat, this process twice.
Fry: Lastly, deep fry the sticks in hot oil until golden brown. Once done cooking, remove them from the pan, and place them on a stack of paper towels to absorb excess oil.
How long do you cook them for?
Fried cheese sticks cook very quickly, needing only 30 seconds to 1 minute in the hot oil.
Also, to prevent them from burning or fully melting, watch them very carefully, turning them over after 20-30 seconds of cooking or as soon as the breadcrumb coating turns a nice golden-brown color.
Is string cheese and mozzarella the same?
While string cheese is available in several flavors, almost all of them include some mozzarella. However, it is different from mozzarella in that it's pressed into long, cylindrical pieces, making it easy to pull off "strings" of cheese from the stick.
Can you make them with regular cheese?
If you want to use anything other than mozzarella to make this recipe, you certainly can. However, you will need to use soft or semi-soft cheeses that melt well. Hard types such as Parmesan cheese don't melt well.
Best dipping sauces:
The classic way, and probably the best way to serve them is by dipping the fried homemade mozzarella sticks into marinara sauce or ranch dressing. But you can also try these sauces:
How do you make baked cheese sticks?
Alternatively, feel free to bake them in the oven. It is also a healthier alternative to deep-frying them.
First, spray the mozzarella sticks with cooking spray.
Then, lay them into a single layer on a baking sheet and bake at 400 degrees for about 10-12 minutes, or until crispy, and the cheese is melted.
Can you Air Fry them?
Absolutely!
Simply, preheat the Air Fryer to 400 degrees F.
Then, lay the sick in a single layer in the air fryer basket (ensure not to overcrowd them), and back for about 5-7 minutes.
Serve with marinara sauce or your favorite dipping sauce.
More easy appetizers to try:
Cheesy appetizers are usually the first to disappear at a party. Some other great appetizers to try are:
Cooking tips:
If you have a big batch to cook, it is best to cook in batches and not to overcrowd the pan, or the deep fryer.
Also, ensure to coat the entire stick well, and all the way around, including both ends! In addition, press the breadcrumbs well into each piece. Otherwise, the cheese will melt out during frying.
We are coating each stick twice. The reason is to give it an extra crunch and also to avoid the cheese melting outside.
It is best to completely freeze the sticks prior to cooking, to avoid melty cheese. You can place them on a cookie sheet and freeze them for about 1 hour.