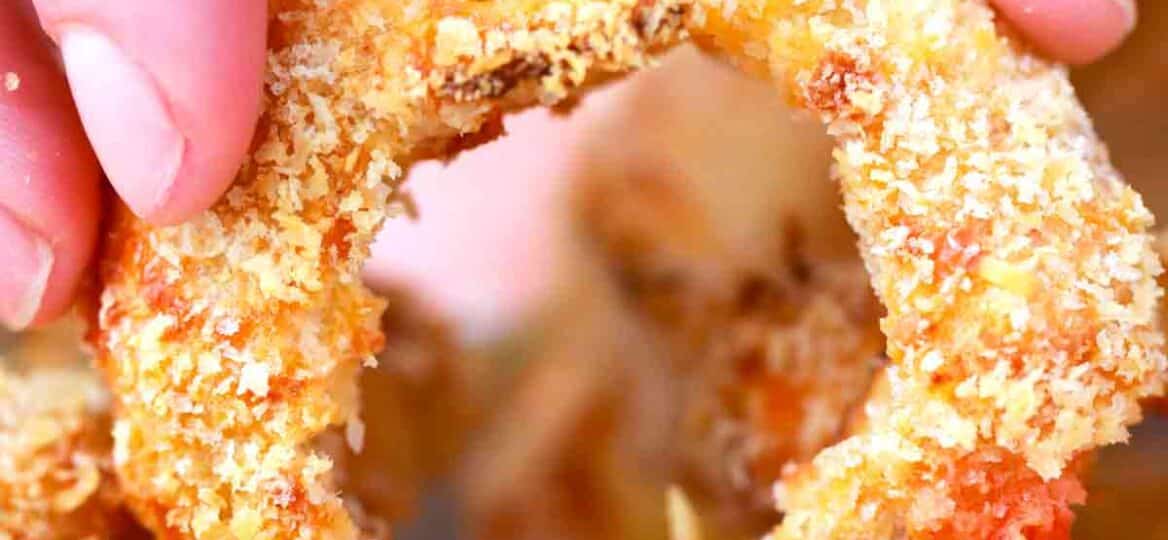 Crispy Air Fryer Onion Rings [Video]
Air Fryer Onion Rings are double-crusted and flavored with parmesan, paprika, Panko breadcrumbs, and other seasonings before getting air-fried to crunchy, golden perfection. Dip them into sauces, serve with entrees, or use them as toppers for burgers, hotdogs, and more!
We love air fryer recipes because they are easy to make, and always come out crispy and perfectly cooked. Check my other favorite air fryer recipes like juicy Air Fryer Salmon, Air Fryer Fried Chicken, and Air Fryer Pork Chops!
I love making delicious game-day snacks or side dishes, and these extra Crispy Air Fryer Onion Rings are my favorite! They are perfectly seasoned, dipped in batter, and dredge in panko breadcrumbs.
Simply put, they are a lighter version of everyone's favorite restaurant-style appetizers that are ready in 15 minutes. Air-frying results in crunchy onion rings on the outside and tender on the inside. However, they are much healthier than deep frying because less oil is used.
Also, this one goes beyond the usual salt-and-pepper seasoning. The crumb coating has ranch seasoning, parmesan, plus spices that make every crunchy bite so full of flavor! Finally, that incredible crust hides a thick-cut onion that's both sweet and tender.
Ingredients needed:
Onions: We prefer using large and sweet onions, like Vidalia onions or walla walla.
Flour: I use all-purpose flour. The flour is used for coating the onions and helps the batter stick to them.
Seasoning: Ranch seasoning, smoked paprika, cayenne pepper, and salt.
Buttermilk and egg: This helps the breadcrumbs stick to the slices.
Breadcrumbs: Both panko breadcrumbs and plain breadcrumbs. I use the two combined to get an extra crispy texture.
Cheese: Shredded parmesan cheese.
Cooking spray: Prevents the pieces from sticking together, and helps them crisp up. Alternatively, you can use olive oil.
How do you make air fryer onion rings?
For exact steps and measures please see the recipe card below. Also, watch the short recipe video tutorial attached to the post. But, here are the general steps:
Cut into slices: First, cut onions into about 1/2 inch thick slices. Ensure to cut them uniformly.
Dip. You will need 3 shallow bowls or deep plates. In the first shallow bowl mix the dry ingredients along with the flour. Then, in the second combine buttermilk and egg. In the third, whisk in breadcrumbs, olive oil, and parmesan cheese. Next, take a ring and dip it into the egg-buttermilk mixture. Then, dredge it in the flour mixture, followed by breadcrumb parmesan-panko mix. Repeat for all the pieces, then spray lightly with cooking spray.
Cook. Lastly, place the ring in a single layer in the air fryer basket. Ensure not to overcrowd them. Then, air-fry at 350 degrees F between 12 to 15 mins.
Serve. Enjoy immediately with your favorite dips.
Recipe variations:
Change the seasonings: Spice it up with your favorite seasonings! Cajun seasoning is always a hit, while taco seasoning is another delicious twist. You can also use chili powder, onion powder, garlic powder, or, herbs like oregano, thyme, or Italian seasoning. In addition, Old Bay is a must-try!
Fry: Don't have an air-fryer? Then, deep-fry it instead!
Gluten-free: Use Gluten-free bread crumbs, panko, and flour.
Spicy: Double the amount of cayenne.
Keto onion rings: Use cornstarch instead of flour, and sub with keto crumbs. Or, use almond flour instead.
Use zucchini: You can also use this AF method for slices of zucchini.
Can you cook onion rings in the air fryer?
Yes, but you'll have to make a few adjustments as we do in this recipe. For instance, we don't just cover them with a wet batter like usually done for beer-battered onion rings. Instead, we also double-roll it in crumbs and panko to form a thicker crust.
The reason for this is that the hot, circulating air will make delicate wet batter splatter around the basket. In contrast, rolling it twice in crumbs creates a sturdier coating while making sure the rings get crunchy in the AF.
Which onions are best to use?
Sweet onions like Vidalia, Maui, Texas, or Walla Walla are the ideal choice here. They have a sweeter note to them and are usually flatter than other onions.
You could even use red onions or yellow onions.
How long do you cook onion rings in the air fryer?
This depends on the thickness and the model of the appliance.
For rings, about 1/2 inch thick, the cooking time should be about 12-15 minutes when cooked at 350 degrees f. Once done, they should have a nice crispy texture and a golden brown color.
How to serve them?
Pair these perfect, crunch appetizers with different sauces! Dip them into Big Mac Sauce, Honey Mustard, ketchup, Chipotle Sauce, refreshing tzatziki, or Yum Yum Sauce!
You can also dip them in these sauces:
As a side dish, they're amazing with fried chicken, Chick-Fil-A copycat nuggets, and Beer Battered Fish.
Finally, these onion rings are excellent toppings for tacos, burgers, salads, burrito bowls, hotdog sandwiches, and more!
Can you use batter in an air fryer?
We don't recommend it. You need a sturdy coating that can handle the circulating hot air without flying all over the basket. In addition, the lack of hot oil means the food won't develop that crispy, outer shell that makes fried batter so good.
Can you cook frozen onion rings in the air fryer?
Sure! Just add a few more minutes to the cooking time. Spray the frozen pieces with a little oil, and air-fry at 350F for 14-16mins., or until crunchy and golden.
How to store leftovers?
Cool them first. Otherwise, the heat will create steam inside the container and render your leftovers soggy. Store in the fridge, and try to finish them within a day or two. Reheat by air-frying at 400F until hot.
More Easy Appetizers to try:
Can you freeze leftover onion rings?
Yes. But we don't recommend it, because it won't be as crispy and delicious as freshly air-fried.
What we suggest instead is that you flash-freeze the coated, raw slices and store them for up to a month. Then, just air-fry the portions you want to eat!
Recipe tips:
Don't have buttermilk? We have an easy homemade buttermilk substitute right here!
Also, slice the onions into thick rings, so there's a nice balance between the onions and the crunchy coating.
Make sure to pre-heat, so the rings start frying up the moment you close the basket. This prevents them from getting soggy.
I highly recommend using panko crumbs vs regular breadcrumbs for an extra crispy texture.
In addition, remember to place them in a single layer in the basket.
Cook time might vary for different brands. Therefore, it is best to check on them at the 12-minutes mark. If more time is needed, simply continue cooking for a few extra minutes.
Deliciousness to your inbox
Enjoy weekly hand picked recipes and recommendations