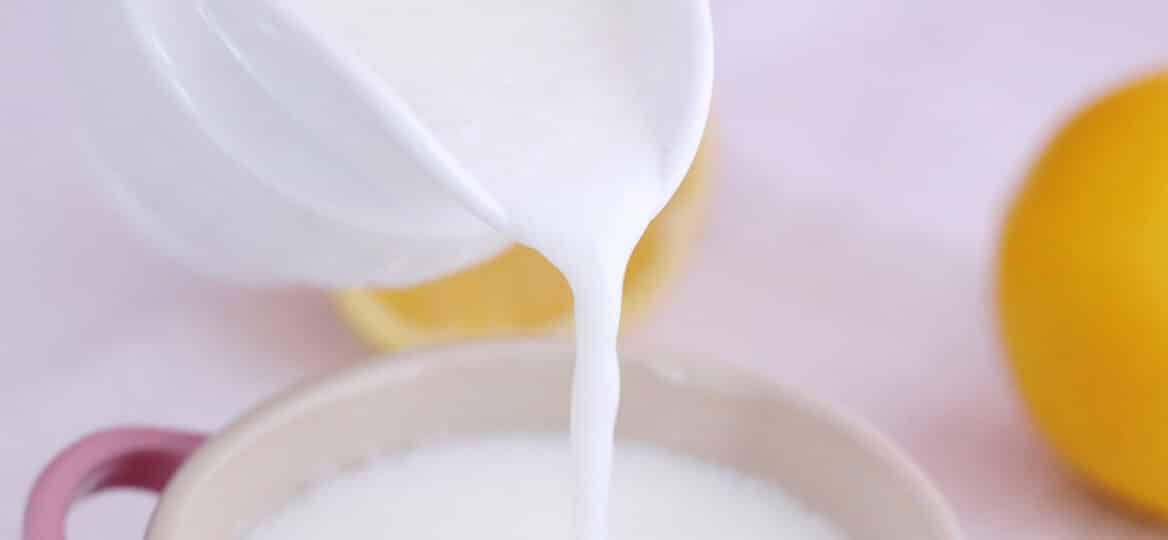 How to Make Buttermilk Substitute [Video]
Buttermilk is an important ingredient in many recipes. If you run out of it, do not rush to the grocery store yet! Prepare a homemade version with this easy recipe!
It is an extremely versatile ingredient. You have encountered it in many of our recipes like the Birthday Cake, Bang Bang Shrimp, and Texas Sheet Cake.
Easy Homemade Buttermilk Substitute
Buttermilk substitute is in demand because although the real one is an important ingredient, not a lot of households have a steady supply of it.
I personally do not have a stash of it in my refrigerator all the time. Although you can freeze it for three months, I cannot simply use it in my recipes if I were to freeze it.
This homemade hack will make you not want to buy from the grocery stores anymore. Hence, you can also avoid the salt content of the commercially available ones.
With this recipe, learn how to make one for yourself, and never buy one ever again!
What is buttermilk?
It is a by-product of the processing of butter. It is what is left after butter is churned from cream.
A lot of baking recipes will not be complete without it as it is used intensively for making biscuits, bread, cakes, and others. You can also use it to marinate meat and to make dressings.
Traditionally, it is made by allowing milk to ferment by bacteria that produce lactic acid. The lactic acid that the bacteria produces ferments the milk, making it sour and prohibits the growth of other bacteria.
In a few countries, this method still prevails but for most places, the method has been changed. Nowadays, what you will most likely find in supermarkets are produced from cultured milk.
What is buttermilk made of?
The kind that you buy in stores has water, lactose, and casein. The lactic acid in the fermented milk reaches the pH level that makes casein precipitate.
It also has a high sodium content during its manufacturing to enhance the chemical reactions needed. Moreover, manufacturers add stabilizers like carrageenan. Note that the commercial process makes it more viscous than what the traditional process produces.
What do you need to make a buttermilk substitute?
All you need is milk and combine it with an acid. Allow some time for it to curdle and it can then be used for your recipes. Here are some variations:
How do you make buttermilk from yogurt?
To make one cup, combine 1/4 cup of milk with 3/4 cup of yogurt.
Can I use lime juice to make buttermilk?
Yes, you certainly can. Just follow the same recipe of adding one tablespoon of juice.
How do you make a buttermilk substitute?
It is so easy that you will not have to churn butter in order to produce buttermilk nor will I ask you to culture!
All you have to do is to combine the ingredients: a cup of milk, preferably 2%, and one tablespoon of lemon juice or vinegar. Then, let the mixture sit out for 10 minutes and wait until it becomes more viscous and ready to use.
What happens if you use regular milk instead of buttermilk?
For a lot of recipes, it is okay if you are not after the tang. But it could be different for baking.
The acid in the buttermilk reacts well with the baking soda making your bread rise well. The regular kind will not be as effective, so in this case, do not substitute.
How to store it:
You can keep this in the fridge for about 2 weeks. Before use, shake it a little.
You may also love:
Recipe Tips:
You can even use the cream of tartar. Add about 1 3/4 teaspoons of cream of tartar into a cup of milk.
You can even use almond milk for a plant-based option.
Discard if it smells foul and becomes too viscous to pour.
Deliciousness to your inbox
Enjoy weekly hand picked recipes and recommendations