Texas Sheet Cake Recipe [video]
Texas Sheet Cake is perfect for parties and potlucks as a little effort goes a long way! In just a few minutes of baking, you will be able to feed a crowd!
Here is a great menu suggestion for your upcoming potluck! Serve this dessert along with asparagus casserole, kalua pork, and mac and cheese casserole.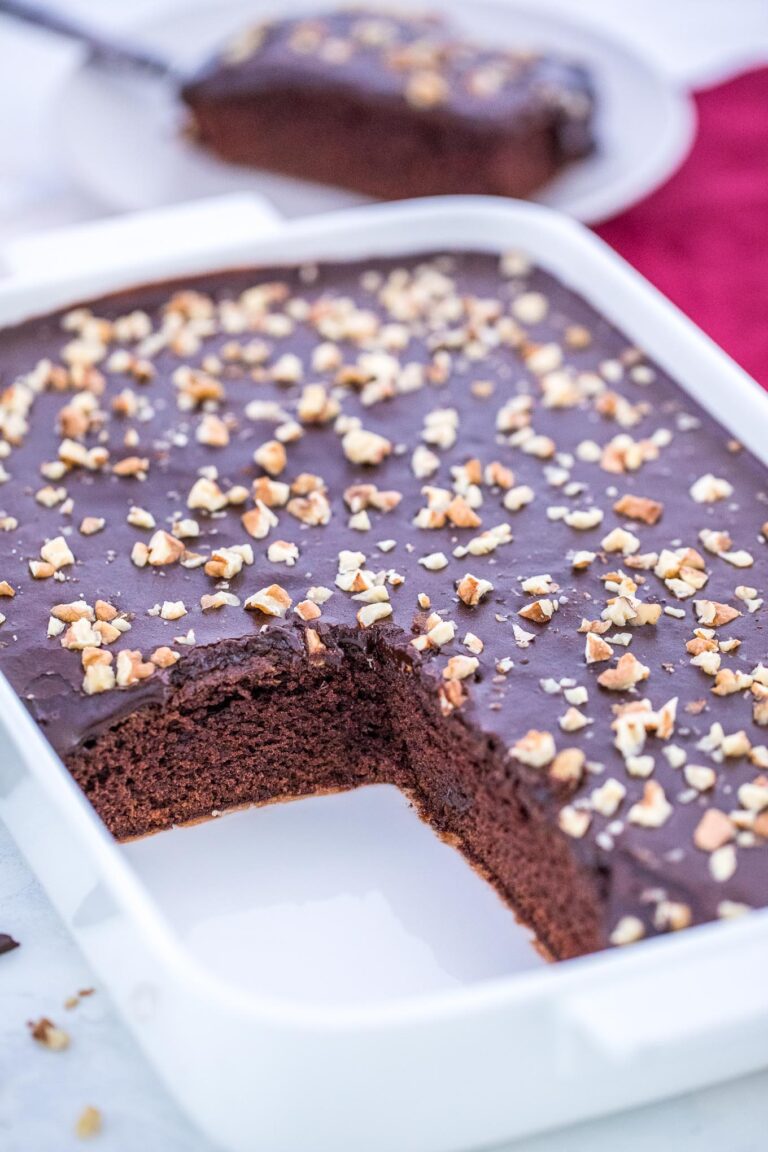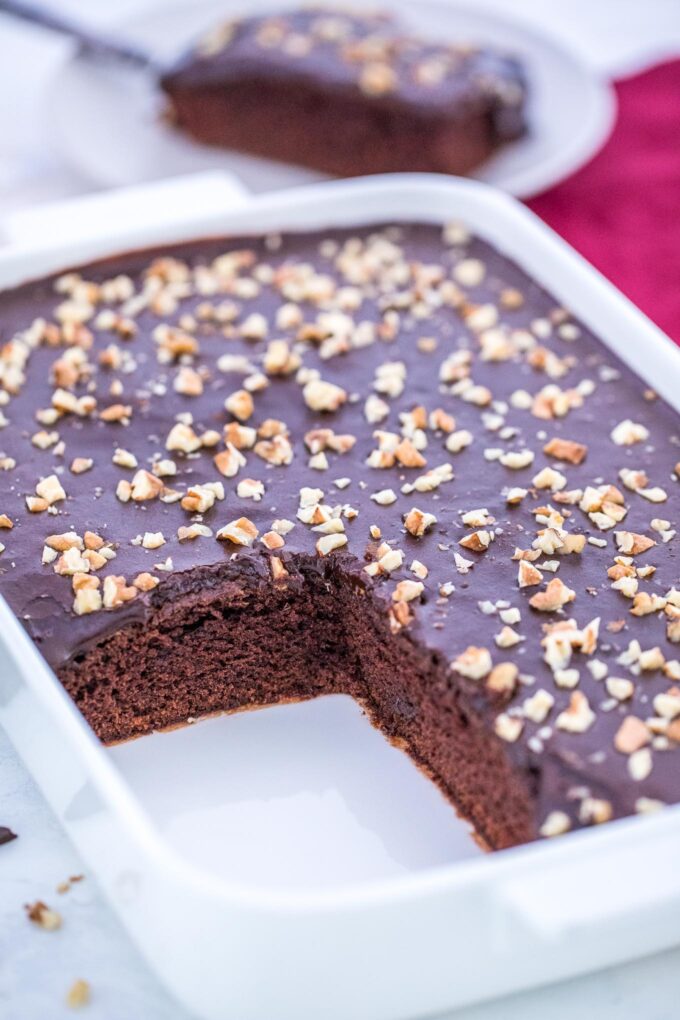 The Best Texas Sheet Cake
Texas Sheet Cake is quite similar to the famous German Chocolate Cake. In fact, many believe that this is the original version of the dessert as both of them are rich in gooey chocolatey goodness!
However, the reason how the Texans were able to claim this easy recipe as their own remains unknown. Some say that it's their love for pecans and buttermilk, or because the dessert is large just like the state of Texas!
But what makes this dessert quite popular, especially in the South, is its practical presentation coupled with its ease of preparation. Baked in a flat layer that is only an inch thick and cut evenly into single-serve squares, this dessert makes for the perfect potluck or party sweets!
No wonder it gets passed on to generations and has become part of the family's heirloom of recipes.
What is the Texas sheet cake?
It is a dessert baked in a single thin layer with the top smothered generously with a mixture of sweet chocolate icing and nuts, usually pecans. Basically, any cake that is baked in a flat, rectangular baking pan qualifies for being a sheet cake.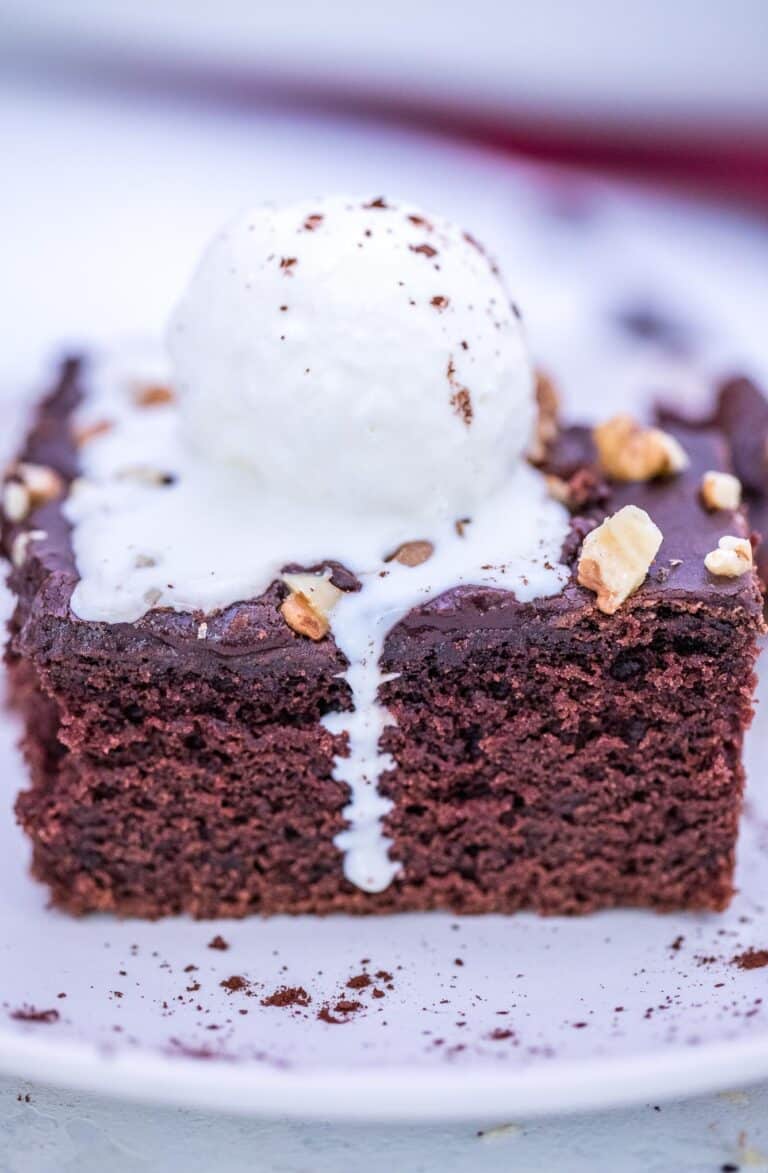 How to make a Texas sheet cake?
Prepare the baking sheet of a size of about 13×18 inches by spraying with cooking spray and preheat to 350 degrees Fahrenheit.
The next step is to prepare the dry ingredients in a large bowl. Sift the flour and mix this well with sugar, baking soda, salt, and cocoa.
Add in the wet ingredients: eggs, buttermilk, warm water, oil, and vanilla. Mix them well until the batter is nicely smooth.
Then, pour the batter into the pan, evenly distributing it. Then, pop it in the oven to start cooking.
Cook for about 20 to 25 minutes.
In about ten minutes before the baking will be finished, make the frosting. For this, use a saucepan to melt the butter, and then, add the other ingredients: cocoa and buttermilk.
When the frosting has simmered, set it aside and whisk in sugar and vanilla.
Pour the frosting over the cake while still hot and then, distribute evenly.
Top with pecans.
Lastly, let this dish cool down to a manageable temperature and cut up the squares, prior to serving.
How to make Texas sheet cake using a cake mix?
The ingredients of the frosting are the same and using a cake mix quickens the recipe. Just remember to follow the cooking instructions in the box. Note that cooking may be shorter due to the larger area of the sheet pan.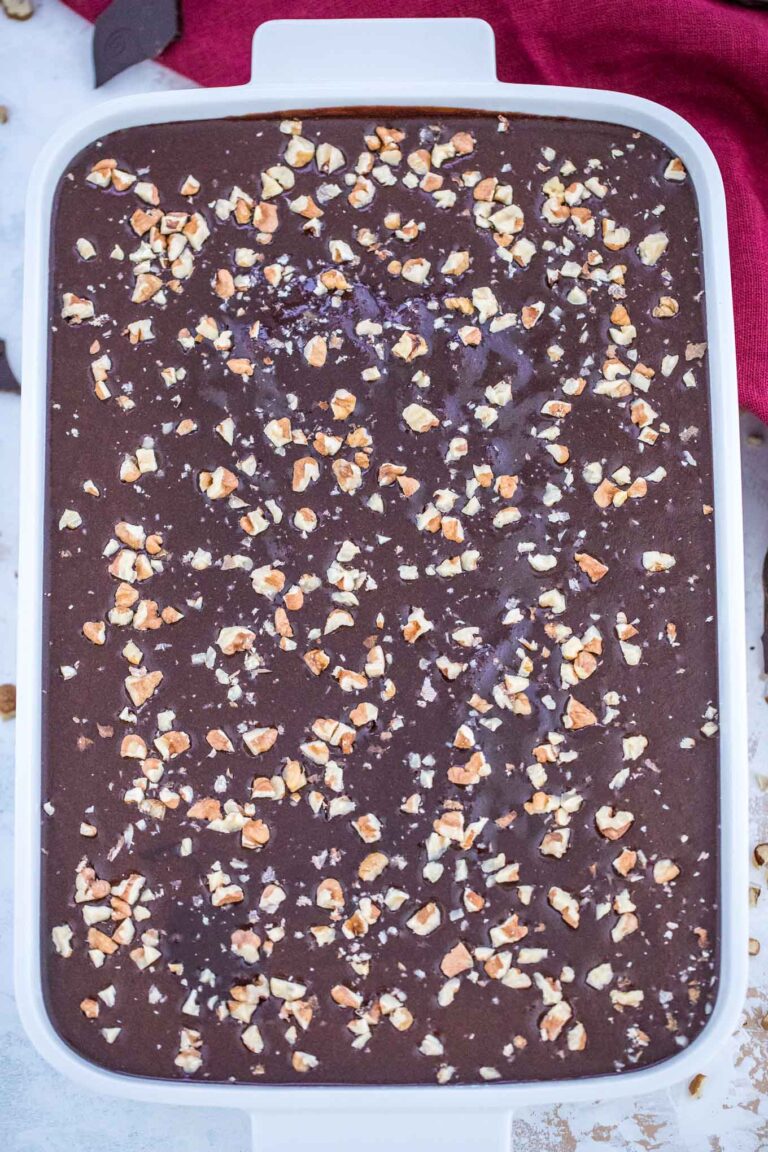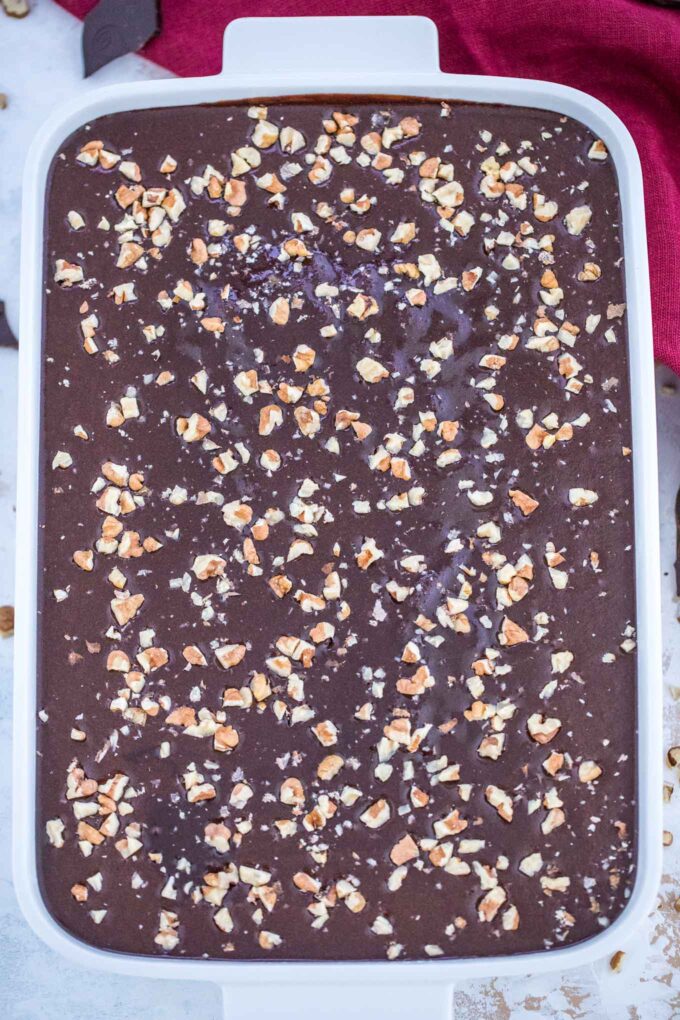 How to prevent the cake from drying out?
Here are a few tips that you can apply:
Use a thermometer to accurately determine the temperature. Knowing the actual temperature will prompt you to not overbake.
Also, add sour cream. Some recipes substitute this for buttermilk. It will give a rich texture, and nice flavor.
Add frosting! The additional layer keeps the moisture in.
Can you make this recipe into cupcakes?
Yes! This dessert can be turned into cupcakes just by baking the batter into individual muffin tins. This is the only difference.
How long can you keep Texas Sheet cake at room temperature?
As long as it is kept in a clean, airtight keeper, it can stay good for five days at room temperature. But if it has been cut, it will last for about four days only.
How to freeze it?
You can make this ahead and simply refrigerate it for three days as long as it is packed properly in an airtight container. Also, to freeze it, use a freezer-proof dish, and store it in the freezer for up to 3 months. Defrost overnight prior to serving. Even with the frosting on, it thaws out nicely.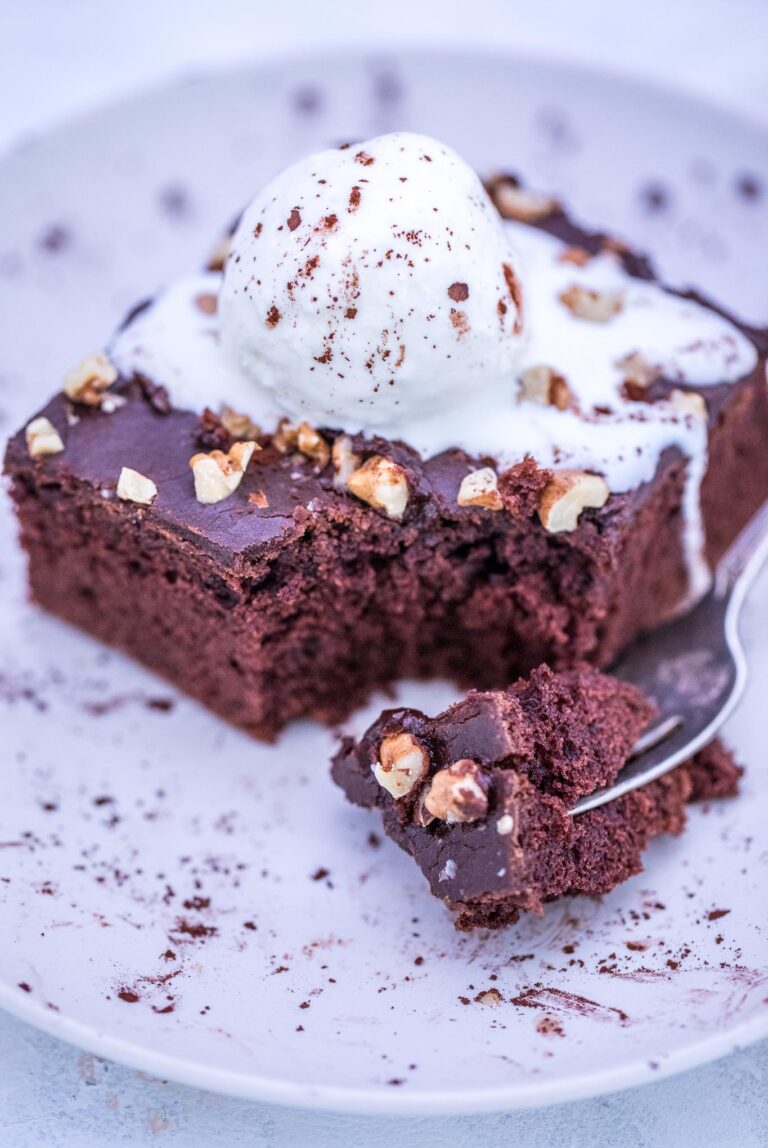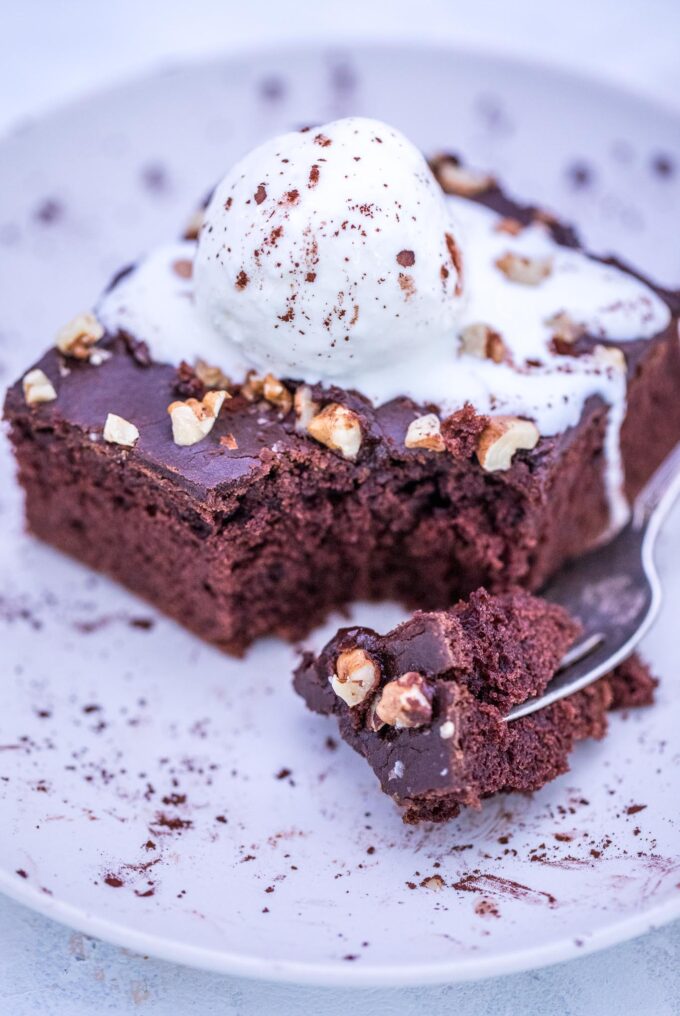 Recipe Tips
Instead of pecan, you can use walnuts or almonds. Nuts are optional. Therefore, leave them out if you are allergic or just don't want them in your dessert.
To avoid overbaking, it is important to insert the toothpick ahead of the set time so that you will not miss it when the cake needs to be taken out already. Check if there are only a few crumbs left on the toothpick and remove the dessert from the oven. In addition, even after taking it out of the oven, it continues to cook anyway.
If you do not have a sheet pan, and you only have a 9×13 baking pan, you can use it still. However, the baking time will be longer by about 10 to 15 minutes.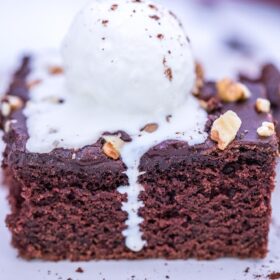 Easy Texas Sheet Cake
Texas Sheet Cake is perfect for parties and potlucks as a little effort goes a long way! In just a few minutes of baking, you will be able to feed a crowd!
Save
Share
Print
Pin
Rate
Ingredients
Cake:
2

cups

all-purpose flour

2

cups

white granulated sugar

1

teaspoon

baking soda

1

teaspoon

kosher salt

1

cup

unsalted butter

1

cup

water

1/2

cup

cocoa powder

(unsweetened)

1

cup

sour cream

(room temperature)

2

eggs

(room temperature)

1

teaspoon

vanilla
Frosting:
1/2

cup

unsalted butter

(melted)

1/4

cup

cocoa powder

1/3

cup

milk

(warm)

4

cups

powdered sugar

1

teaspoon

vanilla

4

ounces

chocolate

(melted)
Garnish:
1

cup

chopped pecans

(toasted)
Instructions
Preheat oven to 350 degrees F.

Spray a 9x13 inch pan with baking spray, line with parchment paper so it has handles on the side, or spray well with baking spray on top.
Cake:
Place a medium saucepan over medium heat and add 1 cup butter, 1 cup water, and 1/2 cup cocoa powder. Stir for the butter to melt and to combine all the ingredients. Bring to a boil and remove from heat.

Stir in 1 cup of sugar and vanilla extract.

In another medium bowl combine 2 cups of flour, 1 cup granulated sugar, salt, and baking soda.

Add the flour mix to the mixture in the saucepan. Stir to combine.

Add sour cream and eggs and blend until fully combined with no lumps.

Pour the batter into the prepared pan and spread evenly with a spatula.

Bake for about 18-20 minutes, or until a toothpick inserted in the center comes out with no wet batter on it. Careful to NOT overbake.

Once done, let cool for 20 minutes before adding the frosting.
Frosting:
Place a medium saucepan over medium heat and add butter and cocoa. Stir together until it comes to a boil, then remove from the heat.

Add milk, vanilla, melted chocolate, and stir to combine.

Spread the frosting over the slightly cooled cake.

Garnish with chopped pecans.

Serve this with milk or topped with vanilla ice cream.
Nutrition
Calories:
623
kcal
|
Carbohydrates:
99
g
|
Protein:
6
g
|
Fat:
37
g
|
Saturated Fat:
19
g
|
Cholesterol:
95
mg
|
Sodium:
520
mg
|
Potassium:
260
mg
|
Fiber:
4
g
|
Sugar:
78
g
|
Vitamin A:
870
IU
|
Vitamin C:
0.2
mg
|
Calcium:
87
mg
|
Iron:
2.8
mg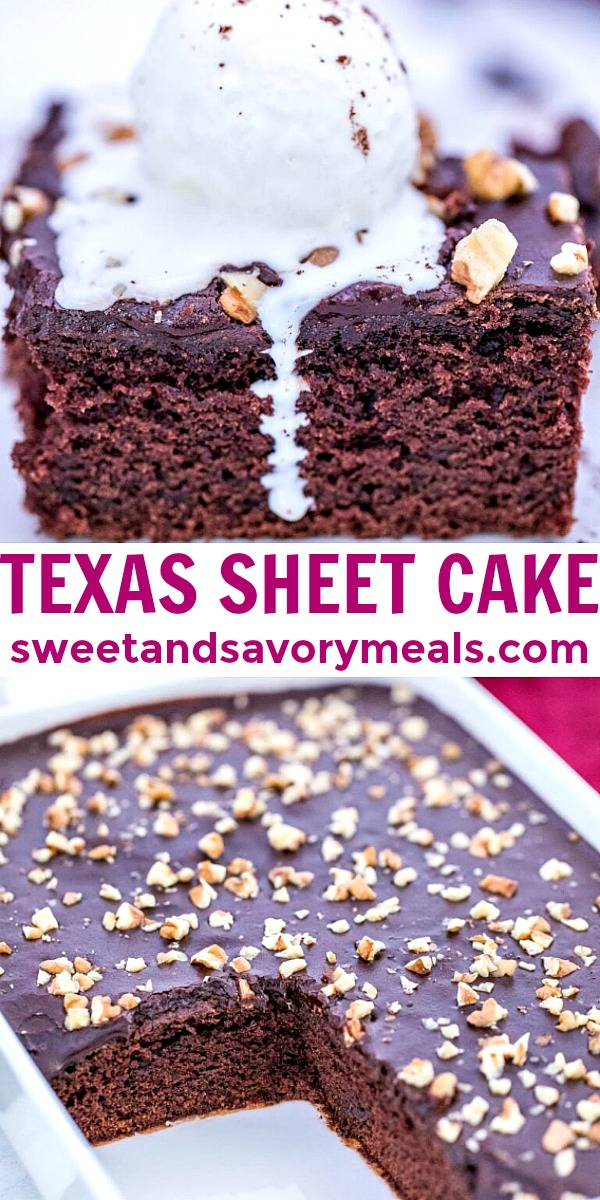 More recipes you might love