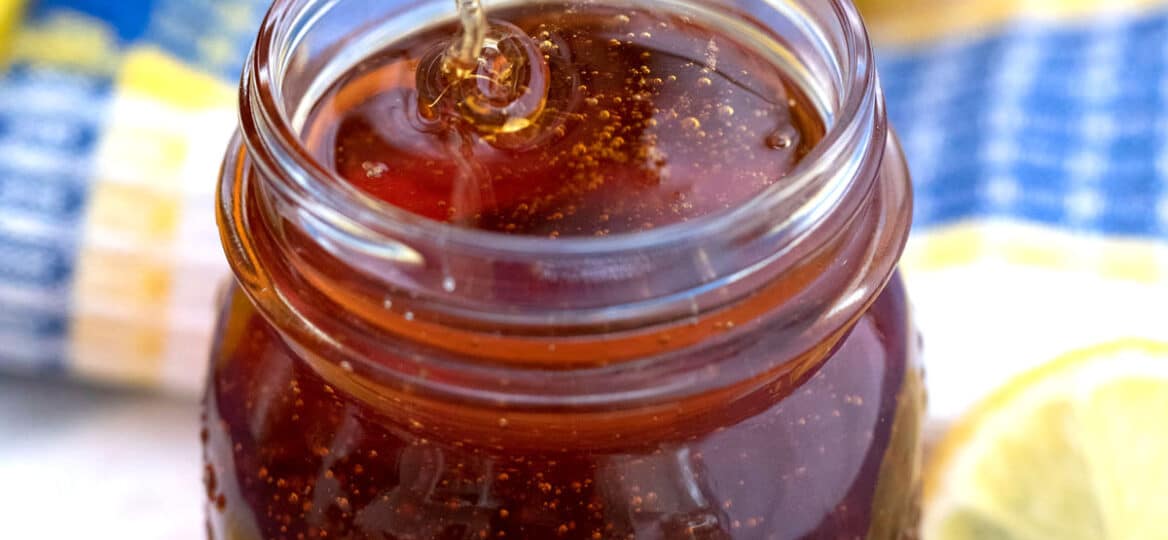 Golden Syrup Recipe [Video]
Golden Syrup is made with just 3 ingredients, water, sugar, and lemon. It is an inverted sugar that has a buttery texture, caramelized flavor, and is very popular in the UK, also it is used in many Chinese dessert recipes. Also, it is a great honey substitute and it adds the perfect touch of sweetness to many dishes.
This recipe is traditionally used in many British recipes. It can be used in baking and also as a topping for pancakes, breakfast casseroles, and waffles. With a deep golden-brown color and honey-like texture, this is a great staple to have in your pantry. Drizzle it on basically any breakfast recipe, or add some sweetness to Asian dishes. Drizzle some on this Pineapple Upside Down Cake before serving it, or use it to sweeten these Instant Pot Baked Beans with bacon.
Inverted Sugar Syrup Recipe
This delicious and easy-to-make mixture is responsible for some of the most amazing desserts I've ever had. If you've never tried Treacle Tart, you're seriously missing out! It's also fantastic in other treats like gingerbread and sticky toffee pudding. The best part is that you only need a few ingredients to make liquid gold! It only takes 35 to 45 minutes to make it!
In fact, you only need three ingredients to make this delicious stuff. It keeps for months, and one jar can last you a long time. Actually, I keep one or two in my pantry just in case I have a hankering for some British nosh— or anything that can be made better with it!
If you are making a recipe that calls for honey or maple syrup and you are allergic or don't like the taste, this is a great alternative. While both have very similar textures keep in mind that honey and golden syrup are not the same things.
They are both liquid sweeteners, and honey consists mainly of inverted sugar and water, it has some other ingredients as well. Therefore, honey has a distinctive color and taste that can affect the taste of the finished dish.
What is Golden Syrup?
It is a type of inverted sugar syrup and a mainstay in British baking and many classic British recipes. It also has another name: light treacle. It's thick, golden-colored, and made from lemon, water, and sugar. The caramel color and deep flavor make it great in recipes and as well as a topping.
Ingredients needed:
Part of what makes it so fabulous is that we use very common ingredients. I bet you already have all three in your pantry.
Sugar
Lemon: The citric acid hydrolyzes the sucrose molecules into glucose and fructose as you heat the sugar. Keep in mind, that adding a little acid such as citrus juice will help to prevent sugar crystallization. Any sugar crystals that remain, by default will cause others to crystalize, therefore ruining your mixture. Hence, it is very important to use citric acid to prevent that from happening.
Water: We use boiling and room temperature water in this recipe.
How do you make Homemade Golden Syrup:
Combine sugar and water: First, place a heavy bottom saucepan over medium heat, or medium-low, and add some sugar and water. Next, stir until the sugar dissolves.
Caramelize: After that bring the mixture to a simmer and stir until it starts to caramelize, which will take about 8 minutes.
More sugar: Next, add the remaining sugar to the saucepan.
Water and lemon juice: Afte that, stir in the boiling water, then lemon juice. Make sure to stir the syrup carefully to prevent splashes.
Reduce heat: Finally, reduce the heat to low and do not stir it again, simmer, and leave the saucepan uncovered. Leave it to simmer until it becomes amber-colored.
Transfer to jars: Once it has turned the correct deep golden color, pour it into a sterilized glass jar and let the syrup cool completely.
Store: Store in your cupboard at room temperature for 3 months and use as needed.
Recipe Variations:
Citric acid: While we used lemon juice in this recipe, also you can use lemon sliced and discard them after cooking. Citric acid is essential in this recipe and can't be skipped.
Cream of tartar: Another option is to use cream of tartar instead of lemon juice. To replace the lemon juice in this recipe, use 4 1/2 tablespoons of cream of tartar.
Brown sugar: Use a little brown sugar, that will add warm color, and the acid in brown sugar also helps to prevent crystallization.
Flavor: Enhance the flavor of the mixture by stirring in some extracts at the end. After you take it from heat, stir in 1 teaspoon of either vanilla extract, almond extract, or buttered rum extract.
How to use it:
Frequently Asked Questions:
What's Golden Syrup in America?
It can be hard to find the real deal in the US. The closest thing we have to it is molasses or dark corn syrup, but the flavors are not exactly the same.
Is golden syrup the same as corn syrup?
While they are similar in color, they are not entirely the same thing. For one, cornstarch is used to make corn syrup, while you use refined sugar for the other. Corn syrup has more of a lighter taste. On the other hand, this recipe has strong caramel and butter flavors.
What Can Be Substituted for Golden Syrup?
Don't have the time to make it but your recipe needs it? Then, you can replace it with light corn syrup or dark, instead if you have those on hand. Honey will work as well, make sure it has the right texture.
More recipes:
Recipe Tips:
For a complex caramel flavor, don't rush the process. Low simmer until done the desired color and flavor is achieved.
A heavy-bottomed saucepan is best for making this syrup.
Expect the syrup to get thicker as it cools.