Slow Cooker Glazed Smoked Ham
Slow Cooker Glazed smoked ham is tender and beautifully sweet, made with brown sugar, honey, and liquid smoke. This is the perfect dish to serve as a holiday dinner.
This dish goes very well with potatoes. Lucky for you I have several different recipes that involve mashed potatoes, my favorite include instant pot sweet potatoes and Instant pot mashed potatoes.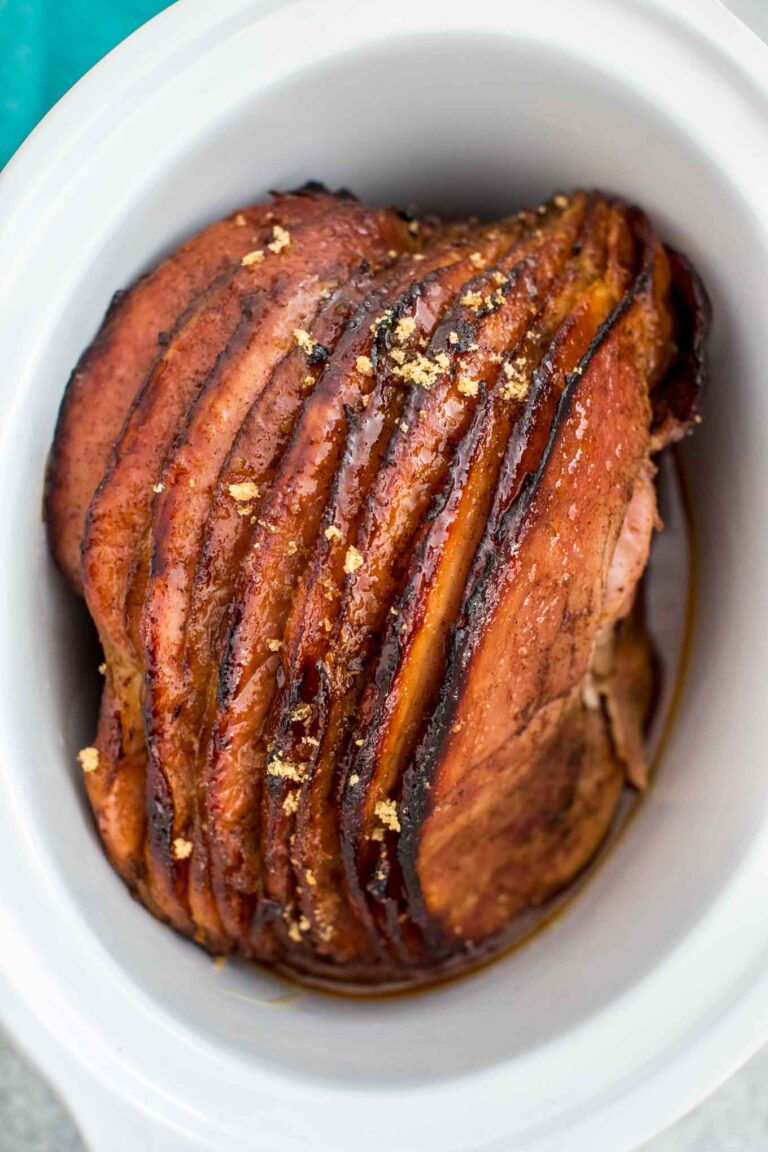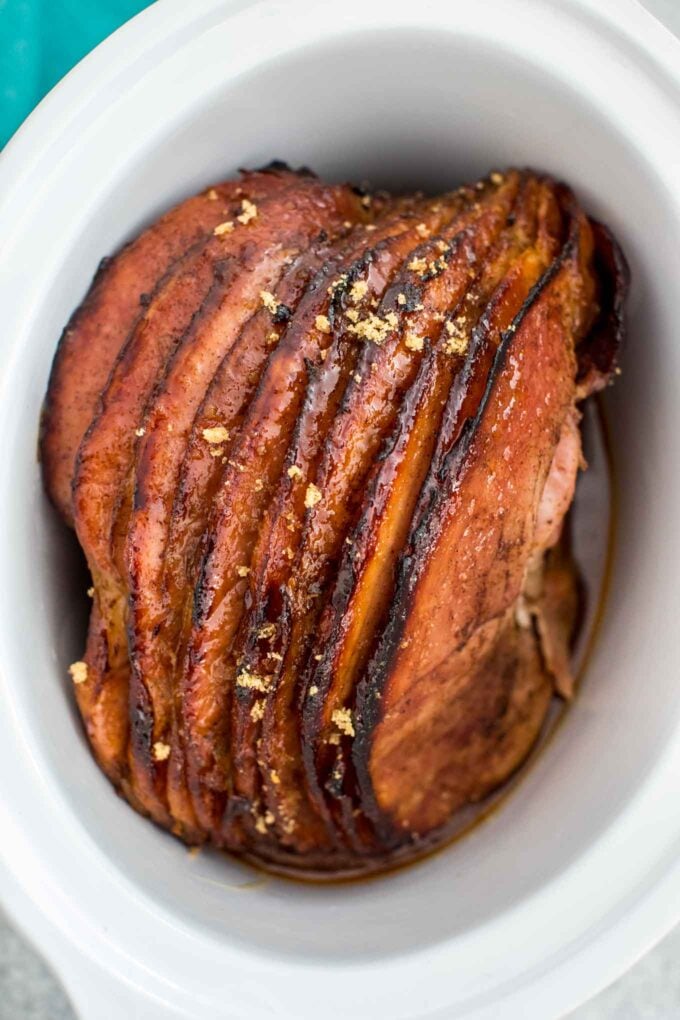 Brown Sugar Glazed Smoked Ham
Glazed Smoked Ham is a classic holiday recipe. With Easter just around the corner, this is perfect to serve. The ham is on the sweeter side and is perfect for Spring. Serve this meal with a side of creamy mashed potatoes, collard greens, cornbread, mashed sweet potatoes, and a side salad.
Don't forget to serve my Easter Paska Bread for dessert. This way you will have a completely easy and delicious Easter meal.
Though Easter is a very sacred and holy time of year, it can definitely be stressful with the amount of food that you would want to prepare. Do not worry! Furthermore, this smoked meat is easy to prepare, by glazing it and placing it in the oven or in the slow cooker, the main dish will be the least of your worries.
With the slow cooker doing all the hard work, you can concentrate more on entertaining and spend less time cooking. When the main meal will be served, you will gain so many compliments on it. Decorate it with thyme and some rosemary to impress your guests even more.
What Kind of Ham Works Best in the Crockpot?
Basically, you can use just about any cut and any size of ham that will fit in the slow cooker. For example, I cooked all the types: boneless or bone-in, whole or spiral-sliced, and all work just great. So, is a matter of personal preference.
For this recipe, I went with spiraled fully cooked ham. This is the most standard type that you can find at the grocery stores as well. It already comes with a glaze packet most of the time. Also, you can go with a plain or smoked version. But just remember, if you decided to go with uncooked version, then the cooking time will be much longer.
How to cook a smoked ham in the slow cooker?
Cooking ham is super easy. First, determine whether what you bought is cooked or uncooked. If it is the cooked kind just place it in the oven, follow package instructions based on the weight of the piece and you are good to go.
Uncooked ham is obviously a little different, start off by seasoning it with some salt. By soaking it for a longer amount of time the meat will be more tender. Soaking is the most important part, for flavoring and tenderizing the meat.
In other words, change the water every several hours and soak it for 36 hours or longer. As a result of the soaking, do not be alarmed if you see mold on it, because it is as if you would eat an aged cheese.
Next, prepare the seasoning or the glaze, after which pat dry the ham with paper towels, cover it in glaze, and either smoke it in a smoker, cook it in the oven or in a slow cooker.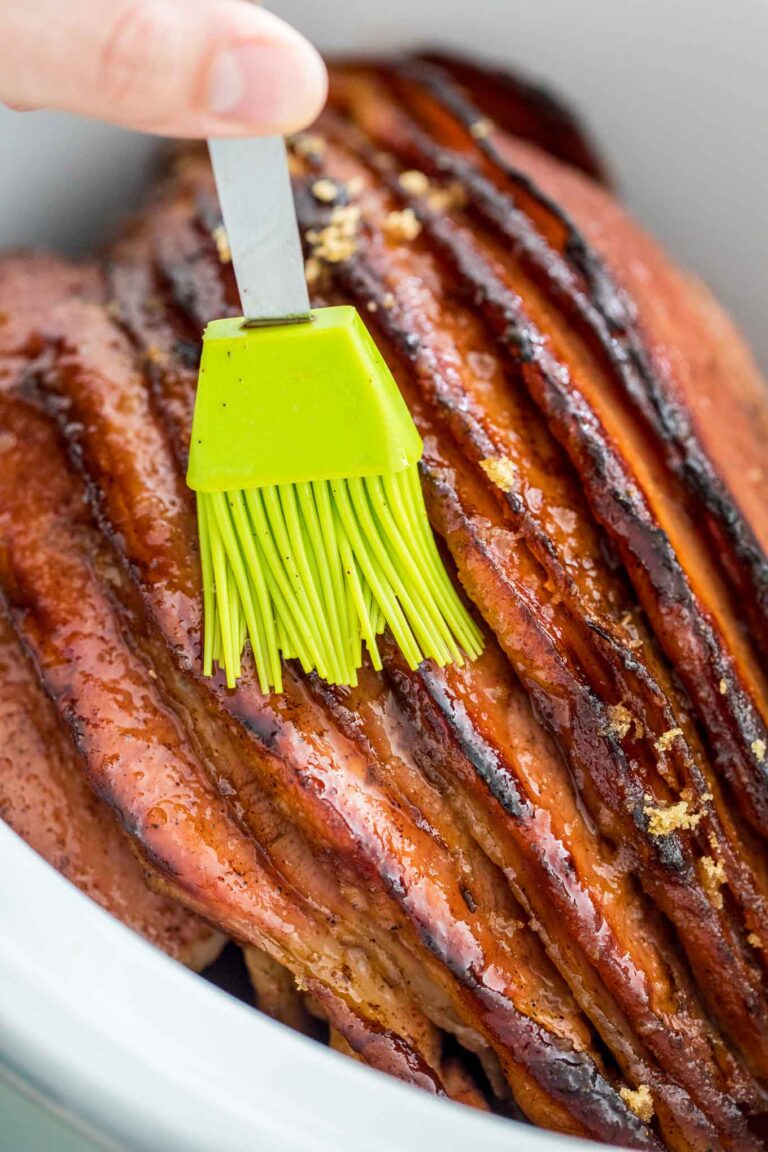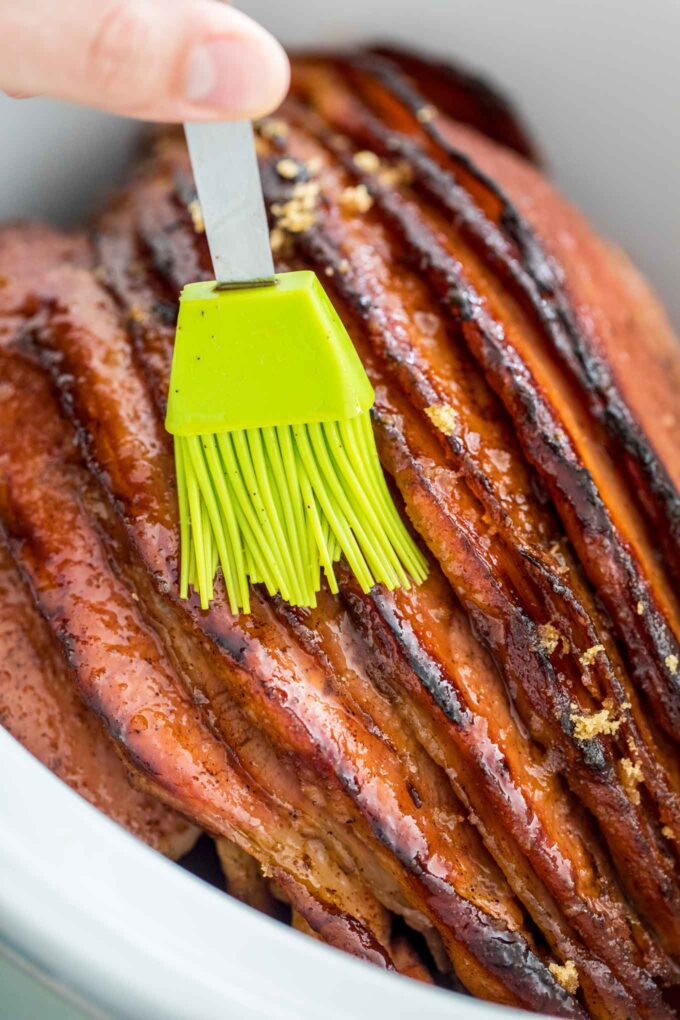 How Long Does It Take to Slow Cook a Fully Cooked Ham?
Because the meat is already cooked, the slow cooking process will be less than normal. In this case, I love to cook it for about 4-5 hours on LOW.
How to heat a smoked glazed ham?
Heating this is very easy:
Microwave: place cut pieces inside of the microwave for a few minutes. Take it out and enjoy it.
Oven: Set the oven to 325 degrees and place it inside the oven for approximately ten minutes.
Stovetop: In a medium skillet spray the pan with canola oil or cooking spray. Set the burner to medium heat and place in the ham. Cook it for a few minutes then enjoy.
How to bake honey mustard glazed smoked and fully cooked ham?
Cooking this specific kind of meat is pretty universal. Glaze the top of it with a combination of brown sugar, dijon mustard, and honey. In addition, bake the ham for an hour and a half. Place the ham with the cut side down so that it can bake more evenly.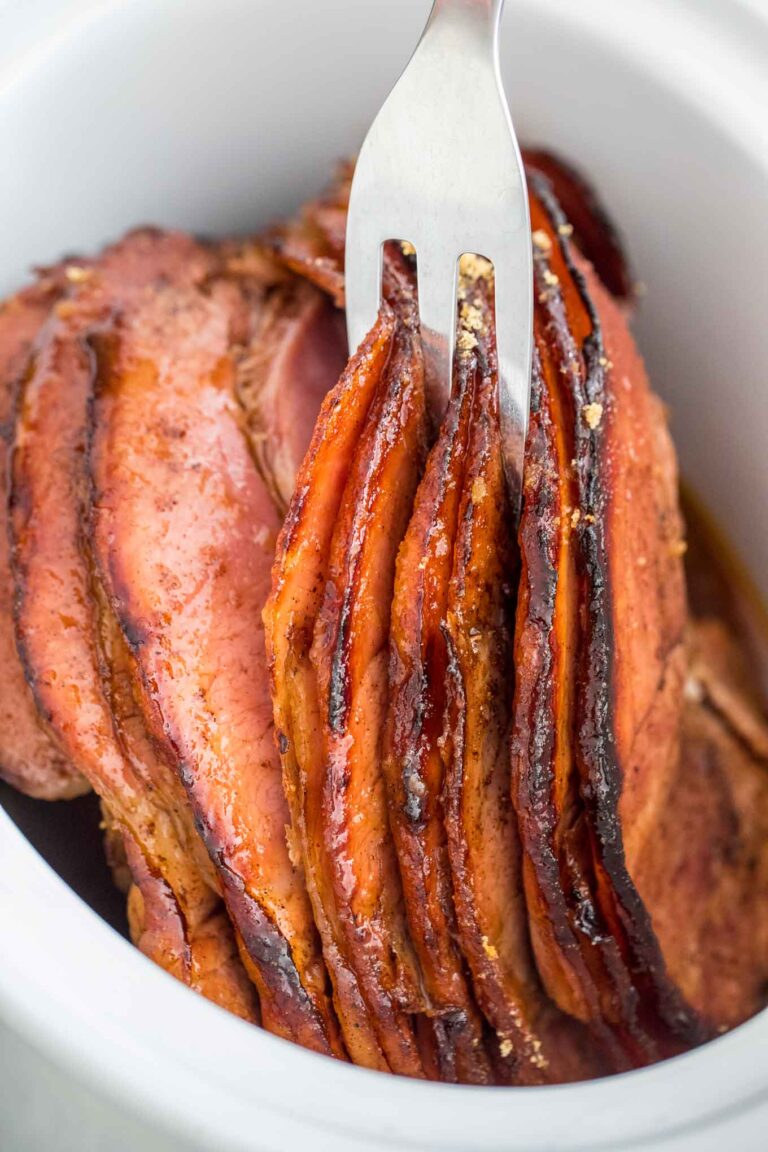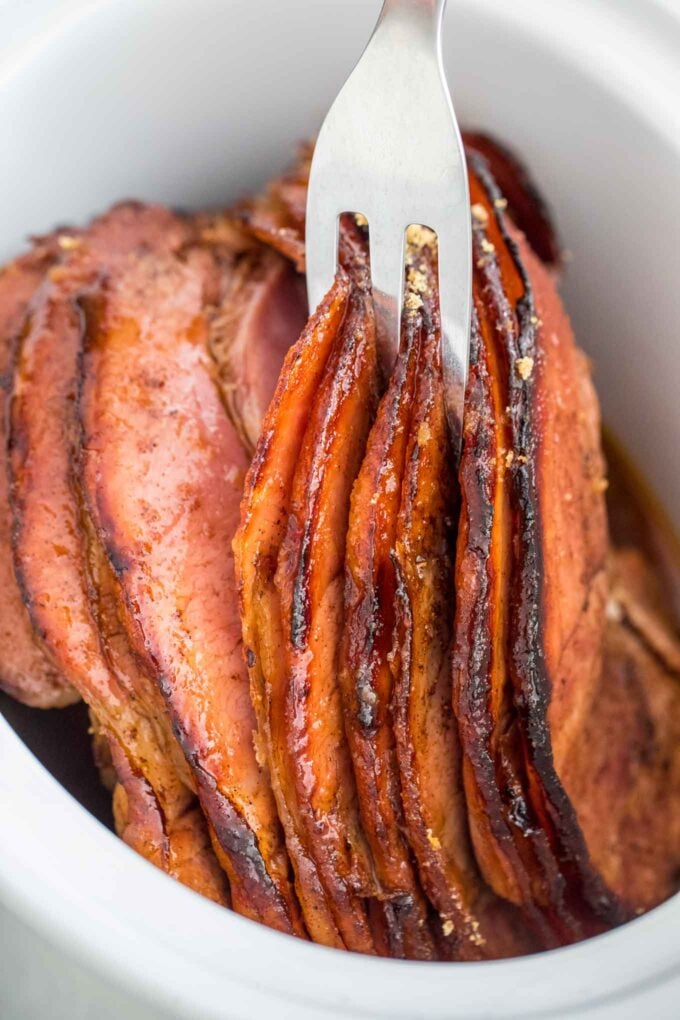 Where can I buy a sliced glazed smoked ham?
You can get this just about anywhere. In other words, go to your local deli/ grocery superstore to pick it up. Therefore, you can also order from websites such as costco.com and walmart.com and have it delivered to your home.
How to cook ham in the Instant Pot?
You can easily cook ham in the Instant Pot or pressure cooker. The beauty of making it in the Instant Pot is that the cooking time is only about 10 to 15 minutes! So, if you are in a hurry, making it in the Instant Pot is the best idea.
But please note, you will need to find a smaller cut so it fits into the pot. You can find the Instant Pot Ham recipe here.
How to slice/store glazed smoked ham?
The classic way to slice it is by firmly holding the shank of the ham and cutting vertically towards the bone, about 10cm from the shank, then make a second cut at an angle to the first. Once you remove the ham wedge, continue slicing thin slices parallel to the second cut.
Slow Cooker Glazed Smoked Ham Recipe Tips: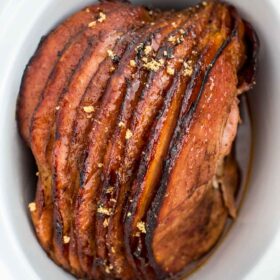 Slow Cooker Glazed Smoked Ham
Slow Cooker Glazed Smoked Ham is tender and beautifully sweet, made with brown sugar, honey, and liquid smoke. This is the perfect holiday dinner.
Save
Share
Print
Pin
Rate
Ingredients
8

pound

fully cooked spiral ham
Glaze:
1/2

cup

unsalted butter melted

1/2

cup

honey

1

tablespoon

liquid smoke

1/2

cup

dark brown sugar

1/4

teaspoon

cinnamon

1/4

teaspoon

nutmeg

1/4

teaspoon

cloves
Instructions
Place the ham inside a 6-8qt slow cooker.

In a small bowl combine all the glaze ingredients and stir.

Spoon the glaze all over the ham, if you are using a spiral ham, make sure to get the glaze between each slice.

Slow cook the ham on LOW for 4-5 hours. Baste from time to time with the cooking liquids.

If the ham is too large for the lid to close completely on the slow cooker, cover the slow cooker with aluminum foil and place the lid on top.

Sprinkle with more brown sugar and broil for 5 minutes before serving.
Nutrition
Calories:
1056
kcal
|
Carbohydrates:
24
g
|
Protein:
78
g
|
Fat:
70
g
|
Saturated Fat:
27
g
|
Cholesterol:
249
mg
|
Sodium:
4315
mg
|
Potassium:
1061
mg
|
Fiber:
0
g
|
Sugar:
24
g
|
Vitamin A:
285
IU
|
Vitamin C:
0.1
mg
|
Calcium:
38
mg
|
Iron:
3.3
mg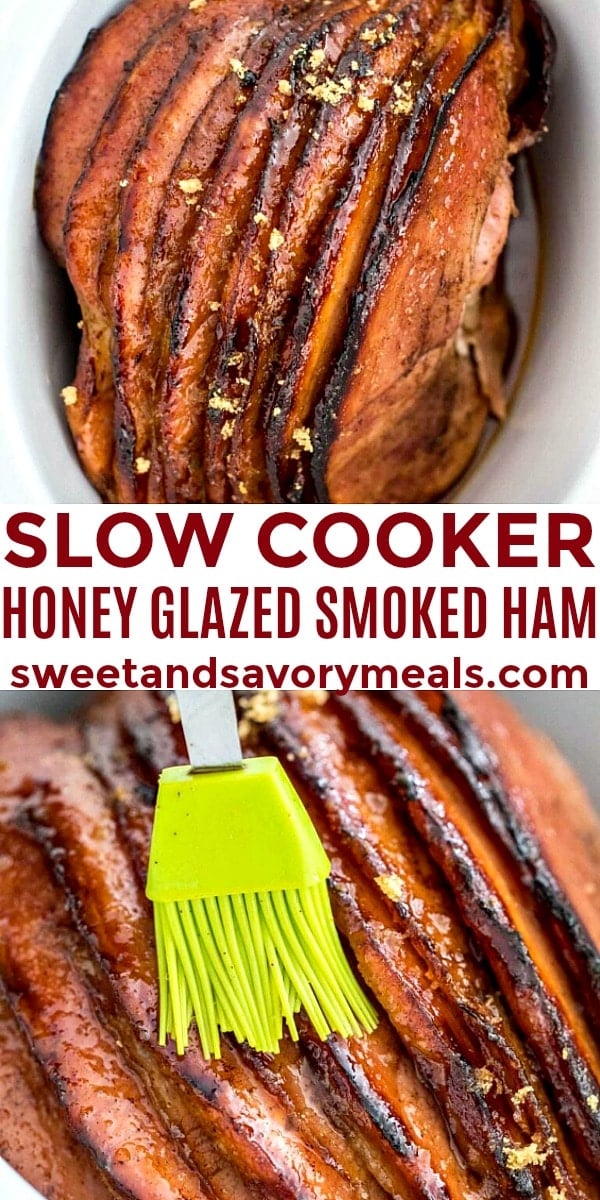 More recipes you might love